April 07, 2023
Reading Time:
3
min
TradeSparkle Review: Reasons That TradeSparkle.Com Is a Scam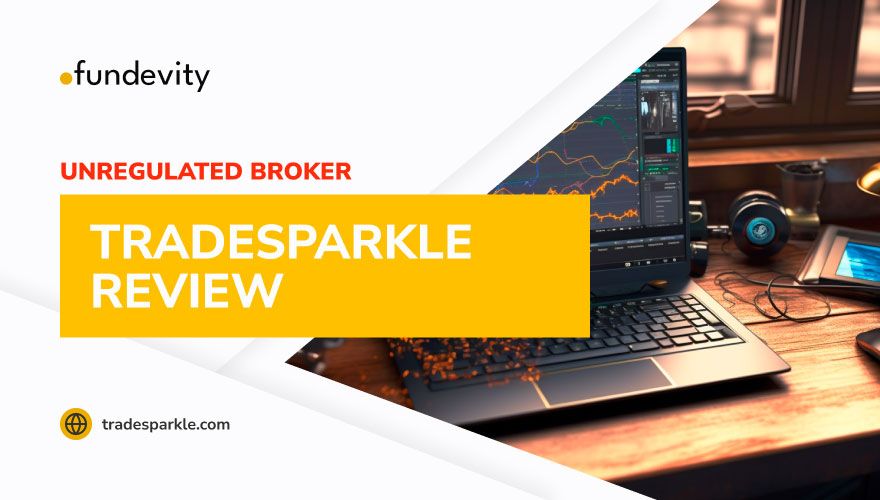 TradeSparkle bills itself as an online trading platform provider, being the leading Forex broker in the industry as it offers investors to trade underlying assets on an accurate and state-of-the-art Forex options trading platform. It would be nice if that were the case, but it is not. 
TradeSparkle dispels all suspicions that it is a scam broker with the lack of information, such as company registration, clear conditions offered to users, etc. All that this shady brokerage offers as security is a reference to Bulgarian laws. 
The terms and conditions offered by the company are made to the detriment of the clients and to the benefit of the company. If you're still considering their offer, read the TradeSparkle Review to the end. 
Additionally, we strongly advise you to avoid the fraudulent brokers HastForex, Xnvest, and Xpoken.
| | |
| --- | --- |
| Leverage | N/A |
| Regulation | Unregulated |
| Headquarters | UK |
| Minimum Deposit | 10000$ |
| Review Rating | 1/5 |
| Platforms | N/A |
| Spread | N/A |
TradeSparkle Regulation and Fund Security
There are many illogicalities that reveal that TradeSparkle is a scam broker. The website misrepresents itself as a broker based in London, UK, but the terms and conditions refer to Bulgarian laws. 
When we investigated TradeSparkle it turned out that it cannot legally operate in the UK, as it does not hold a license issued by the supervisory regulatory body FCA, which is necessary for a broker to offer its financial services in the market.
What Trading Platforms Are Available?
Tradesparkle says on its website that it offers some kind of award-winning trading platform, but there is no access to the platform. So the question is whether Tradesparkle even has a trading platform. This is one of the most important segments because it is necessary for traders.
Withholding such information is a red flag. We don't have any additional description of the platform, what tools it offers, whether it has quality plugins for drawing or other important details. 
Whatever trading platform Tradesparkle "offers", considering that it is an unregulated company, it is not worth investing in, because the risk is too great.
TradeSparkleDeposit and Withdrawal 
Information regarding deposits and withdrawals is poor. The only thing we have come up with is that the company accepts payments via debit and credit cards and bank transfers. In addition, it asks for a lot of personal data, which in this case may be at risk of misuse. 
Withdrawals are made through the same account from which the money was deposited, and it is necessary to print out the withdrawal request, which is scanned and sent to the company after filling it out. 
Also, if the client has any of the bonuses, the withdrawal request cannot be submitted until the bonus amount together with the deposit amount has a turnover of 30 times.
Thus TradeSparkle limits the funds of its users. The processing time of the withdrawal request lasts from 2 to 5 working days. 
The most insane statement made by this phony broker is in the terms and conditions of business where TradeSparkle says that it has the right at any moment, regardless of the contract, to change the conditions under which it operates and not to take responsibility for the client's funds. 
All this is devastating, and of course, no one should agree to such business conditions.
How Does the Scam Work?
TradeSparkle runs its scam by abdicating all responsibilities that a brokerage should have. 
At the same time, there is no regulator over this company that would require some legal conditions within which every broker should operate, so the company can do whatever it wants. 
After he gets registered users that he will manipulate by announcing large bonuses and the most modern trading software, he will extract all the funds that the client has.
Once clients have deposited money with TradeSparkle, this scammer will do everything to disable the withdrawal request, leaving clients with no money and no possibility to complain to a regulatory body, because in this case there is none.
TradeSparkle Summary
Trading Sparkle has failed as a broker in every single aspect. When we understand that his goal is not to do business successfully and meet his users, but only to make the profit that is obtained illegally, we can agree that this broker should be bypassed completely. 
This broker didn't even put a bit of effort into his site and even the trading platform, which is a shame. But the deficiency on all fronts certainly made it easier to rip off the fraudulent broker. We have come to the truth. TradeSparkle is an investment scam.
FAQs About TradeSparkle Broker
What Is The Minimum Deposit at TradeSparkle?

The minimum deposit for at TradeSparkle is 10000$.
Are Demo Accounts Available at TradeSparkle?

TradeSparkle does not provide a Demo Account option to its customers.
What Are The Funding Methods at TradeSparkle?

Payment methods are in the form of payments via credit and debit cards as well as via bank transfers.