November 18, 2023
Reading Time:
4
min
Trading Diary Pro Review: The Lowdown on Trading Diary Pro's Features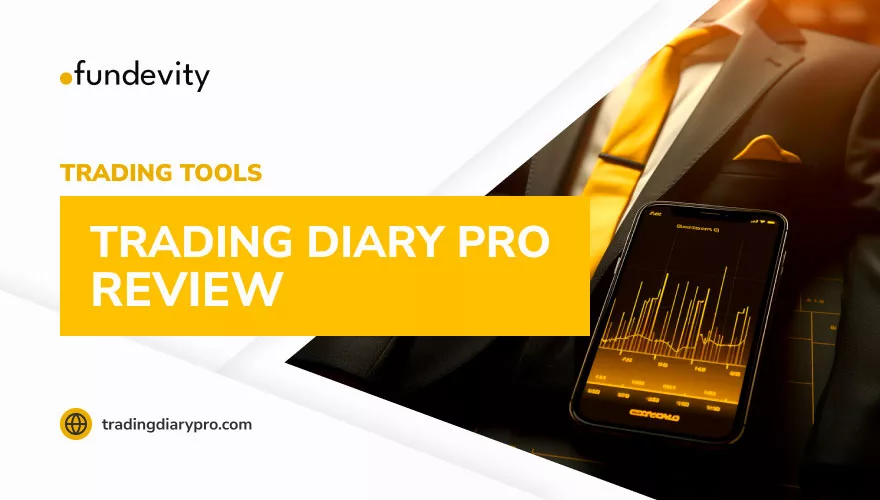 Are you ready to level up your trading game? Well, you're in for a treat because we're diving into the world of Trading Diary Pro. Spoiler alert – this is more than just an appealing name. Read our Trading Diary Pro review to discover more interesting facts! 
| | |
| --- | --- |
| | General information |
| Name | Trading Diary Pro |
| Type of company | Trading Tool |
| Regulation status | Unregulated/Not expected |
| Warnings from Financial Regulators | No official warnings |
| Website link | https://www.tradingdiarypro.com/ |
| Active since | 2009 |
| Registered in | n/a |
| Contact info | Data is hidden |
| Trading platforms | TradingDiary Pro |
| Majority of clients are from | Australia, United States, Germany, Austria |
| Customer support | Contact form  |
| Compensation fund | No |
About Trading Diary Pro
Trading Diary Pro is a tool that helps traders keep track of their performance. It acts like a personal trading journal. Notably, it lets you review both successes and mistakes, monitor decision patterns, and manage emotions. 
It has easy-to-use features, useful stats, and practical reports. It's not just about avoiding the same mistakes, but it's about understanding your behavior. 
We can see that TradingDiary Pro is designed to help you become a better trader by refining your strategies. It's a straightforward tool to boost your trading game! But, we believe their interface is outdated and not transparent. 
Features
It's time to discuss the features this trading company supports. There are indeed many! 
Import/Data Input
Imagine you're drowning in data entry, and it feels like you're stuck in quicksand. 
This company can help you out, as it lets you import trades with just a click. It supports multiple brokerage firms, has Excel and CSV options, and you can even do manual input if you're feeling old-school.
Here: OptionsAI, managed by Options AI Financial LLC, is a reliable choice for trading. You can read more about them here! 
Trading Journal
Now, this is where the magic happens. We can see that this trading company has everything, from position documents to non-trade notes. Multiple accounts? Sure thing. Multiple portfolios? You got it. 
And it even plays nice with different currencies. No more head-scratching over foreign currency trades – it's got it all sorted.
Historical Data Download Modules
Are you a fan of digging into historical data? If so, Trading Diary Pro's got modules for that. It plays well with major firms like Interactive Brokers, MetaTrader 4, and more. 
Plus, there's a stock chart module with over 100 indicators. This is quite a benefit! 
Post-Modern Portfolio Theory Risk Metrics
What's more, this business goes full-on Sherlock with risk metrics. Sharpe ratio, Sortino ratio – this is indeed a broad risk-analysis game. 
And you can compare all your trades with benchmarks, by all means. 
Tip: When comparing Trading Diary Pro and Robinhood, consider the features, functionality, and user experience of both platforms. Robinhood is the winner here! It is known for its user-friendly mobile platform, commission-free trading, and access to crypto.
Performance Management
Performance management sounds interesting, right? Well, this website makes it easy. You can find the internal rate of return and time-weighted rate of return here. And it doesn't stop there. 
You get reports, charts, and metrics that can really improve your trading strategy.
Tax Reports and Dividend Tracking Taxes? 
We all know that nobody likes this topic! Still, Trading Diary Pro's got your back there as well. 
This firm provides tax reports, capital gains reports, and dividend tracking. This is truly similar to having a financial wizard managing your paperwork. Cue the sigh of relief.
Options Strategy Handling
Over 25 options strategies are supported by this website. We can see this includes adjustments and custom strategies. This is quite solid! It's a comprehensive tool for those who seek advanced tools in trading.
Because who said options trading had to be complicated?
Trading Diary Pro Prices
Are you wondering about the price tag? We can see that this firm has a reasonable pricing structure. A one-time fee of $149 for the software, and an annual $49 for upgrades and support. 
We can also see there are no hidden fees, just a transparent deal. And you get one year of support and upgrades. 
Trading Software
Downloading and installing software can be a headache for new traders. Yet, this is not the case with this company! You can easily install their Trading Diary Pro software as it supports Windows 10 and Windows 11. 
This solid application even incorporates a demo database for testing. It's like they get us – traders who just want things to work without the drama.
30-Day Trial
Now, this is another outstanding feature. This firm lets you test the waters with a 30-day trial. Yes, you get a full month of features to explore. You can download the latest version from the Software page. Then, after installation, follow the initial wizard or click on the start trial menu.
We must agree that many traders appreciate this trial period. This is a fact!
Trading Diary Pro Reviews from Traders
So, what can we say about reviews from other traders? Our Trustpilot search showed a gap as there are no reviews for this company. Not an immediate red flag, but no trader feedback leaves us in the dark about the community here.
We believe in shared experiences, and no reviews make it tough to gauge this company's standing. Make sure to choose tools and brokers with solid 4.5-star ratings on Trustpilot for safe trading. Bear in mind that insights from other clients matter.
Earning Money Trading
Are you willing to make money through online trading? Our commitment extends beyond this review. Get free consultations, and expert advice, and meet our AI Analysis Bot – your trustworthy research companion.
Experience stress-free trading with a 20-day free trial! Also, get 5 FX and 5 stock analysis reports monthly. Dive into a world of opportunity and let your money work for you. This offer is limited, so make sure not to miss out! 
Note: Many people are interested in the MetaStock company. This is a trading firm that was founded in 1982 and is based in Salt Lake City, Utah. 
Final Words
In this Trading Diary Pro review, we indeed explored many things. Overall, we can conclude that this company has become a powerful tool. If you choose to invest in them, it is entirely up to you.
Still, you can consider other mind-blowing options for your goals. Check out alternatives like our AI Analysis Bot, designed to boost your trading experience. Your success is our priority!
FAQs
Is Trading Diary Pro Worth It?
The answer depends on your goals and aspirations as a trader.
Is Trading Diary Pro an Effective Trading Journal?
Yes, it is effective for trading analysis and performance improvement.
Is There a Trading Diary Pro App?
Yes, you can download and install their app on Windows 10 and Windows 11.