February 17, 2023
Reading Time:
4
min
Well FX Review: All About Well-FX.Com Broker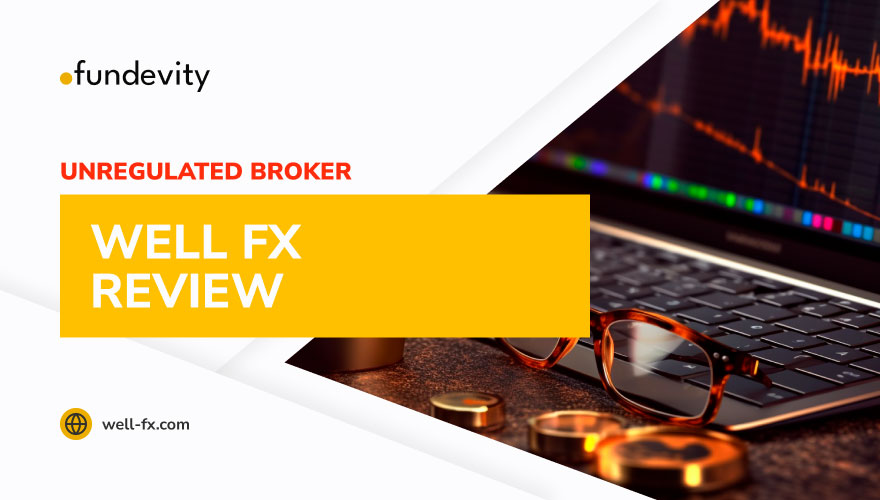 Traders who decide to invest with a broker of questionable reputation are playing a dangerous game. Well FX review is bringing you a story about a scammer with a good enough disguise to deceive an experienced investor.
Despite the missing regulation, company info, and not-so-attractive trading conditions, Well FX still offers such a convincing trading platform it would stun you. However, since choosing the right broker demands checking their background and license, what we found will not make you comfortable thinking about investing here.
Well FX doesn't provide the legal documentation necessary for the traders to get familiar with how the broker operates. Investing here would be like venturing into the unknown. We strongly recommend you read this review before making that decision.
Working with unlicensed brokers, such as those described in the following paragraph, has the same risks as DynamicsFx Trade, XTrade Brokers, and Bitcoin Trade Pro.
| | |
| --- | --- |
| Company | Well Together LLC |
| Website | Well-Fx.Com |
| Email | [email protected] |
| Phone | N/A |
| Leverage | 1:500 |
| Regulation | Unregulated |
| Headquarters | SVG |
| Minimum Deposit | 10$ |
| Review Rating | 1/5 |
| Broker Type | Forex |
| Platforms | MT4 |
| Spread | 3 |
Regulation and Safety of Funds at Well FX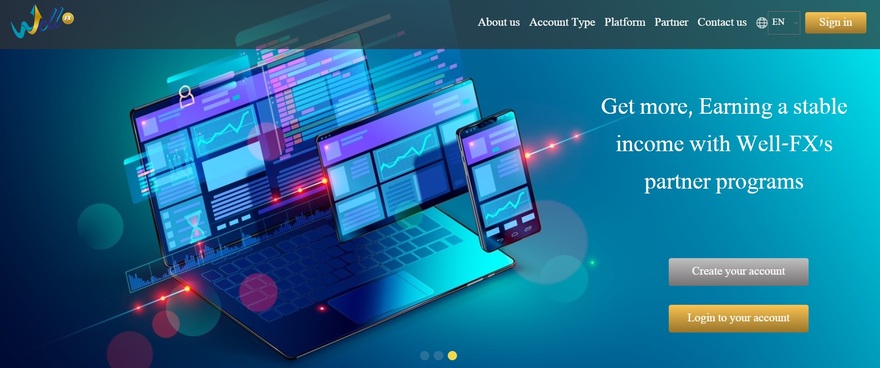 It's not a lie that Well FX is registered in the SVG. What less experienced traders tend to forget is that the SVG financial authority does not regulate the Forex market. Brokerage organizations opened here are not supervised in their activities and do not comply with any regulatory rules. Since Well FX still claims to be regulated, we decided to dig more.
This meant checking more registers of regulated brokers. Every jurisdictional regulator keeps their database of licensed brokers under their supervision. Checking the catalogs of major regulators in areas where Well FX offers their services didn't provide positive results. Well FX is not regulated by FCA, ASIC, IIROC, NFA, CySEC, BaFin, FINMA, CONSOB, and CNMV.
A broker without a license and regulatory framework to define brokerage practice is not a trustworthy broker. In that sense, Well FX cannot provide the safety of funds through segregated bank accounts. 
This brokerage firm is also non-transparent in terms of money transactions and its company background. Judging by the leverage of 1:500, we can also assume they do not respect risk-reducing measures like leverage limitations and negative balance protection. 
Well FX clearly displays scamming tendencies and is not an honest, fully licensed company. Your best bet is not investing here at all. 
Well FX Trading Software 
The most convincing aspect of Well FX is probably the fact they offer MT4. This prestigious trading platform is rich in advanced options to help you build and test multiple strategies. Customizable charts, built-in indicators, timeframes, and other progressive features with superior execution speed provide an edge in every market.
What Well FX doesn't tell you is that you can only log into MT4 with a demo account. The broker doesn't provide traders with valid credentials for logging into their dedicated trading server. 
Manipulative usage of trading platforms helps scammers seem more credible. It's dreadful how easily they can shift the market parameters and make it seem like you've lost all your investments. 
Frauds are also capable of altering the trading terminal if needed to show investors their deposits are growing. Unsuspecting and motivated, traders will keep pouring more money into the scammer's pocket convinced they're getting rich. 
Deposit and Withdrawal Options
Well FX is all talk when it comes to advertising their safe, instant, and fee-free deposits and withdrawals. Unfortunately, nothing concrete is said. Apart from $10 as the minimum deposit required, nothing more is said. Funding methods and ways of making transactions including fees are left out. 
If you're withdrawing less than $5000, the process is supposedly over in less than 24 hours. Quite suspicious considering that even the highest-regarded brokers take at least one business day for processing the requests.
Well FX Offers Bonuses and Promotions
How to better attract the attention of your potential victims than with free money? Bonuses and promotions Well FX offers have no practical purpose except to push traders into more senseless investing. 
The deposit bonus is added to all deposits and can amount to $10 000 in total. There are other promotions and prizes available for participants but we couldn't figure out the conditions as they were only available in Thai.
Shady brokerage businesses use these offers often, so it's no surprise to see them on the Well FX site. Be extremely cautious when accepting bonuses, they are everything but free and the conditions that come with them will make your jaw drop. 
Offshore Brokers' Fraudulent Tricks
Well FX uses clever software technology to lure traders. After investing and getting all the bonuses, the trader becomes entrapped. A carefully altered trading platform shows what the scammer wants it to show at the moment, but the trader suspects nothing. 
Trading looks like child's play when a dedicated account manager is handling your trades. The terminal is showing your funds multiplying on a daily basis and the dream of getting rich is close to fulfilling. What's left to do is issue a withdrawal request. 
The illusion shatters into pieces once you realize withdrawing your money is impossible. Fees keep adding and trading volume requirements are insane.  
Well FX Summary
Regulated brokers offer their clients a good chance for success. After all, helping you earn is how they make a profit too. Unregulated brokers like Well FX choose other methods of obtaining cash. Motivating you to invest using fake promises is how they force you to invest only to take all your capital. 
The result is scammers getting rich while retail traders lose tremendous amounts of money. This Well FX review focused on proving that, so hopefully we managed to present you with a clear image of how this scammer operates. 
A good way of avoiding scams is to check if your broker is regulated. Even if they do possess a license, it doesn't mean they're the right broker for you. Opening accounts with multiple brokers allow you to test their software and trading conditions.
Only after you've made sure they provide the exact conditions you need is when you should start thinking of investing. 
FAQs About Well FX Broker
Is Well FX a Good Broker?

Well FX is not a good or reliable broker. They're an unregulated brokerage firm that operates illegally. 
What Is The Minimum Deposit for Well FX?

The minimum amount you have to invest with Well FX before your trade is $10.
Does Well FX Offer a Demo Account?

No, Well FX requires you to first invest and then trade. Trial trading with virtual funds is not an option.