May 09, 2023
Reading Time:
4
min
Abshire Smith Review: Is It Worth Considering?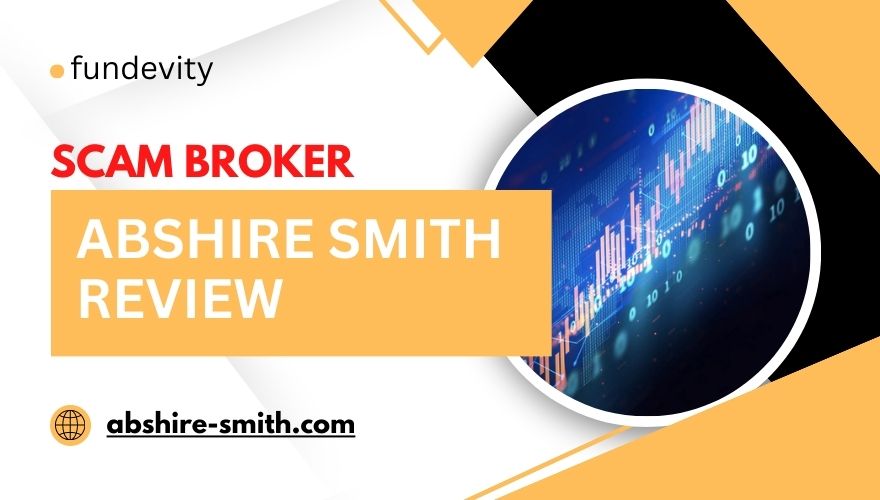 Abshire Smith is a broker that has been in the FX market since 2011. The company prides itself on offering a top-notch trading experience by providing access to many trading tools and venues. However, despite their claims, there have been several reports of traders falling victim to Abshire Smith scams from various countries. 
This Abshire Smith review will delve into Abshire Smith's offerings and determine whether they are reliable. We will cover all aspects of the broker, including their regulatory status, supported platforms, deposits, trading assets, maximum leverage, and customer support. By the end of this review, you will have a comprehensive understanding of Abshire Smith. So sit tight, and let's get started!
| | |
| --- | --- |
| Headquarters | UK |
| Regulation | No |
| Leverage | 1:400 |
| Minimum Deposit | 250$ |
| Review Rating | 1/5 |
| Broker Type | Forex |
| Platforms | VertexFX10, MT4, Straticator |
| Spread | 0.8 pips |
How Are You Protected at Abshire Smith? License and Security
During our research, we tried to verify Abshire Smith's regulatory status by checking the databases of respected financial regulators like the FCA, ASIC, and BaFin. However, we couldn't find the broker on any of the lists. 
This means that Abshire Smith is not regulated by any of these authorities, and the broker doesn't have Tier 1 regulation. It's critical to note that the FCA license that Abshire Smith once held is no longer valid, so traders should be cautious when dealing with this broker.
Despite the lack of regulatory oversight, Abshire Smith operates globally and caters to clients from many countries, except for the United States. As an unregulated broker, Abshire Smith is not bound by the stringent regulatory conditions that are placed on regulated brokers. 
This can be a concern for traders since unregulated brokers may not follow best practices, and traders may not have access to investor protection schemes. In this Abshire Smith review, we will delve deeper into the broker's offerings. We will include the platforms it supports, trading assets available, minimum deposit requirements, and maximum leverage offered. 
Beware of Abshire Smith, Finero, and other infamous companies. Your safety is a priority.
Trading Platform Overview
Abshire Smith includes three trading platforms: MetaTrader 4, Straticator, and VertexFX 10. MetaTrader 4 is a well-known trading venue popular among everyone worldwide for its advanced charting features, analysis tools, and automated trading capabilities. Traders can customize their trading environment with various scripts, making it a versatile platform for both novice and experienced traders alike.
Straticator is a web-based trading platform designed to be UI-friendly and easy to navigate. This platform offers so many trading tools. Straticator also offers a mobile app, making it easier for traders to stay on top of their trades while on the go.
VertexFX 10 is another trading venue presented by Abshire Smith. This platform is also highly user-friendly and provides traders with various APIs to develop automated trading strategies. VertexFX 10 also supports algorithmic trading and offers a sweeping back-office management system for traders to manage their accounts easily.
While Abshire Smith provides access to these three different trading platforms, it's essential to note that the broker is not regulated by any Tier 1 regulator such as the FCA, ASIC, or BaFin. As such, traders should do their investigation when choosing to trade with this unregulated broker.
Account Types at Abshire Smith
This company offers three accounts: Live Trading, Risk-Free Demo, and Corporate. The Live Trading Account is designed for real-time trading using actual funds. Traders can have a wide range of trading instruments, including FX, indices, and commodities, and can use any of the supported platforms.
The Risk-Free Demo Account is right for novice traders who want to test their trading methods without risking their capital. This account type provides access to a simulated environment using virtual funds.
Abshire Smith's Corporate Account provides custom-tailored solutions for professional traders and corporations. Yet, the broker doesn't provide detailed information on account features, requirements, or fees on its website. As always, it's crucial to do thorough research before choosing a broker and opening a trading account.
Abshire Smith – Deposits and Withdrawals
This corporation provides a variety of funding methods. This includes credit/debit cards, wire transfers, Skrill, Neteller, and CashU. The minimum deposit is $250, which is a reasonable amount for traders who want to start trading with a small investment. Nonetheless, it is important to note that the company has not provided any information on deposit and withdrawal fees on its website.
Regarding the Abshire Smith withdrawal policy, the broker has stated that they may charge fees to cover the costs of making payments. It is unclear what these fees are, and traders may need to contact customer support for more information. Additionally, it is worth mentioning that Abshire Smith's funding methods allow for chargeback or recall in case of any issues or disputes. 
How Do Scammers Execute Their Fraudulent Schemes?
Investing in the financial markets can be profitable, but it is not without risks. Unfortunately, some brokers exploit unsuspecting investors through deceptive practices. These fraudulent brokers often use enticing promises of fast and easy profits to lure investors into their schemes.
They pressure them to invest their hard-earned money in bogus trades and then disappear with the funds. Therefore, it is important to be watchful and cautious when choosing a broker.
Offshore brokers, in particular, are known for their deceitful tactics. They often claim to be licensed by reputable authorities to appear credible, but in reality, they are not regulated at all.
This is why it's crucial to do extensive research and due diligence before investing. Reading online reviews and ratings and seeking advice from independent financial advisors can help you make informed decisions.
It's also crucial to protect your personal and financial information. Never disclose your sensitive information to anyone unless you're confident in the company's reliability.
Moreover, it is essential to be aware of the similarities between unregulated firms that have a history of defrauding their customers. For instance, Abshire Smith and Conalp both operate as unregulated brokers with fraudulent records. Therefore, always be cautious and informed to protect your investments and financial security.
Summary
Abshire Smith is an unregulated broker that has been in the FX market since 2011, offering access to MetaTrader 4, Straticator, and VertexFX 10 trading platforms. However, the lack of Tier 1 regulation can be a concern for traders since unregulated brokers may not follow best practices. 
Abshire Smith offers 3 account types and there is a minimum deposit of $250, which can be made via credit/debit cards, wire transfers, Skrill, Neteller, and CashU. Yet, keep in mind that the broker has not provided any information on deposit and withdrawal fees. 
FAQs
What Kinds of Accounts Does Abshire Smith Have?
Abshire Smith offers 3 account types: Live Trading, Risk-Free Demo, and Corporate account.
How is My Security Ensured When Using Abshire Smith?
It is not. There are fears that this is a scam broker. Be mindful of that.
What Funding Methods Are Accepted at Abshire Smith?
Abshire Smith accepts deposits via bank transfer, cards, and e-wallets such as Skrill, Neteller, and CashU.