November 13, 2023
Reading Time:
4
min
AccentForex Review: Reading This Will Save Your Money from Doom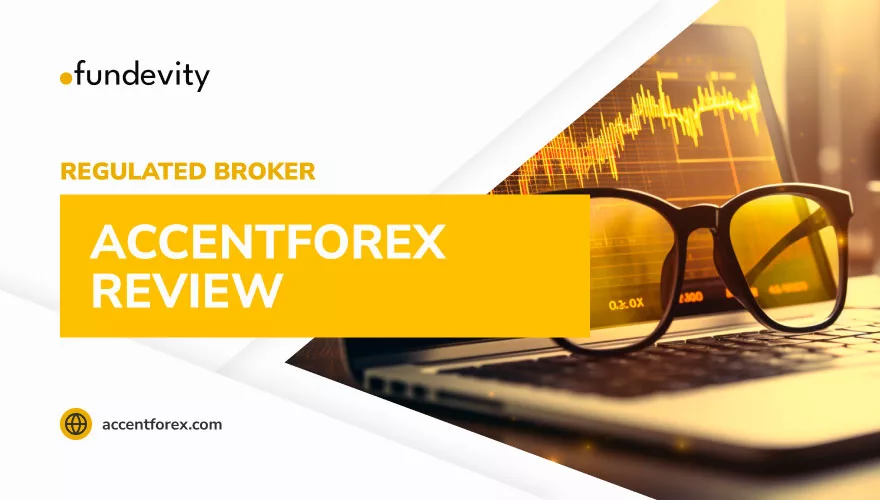 With a varied offer like the one AccentForex has, it would be hard to turn them down. But you should do it anyway! 
In our AccentForex review, we go into detail on why this broker is not as safe as you think, so be sure to read it before you give your money away. We won't keep you waiting much longer, so let's begin.
General information
Name:

Butenix Capital Ltd

Regulation status:

Regulated (VFSC)

Warnings from Financial Regulators:

No

Website link:

accentforex.com

Active since:

2010

Registered in:

Vanuatu

Contact info:

Email:

[email protected]

Skype: Accent Forex Support

Trading platforms:

MetaTrader 4

The majority of clients are from:

United States

India

United Kingdom 

Malaysia

South Africa

Customer support:

Yes (24h live chat support)

Compensation fund:

No
Regulation Info
As you know, a license is the prized treasure of every legitimate broker. It brings security and trust to clients, raising a broker's reputation in the process. So, what's the deal with AccentForex regulation? Well, the situation is not looking great.
The accentforex.com domain is owned by Butenix Capital Ltd, which is a company registered in Vanuatu. It claims to have a license from the VFSC, which we confirmed after a quick register check. However, this is only one part of the story.
Vanuatu is an offshore region not known for being strictly regulated. Brokers in this country can open their company without filling extensive requirements that are typically put in place to protect traders. This then puts traders at significant risk because a broker like AccentForex has all the freedom to do whatever it wants with its clients' money. 
All of the above makes the VFSC license almost meaningless, and we recommend you stay away from this broker.
AccentForex Profile
For those looking to get into trading, AccentForex broker has a lot to offer. The first gem in its crown is AccentForex MetaTrader4. This trading platform has been at the forefront of trading software for years, making traders' lives easier with its advanced tools and user-friendly interface. You can also take that show on the road and download the AccentForex Android app if your PC is too constricting.
And speaking of trading, clients can choose between five AccentForex account types:
MICRO

MINI

PROFIT

STP

SWAP-FREE
But that is not all. If by any chance you are into PAMM, you also have the option to open a PAMM account. However, while legal in most countries, the safety of your PAMM account directly depends on the reliability of the broker you are opening it with. And since we determined AccentForex is not that reliable, we advise you to think carefully before investing.
Is This Broker Safe?
Since AccentForex operates from Vanuatu, we would not trust it with our money, and you should not either. Although their license checks out, this country does not provide enough safety to traders to make trading with AccentForex worthwhile. 
You can compare AccentForex with Noor Capital as they both have licenses, but neither gives you the confidence to surrender your hard-earned cash to them.
But if you are looking for a broker that you can trust, you have come to the right place. Simply send us an email or give us a ring today, and we will set up our free consultations where we can talk about putting you in the right spot to succeed in Forex.
Trader Reviews – Sharing Experiences
We were happy to see that there are many trader reviews about AccentForex online. The broker is registered on Trustpilot with an average grade of 3.9 and 12 total reviews. There are traders with positive experiences, but we also have those who did not have a good time with the broker.
The negative reviews mostly focus on the AccentForex PAMM account. One user said: 
"Their PAMMs are a trap! This has happened several times. They show a nice stable growth with a low drawdown on myfxbook to lure investors in. This lasts for a couple of years and then suddenly such low-risk PAMM gets blown in a matter of hours…"
How Does the AccentForex Platform Reach Clients and Who Are They?
Through our research, we found that AccentForex mostly targets traders in these countries:
United States

India

United Kingdom 

Malaysia

South Africa
If we are to judge based on reviews, we would say that the PAMM account is one of the biggest selling points of AccentForex. However, if you are looking to open one, we recommend you choose a different broker because AccentForex cannot be trusted.
Deposits and Withdrawal Methods
Moving on to deposits and withdrawals, AccentForex accepts many payment methods. Those include:
Credit cards

Wire transfers

Neteller

Skrill

Crypto
As far as the AccentForex minimum deposit is concerned, you have to pay $50 for the base (MICRO) account. There are also some AccentForex fees that apply for both deposits and withdrawals. They vary depending on the transaction method and are as follows:
5.1% + 0.5 USD for credit card transfers (Free ≥ 1000 USD(EUR))

Bank fees for wire transfers

7% for Skrill and Neteller transfers

Aggregator fee for crypto
Conversely, AccentForex withdraw fees are not much different:
3% + 5 USD (EUR) for credit card transfers

0.3% for wire transfers

1% for Skrill

2% for Neteller but never over 30 USD

Crypto fees are the same as for deposits
Reasons To Avoid This Company
The main reason to avoid this company is, of course, its license. AccentForex operates from Vanuatu, which does not have a trusted regulator. The VFSC is known to be a lenient regulatory body, leaving much room for trader safety improvements. 
We would not say they are quite like Saxo, but they are not much different either.
Long Story Short – AccentForex
In our AccentForex review, you saw how a great trading environment can be rendered worthless without a proper license. Had AccentForex not been regulated by the VFSC, it would be easier to recommend them, but that is not the case, unfortunately.
But they are not the only option on the market. Quite the opposite. If you are looking for a quick recommendation, we can point you to Topstep, but if that does not suit you, we have other companies as well. Contact us today, and we can discuss your needs and skill level for free and craft broker suggestions accordingly!
FAQ Section
Is AccentForex regulated?
Yes, AccentForex is regulated but not by a strong regulator. It has a VFSC license, which is a Vanuatu regulation not known for its credibility in the trading circles.
What is the minimum deposit for AccentForex?
The minimum deposit at AccentForex is $50. This is quite affordable but we want to note there are better options as well.
How much is AccentForex's withdrawal fee?
The withdrawal fee depends on the transaction method. The good news is none of them exceed 3%.