September 04, 2023
Reading Time:
5
min
Adams Darby Review: Scam or Legit? Everything You Need to Know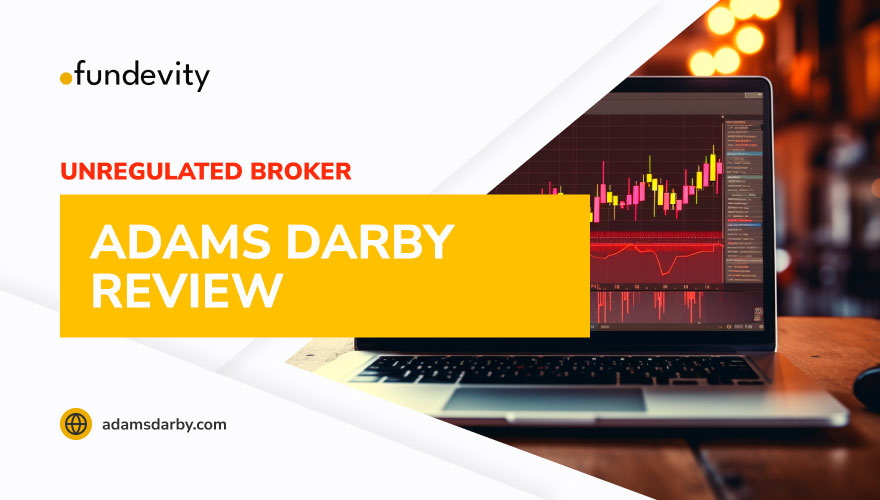 Speaking of trading platforms and safety, Adams Darby appears like just another brokerage. Regardless, beneath its surface, nothing seems to be right. 
As we dive deep into this Adams Darby review, our aim is to provide you with the insights necessary to make good decisions. With the credibility of the broker in question and dubious practices at play, it's crucial to think twice and be cautious. Stay tuned for more relevant details! 
General information
Name:

Adams Darby

Regulation status:

Unregulated Broker

Warnings from Financial Regulators:

No official warnings

Website link:

adamsdarby.com

Active since

2021

Registered in

n/a

Contact info:

Data is hidden

Trading platforms:

Web & MT4

The majority of clients are from

United States 

United Kingdom

Ireland 

Australia

South Africa

Customer support:

n/a

Compensation fund:

No
Adams Darby Legitimacy
Let's cut to the chase: Adams Darby stands on shaky ground in terms of legitimacy. The signs pointing to its questionable nature are crystal clear – anonymous, unregulated, and non-transparent about its operations. To avoid the risks of falling victim to scams, it's a wise move to opt for reliable and regulated brokers. When we say Adams Darby is anonymous, we mean they reveal minimal information about themselves, aside from a reference to Estonian laws buried in their Terms and Conditions.
Pause and think for a moment: entrusting your funds to such brokers leaves them susceptible to all sorts of threats. There are investment scams, identity theft, and more.
Thankfully, many countries have built robust regulatory frameworks for financial providers to shield investors from such threats and market volatility. In the EU, for instance, FX brokers must obtain licenses from national regulators, meeting strict requirements on both national and EU levels. These mandates cover essentials like segregating client funds, reporting transactions, and offering negative balance protection.
On the flip side, regulated brokers adhere to strict requirements. They are guided by rules and are supervised closely by respective governmental bodies. It's no secret that safety lies in trading with Tier 1 regulated brokers. Regulatory bodies like the FCA and CySEC come to the rescue. These institutions tirelessly monitor and regulate brokers, ensuring they uphold the highest standards. When considering a broker, keep these vital details in mind. In a trading world, putting your faith in regulated firms is your best shot.
Trading Assets Available
When it comes to Adams Darby's website, it's safe to say they're facing some technical glitches. Therefore, getting a clear picture of the trading assets they support proves to be quite a challenge. 
Now, let's talk about the importance of diversification. That is similar to having a safety net in this dynamic world. When you turn your attention to brokers like FXCM for Forex, Coinbase for cryptocurrencies, and TD Ameritrade for stocks, you're stepping into a domain of trading variety you can rely on. Keep that in mind. 
The beauty of opting for such brokers goes beyond just having choices galore. It's about putting your trust in a proven track record of reliability. This is extremely important for investors. 
Trading Platforms at Adams Darby
At adamsdarby.com, traders are met with the MetaTrader 4 platform—a widely recognized choice. Yet, the noticeable absence of MetaTrader 5 raises eyebrows about the broker's commitment to keeping up with industry advancements. In contrast, reputable brokers proudly offer MetaTrader 4 or 5, platforms known for their advanced tools and features. 
Ensuring that your chosen broker is established and maintains transparency sets the stage for a secure trading experience.
Caution: Adams Darby targets people from the United States, United Kingdom, Ireland, Australia, and South Africa. Beware of potential risks.
Adams Darby's Trading Landscape
Let's dive into the trading landscape at Adams Darby. This is a subject we've cross-referenced with input from other traders. Our info falls on the fees and bonuses they glorify. Upon closer examination, it's evident that Adams Darby isn't exactly forthcoming with their cost breakdown. They impose significant withdrawal fees, and as an extra layer, they also levy a 10% charge on accounts that haven't met a certain trade threshold.
Now, let's pivot to the topic of leverage. Adams Darby remains somewhat vague about their leverage offerings, raising valid concerns. Traders using their web platform encounter a default leverage of 1:200. On the surface, this may seem reasonable, but there's doubt due to the obscurity surrounding their website.
Remember: Leverage increases risk, potentially leading to rapid losses if mishandled. It's worth noting that high leverage ratios aren't typically favored by everyday traders. The EU and UK have taken measures to curtail such ratios, capping leverage at 1:30. This move aims to ensure a balance that prevents brokers from offering extremely high levels like 1:100 or 1:500.
Payment Choices at Adamsdarby.com
Let's talk about what it takes to get started at Adams Darby. They've set a minimum deposit requirement of $250, a figure that may seem relatively standard. But here's where things get interesting: Given their somewhat suspicious reputation, it's wise to take a closer look. 
Now, when it comes to payments, Adams Darby offers a range of methods to fund your account (cards, wires, and OKPay). Yet, it's worth considering the tried-and-true options like credit cards, PayPal, Skrill, Advcash, and crypto. Why? Because these methods bring an extra layer of security into the mix. Opting for these methods means you have a safety net in place if things don't go as planned down the line. Keep that in mind. 
Trader Reviews on Trustpilot
Let's check out what Trustpilot has to say about Adams Darby. We can see that they're sitting at an average review rating of just 2.2 stars. Now, that's enough to raise some doubt. It goes without saying that reliable brokers usually have ratings of 4.5 stars and even higher.
Now, why does this matter? The collective feedback from traders like you carries serious weight. It's similar to having a compass in this complex terrain of decision-making. Using the experiences of other traders can help drive your choices in the right direction.
Please try to use brokers that are regulated and safe like Dooprime. And try to avoid phony ones like Braga Capital FX. This is the unwritten rule!
Scam Broker Tactics
Researching deceitful brokers requires a clear understanding of their tactics. This is a fact! It's important to spot the warning signs they leave behind. For example, facing repeated withdrawal problems and stumbling upon unexpected hidden fees should instantly raise alarm bells. We should never ignore this. They often reveal the true colors of a questionable broker.
But that's not all. Be cautious of brokers who promise huge, unrealistic returns and guarantees of massive profits. While the idea might be tempting, these promises usually signal trouble ahead. Legitimate brokers understand the market's unpredictability and volatility. So, they avoid making such exaggerated claims.
Given these tactics, opting for regulated brokers is your best bet. Choosing brokers that follow the strict rules of trustworthy authorities gives you protection against falling for scams. These brokers focus on being transparent and protecting your interests, making your trading journey much safer. By avoiding potential traps like the Adams Darby, you not only secure your investments but also set yourself up for a successful trading experience.
Long Story Short – Adams Darby
We can see that Adams Darby's murkiness, questionable fees, and dubious practices ruin its credibility. 
Prioritizing brokers regulated by reputable authorities, with positive feedback, is always smarter. We all know that the trading world is full of uncertainty. Because of that, choosing a regulated broker is your assurance of a secure and fruitful trading expedition.
To discover more about these brokers, contact us for a free consultation today! 
FAQs
Is Adams Darby a Legit Broker Or a Scam?
This broker is not legitimate and you should avoid it.
What is the Adams Darby Withdrawal Policy?
They will take 10% of your withdrawal amount.
How To Get Money Back From Adamsdarby.com?
To get your money back, contact us and we will help you request a chargeback.