May 18, 2023
Reading Time:
4
min
Admiral Trades Review: Shedding Light on Shady Business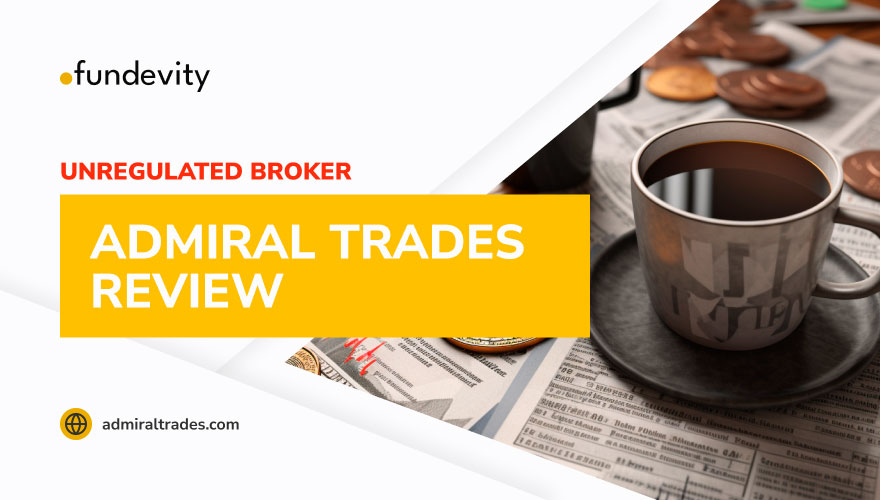 Admiral Trades is a name that rings of treachery, and upon closer inspection, it becomes clear why. Our exhaustive Admiral Trades review reveals a web of deceit woven by this shady operator. This article exposes their dubious services and suspicious background.
Beware of the broker's siren song promising boundless riches, for it is just a ploy to lure you into their trap. Once trapped, they will strip you of your money and disappear into the shadows like a thief in the night. Fortunately, we are here to expose this nefarious scheme and shield you from its evil effects. Read on for more! 
| | |
| --- | --- |
| Company | Pipe Ltd |
| Headquarters | 52 Berkeley St, London, United Kingdom |
| Website | admiraltrades.com |
| Warning | n/a |
| Platforms | WebTrader |
| Minimum Deposit | $250 |
| Leverage | 1:500 |
| Spread | From 1.5 pips |
| Review Rating | 1/5 |
Admiral Trades – Regulation and Security of Funds
Rather than simply denouncing Admiral Trades, it's important to look at the troubling inconsistencies that have come to light. Interestingly enough, this financial swindler has unwittingly provided us with the evidence we need to expose their true nature. While they claim to be an offshore provider based in London and registered under Pipe Ltd, Admiral Trades has left a trail of deception. This leads us to conclude that they are nothing more than a pure hoax.
It's critical to eliminate the paradox here by verifying whether Admiral Trades is registered with the UK's financial regulatory authority, the Financial Conduct Authority (FCA). It's evident that trusting Admiral Trades with your funds is a grave mistake, as they are not a regulated broker.
With a regulated provider, you won't have to worry about negative balance protection. Should the company go bankrupt, the broker will pay you up to GBP 85,000. It's clear that Admiral Trades is a dubious and fraudulent provider that primarily targets traders from Germany, France, Italy, the UK, and the US.
Trading Platform Overview
Admiral Trades brags about an "award-winning platform" they promote as the pinnacle of trading technology. But let's be honest here, what exactly makes their WebTrader "world-class"?
The answer is simple: nothing. In reality, all you'll get is a subpar and basic platform that lacks the advanced tools and features that a reputable platform should have. Forget about automated trading, live-market reports, API integration, market depth, netting, and other critical features. All you'll be left with are basic charts and indicators that leave much to be desired.
What's worse, without a license to operate, we can safely assume that this platform was rigged from the get-go. Once you realize you've been swindled, it's too late. The scammer has already absconded with your funds, leaving you with nothing to show for it.
Don't fall for Admiral Trades' false promises and dubious claims. Choose a reputable trading platform that offers advanced tools, secure transactions, and a license to operate. Protect your investments and stay safe from financial predators, such as Admiral Trades and Nexospro, who exploit unsuspecting traders.
Understanding Admiral Trades' Account Types
Admiral Trades tries to lure potential victims with the promise of different account types, but a closer look reveals the true nature of this scam broker. Let's break down the four account options they offer:
Standard account: requires a minimum amount of $250, with spreads starting at 1.5 pips, leverage up to 1:500, and a bonus of up to 30%.

Silver account: demands a minimum deposit of $2,500, with the same 1.5 pips spread and leverage ratio of 1:400, and the same 30% bonus as the standard account.

Gold account: requires a minimum deposit of $10,000, with a supposedly tight spread of 0.8 pips, high leverage of 1:500, and a 100% bonus.

VIP account: requires a minimum deposit of $50,000, with a 0.0 pip spread, a 1:500 leverage ratio, and another 100% bonus.
These numbers might sound impressive but don't be fooled. A broker without proper licensing, like Admiral Trades, can't offer the security and protection regulated brokers can provide. In fact, even the minimum deposit requirement of $250 is too high a risk for traders who want to keep their funds safe. And let's not forget about those tempting bonuses, which are often used as a tool to trap unsuspecting victims in the scam.
Funding Options Available
At Admiral Trades, the minimum deposit of $250 is exorbitantly high, especially when considering the broker's sketchiness. While they do accept credit/debit cards, wire transfers, and "popular e-wallets," the lack of transparency in listing these methods raises concerns.
On the bright side, the minimum withdrawal amounts are relatively low, at $25 for card withdrawals and $100 for wire transfers. However, given the shady nature of Admiral Trades, we doubt that clients will actually be able to withdraw their funds.
It cannot be emphasized enough how crucial it is to be careful when dealing with companies such as Admiral Trades, Smart Trade CFD, and other dubious entities.
The Fraudulent Techniques
The prevalence of broker fraud is a harsh reality, and it can cause immense financial damage. Unfortunately, many brokers and investment firms engage in shady practices to extract money from their clients. Some of these crooked tactics include making unauthorized trades, taking on high-risk investments without the client's consent, falsifying statements, and misleading clients about the performance of their investments.
Another prevalent type of broker fraud is "churning," where brokers make excessive trades solely to increase their commissions. However, this is often at the expense of their clients. Brokers may also engage in "front running" by using their knowledge of upcoming market moves to buy stocks for their accounts before executing trades for their clients. Other fraudulent practices include Ponzi schemes, unregistered securities, and pump-and-dump scams, which lure investors with false promises and vanish once they take their money.
To protect yourself against broker fraud, do your research before investing. Look for registered firms with a proven track record and thoroughly scrutinize your account statements. Avoid falling for high-pressure sales tactics and unrealistic return promises. If it sounds too good to be true, it probably is. If you suspect fraudulent activity, report it to the appropriate authorities and seek legal advice. Staying vigilant and informed is the key defense against broker fraud.
Admiral Trades Summary
Admiral Trades is an unregulated broker that targets traders from the UK, France, Italy, Germany, and the US. The platform offers four account types, with the minimum deposit starting at $250. It offers funding options such as credit/debit cards, wire transfers, and e-wallets. 
Admiral Trades' platform is a subpar and basic platform that lacks advanced tools, features, and critical functions such as live-market reports, API integration, and market depth. The broker also offers bonuses that trap unsuspecting victims in the scam. It's crucial to avoid Admiral Trades as it is not a regulated broker, and there is no investor compensation.
FAQs
Is Admiral Trades a Safe Place for My Money?
No. This company is not a safe place for your money.
Can I Open a Demo Account with Admiral Trades?
Admiral Trades, the broker in question, purports to provide a demo account. Yet, this is false.
What Account Types Does Admiral Trades Offer?
Account types supported by this broker include Standard, Silver, Gold, and VIP.