August 05, 2023
Reading Time:
6
min
Aestotal Review: Refrain From Trading With This Unlicensed Broker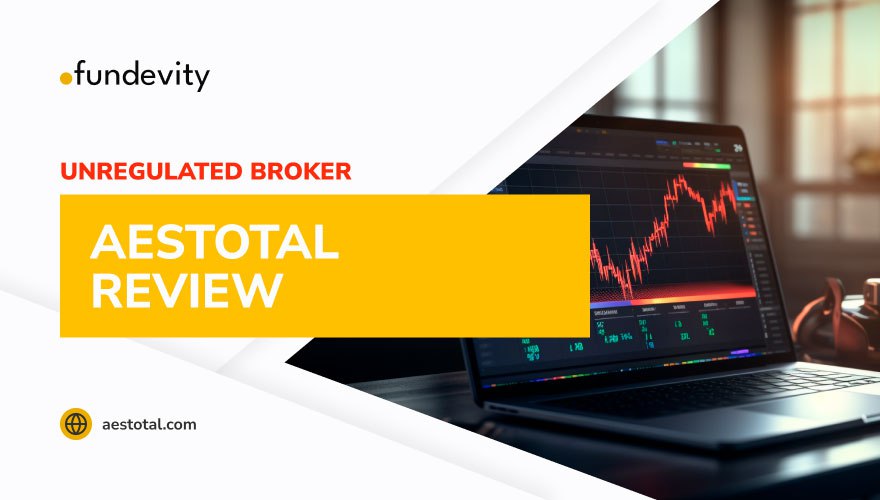 Caution is crucial when choosing a broker for your Forex trading ventures, and Aestotal claims to be a trusted option. But here's the catch – Aestotal operates without regulatory oversight, leaving customers unprotected. 
What's worse, Aestotal's association with websites offering "Automated trading software" raises skepticism due to the industry's infamous scams. Our comprehensive Aestotal review talks about these issues. Keep reading for more valuable details!
Aestotal Legitimacy
Meet Aestotal, the self-proclaimed "Trusted Forex Brokerage With All The Solutions." They want you to believe they are a reliable and open forex broker, catering to traders of all levels. Their promise? A smooth, fast, and secure trading environment for various Forex markets. They brag about their user-friendly tools that make trading as easy as a simple click. 
However, there's a big problem: Aestotal lacks regulation and oversight from any agency. This is a serious concern, as it means there isn't any Aestotal license. Without proper regulation, your money with them is at risk. Moreover, you could be vulnerable to manipulation and fraud. Be cautious and take the necessary steps to protect yourself if you think about trading with Aestotal.
General information
Name:

Aestotal

Regulation status:

Unregulated Broker 

Warnings from Financial Regulators:

No official warnings

Website link:

https://aestotal.com/

Active since

2023

Registered in

N/A

Contact info:

N/A

Trading platforms:

Aestotal MT4

The majority of clients are from:

Australia 

Spain 

Belgium 

Netherlands

United Kingdom

Customer support:

Yes (24/5)

Compensation fund:

No
Trading Assets Available at Aestotal
Aestotal.com urges traders to explore new markets. They want people to diversify their financial portfolios through their range of trading instruments:
Forex. Access a selection of popular currency pairs, including USD/EUR, AUD/USD, GBP/EUR, and more.

Indices. Engage in day trading and make smart predictions about market movements with their optimized trading tools.

Commodities. Trade various commodities, such as Coffee, Sugar, Energy, and more, to tap into new markets.

Shares. Invest in shares of major global companies and predict their performance based on market trends.

Aestotal Crypto Assets. Trade popular cryptocurrency pairs like BTC/ETH and more than 65 others.
Yet, it is crucial to remember that Aestotal lacks proper licensing for forex trading. That raises concerns about the safety and credibility of its offerings.
Aestotal Platforms: MT4 Trading Platform
Aestotal offers the widely popular MT4 trading platform, accessible on both iOS and Android devices. With this platform, traders can access various markets and instruments from anywhere at any time. It truly allows for seamless and convenient trading experiences. 
While the MT4 platform is indeed favored among financial traders, it does not negate Aestotal's lack of regulation concerns. Therefore, traders should consider the risks associated with Aestotal's lack of regulation when looking at this platform. 
They should also research the company thoroughly before investing. This is to ensure that the platform is secure and trustworthy.
Aestotal's Dubious Trading Environment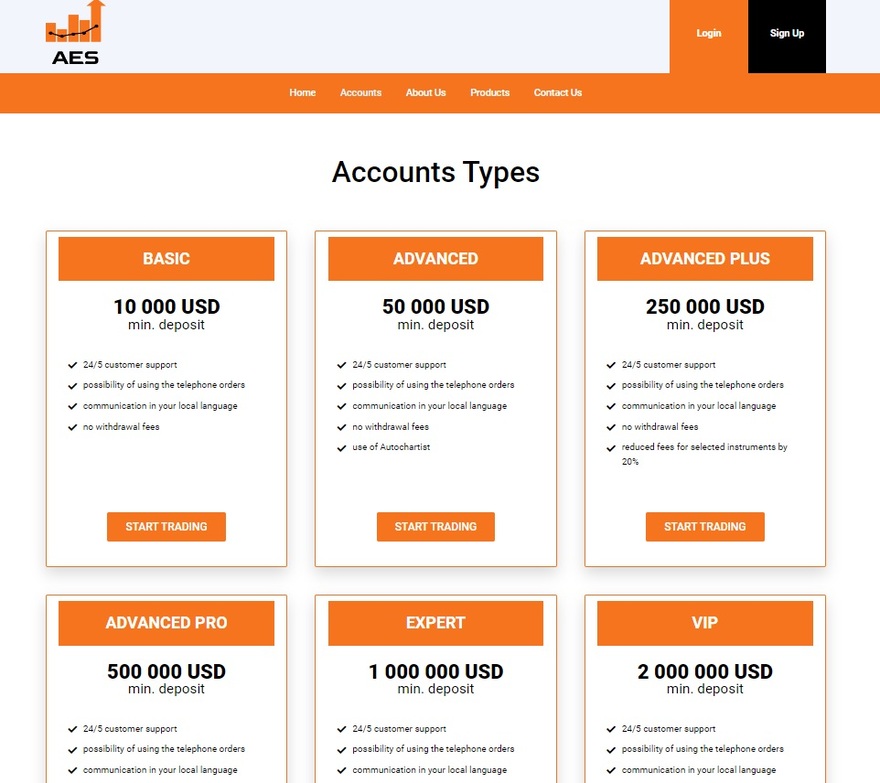 This broker provides different account types with varying minimum deposits and benefits. Aestotal account types are as follows:
BASIC: $10,000 minimum deposit, 24/5 customer support, the possibility of using telephone orders. There is communication in your local language and no withdrawal fees.

ADVANCED: $50,000 minimum deposit, 24/5 customer support, and the possibility of using telephone orders. There's the use of your local language, no withdrawal fees, and the use of Autochartist.

ADVANCED PLUS: $250,000 minimum deposit, 24/5 customer support, and the possibility of using telephone orders. There are no withdrawal fees and reduced fees for selected instruments by 20%.

ADVANCED PRO: $500,000 minimum deposit, the same benefits as for the previous accounts, and invitations to exclusive conferences.

EXPERT: $1,000,000 minimum deposit, the same benefits as for the previous accounts, and access to expert analysis.

VIP: $2,000,000 minimum deposit and the same benefits as for the previous accounts.
It's essential to remember that despite the enticing features, Aestotal's lack of regulation must be a cause for concern.
Leverage 
Leverage is a crucial aspect of forex trading. It enables traders to magnify their trading positions with borrowed capital. While Aestotal offers leverage, you need to exercise caution when using it. Do that mainly since the broker is unregulated. 
High leverage can lead to large profits. Yet, it also increases the risk of significant losses. This makes it vital for traders to approach it with care and proper risk management strategies.
Mobile Trading App
Aestotal provides a mobile trading app compatible with iOS and Android devices. This allows traders to stay connected to the markets. Moreover, they can execute trades on the go. 
Mobile trading apps can be convenient. But it's crucial to ensure the security of your trading activities, especially when dealing with an unlicensed broker like Aestotal.
Special Bonuses: Terms and Conditions
Aestotal offers various bonuses to attract traders. But, you must read and understand the terms and conditions associated with these bonuses. The following terms and conditions apply to bonus promotions:
The bonus applies only to one account and cannot be transferred between accounts.

To withdraw bonus funds, the client must trade a minimum volume equal to the bonus amount divided by four.

Failure to fulfill the trading volume rule within 60 days will result in the withdrawal of the bonus amount from the client's account.

Bonus deposits are not prorated. You must meet trading volume requirements before withdrawal eligibility.

While accepting the deposit bonus, clients may not withdraw trading profit funds until the minimum trading requirements are met.

Aestotal reserves the right to change the bonus policy at any time with prior notice.

Trading volume calculations will only be based on FX products.

All bonuses received will be subject to 100:1 leverage on trading accounts.
It is crucial to exercise caution when accepting bonuses. Why? Well, they may come with conditions that could restrict your trading flexibility and access to funds.
Autotrading
Aestotal offers different auto-trading services. It allows traders to install automated trading strategies. 
While auto trading can be convenient, it's vital to exercise caution and ensure strategy reliability. This is especially true if you are dealing with an unregulated broker.
Stop Loss Orders
Stop-loss, take-profit, buy limit, buy stop, sell limit, and sell stop orders are standard risk management tools in forex trading. 
They help traders control potential losses and secure profits. Yet, Aestotal's lack of regulation may raise concerns about the execution and handling of these orders, especially in volatile market conditions. Keep this in mind. 
Note: Avoid MilleniumOne and other dubious brokers at all costs. This is crucial to know. 
Earnings & Refunds at Aestotal: What Traders Should Know
This firm lures traders with multiple funding options, including debit/credit cards, bank transfers, and selected Aestotal crypto payments. They promise lightning-fast executions to ensure traders can access the trades they desire. 
However, it is vital to remember that their withdrawal policy may require extensive compliance documentation and impose minimum withdrawal amounts. This may cause inconvenience for traders. 
Therefore, it is critical for traders to be aware of the terms and conditions associated with the withdrawal process. This is extremely important to do before committing to Aestotal or similar brokers. They should also read up on reviews from other traders to get a better idea of the service they can expect.
Protecting Your Forex Investments from Dodgy Brokers
Caution is advised when dealing with suspicious brokers. These individuals often use cunning tactics to entice traders with utopian profits. It is crucial to remain vigilant and not be swayed by their deceptive practices. They might withhold withdrawals, creating difficulties in accessing funds when needed urgently. Similarly, it is essential to know high-pressure sales tactics that coerce individuals into investing beyond their means.
To protect your financial interests, conducting thorough research on any broker you encounter is paramount. Seek out well-established brokers with a transparent regulatory history and a track record of positive reviews. 
Be careful and avoid hasty decisions. By equipping yourself with knowledge and being cautious, you can shield yourself from fraudulent brokers like Aestotal and Monafoli.
Customer Support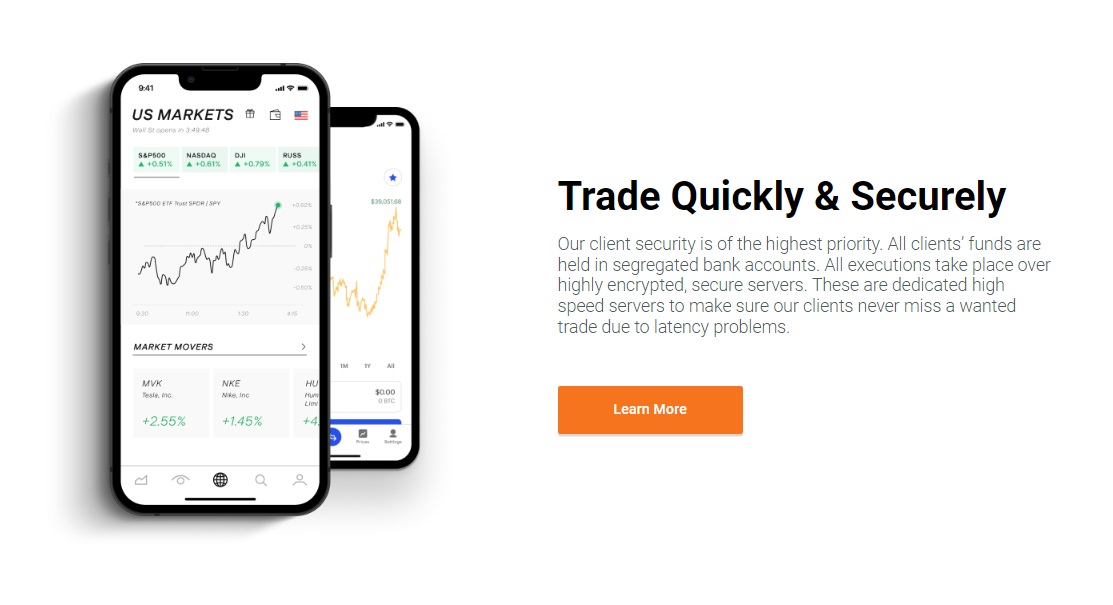 Aestotal claims to offer 24/7/5 customer support to assist traders with any issues or questions. Yet, given their lack of regulation, it is crucial to remain skeptical about their customer support service's efficiency. 
Before investing in any broker, it is always worthwhile to research them. You must also check reviews from other customers to get an idea of their customer service. Besides, it is critical to ensure that a broker is regulated by a solid and reputable financial authority.
Traders' Reviews
Their Trustpilot rating is 2.8 – average. This score indicates that the company has received many negative reviews from customers. It is critical to fully research whether Aestotal, MobaTrade, or any other company is trustworthy. Potential customers should know the risks of using a fake and suspicious company.
Trustpilot reviews reveal that Aestotal has an average rating of 2.8 stars based on 19 total reviews. Unfortunately, most of their clients seem dissatisfied with their services. It signals potential issues with broker operations and customer satisfaction.
Long Story Short – Aestotal
Aestotal presents itself as a trusted forex brokerage. They offer various trading instruments, bonuses, and a reliable trading platform. But, the absence of regulation is a concern. It leaves customers unprotected and raises distrust about broker legitimacy. By all means, you must approach Aestotal with skepticism. 
Focus on safety when selecting a broker for your financial ventures. It is crucial to only work with licensed and reputable brokers. Regulated brokers follow industry standards and protect your funds and interests.
If you're interested in learning more about regulated brokers, don't hesitate to get in touch with us for assistance! Remember to conduct thorough research before making any investments. Seek advice from trustworthy financial advisors. Also, make sure the broker is registered with the relevant authorities. Our team is here to support you in making well-informed decisions and protecting your assets. Feel free to reach out anytime!
FAQ Section
Is Aestotal Legit?
Aestotal's lack of regulation raises concerns about its legitimacy. Beware of that. 
What Does Aestotal Offer?
Aestotal offers various trading instruments, bonuses, and an MT4 trading platform.
How To Contact Aestotal?
Contact information for Aestotal is not provided anywhere.