September 06, 2023
Reading Time:
4
min
AIMSCAP Review: A Thorough Broker Evaluation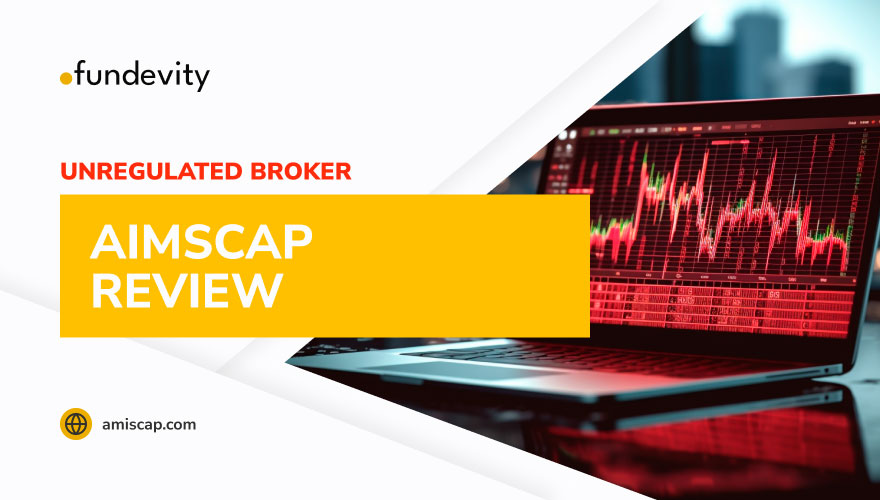 Are you ready to discover more about another shady broker? AIMSCAP, at first glance, might seem like a safe haven for your investments. However, if you look closer, there are many issues with it. 
In this informative AIMSCAP review, we embark on a detailed journey to disclose AIMSCAP's legitimacy. Also, we will cover the trading assets, platforms, and much more. Join us in exposing this unregulated broker and arming yourself with essential knowledge for secure trading.
General information
Name:

AIMSCAP

Regulation status:

Unregulated Broker Scam

Warnings from Financial Regulators:

No official warnings

Website link:

aimscap.com

Active since

2021

Registered in

Cambodia

Contact info:

n/a

Trading platforms:

MT4

The majority of clients are from:

Malaysia 

Cambodia 

Singapore

South Korea 

South Africa

Customer support:

Chat

Compensation fund:

No
AIMSCAP Legitimacy
So, is AIMSCAP legit? AIMSCAP talks about affiliation with multiple financial authorities. This includes the Securities and Exchange Regulator of Cambodia (SERC) and the Labuan Offshore Financial Services Authority (LOFSA) of Malaysia. However, a simple fact-checking reveals these claims to be baseless. 
The clear lack of transparency, coupled with the noticeable lack of any contact info, raises significant concerns. It's wise to understand that trusted brokers operate under strict regulatory frameworks, offering a safety net to investors. 
Thus, it's crucial to limit your trading activities to Tier 1 regulated brokers to ensure the utmost security for your funds. 
Trading Assets at AIMSCAP
Now, what about the AIMSCAP's assets? They assert their ability to facilitate trading across multiple asset classes, including forex, commodities, and indices. 
Yet, we strongly advise a cautious approach. Instead, consider legit brokers offering a more extensive range of assets, not only forex but also indices, stocks, cryptocurrencies, and commodities. 
Interesting Fact: Well-established brokers often provide access to renowned platforms like MetaTrader 4 or 5. These form a solid foundation for your trading journey.
Trading Platforms Available
AIMSCAP's statement of granting access to MetaTrader 4 might raise some eyebrows. Sadly, our efforts to confirm this claim were thwarted by missing AIMSCAP login credentials and the absence of demo accounts. This certainly casts a shadow over the broker's credibility. 
Trustworthy brokers offer seamless access to genuine MetaTrader platforms, known for their superb features and robust tools. To steer clear of uncertainties, it's wise to seek brokers with impeccable track records, robust regulatory backing, and transparent trading platforms like MT.
Note: Ensure the safety of your investments by choosing legit firms, and avoiding fake ones such as ThorFX.
Trading Conditions at AIMSCAP
AIMSCAP's website provides scant information regarding its trading conditions. They have 3 account types: Standard, VIP, and Premium. While the promise of a $100 minimum deposit may appear nice, it's essential to recognize that this isn't an exclusive offer. Top-notch brokerages often offer similar terms. Keep that in mind. 
Moreover, the allure of high leverage ratios, often extended by corrupt brokers, should be approached with caution. Regulatory bodies in the EU and UK have enforced a 1:30 leverage cap to shield traders from undue risk. 
Again, we strongly advocate steering clear of high-leverage brokers and instead opting for Tier 1 regulated ones. Do that to ensure a secure and risk-aware trading environment.
Withdrawal Options at AIMSCAP
AIMSCAP claims to accept Visa and MasterCard deposits, along with local bank transfers from Malaysia, Thailand, Indonesia, or Vietnam. If you're depositing in Indonesian Rupiah, they also offer the option of using FasaPay.
Besides, Payment Gateways are mentioned as part of their deposit methods. Notably, AIMSCAP asserts that they do not impose any deposit or withdrawal fees on their clients.
However, due to our inability to create an account and test these claims firsthand, we cannot verify the authenticity of these methods. We strongly advise against transferring your funds to such an unclear entity, as it carries risks to your investments.
If you've already invested with AIMSCAP and find yourself concerned, there may still be hope. Both Visa and MasterCard allow chargebacks within 540 days of the transaction. 
To protect your assets, it's strongly recommended to explore brokers offering transparent payment options such as PayPal, Skrill, Neteller, Advcash, bank cards, or cryptocurrencies.
Trader Reviews
When it comes to trader reviews on platforms such as Trustpilot, AIMSCAP appears to be quite the enigma. Strangely, there are no reviews to be found on these platforms. Yet, it's worth noting that we did stumble upon some negative feedback on AIMSCAP through Twitter. 
To protect your trading experience, it's wise to consider brokers with a more established presence. Look for those who have earned solid user ratings of 4.5 stars or higher. These higher-rated brokers tend to have a history of providing reliable trading environments. Notably, this is what makes them a safer choice for your investments. In trading, leaning towards brokers with a proven track record can be a good and reassuring decision. This is the unwritten rule. 
Note: Keep your investments safe by selecting reputable firms and avoiding fraudulent ones like Medifinance Limited.
Scam Broker Tactics
Fraudulent brokers have many tactics to scam you. You will see certain withdrawal issues practically always. Likewise, you may see unconventional fees. Keep in mind that there are bogus high fees, regularly exceeding 20%. Those fees will often have another representation – withdrawal processing fees.
Also, there's nearly always a profit fee. Fake brokers like CedarFX want you to pay for these in advance.
Also, there are irrational promised returns. This is another well-known deception method that you should be aware of. Fraudsters will always promise you enormous guaranteed returns. Note that trading with leveraged instruments carries substantial risks. Any broker fraud will try to convince you that your returns are 100% guaranteed. Keep that in mind. 
Tip: The AIMSCAP no deposit bonus is a promotion offered by the broker to new customers. The bonus amount is $30. But, this shouldn't tempt you into using this broker. 
Can I Make Money From Online Trading?
It's good to know that we offer free consultations and we introduce our innovative AI Analysis Bot. This tool is made to simplify your research process, helping you make better decisions. In online trading, having access to reliable resources and conducting research is your path to success. This is a fact! 
To sum it up, AIMSCAP may seem fine at first glance, but it lacks transparency. What's more, questionable practices require careful thinking. Opting for a regulated and reputable broker is essential to protect your interests. Be mindful, do your due diligence, and choose brokers with a solid reputation!
FAQs
What Is AIMSCAP?
AIMSCAP is a shady broker lacking transparency and has many unverified claims.
What Are The AIMSCAP Platforms?
AIMSCAP claims access to MT4, but verification is hampered by missing credentials and demo accounts.
What is the AIMSCAP Withdrawal Policy?
AIMSCAP has various deposit methods without fees but it lacks proof.