October 13, 2023
Reading Time:
4
min
AlgoMerchant Review: Explore AI-powered Trading, Academy, and Apps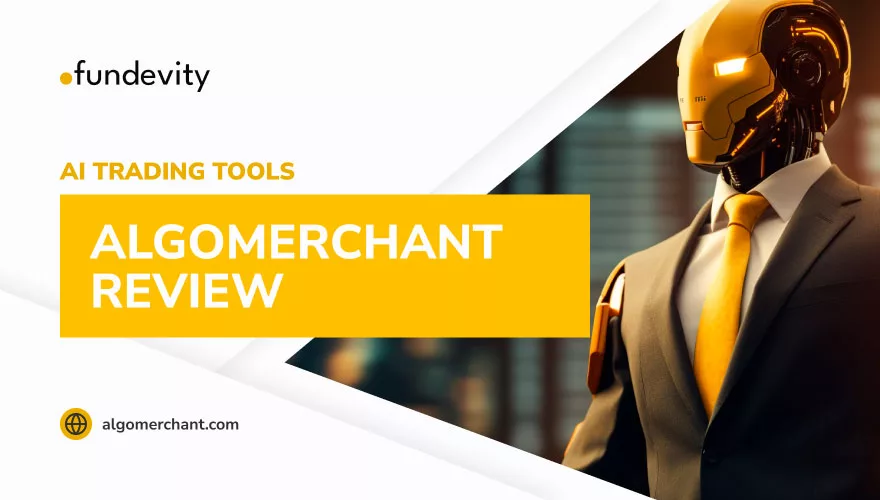 AlgoMerchant is a trading platform designed for algorithmic trading devotees. It provides a range of services to clients. In this AlgoMerchant review, we will explore the various aspects of this trading software, including its services, Academy, and user feedback. Stay tuned for more interesting details! 
General information

Name

AlgoMerchant

Type of company

Trading Software

Regulation status

Unregulated/Not expected

Warnings from Financial Regulators

No official warnings

Website link

algomerchant.com

Active since

2022

Registered in

60 Paya Lebar Rd, # 10 – 02 Paya Lebar Square, Singapore 409051

Contact info

[email protected]

, +65-6708-9337

Trading platforms

Orion and RoboInvest

Majority of clients are from

Singapore; Vietnam; India; Malaysia

Customer support

Email and phone

Compensation fund

No
Company Details
AlgoMerchant is a Singapore-based FinTech business that seems eye-catching. The company specializes in retail investment, stock trading, FinTech, and algorithmic trading. Still, are they reliable?
AlgoMerchant, a leading name in algorithmic trading, provides a solid platform for clients to create and test their algorithms. Still, despite its impressive services, the website lacks some info about the company's history and founders. This leaves potential clients curious about the minds behind this innovative platform.
Despite this, we were able to collect some info about the founders. Namely, this company has four founders. They are:
Justin Tjoa, Co-Founder & CEO at AlgoMerchant

Marco Raditya, Co-Founder and COO at AlgoMerchant

Anjar Wicaksono, Co-Founder at AlgoMerchant

Aditya Santoso, Co-Founder & CTO at AlgoMerchant
Regulatory Oversight
One notable concern for clients is the absence of information about any regulatory body overseeing AlgoMerchant's operations. We must say that this does not instill confidence! 
Remember that regulatory compliance is essential for a secure and reliable trading environment. The lack of clarity in this area may discourage some clients from fully committing to the platform.
It's best to use trading platforms that are regulated by FINRA, ASIC, CySEC, or FCA. This will guarantee your funds are safe. 
Exploring AlgoMerchant's Platforms
AlgoMerchant's platform stands out due to its support for multiple programming languages, including Python, C++, and Java. Clients can create and test their algorithms. Or they can choose from the platform's pre-built options. 
AlgoMerchant's bot traders, powered by AI, spot chances and adapt to market changes. Also, you can access Orion, their auto-bot trading platform. It's helpful for a steady stream of passive income. You can check it out and see if it works for you. 
Tip: Do you want a reliable broker on your side? If so, check out SohoMarkets. The company is authorized by the Cyprus Securities and Exchange Commission (CySEC) as a Cyprus Investment Firm (CIF).
RoboInvest
This company simplifies trading with its user-friendly RoboInvest software. Users can set up automated trading by choosing a strategy and connecting it to their brokerage account. Note that real-time trade signals are sent via push notifications, keeping you updated on their trades. 
Also, the proprietary AutoInvest software guarantees slick trade execution. This firm has full transparency, allowing us to access their trade history and positions at any time. Notably, users have the option to withdraw whenever they want, as the robots don't hold onto the money. 
Another thing to mention is that the platform cares about security, storing funds in trust and custodian accounts. Plus, users can monitor their investments using the mobile app.
TradersGPS Everywhere
Another iOS app they have, TradersGPS Everywhere, is a game-changer for traders. It lets you monitor GPS signals with a cool design and easy-to-use features. 
You can explore different positions for swing trading, view charts, and customize your grid layout. This app, based on the Traders GPS algorithm, extends AlgoMerchant's web offerings. Also, it helps you filter stock and indices market opportunities in Singapore, the United States, and Hong Kong. You can simply check out the AlgoMerchant login section and trade smarter with this app.
AlgoMerchant Academy
Let's dive deeper into the AlgoMerchant Academy! Here are some of the courses they offer:
Mastering the Stock Market

: Perfect for those eager to trade professionally or for passion. You'll learn vital skills like market analysis, risk management, and trading psychology.

Systematic Trading

: This is for traders curious about creating and executing systematic trading strategies. Dive into topics like backtesting, optimization, and execution techniques.
And for a limited time, they're offering their exclusive:
Payout Trading System for Consistent Income

course, valued at $1088, entirely free! This is a solid option to gain some knowledge without breaking the bank.
Payment Methods
While specific details about payment options here are not fully transparent, it seems they accept credit card payments. This is indicated on the TradersGPS Complete Pack subscription page. 
While more info would be helpful, it's good to know that credit cards are likely an accepted payment method. Also, you can consider reaching out to their customer support for further payment-related inquiries.
Tip: Are you looking for a reputable trading firm based in Singapore? DBSInvesting is a platform offered by DBS Bank, which is a fully regulated financial institution. DBS Bank is a multinational banking and financial services corporation located in Singapore.
Trustpilot Reviews
Currently, this firm lacks Trustpilot reviews. This is not good for traders who need extra validation. 
While Trustpilot reviews can be subjective, the lack of any reviews makes it really hard for potential clients to see the experiences of others. Still, this company did receive some positive feedback in the App Store and on Glassdoor. 
Can I Make Money From Online Trading?
So, here we are, asking this million-dollar question. Undoubtedly, online trading can be prosperous if you understand the markets well. We offer smart free consultations to guide you, providing helpful insights and support. 
Aside from that, we have our AI Analysis Bot, a clever tool developed to assist traders with accurate trading advice. With access to valuable insights and predictions, traders can boost their strategies and make better decisions. Try it out now before the time runs out! 
Final Verdict
All in all, this is a trading platform that offers AI algorithmic services to its clients. The platform supports multiple programming languages and has many innovative features. Yet, the website does not provide any details about the company's history or founders, and it is not clear if users can fully trust them. 
The Academy does have a bunch of solid courses, still some people may find them pricey. If you like this company so far, you can give it a try.
Still, don't forget about something much better. Our AI Analysis Bot has many outstanding features to boost your trading strategy! 
FAQs
What Is AlgoMerchant?
AlgoMerchant is an AI-powered trading platform with algorithmic services, courses, and UI-friendly apps.
Is AlgoMerchant Safe?
AlgoMerchant's safety relies on user experience. They are not entirely safe.
Can I Withdraw from AlgoMerchant?
Yes, this trading platform allows withdrawals.