November 14, 2023
Reading Time:
5
min
BamSEC Review: The Unfiltered Truth About This SEC Research Tool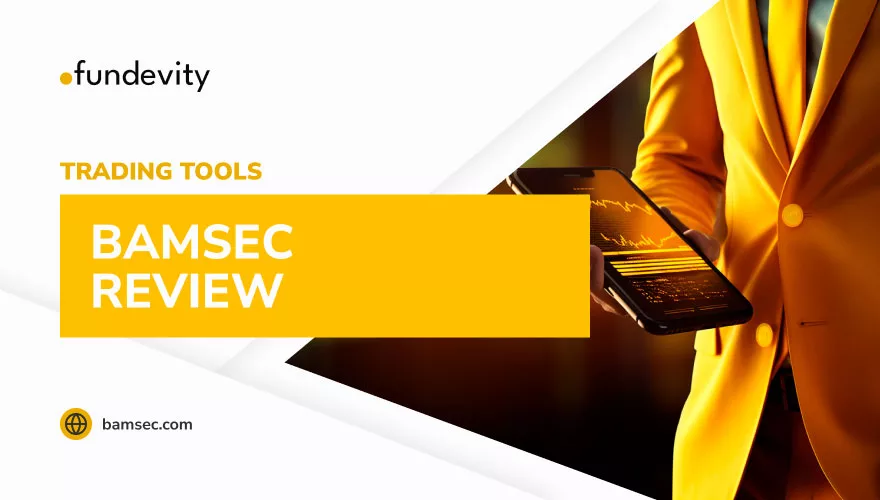 Prepare for an honest exploration of BamSEC, where we discuss its features, pricing, and whether it stands up to the hype. This BamSEC review doesn't sugarcoat, as it's a sincere take on this SEC filings tool. Read on! 
General information

Name

BamSEC LLC

Type of company

Trading Tool

Regulation status

Unregulated/Not expected

Warnings from Financial Regulators

No official warnings

Website link

bamsec.com

Active since

2011

Registered in

600 3rd Ave Fl 2, New York, New York, 10016 & Chicago, United States

Contact info

[email protected]

,

[email protected]

 

Trading platforms

Web

Majority of clients are from

United States, India, Canada, United Kingdom, Singapore

Customer support

Email and contact form

Compensation fund

No
About BamSEC App
Located in the heart of New York, BamSEC markets itself as the leading tool for SEC filings research. While the ideal location may catch your eye, let's talk about what they offer besides that. 
Yes, we can see this firm categorizes findings and provides broad database searches, aiming to keep you updated on developments with the companies you're monitoring. Yet, let's mention something crucial!
This firm comes with a substantial price tag. It's pricier than other SEC filing search tools. After all, is the promise of extra data and superior search tools worth the big investment? We're about to find out.
BamSEC Pricing Options
What about the BamSEC subscription fees and prices? We can see that this tool demands a yearly investment of $828, with no mercy on monthly subscriptions. This is quite expensive for many traders who are just starting out!
They promote a 7-day free trial. Still, don't forget, your credit card is the admission fee. Is this expenditure justifiable, or are there more budget-friendly options that deliver the goods? Let's analyze the costs versus benefits further below.
Main Features
Let's take a closer look at all of their features now! 
Company Filings
BamSEC sets itself as your golden ticket for SEC-registered businesses, encompassing everything from OTC to penny stocks. 
Notably, filings can be sifted through by category or date, spanning financials, news, ownership, and proxies. Before being wooed by the diversity, remember – this tool comes at a premium. Still, we must say that their features are indeed valuable! 
Note: Many people are wondering about the BamSEC API. Still, this tool does not provide an API. 
BamSEC Ownership Breakdown
As we mentioned before, this company makes it easy to dig into company details registered with the SEC, covering everything from big names to OTC and penny stocks. 
You can sort filings by type or when they happened, like financial reports (10-K and 10-Q), news updates (8-K), prospectuses, registrations (S-1, S-3, S-8), proxies (14A), and more. Whether you're after specific types or dates, you can quickly filter through them using a custom search of the text.
Going a step further, BamSEC.com breaks down who owns what in a company using filing data. You can check out recent filings for insiders and big institutions here.
And here's the best part: BamSEC pulls out important stuff from a company's SEC filings and organizes them neatly. We can see these include crucial documents like credit agreements, indentures, merger and acquisition agreements, and underwriting agreements for share offerings. This is quite solid!
Highlighting Feature
BamSEC talks about a 'neat feature' – highlighting text in any document, with claims that it saves your highlights for later use. 
How often will you revisit these highlights, and does this function significantly improve your analysis, or is it just an unnecessary frill? 
We must say that, after all, this is an excellent way to keep track of all findings if you spend time examining the firm, and then return to it months later after a new quarterly filing is sent out.
Note: Tegus, the go-to-market intelligence platform for key decision-makers, just sealed the deal for the BamSEC acquisition.
Document Search
This firm talks about the fact that a database-wide document search is hard to ignore. Instantly finding any phrase across filings sounds impressive. 
Organized by relevance, you can filter results by market cap, industry, and filing types. We can say that this feature truly sounds promising! 
Tip: eSignal stands out from the crowd as more than just your typical trading platform. Uncommon yet powerful, it's a lesser-known trading tool that delivers real-time data along with plenty of valuable features.
Recent Filings
It's time for us to get into chronological lists of new securities registrations, proxy documents, and late filings. 
We can see it is also possible to view recent filings based on their type. New securities registrations (including S-1 filings), secondary securities (S-3 and S-8 filings), proxy docs, and late filings are available on BamSEC's chronological listing. These lists can be filtered by company market cap and industry, which is nice.
Yet, there's one omission! This tool conveniently skips new 10-K and 10-Q financial filings and new 8-K news filings. Are you willing to overlook these gaps? After all, it's up to your judgment only. 
Alerts
Staying in the loop is a priority, and BamSEC facilitates this with 2 alert options. 
Users can customize email alerts for specific filing types across all companies, like a new 8-K filing. The platform also offers an estimate of the weekly alert frequency, providing users with solid control.
Tip: Did you know that the Breakfree Trading platform integrates with over 600 brokers globally? This is quite outstanding! 
Platform Differentiators
While this data is free on the SEC's EDGAR database, BamSEC improves the user experience with organized data and search functionality. The best feature is the database-wide text search. What's more, this one lets users find specific phrases across all SEC filings in seconds. 
This distinguishes it from more complex tools like SEC-API. The ability to create text-based alerts is a great asset for those tracking specific companies or market trends. Still, this firm falls short in helping the analysis of shelf registrations and secondary offerings. Think about that! 
Online Client Reviews
Surprisingly, Trustpilot lacks reviews for this business, and this is not good. 
Reliable firms typically accumulate great reviews, 4.5 stars and above. So, the absence of Trustpilot reviews may make potential users cautious. Remember that! 
Boost Your Earnings in Trading
Ready to boost your earnings through online trading? If yes, we're here to guide you every step of the way! Take advantage of free consultations and expert advice on leading brokers and tools. 
Also, you get to explore our AI Analysis Bot for factual trading predictions. Try it for free for 20 days, without upfront payments. Get 5 detailed FX analysis reports and 5 stock analysis reports each month to boost your profits. This offer is limited, so hurry up!
Final Words
Truthfully, BamSEC looks like a user-friendly tool, although the absence of Trustpilot reviews may raise some caution. Ultimately, we can give them a passing grade!
When choosing a financial platform, it's best to opt for those with proven positive track records, ideally rated 4.5 stars and above. Making good choices in trading is crucial. So, speaking of reliable tools, consider exploring our AI Analysis Bot. You won't regret it! 
FAQs
Why Use BamSEC?
BamSEC simplifies SEC filing research and provides updates for smart investment decisions.
What is the Difference Between FactSet and BamSEC?
While FactSet offers broader financial data, BamSEC excels in SEC filing specifics and document organization.
What is Proprietary Trading?
Proprietary trading is when firms use their funds to trade stocks, bonds, and other instruments for profit.