November 07, 2023
Reading Time:
4
min
eSignal Review: A Deep Dive into eSignal Platform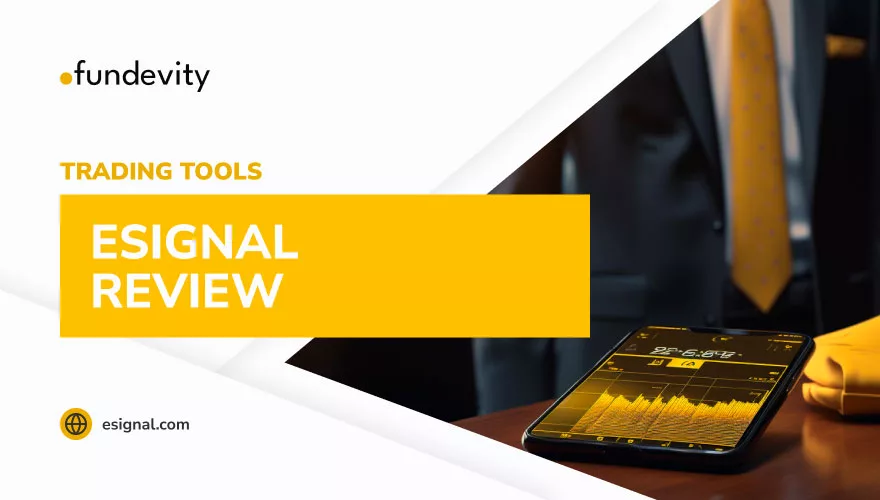 Do you want a platform that can provide you with real-time data, superior charting, and a wide range of trading services? Well, this firm might just be the answer. In this eSignal review, we'll break down the key aspects of this platform, including its features, pricing, competition, and awards. So, let's dive in and discover what makes eSignal a favorite among traders. Keep reading! 
| | |
| --- | --- |
| | General information |
| Name | eSignal, Intercontinental Exchange, Inc. |
| Type of company | Trading Tool |
| Regulation status | Unregulated/Not expected |
| Warnings from Financial Regulators | No official warnings |
| Website link | esignal.com |
| Active since | 2001 |
| Registered in | Hayward, California, United States |
| Contact info | America +1 770 999 4511 / EMEA +44 203 948 6511 / Singapore +65 3158 3105 / Australia +61 3 9067 7000 |
| Trading platforms | Web Terminal |
| Majority of clients are from | United States, India, South Korea, United Kingdom, Canada |
| Customer support | Email and contact form |
| Compensation fund | No |
Understanding eSignal
eSignal is not your average trading platform. This is a not-so-popular charting and trading tool that offers real-time data and a bunch of useful features.
The best part is that it's working with both Windows and Mac, making it accessible to a broader audience. One nice feature is its ability to connect with 50+ different eSignal brokers (Crossland LLC and more). This allows us to access various trading services from a single platform.
This business suits both newbies and experienced traders. With over 25 years of experience, it has earned a reputation for providing valuable data and solutions. The platform has even bagged numerous awards over the years, making it a reliable choice for traders.
eSignal Pricing – How Much Will It Cost You?
This company offers 3 different subscription levels. Let's explore them further:
Classic:

This plan is perfect for casual traders who engage in monthly trades but not daily. It provides data with a 15-minute delay and comes at a monthly cost of

$61

.

Signature:

This here is the most popular subscription, offering real-time data for

$204

per month. With this plan, traders can view up to 500 symbols at once. Subscribers also gain access to the eSignal free learning center, which provides useful resources for traders at all skill levels.

Elite:

The Elite plan, priced at

$416

per month, offers a sweeping package. It includes personal mentoring, real-time data streaming, extended history access, and the Advanced GET analysis platform. With this plan, traders can track high and low-performing stocks and much more.
While the Elite plan might be a bit pricier compared to some competitors, it offers substantial value. We must say it is an excellent choice for traders looking for comprehensive services.
eSignal vs. NinjaTrader vs. TC2000
This firm faces competition from other trading platforms like NinjaTrader and TC2000. TC2000 is an excellent choice for beginners, with monthly costs ranging from $100 to $120. It offers real-time data, analytic capabilities, many charting options, and mobile-friendly software. All of that costs $89.98 per month.
However, if you're looking for an all-in-one solution that covers analysis, charting, prediction, and trading, eSignal has a clear advantage. eSignal allows users to customize charts based on industry, recorded averages, and stock picks. The platform's constant software upgrades have greatly improved the user experience. This is a fact! 
Has eSignal Won Any Awards?
As we said before, this company has a history of winning awards. And this truly highlights its excellence in the trading industry. Among the notable accolades are the T2W Members' Choice Award for the best A.I. software in 2005, 2006, 2008, and 2009. 
eSignal platform has also received awards for its software, support, best stock trading system, and end-of-day data service. While it has been some time since their last award, these prizes highlight the platform's quality.
Tip: AlgoMerchant is an AI-powered platform that offers algorithmic services, courses, and user-friendly apps. However, the website lacks details about the company's history and founders, which may undermine users' trust.
Education
For beginners, this firm offers valuable educational resources. They provide training courses that help users get familiar with the software. They also help them gain insights into the market, and learn how to use cutting-edge tools like Elliott Waves, Fibonacci, and Gann tools. The smart interface of this firm simplifies the trading process and saves time by retaining info across devices.
eSignal trading firm recently rolled out an updated version of its software. Notably, they introduced new features for the app store and social media integration. This reflects their aim not only to create an innovative platform but also to foster a community of active traders.
Now, let's explore the balance between the pricing and the services this firm provides.
The Balance of Prices and Services
It is essential to consider the balance between pricing and the services you'll receive. The subscription options offer flexibility, but they come at varying price points. The Classic plan is budget-friendly, making it accessible to casual traders. 
The Signature plan offers real-time data and practical learning resources to a broader audience. The Elite plan, while pricier, delivers an extensive set of features, confidential mentoring, and the Advanced GET platform.
It's important to remember that trading tools come with costs, and eSignal is no exception. This company justifies its higher pricing with thorough features and good value. With a track record of solid work, it's a strong rival for traders seeking a steadfast platform.
Tip: MetaStock is charting and analysis software for traders to make better buying and selling decisions. You can explore them more in our review! 
Client Reviews on Trustpilot
People who tried the platform didn't have a good experience, according to 65 reviews on Trustpilot. They rated it a low 1.3 out of 5 stars, and this clearly indicates serious problems. Customers complain about bad customer service and unreliable trading. 
It's a clear warning sign, so don't risk your money here. Instead, go for platforms with solid 4.5-star ratings or higher. That way, you'll ensure a safer trading experience.
Making Money Trading
Want to make money online trading Forex? We're here to help! Get free advice and support on the best trading platforms and much more! 
What's more, meet our AI Analysis Bot – your smart trading tool and assistant. Try it free for 20 days. No upfront payments are needed at all! It offers 5 detailed FX analysis reports and 5 stock analysis reports each month. Boost your profits effortlessly and give it a shot now!
Final Words
When it comes to investing or trading, smart choices matter. The platform we talked about may not be the right fit after all. 
But don't worry, we have a better solution – our AI Analysis Bot. It's reliable, transparent, and designed for your success. Choose wisely, invest in a platform that values you, and start your successful trading journey now.
FAQs
Is eSignal Worth the Money?
The firm offers valuable features and real-time data, but they are not worth the money.
Difference Between eSignal and TradingView?
eSignal isn't so popular, and TradingView is a top-notch company with advanced charting and social features.
Can You Trade on eSignal?
Indeed, eSignal allows trading with real-time data and diverse trading services for users.