March 26, 2023
Reading Time:
7
min
Benchmark Finance Review – All About This Brokerage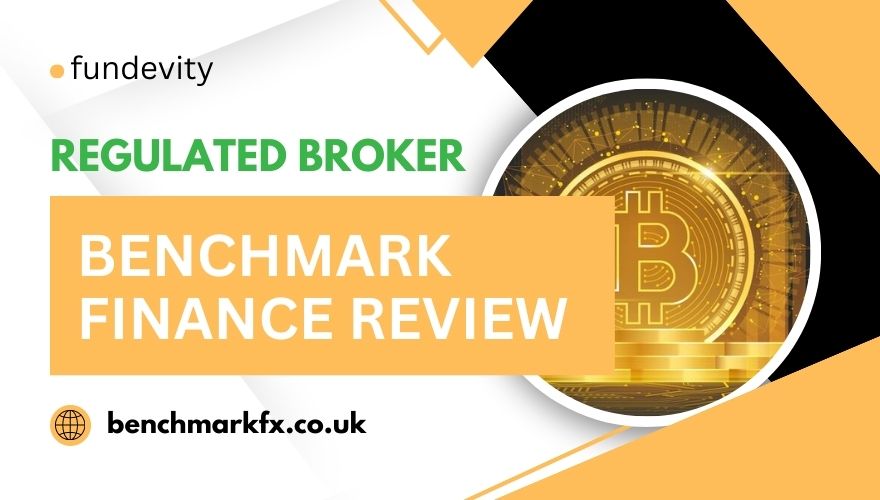 Benchmark Finance is a reputable online broker with multiple regulations and a long history in the industry. They offer access to 30,000 financial securities on the user-friendly MetaTrader platform (MT4/MT5) with attractive spreads, reasonable fees, and efficient execution.
With a focus on the Bulgarian market, the broker caters to professional traders seeking a convenient way to trade across various asset classes. Many people reported that their interactions with this firm were positive and enjoyable. Keep reading this Benchmark Finance review to find out more details.
| | |
| --- | --- |
| Headquarters | Bulgaria |
| Regulated | FCA, CNMV, AMF, BaFIN |
| Year Established | 2003 |
| Execution Type | automatic |
| Minimum Deposit | $0 |
| Trading Platforms(s) | MT4, MT5 |
| Signals | Yes |
| US Clients Accepted? | No |
| Islamic Account | n/a |
| Segregated Account | n/a |
| Managed Accounts | n/a |
| Support Hours | from 20:00 Sunday to 22:00 Friday |
| Customer Support | Phone, Email, Live Chat, Social Media |
| Demo Account | Yes |
Benchmark Finance Pros and Cons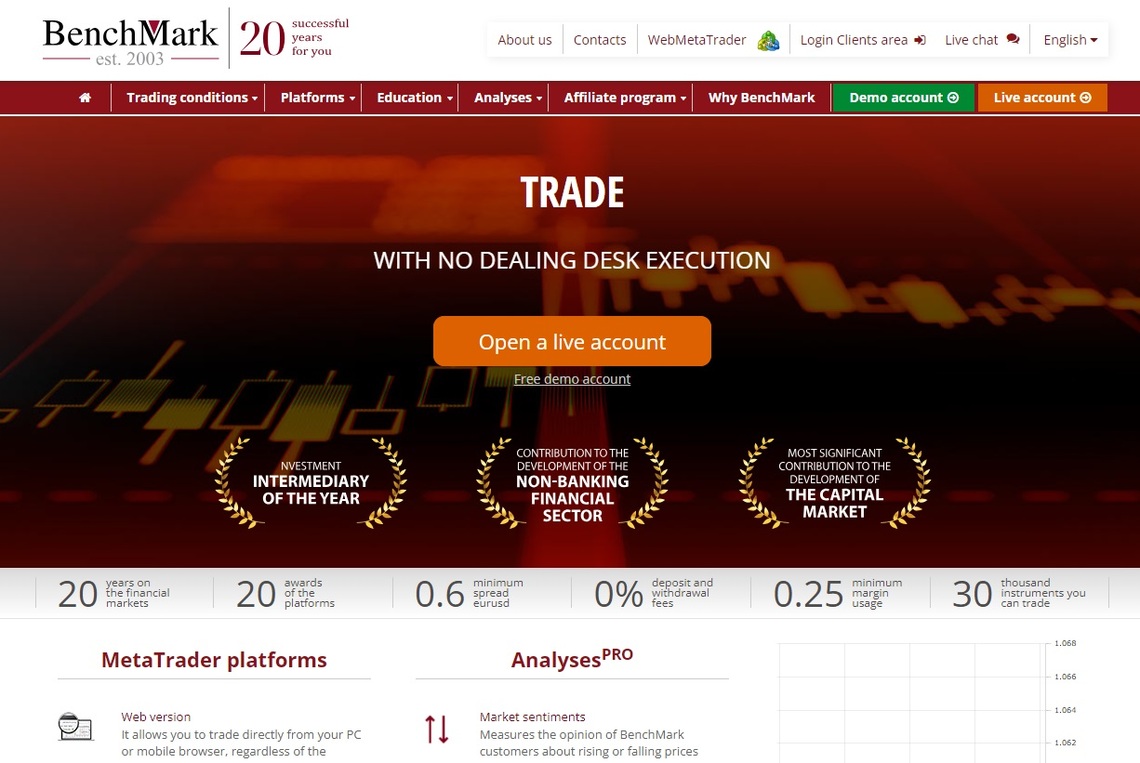 Benchmark Finance is an online broker that provides access to the financial markets, including stocks, options, forex, and cryptocurrencies. Here are some pros and cons of using Benchmark Finance as a broker:
Pros:
User-friendly platform: Benchmark Finance's trading platform is known for being easy to use and navigate, making it a good choice for beginner traders.
Wide range of assets: Benchmark Finance offers a diverse range of assets to trade, including stocks, options, forex, and cryptocurrencies, allowing traders to diversify their portfolios.
Low fees: Compared to other online brokers, Benchmark Finance is known for having relatively low fees, which can be a significant advantage for traders who are looking to keep their trading costs to a minimum.
High-quality customer support: Benchmark Finance is known for having responsive and knowledgeable customer support, which can be helpful for traders who need assistance with their trades or have questions about their accounts.
Cons:
Limited research and analysis tools: Although Benchmark Finance provides basic market data and news, it may not have as many research and analysis tools as other brokers, making it more difficult for traders to make informed investment decisions.
Limited international offerings: Although Benchmark Finance offers a wide range of assets to trade, it may not have as extensive a list of international offerings as other brokers, limiting the options available to traders interested in global markets.
No physical branches: As an online broker, Benchmark Finance has no physical branches. This can be a big disadvantage for traders who prefer in-person support or need assistance with their accounts.
These are some of the pros and cons of using Benchmark Finance. You should keep in mind that what may be an advantage or drawback for one trader may not be the same for another. So, always carefully consider your needs and preferences when picking a broker.
Is Benchmark Finance Safe? Security and Regulation
Benchmark Finance is a trusted investment intermediary, part of the BenchMark Group, based in 2003. It is regulated by the Financial Supervision Commission in Bulgaria.
Moreover, it holds licenses under the MiFID to offer investment services in Spain, Germany, France, and other members of the European Union. The broker is known for its transparent operations and protection of investors, thanks to its reliable regulation.
One factor that sets Benchmark Finance apart is its handling of client deposits. Instead of using them for their own operations, the deposits are kept separate in segregated bank accounts at reputable institutions such as UniCredit Bulbank, Raiffeisen Bank, and more. The broker also takes security seriously by using 128-bit SSL encryption for their site and trading platforms to protect client data. Overall, with its reliable regulation and secure operations, Benchmark Finance can be a nice option for day trading activities.
Benchmark Finance Leverage
Benchmark Finance offers the MetaTrader account and the Trader account. On the MetaTrader account, the maximum leverage available is 1:200. This is considered an average level of leverage for the industry and is in line with many other firms. However, it is worth noting that there are some brokers that provide higher levels of leverage, such as FxPro, which offers 1:500, and GrandCapital, which offers 1:2000 on some of its account types.
For the Trader account, the maximum leverage on major pairs is 1:50. This level of leverage is lower than what is available on the MetaTrader account and may not be suitable for all traders. In addition, the maximum leverage offered on exotic pairs is even lower, providing an extra layer of caution for traders who want to trade these less commonly traded markets.
All in all, the maximum leverage offered by Benchmark Finance can vary depending on the account type and the type of instrument. Always consider your own risk tolerance and trading goals when choosing the level of leverage that is right for you.
Benchmark Finance Account Types Available
With its versatile range of account types, Benchmark Finance broker stands apart in the world of finance. The broker offers two distinct options for traders – the Retail account and the Professional account – both of which are compatible with the MetaTrader 4 and MetaTrader 5 platforms.
The Retail Account is suitable for both novice traders and seasoned professionals alike. With no minimum deposit requirement, spreads starting at 0.1 pips for EUR/USD, and a maximum leverage ratio of 1:30, this account is designed for convenience and flexibility. It also boasts zero commission trading on forex, metals, oil, indices, and crypto assets, as well as access to all tradeable instruments and automated execution.
Other noteworthy features include the 30% stop-out level, hedging without margin, and the ability to use Expert Advisors with no limitations on stop/limit. Plus, with real-time quotes, traders can stay on top of market changes in real-time.
The Professional Account, while similar to the Retail Account in many ways, offers some added benefits for pro traders. This account provides access to higher leverage of up to 1:400 and a stop-out level of 20%. In addition, it rewards traders with loyalty bonuses and other awards.
To qualify for this one, traders must demonstrate knowledge of Benchmark Finance's trades and services. You also need to have made at least 10 large-volume trades in the past 4 quarters, whether domestically or internationally, and have a portfolio of financial instruments worth at least €500,000 in cash (including savings, bank deposits, and other portfolios).
All in all, this broker offers a range of account types that cater to the needs of all traders, from novices to professionals.
Trading Instruments at Benchmark Finance
Benchmark Finance, your trusted partner, offers access to a mixed portfolio of over 30,000 financial instruments. Each one is there to suit your trading needs. With the subsequent benefits, you can boost your trading game to the next level:
Experience seamless trading with over 180 commission-free FX pairs, with spreads starting from just 0.1 pips for EUR/USD.
Dive into the world of stocks and trade more than 19,000 with commissions as low as $0.05 per share and a margin requirement of 10%.
Shine with metals trading, where you can take advantage of spreads starting from $0.25 for gold and a margin requirement of just 0.5%.
Fuel your trading strategy with oil and gas, where spreads start from $0.04 for oil and $0.01 for gas, with a margin of 1%.
Index your returns with spreads starting at 0.5 pips and a margin requirement of 0.5%.
Tap into the crypto world with spreads starting from $0.005 and a margin requirement of 10%.
Extend your horizons with over 200 futures contracts and approximately 9,000 CFDs.
Invest smarter with Benchmark Finance, and you won't regret it.
Trading Platforms Overview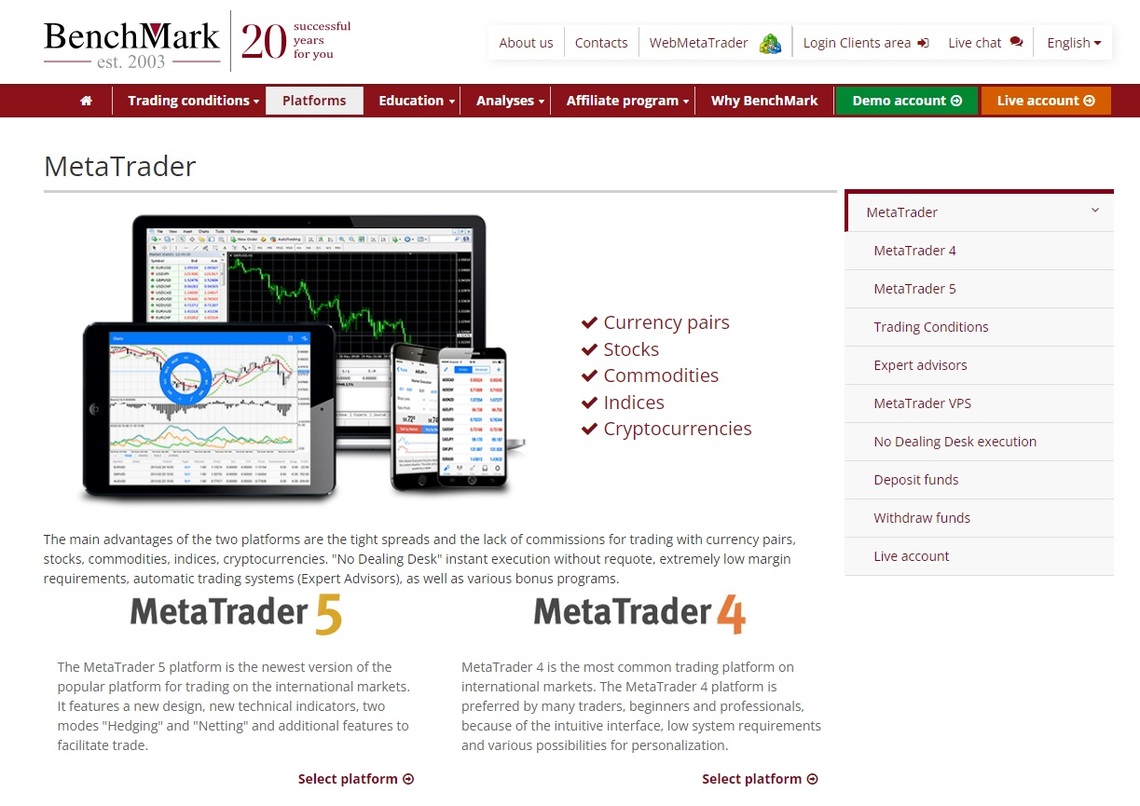 MetaTrader 4 and MetaTrader 5 are the trading platforms offered by BenchMark Finance. These two were designed by the same corporation; 'MetaQuotes Software Corporation'.
Therefore, they look very similar and have similar features except for the fact that MetaTrader 5 is more recent and has some extra features. If you learn how to use one of the venues, you shouldn't have any problems switching to the other. Both venues are ideal for anyone who wants convenient access to online trading.
Deposits and Withdrawals Process
Benchmark Finance understands the importance of convenience when it comes to funding your trading account. Some options may seem limited compared to other brokers. Yet, they are carefully chosen to ensure a seamless and secure transaction experience.
For your convenience, this broker accepts wire transfers, cards, and the popular German online banking system Sofort. These allow you to quickly and easily deposit funds into your account, so you can start trading without delay. If you have more than one account with Benchmark Finance, you can easily transfer funds between them, making it easy to manage your investments.
Keep in mind that the latest encryption tech protects all transactions. Furthermore, this firm monitors transactions 24/7 to prevent fraud and ensure your funds are safe.
After all, although Benchmark Finance may have limited payment options compared to other brokers, they want to provide a secure, and reliable way to fund their trading accounts.
Education and Resources
The broker's broad educational offering is there to equip traders with the skills they need to thrive in the world of trading.
Benchmark Finance's academic offerings include as follows:
Trading Tutorials
Trading Essentials
Video Tutorials
With these resources, traders of all levels can access the details they need to become thriving and confident traders.
Customer Support
Benchmark Finance offers 24/5 customer support in Bulgarian and English. Bear in mind that there are multiple international support agents available.
You can reach the support team through phone calls, emails, instant live chat, and the broker's social media channels (Facebook, YouTube, and Twitter). Their friendly support staff is ready to assist with any queries or concerns.
Benchmark Finance Summary
All in all, while traders in the US are unable to open an account with Benchmark Finance, the broker offers a wealth of features and benefits for traders from other countries.
With accessible MT4 and MT5 venues, fast and free transfers, and flexible leverage options, you will have a reliable trading experience. Lastly, Benchmark Finance is a broker that offers a lot of value for traders at all levels.
FAQs
Are my Deposited Funds Protected at Benchmark Finance?
Yes, your funds are protected at Benchmark Finance. There is nothing to worry about when it comes to this broker.
Where Can I View Benchmark Finance Legal Documentation?
You can find all relevant legal documentation on their web page. It is easily accessible.
What Bodies Are Benchmark Finance Regulated Under?
Benchmark Finance is regulated under the following bodies: FCA, CNMV, AMF, and BaFIN.