October 20, 2023
Reading Time:
4
min
Bitsgap Review: Making Crypto Trading Simple for Everyone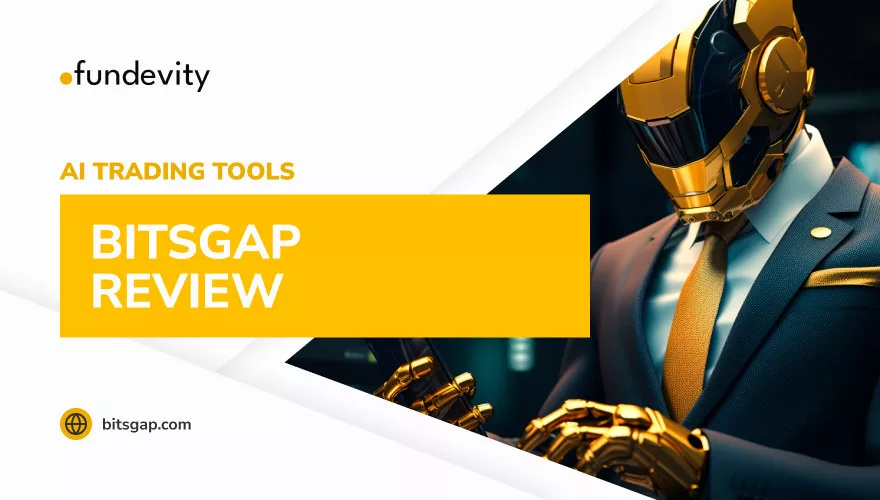 Welcome to the world of Bitsgap, where you can test your crypto trading skills. In this Bitsgap review, we will unravel the magic behind Bitsgap. This is the automated cryptocurrency trading bot platform that has received some positive feedback lately. Keep reading to find out more! 
| | |
| --- | --- |
| | General information |
| Name | Bitsgap Holding OU |
| Type of company | AI Investment Advisor |
| Regulation status | Unregulated/Not expected |
| Warnings from Financial Regulators | No official warnings |
| Website link | https://bitsgap.com/ |
| Active since | 2016 |
| Registered in | Tallinn, Estonia |
| Contact info | [email protected], [email protected] |
| Trading platforms | Web Terminal |
| Majority of clients are from | United States; United Kingdom; India; France; Spain |
| Customer support | Email  |
| Compensation fund | No |
Company Details: What is Bitsgap?
Bitsgap, founded in 2018, stands tall as an automated crypto trading bot platform. Through easy API connections, it links traders with exchanges revered in the crypto community. Max Kalmykov is the brains behind Bitsgap, and it's become a top platform linking famous exchanges worldwide.
Bitsgap offers an array of automated trading strategies. These are as follows: 
Crypto Trading Bot, 

Grid bot, 

Dollar Cost Averaging (DCA) bot, 

Bitsgap Signals, 

Advanced Trading Tool, 

Arbitrage, 

Portfolio Tracking, 

Spinner Modes, and much more.
This platform suits both new investors and seasoned traders. It offers many smart trade facilities across the globe.
Interface – Empowering Traders
Bitsgap's integrated interface is a game-changer. As you can see, it introduces new statistics, multiple trade types, and risk management tools. 
This user-friendly platform allows cryptocurrency enthusiasts to explore innovative strategies, trading pairs, and more. Moreover, the Bitsgap crypto bot accepts various crypto assets for subscription, making it accessible and inclusive for all.
How Does Bitsgap Work?
Taking part in your Bitsgap journey is as easy as 1-2-3. Let's take a look: 
Create Your Account

: Sign up by providing your email ID and password. Verify your email, or link your account to Google or Facebook.

Connect Exchanges:

Link your account with exchanges with unique API keys, for the security of your trading activities.

Start Trading

: Start trading with confidence, leveraging Bitsgap's tools and strategies.
Note: DeLaval Investment, a Swedish broker, claims to serve 2 million customers and be licensed by the FCA. Yet, it's likely a scam as it's unregulated and has doubtful Swedish connections. Be cautious as it might not be what it seems.
Trading Bots – Your Crypto Companions
Bitsgap's charm lies in its diverse range of automated trading bots. As we can see, each is designed for specific market conditions.
Grid Trading Bots:

Ideal for profiting from small price movements, these bots enable steady gains amidst market fluctuations.

DCA Trading Bots:

Navigate bullish and bearish scenarios with precision using the DCA bot, equipped with advanced entry and exit options.

Future Bitsgap Trading Bots

: Trade with leverage positions, capitalizing on market dynamics, and executing trades on both rising and falling prices.
Key Features of Trading Bots
These trading bots here offer some fantastic features made for every trader. Firstly, there are ready-made strategies that give you a strong starting point. These strategies, based on successful tests, can be easily adjusted to match your preferences.
Another cool feature is detailed performance analytics. As you can see, it provides clear insights into your trades, helping you make smarter decisions. Using it can help you understand how your trades are performing.
For beginners or those wanting to practice, there's the Free Bitsgap Demo Mode. You get to learn and refine your skills without worrying about losing money.
Lastly, there's the Bitsgap arbitrage feature, which lets you take advantage of price differences between exchanges. It's a bit like finding a good deal in a store and selling it for a profit. With Bitsgap, you can maximize your profits by making clever trades based on these price variations.
Bitsgap Review: Pros and Cons
Pros:
Back Testing Feature

: Test your strategies before execution, ensuring optimal outcomes.

Options to Edit Bots:

Modify your bot settings to align with changing market conditions, enhancing flexibility.

Security Measures

: Benefit from hardware security keys, 2048-bit encryption, and a well-established team. This is great for the safety of your assets.
Cons:
Monthly Subscription Fees:

While this tool offers plenty of features, users need to subscribe to unlock its full potential.
Tip: Enerixinvest broker lacks a solid reputation, offers limited assets, and operates on a questionable platform. We advise you to proceed with caution when considering their services.
Bitsgap Plans
Choose from three distinctive plans tailored to your trading needs:
Basic Plan

: $23/month, providing access to

Grid and DCA

trading bots.

Advanced Plan

: $55/month, offering a trading limit of $100,000, along with advanced trading bots and arbitrage options.

Pro Plan

: $119/month, granting unlimited trading capabilities and access to various bots and features.
Trader Reviews Online
We must mention that this company has achieved an outstanding star rating of 4.3 stars on Trustpilot. This impressive rating is based on genuine feedback from 546 people who have experienced the services first-hand. 
Being a verified company on Trustpilot means you can truly trust the authenticity of these reviews. Customer feedback is incredibly important to all, as it reflects how people perceive the company. So, we can just agree that this trading tool is simply outstanding!
Can I Make Money From Online Trading?
Wondering if you can make money online through trading? Well, the key is having the right knowledge and tools, and we've got you covered! We provide free consultations to help you make wise decisions. Plus, there is our AI Analysis Bot. Unlike gut feelings, this bot uses advanced predictions to give you solid trading advice. 
Be one of the first to try it out! Secure your spot at our upcoming launch and enjoy a 20-day free trial with no initial payment needed. With our free plan, you get 5 FX analysis reports and 5 stock analysis reports every month!
Conclusion
Last but not least, the Bitsgap bot is a solid innovation in the cryptocurrency trading sphere. Its user-friendly interface, the vast range of trading bots, and solid features make it a go-to platform for all. 
While it requires a subscription, the value it offers in return is immeasurable. So, why wait? You can start working with Bitsgap and witness your investments soar to new heights.
Disclaimer: Trading involves risk. Always conduct thorough research and consult with financial experts before making any investment decisions.
FAQs
What Is Bitsgap?
Bitsgap is a simple crypto trading platform connecting users to exchanges with trading bots for easy trading.
Is Bitsgap Bot Legit?
Yes, Bitsgap's bots are legitimate, offering secure trading on trusted exchanges.
How Profitable Is Bitsgap?
Bitsgap's profitability varies based on markets and user strategies.