August 26, 2023
Reading Time:
5
min
Blaze Markets Review: Investigating the Legitimacy of this Odd Broker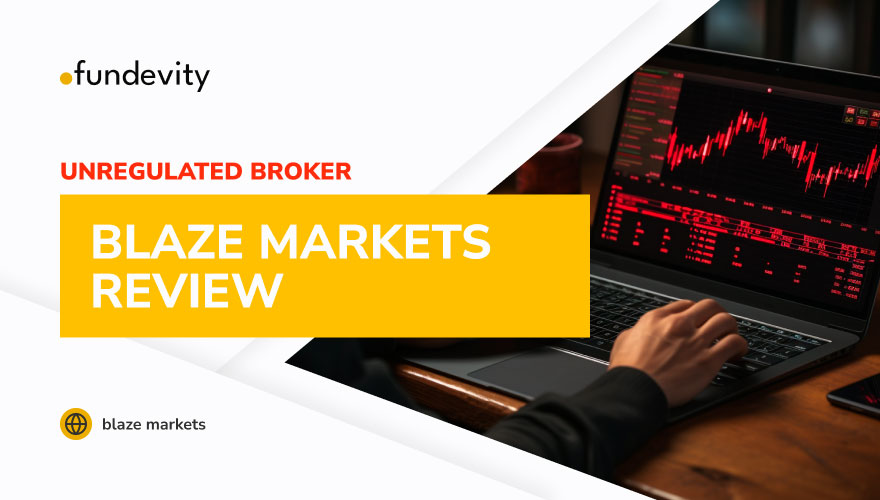 Blaze Markets appears as a seemingly promising contender. However, peering beneath the surface reveals a fuzzier reality. Presenting itself as a platform operating from both the USA and the SVG offshore haven, Blaze Markets offers an array of services and features, including access to the MT4. 
Appearances, though, can be deceptive. A chorus of concerns has arisen, tagging Blaze Markets as a potential scam broker. This comprehensive Blaze Markets review delves into the details and examines its offerings. Stay tuned!
General information
Name:

Blaze Markets

Regulation status:

Unregulated Broker (uncertain MISA license)

Warnings from Financial Regulators:

No official warnings

Website link:

https://blazemarkets.com

Active since

2021

Registered in

US & SVG

Contact info:
1-646-873-6888, [email protected]
Trading platforms:

MT4

The majority of clients are from

United States 

Germany

United Kingdom 

Australia

Canada

Customer support:

Email, phone number

Compensation fund:

No
Blaze Markets Regulation: Dubious Approaches
Blaze Markets tries to bolster its legitimacy by asserting registration with the Financial Services Authority (FSA) of St. Vincent & the Grenadines. 
Yet, doubts surround the authenticity of the alleged registration number, 26027 BC 2020. Moreover, suspicions deepen as the platform operates within the SVG offshore haven, an area devoid of forex broker regulation. In the financial landscape, the safest route is to opt for brokers regulated by Tier 1 authorities like ASIC and FCA. They work hard to protect your investments. 
Remember, it's imperative to steer clear of platforms such as Blaze Markets, and even exercise caution with Nuvo Markets, another dubious player.
Fake Regulatory Claims
This company says it's licensed by M.I.S.A., but that license is linked to many issues. It's clear from Google searches that mwaliregistrar.com isn't trustworthy as a regulatory group. 
Please, keep in mind that using brokers regulated by FCA, ASIC, and CySEC will save you the trouble. 
Note: This shady broker focuses on attracting individuals from the United States, Germany, the United Kingdom, Australia, and Canada. It seems to target potential victims across these countries.
Trading Assets at Blaze Markets
Now, let's dive into what you can trade over at Blaze Markets. They're claiming to have a whopping 120+ trading assets in their arsenal, including CFDs, FX, and cryptocurrencies. On the surface, it seems like a wide range of options.
However, it's natural to have some reservations about this lineup. When you're searching for a reliable trading partner, it's a wise move to lean toward brokers with a proven track record. Opt for those who offer a well-rounded portfolio, covering FX, cryptocurrencies, CFDs, indices, and commodities. That's where you'll find a more solid foundation.
So, while Blaze Markets is showcasing its diversity, it's prudent to take a closer look. Choose brokers with a history of credibility and a selection of trading options that align with your interests. That's the smart approach to ensure a sturdy beginning to your trading journey.
Trading Platforms: The Enigma of MT4
When it comes to trading platforms, Blaze Markets takes a rather puzzling route by endorsing the MT4 platform. This choice sparks doubts about the legitimacy of the platform. It's only natural for cautious traders to lean towards regulated brokers that stand by renowned trading platforms like MT4 or MT5. 
In this context, both Blaze Markets and its counterpart TradeSmart1 raise eyebrows due to their uncertain nature. Opting for well-established and regulated platforms is the wise path to avoid potential surprises.
Trading Conditions: Examining the Claims of Blaze Markets
Now, let's take a closer look at the trading scene they're setting up. Blaze Markets is putting forth quite a package – they're saying they're tied to top-quality liquidity providers, offering leverage of up to 1:200, and boasting execution speeds under 30 milliseconds. But here's the thing – can we take these claims at face value? Legitimate brokers, the ones you can trust, lay out their trading conditions transparently. They offer competitive spreads and give you options for leverage that make sense.
So, let's not just nod along to Blaze Markets' words. It's time to put them side by side with brokers who've earned their stripes. Trading is full of potential, but it starts with trust. Stick with brokers who don't just promise the moon, but show you the steps to get there. So, give those Blaze Markets claims a thorough once-over and make sure your trading journey is steady.
Blaze Markets Account Types: Options to Explore
At Blaze Markets, you're presented with a choice between two account types: Standard and Pro. The first one requires a minimum deposit of $100 and claims to offer spreads starting from 1 pip, leverage of 1:200, and zero commissions. 
On the other hand, the Pro account demands a minimum deposit of $250. It boasts spreads beginning from 0.0 pips, a leverage of 1:200, and involves a $4 commission per lot.
Yet, it's essential to question the credibility of these offerings. When making your account selection, it's wise to lean toward regulated brokers who offer transparent and straightforward terms. Prioritizing these aspects ensures a secure and trustworthy trading experience.
Blaze Markets Payout: Hollow Commitments
Now, let's delve into the earnings and withdrawal aspect. Blaze Markets claims to provide plenty of secure ways to put money in and take it out of your trading account. They say they're fine with both regular money and cryptocurrency. Here's what they list:
Bitcoin: You can start with as little as $10.

Bank Wire: They're good to go with a minimum of $100.

Credit Cards: They stated a minimum of $100.
But let's keep it real. When you stack Blaze Markets against legitimate players like Webull, they don't quite measure up. Webull not only makes payment smooth and secure but also has a good rep with traders. So, while Blaze Markets might talk the talk, it's smart to walk with caution. Check their withdrawal claims with a sharp eye, and make sure your trading money stays safe and stress-free.
Blaze Markets Feedback: Analyzing Trustpilot Ratings
Blaze Markets puts forth a seemingly impressive Trustpilot rating, boasting 4.6 stars, which might create a sense of trust. However, these reviews warrant closer examination as they could potentially be artificially generated. To gain a true understanding, it's wise to gravitate toward brokers with established track records. 
Look for those with a strong history and solid star ratings, as they provide genuine insights into a broker's reliability and performance. In this realm of uncertainty, leaning on tried-and-true options can be your compass, guiding you away from potential pitfalls and towards a trading partner you can truly rely on.
Fake Broker Tactics: Exposing the Deception
When it comes to bogus brokers, they have a bag full of tricks to mislead traders. One common move is promising sky-high returns in record time. They dangle the prospect of massive profits, but in reality, these promises often lead to disappointment and financial loss.
Another shady tactic they use is aggressive marketing. They bombard you with slick ads and persuasive tactics, making their platform seem like the Holy Grail of trading. However, don't be fooled by the hype. Legitimate brokers rely on transparency, not flashy gimmicks.
These fraudsters also fake regulatory affiliations to appear trustworthy. They might flaunt connections with big names, but it's essential to double-check these claims. Reputable brokers proudly display their licenses, which sets them apart from the deceitful bunch.
To outsmart these scams, the key is thorough research. Stick to brokers regulated by established bodies like ASIC or FCA. These are the companies that follow the rules and protect your interests. Stay cautious around unfamiliar platforms, and scrutinize every detail. Trading holds potential, but you've got to be street-smart. By approaching things with your eyes open and doing your homework, you can dodge the traps set by scammers like GIC Markets, and start your trading journey on the right foot.
Long Story Short: Blaze Markets
In recap, Blaze Markets Limited may exhibit the illusion of prosperity, but a closer look unveils its shaky foundation. 
The platform's legitimacy claims and sweeping offerings are met with mistrust. To protect your money, align with brokers regulated by respected authorities, and firmly established within the trading community. Evade questionable platforms like Blaze Markets, and embark on your trading journey with enthusiasm and tactfulness.
If you need help choosing the right FX broker, contact us for help!
FAQs
Is Blaze Market Regulated?
Blaze Markets is not regulated by any prominent regulatory body.
What Are the Blaze Markets' Platforms?
Blaze Markets' platform is MT4, and they offer different types of accounts.
How Much Is Blaze Markets' Withdrawal Fee?
Blaze Markets' withdrawal fee is not mentioned on their site.