May 20, 2023
Reading Time:
4
min
BluFX Review: Is it a Legit Forex Trading Firm?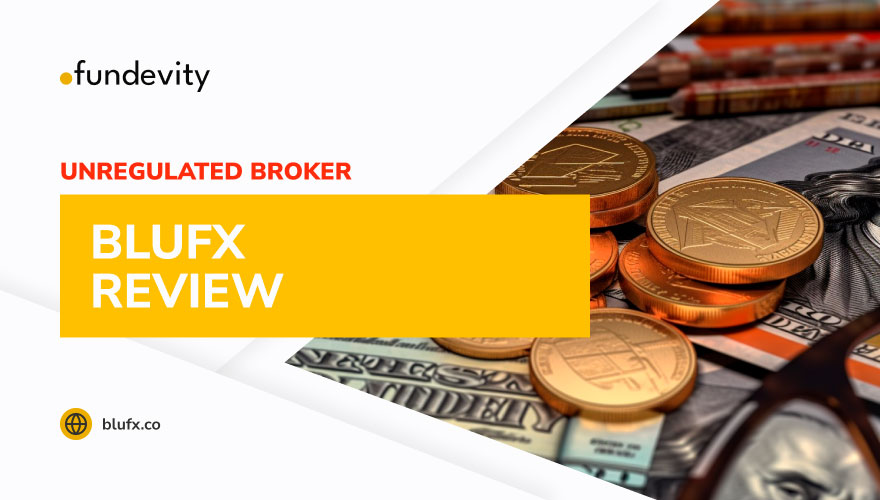 BluFX emerges as an extraordinary proprietary trading firm, providing ample funding opportunities. Intriguingly, the fruits of labor are equitably divided, a harmonious 50-50 split that cultivates partnership.
Nevertheless, recent waves of dissatisfaction surrounding this firm compelled us to delve deeper into their modus operandi. Our exhaustive exploration awaits you within our exclusive BluFX review. Keep reading for more valuable details.
| | |
| --- | --- |
| Company | BluFX Ltd |
| Headquarters | UK |
| Website | Blufx.co |
| Warning | FCA, CNMV, A-TVP |
| Platforms | cTrader |
| Minimum Deposit | $99 |
| Leverage | 1:3 |
| Spread | n/a |
| Review Rating | 1/5 |
License and Safety of Funds at BluFX
It is a tantalizing prospect to work with firms as they provide capital in return for a slice of the profits. Such a business model thrives within the United Kingdom's legal boundaries, where licenses are not required.
However, an air of concern has enveloped one firm, casting a shadow over BluFX's regulatory standing. Revealing the intricacies, we discover that BluFX Ltd, established in 2017 on British soil, curiously classified its operations as "other information technology service activities" rather than venturing into investment and fund management.
In a disquieting turn of events, the Financial Conduct Authority (FCA) found itself inundated with complaints regarding BluFX, leading to the prohibition of its operations. After BluFX found itself on the FCA's warning list, all communication with clients, including payouts, abruptly ceased.
The Resounding Warnings Directed at BluFX
The FCA repeatedly appears in our narrative, so it's imperative to highlight the stern warning they issued to BluFX. Initially published in December 2022, followed by a subsequent update in February 2023, this cautionary message signals that BluFX may provide financial services or products in the United Kingdom without authorization.
This warning has reverberated beyond the borders of the United Kingdom, with its republication in Spain and Slovenia. Bear this in mind! This amplifies the need for vigilance when dealing with BluFX.
A Glimpse Into the Trading Platform
When examining the BluFX trading platform, there are some concerning aspects to note. While they provide CTrader software with various features, the overall experience feels questionable. Traders can access a UI-friendly interface, along with tools like customizable charts, indicators, and drawing tools. Besides, automated trading is possible through the cAlgo platform, allowing the creation and testing of custom trading algorithms.
However, it's crucial to know BluFX's limitations as a prop firm. They offer a limited range of options, restricting traders to just 29 currency pairs. There are no other assets like stocks, indices, or cryptocurrencies available for investment. This lack of diversity can be problematic, especially for traders with substantial accounts looking for more opportunities.
Considering these factors, it's understandable why suspicions may arise concerning this broker.
Important Note: Prioritize your safety and exercise caution when dealing with businesses like BluFX, Finex Trader, and other suspicious firms. Stay vigilant and protect yourself from potential risks.
Account Types Available at
BluFXS
BluFX introduces a range of subscription options. Let's explore these subscriptions and their corresponding funding amounts:
Mini Lite – For $99 per month, traders receive a capital of $10,000.

Lite – Priced at $159 per month, this subscription unlocks $25,000.

Pro – For $369 per month, traders gain access to capital of $50,000.

Super Pro – This premier subscription, available for $1,099 per month, provides substantial funding capital of $100,000.
It's critical to note that these subscription fees are non-refundable and monthly billed. BluFX also offers swap-free accounts. These accounts include:
Swap-free Mini Lite – Valued at $129 per month, traders can access $10,000 without overnight fees.

Swap-free Lite – Priced at $219 per month, this account provides capital of $25,000 and is free from overnight fees.

Swap-free Pro – For $489 per month, traders receive $50,000.

Swap-free Super Pro – This top-tier swap-free account, available for $1,239 per month, grants traders funding capital of $100,000, all exempt from overnight fees.
Please keep in mind that this broker is suspicious. 
Depositing and Withdrawing with BluFX
A variety of payment options emerge, as elucidated in the FAQ section. They are as follows:
Deel

Perfect Money

USDT (Tether)

Local bank transfers in select countries, including the UK, India, Nigeria, Pakistan, and Indonesia.
It's worth noting that a withdrawal limit of 5% exists. When earnings exceed this threshold, you will need to make multiple withdrawals of 5% each.
Regrettably, reviews shed light on numerous withdrawal issues experienced by users, amplifying the need for caution. Prior to subscribing to any of their services, it is prudent to exercise due diligence. Seek out testimonials and verify the likelihood of timely payouts.
Note: We value your feedback and encourage you to share any negative experiences you've had with this or any other fraudulent broker. Also, try to avoid bogus brokers like BlueFX and EGMarkets. 
How Does This Scam Operate?
Offshore brokers have a dark reputation that precedes them as masters of deception. Their preferred weapon? Luring individuals with lofty promises of unrealistically high profits. They cunningly claim possession of a secret formula that guarantees boundless returns, leaving no room for failure.
But their deceit doesn't end there. These deceitful brokers employ many manipulative tactics to dupe investors. They craft fictitious positive reviews, falsely bolstering their credibility and reputation. Besides, they resort to psychological ploys, exploiting our tendencies to create pressure and induce impulsive decisions. Their arsenal includes the fabrication of artificial deadlines, the false narrative of limited offers, and the creation of an urgent atmosphere.
Moreover, some shady brokers tempt investors with so-called "risk-free" trades, hoping to entice them into reckless investments without proper due diligence. It is wise to remain ever-vigilant and well-informed about these tactics. 
BluFX
Summary
BluFX is a proprietary trading firm that offers funding options with a fair profit-sharing model. Yet, concerns have emerged about its regulatory standing and withdrawal issues. This is a big problem. Traders should exercise caution and explore alternative reputable brokers. This goes without saying. 
If you need assistance in finding the perfect broker for your needs, feel free to reach out to us for a free consultation.
FAQs
Is My Money Safe with BluFX?
No. Your money is not safe with this company.
Does BluFX Offer a Demo Account?
BluFX does not provide a demo account option.
How Secure Is BluFX?
BluFX, a proprietary trading firm, has garnered a negative reputation among people.