April 23, 2023
Reading Time:
4
min
BullishFX Review: Find Out Why This Broker Is a Scam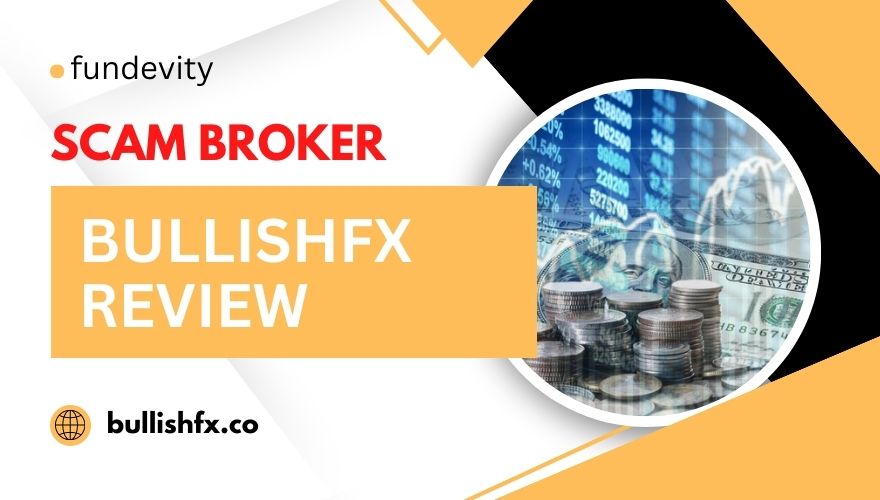 How about some crazy news for you? BullishFX is a total scam! We've got the inside scoop in our BullishFX review and let us tell you, their website is a joke. It's super sketchy and the info is dishonest. But don't worry, we'll spill all the tea on this online scheme and show you how we busted these fraudsters. Keep reading!
| | |
| --- | --- |
| Broker Status: | Offshore Scam Broker |
| Regulated by:  | No Regulation |
| Operating Status:  | Active Forex Trading Scam |
| Scammers Websites:  | bullishfx.co |
| Blacklisted as a Scam by: | N/A |
| Broker Owner:  | Oval Capital International Ltd. |
| Headquarters Country: | Hong Kong |
| Foundation Year:  | N/A |
| Online Trading Platforms: | MT4 |
| Mobile Trading:  | Available |
| Minimum Deposit: | N/A |
| Deposit Bonus:  | N/A |
| Crypto Asset Trading: | Not Available |
| CFD Trading Option: | Yes |
| Available Trading Instruments: | Forex, Precious Metals |
| Maximum Leverage: | N/A |
| Islamic Account:  | Not Available |
| Free Demo Account:  | Not Available |
| Accepts US clients: | Yes |
| Site Grid: | No |
Security and Compliance – BullishFX
So, what's BullishFX's biggest issue? It's unregulated. Oval Capital International Ltd in Hong Kong runs the show. But guess what? They're not even registered with the SFC – Hong Kong's regulatory body. So, all those claims about regulation? It's all fake news. This broker has no license to offer trading services, and we wouldn't trust them with our money. 
Our advice? Look for a legit provider with a Tier 1 trading license. Make sure they're registered with financial authorities like the FCA, BaFin, CNMV, ASIC, FINMA, or ESMA's jurisdiction. BullishFX may say they're operating under Hong Kong's laws but that is not the truth. They've scammed traders from the US, Philippines, and Indonesia. So watch out!
Note: Numerous brokers have gained fame for being involved in fraudulent activities. Trade XN, TradeFX24, and LCMFX are among such brokers.
Trading Platform Overview
BullishFX uses MetaTrader 4 as its trading platform. MT4 is an excellent platform, with various tools and features. Unfortunately, we couldn't even get past the login screen to test it. Opening an account with BullishFX is a nightmare. 
And here's the thing – even though MT4 is a solid platform, there's no way to know whether an offshore broker like BullishFX manipulates it. That's a common tactic for unlicensed firms. They'll steal your deposits and fake trading activity on their platforms. It will trick you into thinking you're making money when you are not. 
Yet, when you try to withdraw your funds, you'll be out of luck. Your money fills someone else's pockets instead of your own. Trust us, there are better alternatives to offshore firms if you're looking to trade on MT4. 
Speaking of MT4, let's discuss why it's so great. This platform has been around since 2005 and was a game-changer when it launched. It's got all kinds of features, like 9 timeframes and over 30 indicators. An expert adviser can be used to help you automate trading, which is the real star of the show.
Account Types at BullishFX
So, let's break down BullishFX's account options, or should we say, the lack thereof. This scam broker doesn't divide accounts, so you have only one basic live account available. Unfortunately, this account remains a total mystery. The scammer didn't provide any useful information.
To make matters worse, the minimum deposit needed for this account is unknown. This lack of transparency is a red flag and should warn potential investors. Traders could deposit more than they can afford. That could lead to significant losses, guaranteed.
Another issue with BullishFX's trading conditions is its leverage cap. The broker offers staggering 1:500 leverage, which is high and risky. Hong Kong's Securities and Futures Commission (SFC) has imposed a leverage restriction of 1:20 for retail clients. That is a much safer leverage level.
Traders enticed by high leverage should be cautious. The higher the leverage, the greater the risk.
Deposit and Withdrawal for BullishFX
It has come to our attention that BullishFX's deposit methods are currently unknown, as we were unable to access their account section. If you have already deposited funds with this broker, we strongly advise requesting a chargeback immediately. However, it is important to note that the success of this chargeback request may be dependent on the payment method used. Time is of the essence, and acting quickly can increase your chances of a good outcome.
Besides, information regarding BullishFX's minimum deposit amount is currently unavailable. Nevertheless, it is worth noting that most foreign exchange brokers offer micro-accounts with a minimum deposit of $10. Any amount beyond this may be deemed outrageous. So, it is important to exercise caution when considering depositing funds with this or any other broker.
Also, please note that BullishFX and Finaguide have several similarities, including being unregulated brokers and having a track record of deceiving their clients.
How Did This Brokerage Perpetrate Fraud?
Scammers who pose as brokers have a bag of tricks to cheat you on. They'll make it difficult to withdraw your money and tack on strange fees. Be careful of fake fees that are sometimes over 20%, disguised as "withdrawal processing fees." They'll also try to make you pay upfront for-profit fees, which is a red flag.
Another deceitful tactic is to guarantee unrealistic returns. Beware of anyone who promises you huge profits, per se. Trading with leverage carries risks, and no broker or company can guarantee 100% returns. It's always best to stick with regulated and safe brokers. That's the golden rule!
BullishFX
Summary
BullishFX is an offshore FX trading platform that is not regulated and is a total scam. The website is sketchy, and the information is dishonest. The company is owned by Oval Capital International Ltd. and operates from Hong Kong. However, it is not registered with the SFC – Hong Kong's regulatory body. 
Accordingly, the company does not have a license to offer trading services, which is a red flag for possible investors. We suggest finding a provider with a Tier 1 trading license registered with financial authorities like the FCA, BaFin, CNMV, ASIC, FINMA, or ESMA's jurisdiction.
FAQs
Is My Money Safe With BullishFX?
No, BullishFX is an unregulated offshore broker, and there are reports of scams.
What Is The Minimum Deposit for BullishFX?
The minimum deposit for BullishFX is unknown. Stay away from this firm.
Does BullishFX Offer Demo Account?
There is no mention of a demo account on BullishFX's website.