September 09, 2023
Reading Time:
5
min
Caesar Trade Review: Facts You Should Know About Caesartrade.com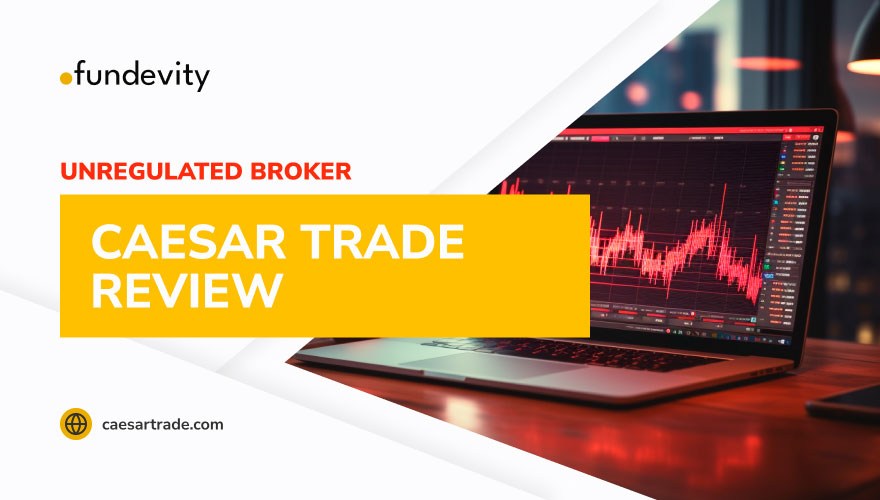 Welcome to our Caesar Trade review, where we dig deep into the broker's profile to uncover the dirty tricks they use to scam investors. From lack of regulation and transparency to being completely shut down, this broker offers nothing beneficial to traders and poses a threat to anyone who may use them. 
Stay knowledgeable at all times and do your homework so you can avoid scams and enjoy a safer trading experience. Check our Active Market review and meet another broker who aims only to take your money. Now without further ado, delve into the facts you should know about Caesar Trade. 
Who Is Caesar Trade? All About the Caesar Trade Scam
Caesar Trade is a company known for its false promises and lack of transparency. By 2014, just two years after its foundation, the brokerage owed large sums to investors. Luckily for traders, the company was shut down in 2018, however, they may emerge under a different name, trying to scam traders all over again. 
Caesar Trade or CTFC Limited was registered in New Zealand, under the company Number 4653250, FSP Number FSP324226. And that was true for a while, until they shut down. They later moved to Seychelles, the headquarters of many scammers. 
General information
Name:
CTFC Limited
Regulation status:
Unregulated 
Warnings from Financial Regulators:
Website link
caesartrade.com
Active since
2012
Registered in
New Zealand
Contact info
[email protected]
Trading platforms
Meta Trader 4
Majority of clients are from
Japan 

Czechia 

India 

Indonesia 

South Africa

Customer support
No
Compensation fund
None
Regulation Info
Until the moment they were shut down, the broker was operating without a valid license, offering no sense of security to their traders. Unregulated brokers are very risky, especially in cases like this. The brokerage went out of business and it left its traders with enormous debts. 
The broker mostly operates from Japan, Czechia, and India, among other nations, so it's important to note that they are not regulated by the Financial Services Agency (FSA) in Japan, Czech Trade Inspection Authority (CTIA), or the Securities and Exchange Board of India (SEBI). Overall their lack of regulation seems concerning and as you delve further into this Caesar Trade review, that won't be the only con the broker has. 
Caesar Trade Broker Profile
Caesar Trade offers trading in forex CFDs, cryptocurrencies, metals, indices, and commodities. The Meta Trader 4 platform is their only benefit so far, however, that isn't enough for you to consider them as a reliable brokerage. The information about spreads, account types, and the minimum deposit is hidden, leaving traders in the dark about what to expect. The Caesar Trade Help Center didn't even offer a FAQ section, so traders were forced to deposit their money and start trading blindly. 
To make things even worse, the broker doesn't offer any educational material that would benefit traders, and any fees they could impose are hidden from the public. Even though Caesar Trade is not active anymore, there is a high possibility for them to reemerge under a different name. 
Account Types

N/A

Financial Instruments On Offer

Forex

(EURUSD, EURGBP, USDNOK)

Cryptocurrencies

(BTC, ETH, XRP)

Metals

(Gold, Silver, Platinum)

Indices

(S&P 500 Index, Dow Jones Industrial Average, FTSE 100 Index)

Commodities

(Crude Oil, Natural Gas, Corn)

Maximum leverage

1:300

Minimum Deposit

N/A

Commissions/Bonuses

N/A

Mobile app

Yes

Desktop app

Yes

Autotrading

Yes

Demo account

Yes

Education or Extra tools

None
Is Caesar Trade Legit?
The mere fact that the broker sized its operations in 2018 due to leaving many traders in debt indicates how unsafe they are. The Caesar trade contact details are reported to be fake and when you add the lack of regulation and transparency, hidden information, and reported scams on top of it, it makes them a very unreliable scam brokerage. It's best to avoid brokers like Caesar Trade or Impresa Markets. 
Instead of wasting your time trying to get the best out of unreliable brokers, reach out to us. We can recommend a regulated and trustworthy broker that is suited to your trading needs, so you can enjoy a pleasant and stress-free trading experience. Start your trading journey now by contacting us and remember that it's obligation-free. 
Caesar Trade Review: Traders' Thoughts and Opinions
Their overall Trustpilot score of 2.9 is high considering that the brokerage is one of the biggest scams you've seen. However, there are many other platforms and forums where traders spoke about their bad Caesar Trade experience, and only 3 reviewers expressed their thoughts on Trustpilot. We collected some of the reviews throughout the platforms that were the most concerning: 
"They pretend to allow you to trade, but the moment you try to withdraw any money the funds mysteriously disappear.
You think you are trading but you are working on a fake site that allows you to think you are trading but in fact, your money has already been stolen."
"Caesar Trade is a money laundering website. They will take your deposits & you will never see them again. MT4 & the website will show that you have balances which now and then if you note carefully there are discrepancies as they are fake. The account managers are very pushy and want you to keep depositing money, they use fake names."
How Does the Scam Start and How to Avoid It?
The broker is known for using the same approach for every trader. First, they reduce the maximum leverage from 1:300 to 1:10, which is a big difference. Second, they reduce the maximum amount of lots trades, they widen spreads, and they don't execute withdrawal requests. The brokers are calling you regularly and each time it's a different name. Eventually, they will block your account and keep your money. 
Many reports were focused on the owner of Caesar Trade, Eric Pesach Harbour. Considering their unreliable nature, the name may be fake, just like everything else is with this company. The broker's victims are mainly from Japan, Czechia, India, Indonesia, and South Africa, however, traders from all nations are warned not to trade with Caesar Trade. 
Deposits and Withdrawal Methods
Since the Caesar Trade website was shut down, it was challenging to collect clear information regarding their payment methods. Both deposits and withdrawals can be done with credit cards, wire transfers, and e-wallets. It's been reported that the broker supported anonymous payments as well, which could be cryptocurrencies. 
The withdrawal process is not explained and there are many reports of withdrawal issues from previous traders. As soon as you deposit money, they will call you asking for more, and by manipulating the platform you will believe that you are making money when instead, you are losing it. After you request a withdrawal, they will lock you out of the account, taking all of the money for themselves, leaving you with nothing. 
Caesar Trade Pros and Cons
Pros
Cons

None!

Unregulated 

Lack of transparency

Hidden fees

Suspicious MT4 platform 

Increasing spreads

Leverage reduced during trades

Reducing the max amount of lots trades

Bad reviews 

Sized operations in 2018

Bad reputation
Long Story Short – Caesar Trade
The broker's bad reputation finally came to an end in 2018, however, many people keep warning traders about the Caesar Trade scam until this day. There are many reports of scam attempts from this company and trading with them would only bring you stress. If you search Google for "Caesar Trade close", you will be able to see the reports yourself. EbonFX is another broker you should be on the lookout for, so make sure you read our review. 
It's vital to note that the Caesar Trade payout still hasn't occurred, so traders who were affected by the scam are still trying to recover their money. Don't wait around to get scammed. If you need help with trading advice or finding a reliable broker, don't hesitate to reach out. Book your free consultation today and make the first step of an enjoyable trading journey. 
FAQ Section
What Is Caesar Trade?
Caesar Trade was a brokerage company originally established in New Zealand and later moved to Seychelles. The broker's website was shut down in 2018, however, they may emerge under a different name.
Can I withdraw my funds from Caesar Trade?
Unfortunately, withdrawing your funds at Caesar Trade would be like taking chocolate from a child. Lots of tears, stress, and in some cases impossible. The broker left many traders without their investments, or worse, in debt. The Caesar Trade money back possibility is impossible.
How To Get Money Back From caesartrade.com?
To get the Caesar Trade refund, you should immediately file a chargeback on your card. Discuss the possibilities of getting scammed with your bank and if that doesn't do you any good, don't hesitate to reach out. Getting your money back is possible and all you need to do is to pick up your phone and give us a call.