August 27, 2023
Reading Time:
5
min
Capital EX Pro Review: A Suspicious Trading Experience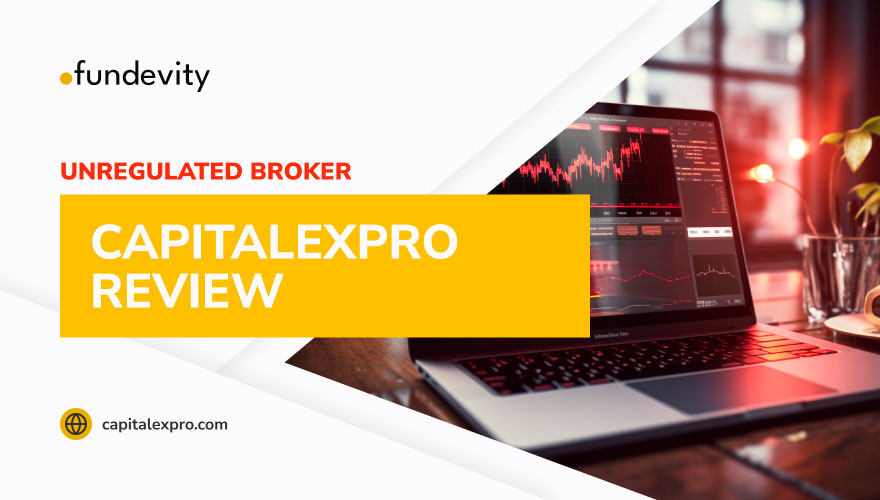 Finding a reputable platform to trade on is paramount for those seeking success in the world of trading. Capital EX Pro promises legitimacy, diverse trading assets, and a user-friendly interface. Yet, as discerning traders, it's imperative to dissect the platform's claims and offerings. This comprehensive Capital EX Pro review delves into the core facets of this broker. We aim to provide you with a well-rounded understanding of what this platform has to offer. Stay tuned.
Capital EX Pro Legitimacy: Awaiting Regulation
For digital trading, we strongly encourage traders to choose regulated brokers. Licensing and registration are essential. Focus on brokers with strong licenses, registrations, and regulations. 
Capital Ex-Pro is awaiting regulation. They say they are committed to regulation for protection. But, this waiting period can raise questions about the platform's commitment to regulatory compliance. 
Yet, be cautious of fraudulent platforms. We recommend looking into the credentials of any broker before investing with them. Reputable brokers should have a valid license and registration, as well as a record of regulation compliance for added protection. Make sure to do your research before investing.
General information
Name:

Capital EX Pro

Regulation status:

Unregulated Broker 

Warnings from Financial Regulators:

No official warnings

Website link:

capitalexpro.com

Active since

2023

Registered in

United Kingdom

Contact info:

1 Canada Square, E14 5AX, London, United Kingdom

Trading platforms:

Web-Based 

The majority of clients are from:

Spain

France 

Sweden 

Portugal

Customer support:
Yes (email [email protected])
Compensation fund:

No
Capital EX Pro – Diverse Trading Assets
Diversification is key to successful trading. Capital EX Pro offers a wide range of trading instruments, including commodities, forex, stocks, and even cryptocurrencies. 
People can explore diverse market opportunities with Capital EX Pro CFD trading. This diversity empowers traders to explore various markets, spreading risks. But please remember that this company is not regulated to provide services. 
AI-Powered Trading with Perceptrader AI EA
Introducing Perceptrader AI EA, an AI-powered tool that leverages machine learning for consistent profit gains. This hands-free solution is suitable for both novice and experienced traders. 
With integrated risk management features, Perceptrader AI EA minimizes potential losses. It has real-time market analysis and compatibility with popular trading platforms.
Trading Platforms at Capital EX Pro: A Web-Based Advantage
It goes without saying that finding a reliable and efficient platform is a paramount concern for traders. The choice of a trading platform can significantly shape one's trading experience. Capital EX Pro excels in this aspect by providing a web-based trading platform. 
Those platforms offer seamless accessibility from any web-connected device. Compatibility with various operating systems ensures flexibility and efficiency. It enables traders to engage in trades with ease, regardless of their preferred device or location. However, this is still smoke and mirrors as this broker is unregulated. 
Cross-Device Trading Accessibility
When it comes to choosing between software-based and web-based trading platforms, the web-based one wins as the better option. This means you can easily make trades no matter where you are.
You get to trade 24/7 from anywhere in the world, and it works on laptops, phones, and tablets. Plus, you can trade in real-time, which lets you jump right into market activities. Just a heads up: Be cautious about unregulated brokers. This broker isn't regulated, so it's a good idea to stay away. Stick with trusted brokers that follow the rules to keep your trading safe.
Capital EX Pro Account Types and Features
Capital EX Pro offers a range of account types. Each one is presented with distinct features and requirements. 
These tiers span from Bronze to VIP. It is essential, however, to acknowledge that the platform's comparatively higher deposit thresholds may present a hurdle. An exceptional inclusion is the Islamic Account, tailored to provide a Halal and Swap-Free trading experience. You can access your trading account with ease through the Capital EX Pro login. But, beware as this broker is suspicious. 
Keep in mind: Protect your finances and steer clear of unregulated brokers, such as TBG Lmtd, to ensure your money stays secure.
Leverage
Let's talk about leverage. Capital EX Pro is pretty confident about offering what they call "significant" investment chances, boasting about leverages as high as 1:200. Sounds pretty appealing, right? But let's take a step back and think twice.
Whenever big returns are promised, it's like a red flag waving. We start to wonder if it's too good to be true. That's when we start looking at the details more closely and really thinking about how risky this could be.
Before you jump into this exciting world they're offering, it's smart to be a bit skeptical. Take your time to really check out and question these so-called "amazing investment opportunities." It's also important to figure out just how much risk you're getting into. Stay careful out there!
Capital EX Pro Fees
Capital EX Pro places a strong emphasis on providing a cost-effective trading experience. Transparency is their cornerstone, they claim. Commitment to clarity is evident in the absence of commissions for deposits, withdrawals, and trades. 
While spreads represent the sole fees, it's crucial to remember that their calculation is dynamic, dictated by ever-changing market conditions. To delve further into their fee structure, they want you to contact them. 
Special Bonuses
Capital EX Pro trading platform 'rewards' you with some bonuses tailored to your account standing. Upon your initial registration, a welcoming bonus is extended, matching a percentage of your initial deposit. 
While these funds aren't available for your trading withdrawal, they serve as trading capital to boost your engagement. Trades contribute to the accumulation of points that can be converted into real cash.
Note: Always prioritize the safety of your funds by avoiding unregulated brokers like Center Focus. Don't risk your money and financial well-being by making informed and cautious choices.
Capital EX Pro Education
Capital ex Pro's education section claims innovation, offering diverse training for beginners, including webinars and written articles. 
Webinar timing is allegedly user-friendly, with a considerable audience participation rate. Missed webinars can be compensated with informative articles, and questions are supposedly encouraged. The teaching staff is said to be cooperative and available for inquiries, painting a responsible picture, though the reality might warrant a skeptic's gaze.
Can I Earn & Withdraw From Capital EX Pro?
Withdrawing from Capital EX Pro involves a straightforward process. To activate your trading account, a minimum deposit of 250$ is required. Also, you will have the opportunity to choose more advanced accounts as your experience grows. 
Capital EX Pro deposits can be made through various methods. These are bank wire transfers, debit/credit cards, online transfers, and even crypto wallets. The deposit and withdrawal procedures are thoughtfully designed, but it's wise to remain skeptical. 
Customer Support
Responsive customer support can make a significant difference in your trading journey. 
Capital EX Pro understands this, offering a dedicated customer service team available around the clock. Whether you have inquiries about deposits, withdrawals, or general trading queries, having reliable support is essential.
Trader Reviews: Insights From the Trading Community
Feedback from fellow traders can offer valuable insights into a platform's undertaking. On Trustpilot, Capital EX Pro has a mix of reviews, with a 3.7 average score. 
While some traders appreciate its offerings, a variety of experiences are shared. This highlights both strengths and areas for improvement. Exploring these reviews can provide a well-rounded perspective when considering Capital EX Pro as your next platform.
Long Story Short – Capital EX Pro
Capital EX Pro's diverse range of trading assets, supported by AI tech, allows traders to diversify their portfolios. The web-based trading platform adds convenience to the mix, while a variety of trading accounts accommodate different needs. 
While the platform awaits regulation, weigh its offerings and reviews before making an informed decision.
In conclusion, Capital EX Pro presents a multi-faceted trading environment. Still, its suspicious regulatory status warrants consideration. As with any investment decision, conducting thorough research and understanding your goals is key.
If you need help choosing the right broker that fits your trading style and preferences, contact us today!
FAQ Section
Is Capital EX Pro Legit?
Capital EX Pro is awaiting regulation. It is not regulated now.
Is Capital EX Pro Safe?
Currently, we cannot answer positively. Once they get proper regulation, they will be safe.
How much is Capital ex Pro's Withdrawal Wee?
Capital EX Pro offers no commissions for deposits, withdrawals, or trades, as they claim.