October 01, 2023
Reading Time:
4
min
Center Focus Review: Is This Company a Hidden Scam?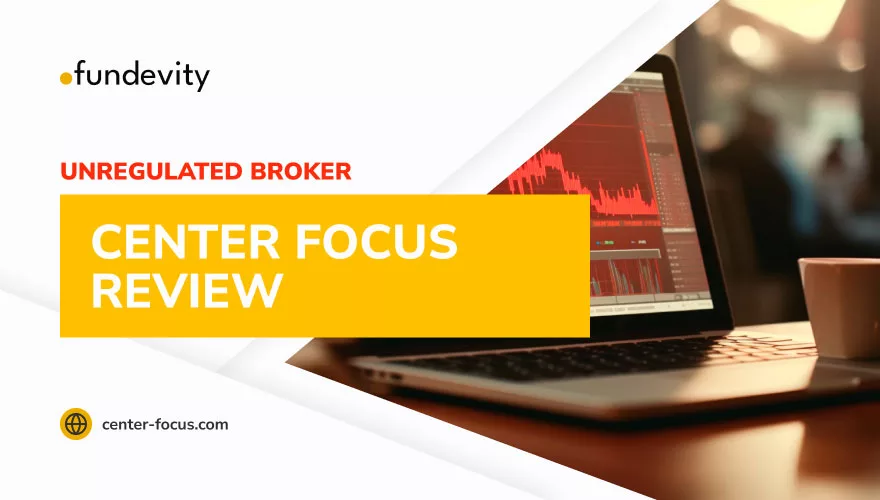 Center Focus Guide Global Limited, or so they claim, claims to be a safe financial service provider. They make bold claims about keeping your funds safe. Also, they assure a secure and transparent trading environment, seemingly fulfilling every trader's wish. 
However, as we dive deeper, it becomes clear that these are nothing but empty promises. In this Center Focus review, we'll expose the unsettling truth about this company and why you should avoid them at all costs. Stay tuned!
General information
Name:

Center Focus Guide Global Limited

Regulation status:

Unregulated Broker

Warnings from Financial Regulators:

No official warnings

Website link:

https://www.center-focus.com/

Active since

2021

Registered in

China

Contact info:
[email protected]
Trading platforms:

MT5

The majority of clients are from

United States

Canada

India

Philippines 

United Kingdom

Customer support:

Email

Compensation fund:

No
Company Details and Regulation: Is Center Focus Legit?
Center Focus is far from being a legitimate broker. To begin with, their website is entirely anonymous, lacking any contact information. 
Also, you will see their website is broken most of the time. There's no physical address or corporate background. While they vaguely mention expanding into the Asia-Pacific region, specifics are missing. What's worse, Center Focus lacks any form of regulation, a significant red flag for a company offering financial services. In the following sections, we'll talk more about this.
Why Regulation Matters: Guaranteeing Your Safety
When it comes to trading, your safety should be the top priority. This goes without saying! 
It's crucial to give your investments only to Tier 1 regulated firms, such as those regulated by ASIC, FCA, or CySEC. These regulatory bodies enforce strict standards, assuring that firms operate transparently and responsibly. And so, investing with unregulated brokers like Center Focus and XeroMarkets can expose you to severe risks. In fact, the absence of regulation is a big warning sign that you should heed.
Trading Instruments Available
Center Focus scam claims to offer some trading assets. These are:
However, they did not include any specific asset examples. While these assets may seem solid, they are nothing in comparison to the offerings of legitimate brokers. Reputable brokers provide a full array of assets. They do this because they care about diversity in your trading portfolio. It's wise to choose brokers with a more extensive selection.
Note: Bitfonix is a fake company with multiple issues. It's best to stay far away from them.
Trading Platforms: Real MT5 or Not?
This firm allegedly provides the MetaTrader 5 (MT5) platform. However, given the company's questionable reputation, relying on this information may not be wise. This is clearly a fake version of the reputable platform. 
We strongly recommend exploring options with regulated and reputable brokers that offer MetaTrader platforms. Both MT4 and MT5 are favored by the majority of traders for their amazing interfaces, extensive technical indicators, and support for various trading strategies. This is the unwritten rule.
Trading Environment: Maximum Leverage
Now, let's delve into the specifics of center-focus.com's trading environment. They offer a maximum leverage of 1:200, a level that is considered high and quite risky for traders. This is another indication to avoid this fake company. 
While leverage can help you profit, it also escalates the potential for losses. In response to this risk, the EU and UK have imposed a leverage cap of 1:30 for regulated brokers. So this indeed guarantees greater protection for traders. It's vital to think about your safety by avoiding high-leverage brokers, as the consequences can be devastating.
Customer Support Team
Center Focus's website is plagued with issues, indicating a big lack of professionalism. 
They provide only one email address for inquiries, [email protected]. Still, it's essential to note that responses may be unreliable or nonexistent. Accessible and responsive customer support is a hallmark of reputable brokers, and Center Focus falls short in this regard.
Withdrawal Rules
Regarding withdrawals, this trading company imposes different minimum deposit requirements based on payment methods. 
To deposit using crypto, you'd need a minimum of $500, while wire transfers require at least $1000. Payment options include VISA, MasterCard, Skrill, bank wire transfers, and unspecified crypto coins. This difference in deposit requirements is unusual. This is just another shady thing about them to keep in mind. 
Remember: Be cautious with your money by not using fake trading firms like Bitfonix and Center Focus.
Trader Reviews on Trustpilot
A clear lack of Trustpilot reviews for this firm is a concerning indicator. Trusted reviews from other traders can provide valuable insights and build trust. Here, there is nothing that builds trust! 
When selecting a broker, please try to opt for those with a strong Trustpilot rating of 4.5 stars or higher to enjoy a positive trading experience.
Suspicious Broker and Signal Tactics
Beware of scammy broker tactics, as they often come with hidden fees, fake websites, and other bizarre practices. 
These tactics compromise your money and can lead to substantial losses. Besides, be cautious of scam FX signals and EAs (Expert Advisors) promising idealistic profits. Always think twice before investing and choose regulated brokers to protect your capital. If you're unsure about what company is best, you can always reach out to us for a free consultation. We will do our best to provide you with the fairest advice.
Interesting Fact: BUX Markets has a trading platform called "TradeHub®" that offers advanced features like indicators, charts, and one-click trading. You may want to explore more about this company.
Can I Make Money From Online Trading?
While online trading can be promising, success depends on knowledge and tools. Our commitment is to empower traders with the right resources for trading. We offer free consultations to guide you in making smart decisions. But that is not all! 
Our AI Analysis Bot is designed to improve your trading experience, providing advanced predictions and valuable insights. Join us for a 20-day free trial and gain access to FX and stock analysis reports. We're dedicated to helping traders like you thrive in the competitive trading world.
Final Verdict
All in all, Center Focus broker raises big worries about its legitimacy as a broker. Keep that in mind. 
To protect your investments, it's paramount to choose safe brokers with a track record of transparency and customer satisfaction. Your financial security should always be a priority when thinking about investing.
FAQs
Is Center Focus Regulated?
No, Center Focus is not regulated by any financial authority.
Are Funds Safe With Center Focus?
Your assets with Center Focus are at risk due to a lack of regulation and transparency.
Can I Withdraw my Funds From center-focus.com?
Withdrawals from center-focus.com may be challenging.