October 19, 2023
Reading Time:
4
min
Capitalise.ai Review: Revolutionize Your AI Trading Experience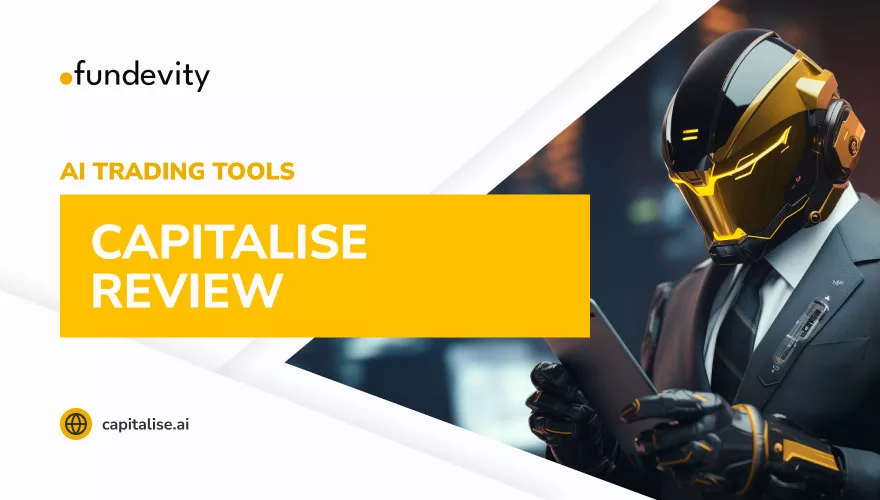 Capitalise.ai is a tremendous trading software. At first glance, we can see the outstanding design on their site and many nice features. 
Don't miss this chance to simplify your trading journey. Read our Capitalise.ai review now and learn about a stress-free, code-free trading experience! Keep on reading to discover some interesting details about this company! 
| | |
| --- | --- |
| | General information |
| Name | Capitalise.ai |
| Type of company | AI Trading Tool |
| Regulation status | Unregulated/Not expected |
| Warnings from Financial Regulators | No official warnings |
| Website link | capitalise.ai |
| Active since | 2015/2021 |
| Registered in | Tel Aviv, Israel |
| Contact info | [email protected] |
| Trading platforms | iOS and Android platform |
| Majority of clients are from | United Kingdom; United States; India; Australia; Singapore |
| Customer support | Email and contact form |
| Compensation fund | No |
Company Details and More
First things first, is Capitalise.ai legit? Absolutely! Capitalise.ai is much more than software. Founded in 2015 by fintech experts, this innovative tool from Israel opens doors for both new and experienced traders. They have a number of innovative features for traders of all levels. 
Another point worth mentioning is their support of top-notch brokers and exchanges. Some of these Capitalise.ai brokers are Binance, Forex.com, Interactive Brokers, and more! 
Are you wondering how to get started? It's simple! You can follow this step-by-step guide:
Getting Started: Easy as 1, 2, 3!
Create an account: Go to the Capitalise.ai login/register page, providing the necessary details.

Choose your bot: Select from a variety of bots made for your needs. Beginners can also start with an easy setup.

Connect the exchange: Integrate your bot with a supported crypto exchange.
Tip: We found that XBTFX is another trading company worth exploring. This is mainly true due to its excellent Trustpilot reviews. It's always a good idea to check out trusted platforms for a secure trading experience!
Mind-Blowing Trading Platforms 
This trading tool has a cutting-edge trading platform that's not only outstanding but also modern. 
What's even more convenient is that they've made it accessible on both iOS and Android devices. This is done so traders can keep a close eye on their investments anytime, anywhere. Users have given rave reviews, mainly on iOS, where the platform has received stellar ratings. 
With UI-friendly interfaces and mind-blowing functionality, these platforms are a perfect option. We must mention this!
Code-Free Trading Benefits
Say goodbye to emotional trading with their 24/7 market monitoring. 
Here, your trading strategies come to life without any code. Here's what you can expect:
Research & Analysis:

You can boost your strategies using freestyle text. Backtest and simulate trading strategies for good decisions.

Smart Notifications

: Stay notified with real-time notifications based on market data, indicators, and macroeconomics.

Advanced Features

: Manage your daily trades and create complex automated systems without writing a single line of code.

Strategies Library:

They have a vast assortment of live strategy models to get you started smoothly & in no time.
Tip: Beware of Wise Tradefx, as it's a big forex scam. Avoid it to protect your money and investments, as they have many things to hide. Stay safe and choose reliable brokers. You can always contact us for a free consultation! 
Why Choose Automated Trading?
Let's take a look at the reasons why to choose automated trading!
Experiences

: Superb automated trading experience.

Better Volumes

: Traders can achieve more by automating their strategies, and boosting trading volumes.

Cutting-Edge Tech

: This firm offers a cutting-edge experience powered by AI & NLP technology.

New Traders:

Capitalise.ai opens new doors for non-technical traders, attracting fresh faces to the trading world.
Customer Support
This company values customer communication. Although they don't offer a phone number, you can reach them through email or their contact form. 
While a phone line or live chat would be helpful, their current options are user-friendly. They ensure traders can get the support they need.
Remember that having good customer support is essential in trading companies. It helps traders with problems and builds trust, making their experience better and more secure.
Tip: It's crucial to remember that trading always comes with risks. Money isn't assured. So, always be careful, do your research, and make decisions wisely. Your financial security matters.
Explore Trading Wisdom 
Here, you can discover a wealth of knowledge from Capitalise.ai! You can learn how to run effective strategies with their Strategy Wizard. Also, there's an option to explore features, research tips, and trade monitoring insights. 
What's more, you will be able to understand Automated Execution and manage accounts easily. Stay updated with Release Notes and find answers in FAQs. Get inspired with Templates and watch helpful Videos. This company truly simplifies trading education for all. You can start exploring now!
Reviews from Traders 
This trading tool has exceptional trader reviews on Trustpilot. You can see an impressive star rating of 4.5 out of 5, based on 120 client reviews. This outstanding rating serves as proof of the platform's reliability and user satisfaction. 
For traders, it instills confidence, knowing they are part of a community that values their trust. We cannot stress how vital this is! Such positive feedback shows a platform that delivers on its promises. This is another big positive thing this company has to offer! 
Also, we found some Capitalise.ai Reddit discussions. Many people are talking about it! 
Tip: For your safety, always choose companies with 4.5-star reviews or more. This is a solid indicator you are dealing with a reputable company. 
Trading Success and Profitability
Can you earn from trading? Absolutely! But remember, it comes with risks. You should know that no strategy guarantees 100% profit. However, we're here to assist you! Reach out for free expert advice on top FX brokers. 
And, explore our AI Analysis Bot, your mind-blowing research tool, offering useful trading tips. Plus, enjoy a 20-day free trial with 5 FX and 5 stock analysis reports monthly. Seize this opportunity to improve your trading journey!
Code-Free Brilliance at Capitalise.ai
With Capitalise.ai, you can test and automate your trading ideas without any code. Write your trading plan in everyday language, and let their software execute it precisely and emotion-free. 
Here, you can break free from screen watching, optimize your buying power, and scan the market 24/7 with custom notifications. It's time to trade smarter, not harder.
You can truly test out automated brilliance with this innovative company. All in all, we are extremely satisfied with this amazing trading tool! 
FAQs
What Is Capitalise.ai?
Capitalise.ai is a user-friendly trading platform with natural language processing.
Is Capitalise.ai Free?
Yes. Capitalise.ai offers free benefits for traders to explore its features.
How Does Capitalise.ai Work?
This firm uses natural language input to automate trades.