June 10, 2023
Reading Time:
5
min
Capitalix Review: Revealing the Facts Behind Capitalix Brokerage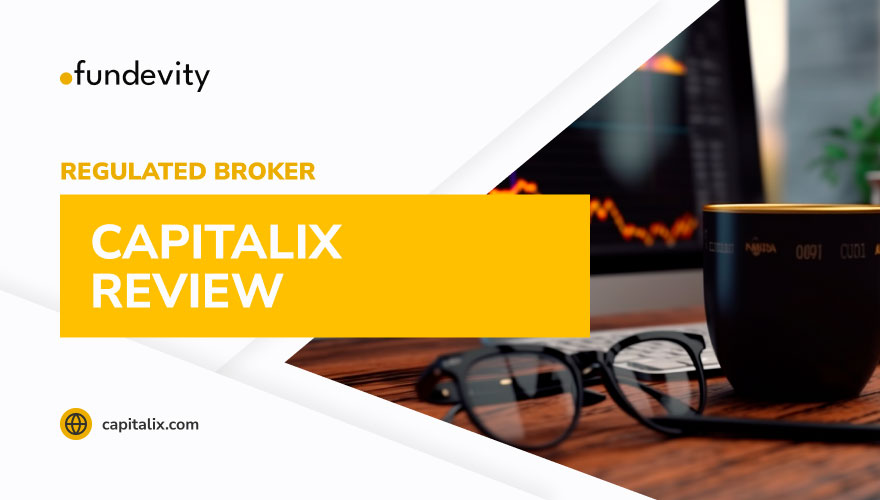 Capitalix has become popular in Saudi Arabia and the UAE as a CFD brokerage. This is thanks to its favorable trading conditions and solid fees. Yet, concerns about its legitimacy have arisen due to reports and allegations on its website. In this article, we will conduct a comprehensive investigation and provide an honest review of Capitalix. 
Our Capitalix review will cover the broker's offerings for both new and pro traders. We will evaluate key aspects such as fees, account options, trading venue, and product range. By reading more, you can make informed decisions.
| | |
| --- | --- |
| Headquarters | Seychelles and Cyprus |
| Regulated | FSA |
| Year Established | 2020 |
| Execution Type | NDD |
| Minimum Deposit | $10 |
| Trading Platforms(s) | WebTrader |
| Signals | Yes |
| US Clients Accepted? | No |
| Islamic Account | Not Available |
| Segregated Account | Yes |
| Managed Accounts | Yes  |
| Support Hours | 24/5 |
| Customer Support | 24/5 |
| Demo Account | Yes |
Is Capitalix Legit? Regulation and Security
When engaging with any broker, consider the regulations and governing laws. In our initial investigation, we focused on determining the location and ownership of the Capitalix brand. Based on our findings, the owner is 4Square SY Ltd, situated in Seychelles, with an established presence in Cyprus. 
Our research indicates that Capitalix's regulation comes from the FSA Seychelles. The Cyprus entity functions as a payment provider only. This arrangement means that, as a client, your funds are entrusted to an offshore broker without access to compensation funds.
While the broker asserts its regulatory status, the FSA is an offshore regulator. What's more, it grants licenses without adequate client protection. In other words, clients are not protected in the event of a broker's bankruptcy. This lack of security has made many potential customers wary of Capitalix investments.
The FSA license is of hardly any value to those who fall victim to deception. As a result, Capitalix has been the subject of countless complaints.
Exploring Capitalix's Account Options
Capitalix offers a range of intriguing account options, comprising five different types. Let's delve into each of them.
Basic

Silver

Gold

Platinum

VIP
Each account type has its unique features. Interestingly, there is no specific minimum deposit requirement for any of them. Yet, you can begin with 10 EUR. These accounts differ in terms of leverage and spread. Also, as you invest higher amounts, the bonus you receive also increases. 
For example, upgrading to a VIP account can earn you a bonus of up to 100%. Like many other companies, Capitalix offers demo accounts to attract clients and assure them of its legitimacy. A demo account provides access to a substantial 100,000 units. This results in a significant impact on your margin level and buying power.
Note: Both Libertex and Capitalix brokers offer user-friendly trading experiences. They provide a wide range of investment opportunities for traders.
Unveiling Capitalix's Trading Platforms in Detail
Capitalix's trading venues may not meet your expectations. The offered platform is a basic Web trader, lacking significant features and value. For a more extensive trading experience, choose platforms like MT4 (MetaTrader 4) or MT5 (MetaTrader 5).
During our evaluation, we attempted to sign up for a demo account to evaluate the platform. Yet, we were promptly requested to provide extensive personal information. This can be odd for some traders. 
MT4 and MT5 are popular trading platforms. They are known for their powerful features and wide range of financial instruments. Traders prefer MT4 and MT5 for their user-friendly interfaces and advanced tools.
Mobile Trading App
Regretfully, if you were expecting a UI-friendly login option on your mobile device, you might be let down. 
Although there is a mobile application, it simply replicates the Web trader platform. Regardless of whether you have an Android or iOS device, the mobile app falls short of delivering a complete trading platform experience. Keep that in mind. 
Navigating Capitalix: Understanding Fees and Costs
The company mentions that any fees, charges, costs, or conversion charges are the client's sole responsibility. This means that the client will be accountable for any fees imposed by their bank or payment service provider during these transactions.
The broker, the company itself, does not charge fees for deposits and withdrawals. Namely, they do not charge extra fees for these services. Yet, it is important for the client to carefully review and comprehend the terms and conditions of their chosen payment method. This is to determine if any charges might be applicable.
Deposits and Withdrawals
This firm accepts various payment methods. These methods are credit cards, Swift, e-wallets, and wire transfers. Yet, this limited selection shouldn't be an issue. Why? Well, credit card transactions offer the advantage of a chargeback option within 540 days.
This means that if you encounter problems with Capitalix, you have the right to dispute the transaction. By providing supporting evidence, you can report the deception and potentially recover your funds. We strongly advise you to distance yourself from this trading firm to avoid potential difficulties in reclaiming your money.
Capitalix also offers a deposit bonus program, offering bonuses ranging from 20% for the Basic account to 100% for the VIP account. Regardless, be cautious as this could be another tactic to tie you to a bonus agreement.
With bonus funds, you won't be able to withdraw until you meet a challenging rollover requirement. This means you'll need to deposit additional funds to fulfill the requirement. Beware of that. 
Capitalix's Educational Offerings
This firm provides an impressive array of educational and research tools, as they say. Research support includes an economic calendar, news alerts, and more. These research tools enable traders to stay informed and make more accurate investment decisions.
Similarly, the platform itself serves as an essential educational tool. It offers informative webinars and articles for a better understanding of the market. These educational resources aim to empower traders to profit.
Customer Care at Capitalix: Support and Assistance
Capitalix provides exceptional customer support in many languages. These include English, Spanish, and Italian. Their team of experts is readily available to assist clients and address any inquiries they may have.
Clients have various means to contact the customer service team. These different means are as follows: 
Live Chat: Users can engage in real-time conversations with a representative through the platform's live chat feature.
Email: For more formal communication, clients can reach out to the customer service team via email at [email protected].

Phone: Contact can also be made through phone calls using the following numbers:+97142491118 (AE), +54 11 5236 2375 (AR), and +35724267263 (CY)
For old-school correspondence, Capitalix provides the following addresses:
CT House, Office 4B, Providence, Mahe, Seychelles Makariou ΙΙΙ, 256, CHARAKI COURT, Flat D4, 3105, Limassol, Cyprus
Subscribe Now for Our Daily News
Are you looking for reliable and regulated brokers? Look no further! Our company brings you daily news of the top-notch regulated brokers on the market. 
By subscribing to our service, you will gain exclusive access to the latest insights and expert analysis on the most trusted brokers. Stay ahead of the game with our extensive reviews, ensuring you make informed investment decisions. Don't miss out on this valuable opportunity. Subscribe now to receive our daily reviews and stay updated with the top regulated brokers in the industry.
Our mission is to empower you with the resources and guidance to trade successfully. Fear not, for we pledge unwavering support, walking by your side through every twist and turn of this grand expedition.
Final Verdict: Evaluating Capitalix
Capitalix offers a variety of account types, each requiring a minimum deposit of 10 EUR. Leverage, spread, and bonuses vary across these accounts, with VIP accounts receiving up to 100% bonus. Yet, caution is advised due to the challenging rollover conditions associated with withdrawals.
Capitalix's trading platform is basic and lacks the advanced features found in renowned platforms like MT4 or MT5. Payment options are limited to wire transfers or credit card transactions exclusively through Capitalix.
Our aim with this Capitalix review is to help traders make well-informed choices. Additionally, Axiory is another broker you may consider, ensuring the protection of your financial interests.
FAQs
Is Capitalix a Regulated Broker?
They claim to be regulated by the Seychelles FSA.
How Do I Contact Capitalix Support?
When Was Capitalix Founded?
This company was founded in 2020.
What Trading Accounts Are Available at Capitalix?
Capitalix offers five accounts: Basic, Silver, Gold, Platinum, and VIP.
What Are Capitalix Fees?
Capitalix does not impose any fees for deposits and withdrawals.