July 18, 2023
Reading Time:
7
min
CapitalProFX Review: Reviewing CapitalsProFx's Regulatory Status and More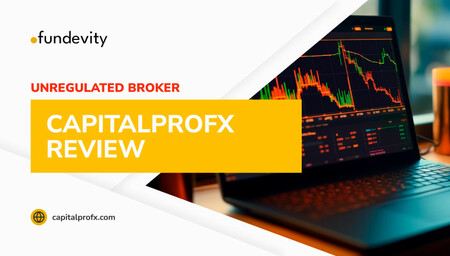 Capital Pro FX presents itself as a regulated forex broker. Yet, there is no concrete evidence to support their regulatory claim. All of which raises concerns about their legitimacy and credibility. Based only on this information, it is unclear whether the CapitalProFX broker is regulated or not. It would be wise to exercise caution and thoroughly research any broker before investing capital. You should primarily research those with a suspicious regulatory license, like CoinsBank. 
Read our honest CapitalProFX review for more information about this issue. Approach the Capital Pro FX forex broker cautiously before engaging in any transaction with them.
Capital Pro FX: Legitimacy and Regulatory Claims
Regulation is crucial in the financial industry to protect traders' funds. It ensures transparency and accountability in broker operations. Therefore, verifying Capital Pro FX regulation by consulting reputable regulatory bodies is essential. Prospective traders should also consider client reviews, industry reputation, trading conditions, and overall transparency when evaluating a broker. These contribute to a comprehensive assessment of reliability. 
We conducted research on Capital Pro FX due to a lack of information. Although they claim to be regulated, they have not specified the jurisdictions in which they are regulated. It is critical to note that being registered is not enough to offer brokerage services. What's more, companies also need to be licensed. Also, despite their claim of being based in the UK, Capital Pro FX did not provide any information about a local license.
In the UK, brokers must get a brokerage license, which is challenging. Unfortunately, capitalprofx.com did not obtain such a license. We checked the register of the British Financial Conduct Authority (FCA). Still, we could not find any record of Capital Pro FX.
Yet, we have verified the information through https://www.wikifx.com/. This source also confirms that Capital Pro FX does not have a valid regulation. All in all, due to the lack of verifiable regulatory information, traders should be cautious. They should thoroughly research Capital Pro FX's regulatory status and general reputation. Notably, they should do this before engaging with them. Avoid unregulated brokers as well as those with an offshore regulation like Coin Royal. 
General information
Name:

Capital Pro Fx

Regulation status:

Unregulated Broker

Warnings from Financial Regulators:

No official warnings

Website link:

https://capitalsprofx.com/

Active since

2021 (2022 for domain age)

Registered in

71-75 Shelton Street, Covent Garden, London, United Kingdom, WC2H 9JQ

Contact info:

Phone: 1-888-452-1505, (408) 389-5470

Trading platforms:

MetaTrader 5

The majority of clients are from:

South Africa

India

United Kingdom

Customer support:

Yes (

[email protected]

, Mon – Fri: 8 am – 5 pm, Phone: 1-888-452-1505)

Compensation fund:

No
Over 200 Options Across 6 Asset Classes at Capital Pro FX
At Capitalprofx, you have a diverse range of trading instruments to choose from. They include access to more than 200 trading instruments. Let's take a look at their trading instruments: 
Capital Pro FX Crypto. Capital Pro FX Spot Metals. Invest in precious and industrial metals, which continue to hold global significance. 

Capital Pro FX Forex. You can also explore different FX currency pairs. 

Capital Pro FX Spot Indices. Track the stock market and economy's performance by investing in spot indices. These indices represent large-scale stock portfolios, allowing diversification of your investments.

Capital Pro FX Commodities. Explore the world of commodities by purchasing stocks from publicly traded firms. This investment approach enables you to gain partial ownership of the corporation and benefit from various commodities' performance.

Capital Pro FX Futures. Engage in futures trading, which involves highly standardized financial contracts or derivative instruments. These contracts bind two parties to transact a set of financial instruments.
Capital Pro FX offers a broad range of trading instruments across these asset classes. This empowers you to diversify your portfolio and explore other market opportunities. Yet, try to remember that they are not regulated.
Platforms Available at Capital Pro FX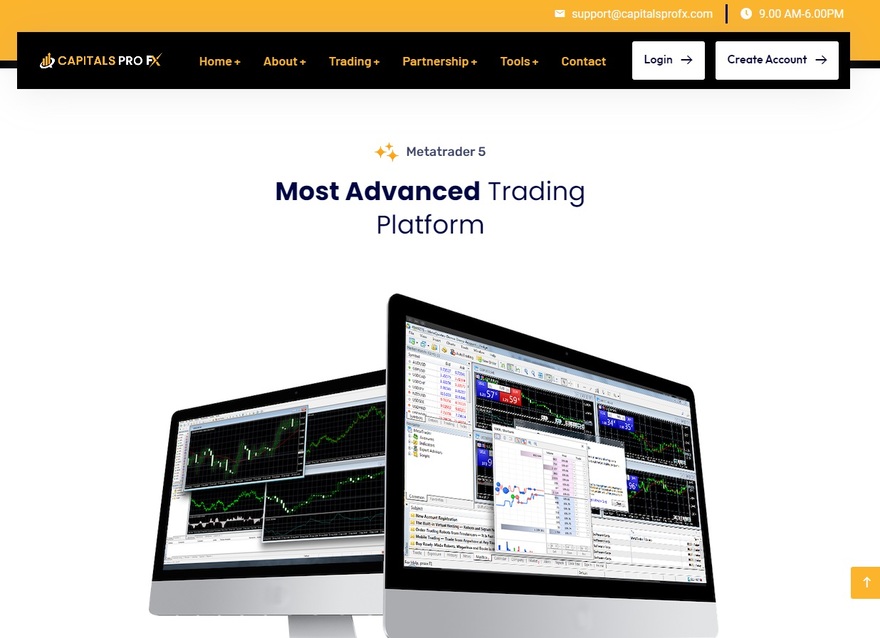 CapitalProfx offers the MT5 platform. This is quite surprising for a broker that lacks regulation. Metatrader 5 (MT5) is a widely acclaimed trading platform known for its advanced tools and features. 
The MT5 platform caters to individual traders and institutional investors. It supports trading on various financial markets, including stocks, FX, commodities, and cryptocurrencies. With a UI-friendly interface and customizable layout, traders can personalize their workspace. They can also access multiple charting options and technical analysis tools. 
MT5 offers a vast library of built-in indicators and the ability to create custom indicators and trading robots. It provides fast trade execution, real-time market data, and access to economic calendars. Expert Advisors (EAs) in MT5 are used for automated trading. Accounts can be synchronized seamlessly across desktop, web, and mobile devices. MT5 empowers traders to make informed decisions, execute trades efficiently, and maximize profits. Please remember that you should use MT5 software with a regulated broker only.  
Capital Pro FX: General Trading Environment
We know by now that CapitalProFX offers a diverse range of tradable instruments, claiming to provide a robust trading environment. They emphasize the use of UI-friendly platforms like MT5. Still, CapitalProFX also highlights reliable trade execution and the availability of risk management tools. 
They provide real-time market data, news updates, and educational resources. They do that while asserting a focus on transparency and security. After all, despite all that, traders should approach the platform with caution. 
Capital Pro FX Trading Accounts
What is there to know about Capital Pro FX trading accounts? They claim to provide various account types to suit different investors. CapitalProFX includes a variety of trading account options. Let's look at each account type.
STANDARD ACCOUNT:
Minimum Deposit: $1000

Leverage: Up to 1:1000

Order Volume: Starting from 0.01 lots

Spread: Starting from 1.8 pips

Commission: None
The Standard Account is designed for traders who prefer a lower minimum deposit and higher leverage. With competitive spreads and no commission charges, it offers a balanced trading environment.
ISLAMIC ACCOUNT
Minimum Deposit: $3000

Leverage: Up to 1:300

Order Volume: Starting from 0.01 lots

Spread: Starting from 0.3 pips

Commission: $2.5 per lot
The Islamic Account is tailored to meet the needs of Islamic traders. It adheres to Shariah-compliant guidelines, featuring no interest (swap-free) and a competitive spread. Commissions are charged per lot traded.
ECN ACCOUNT
Minimum Deposit: $10,000

Leverage: Up to 1:200

Order Volume: Starting from 0.01 lots

Spread: Starting from 0.3 pips

Commission: $2.5 per lot
The ECN Account is designed for traders who prioritize tight spreads and direct market access. It offers lower trading costs through tighter spreads and charges a small commission per lot traded.
PRO ACCOUNT
Minimum Deposit: $5000

Leverage: Up to 1:300

Order Volume: Starting from 0.01 lots

Spread: Starting from 1.3 pips

Commission: None
The Pro Account is for those looking for competitive trading conditions. It offers a relatively low spread while eliminating commission charges. As you can see, Capital Pro FX provides a range of trading account options. The Capital Pro FX minimum deposit is $1000 for the standard account. We assume that this is also a minimum deposit requirement. It is worthwhile to consider each account's features carefully. Also, align them with your trading goals, and remember this broker is suspicious.
Withdrawal Terms for Capital Pro FX
Here is a summary of their Terms of Business regarding payment terms and cash balance.
Traders' cash balances will be credited with the margin and other payments received. They will also be debited for requested payments, realized losses payable, and any costs incurred for non-payment. Capital Pro FX may convert funds into different currencies at prevailing market rates. Deposits are accepted via approved credit cards or wire transfers, and withdrawals are typically processed by wire transfer.
Traders are responsible for electronic transfer fees associated with payments. Interest may be charged on overdue amounts. Administration fees may apply to returning credit card payments. Also, traders are liable for costs, charges, and expenses related to overdue payments. 
Besides, Capital Pro FX fees for different services are charged to its clients. Traders should review the specific terms and conditions provided by Capital Pro FX for accurate and detailed information regarding charges, payments, and other relevant policies.
Capital Pro FX Partnership Programs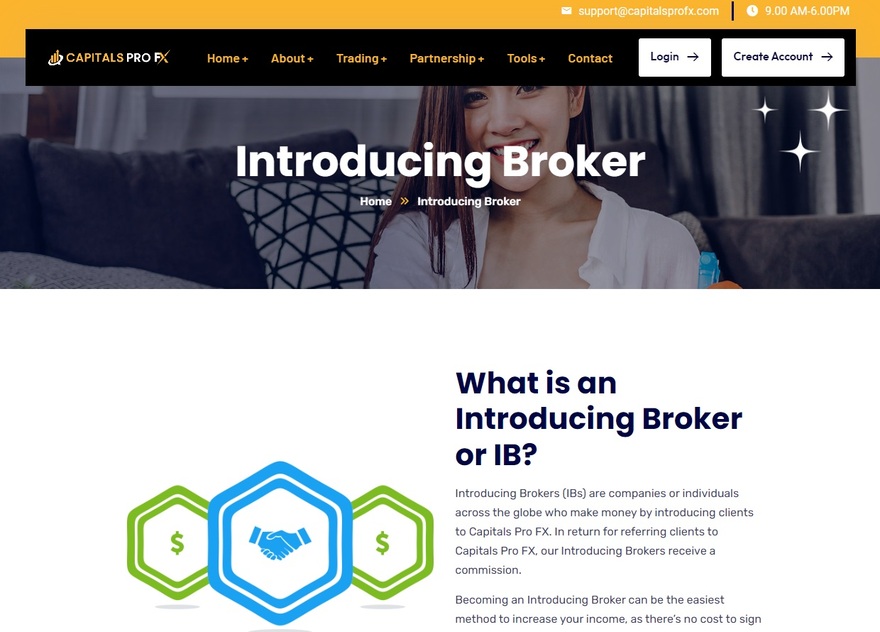 Capital Pro FX offers a worldwide partnership program for Introducing Brokers (IBs). IBs can earn commissions by referring clients to Capital Pro FX. It is a cost-free opportunity to increase income, and IBs can work remotely, even through their website. 
IBs can refer traders to Capital Pro FX, assist with the account opening process, and highlight the so-called benefits of being a Capital Pro FX client. All of this is suspicious enough as this company lacks regulation.
Warning to Investors: Uncovering the Scam's Secrets
In forex trading, knowing common scam tactics certain brokers use is crucial. One of these tactics is misleading advertising. Here, brokers make unrealistic profit promises or employ flashy marketing to attract traders. 
Another tactic involves excessive fees and hidden charges, where brokers impose high commissions without clear disclosure. Also, some brokers engage in improper trade execution or manipulate prices for their own benefit, harming traders' profitability. To stay safe, it's vital to choose reputable brokers with transparent practices. By being knowledgeable, you can navigate the forex market wisely and avoid scams.
Note: This broker lacks any Trustpilot reviews, raising concerns about their reputation and credibility.
Long Story Short Capital Pro FX
Capital Pro FX claims to offer a robust trading environment with a diverse range of tradeable instruments. Yet, their regulatory status is unverified. This raises concerns about their legitimacy and credibility. Traders are urged to exercise caution and conduct thorough research before engaging with the platform. 
The company provides various trading account options with different features. Also, payment terms and cash balance policies are outlined. Still, traders should review the specific terms and conditions for accurate information. Ultimately, it's best to avoid unregulated brokers like Capital Pro FX or Coin Xe.
Here you can book a free consultation and find out what to do for a start.
FAQ Section
Is Capitalprofx.com Legit?
No, capitalprofx.com is not legit. We couldn't verify their regulatory status.
What Does Capital Pro Fx Offer?
According to Capital Pro FX, the company offers a diverse range of tradable instruments and a robust trading environment.
Should I Invest In Capital Pro Fx?
No. There is no verifiable regulatory information available, so traders have no guarantee of safety.