May 09, 2023
Reading Time:
5
min
CarbonCapitalFX Review: Is This Broker Worth Your Time and Money?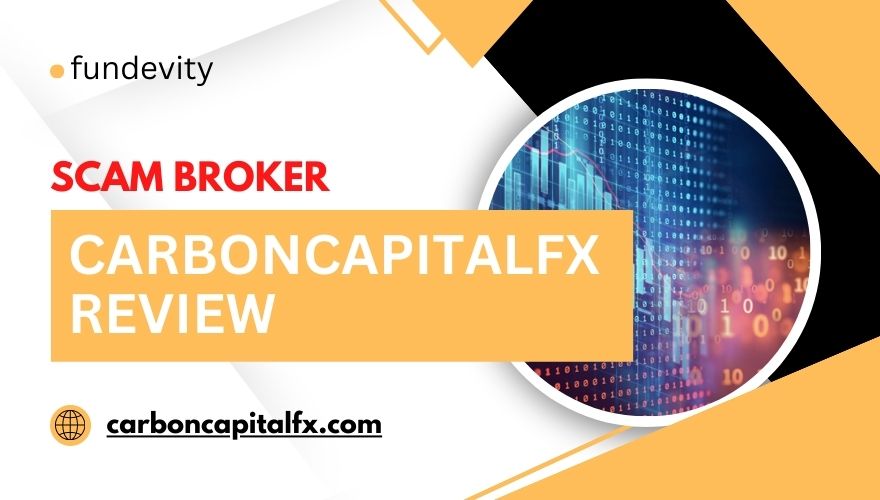 CarbonCapitalFX Review, Are you thinking about trading with CarbonCapitalFX? Think twice before doing so. As an offshore brokerage, it operates under lax regulations that give it the freedom to conduct its crooked scheme. 
Our team has thoroughly reviewed CarbonCapitalFX, examining everything from its license and trading software to its costs, instruments, and payment methods. Don't open an account before reading our unbiased CarbonCapitalFX review to understand what you're getting into. We want to help you decide whether or not this broker is the right fit for you.
| | |
| --- | --- |
| Headquarters | British Virgin Islands |
| Regulation | BVI FSC |
| Leverage | 1:500 |
| Minimum Deposit | $100 |
| Review Rating | 1/5 |
| Broker Type | Forex |
| Platforms | MetaTrader 5 and CarbonTrader |
| Spread | 1.5 |
Regulation and Security of CarbonCapitalFX
During our investigation of CarbonCapitalFX's website, we discovered a discrepancy in the information provided about the location of the brokerage. While it is supposed to be operated by Trident Trust Company Ltd, registered with the British Virgin Islands (BVI) FSC, the T&C section states that it is operated by Carbon Capital Ltd from Saint Vincent and the Grenadines (SVG). However, regardless of which entity operates the brokerage, it is considered an offshore provider, which poses a significant risk to traders. 
The BVI FSC is not known for strict regulation of Forex brokers, unlike reputable onshore financial authorities such as FCA, ASIC, FINMA, MAS, and others. The BVI FSC does not require brokers to maintain a minimum operating capital, segregate clients' funds, provide compensation schemes, or disclose their execution policies to clients. Similarly, the local Financial Services Authority in SVG does not regulate FX trading, which means that all SVG-based brokers are unlicensed. 
Therefore, we do not recommend trading with CarbonCapitalFX or any other unlicensed broker. To ensure regulatory compliance, traders are advised to work with providers licensed by Tier 1 regulators such as the FCA, BaFin, ASIC, FINMA, or registered with the CFTC and the NFA if they are from the US. Also, beware of CarbonCapitalFX, Eurinvesting, and other infamous enterprises. Your security is a priority. 
CarbonCapitalFX –
Trading Platform
This firm includes two trading platforms, namely MetaTrader 5 and CarbonTrader. Among the two, MetaTrader 5 stands out as the most renowned trading platform globally, offering advanced features such as automated trading, branch optimization, and live market reports. 
Surprisingly, CarbonCapitalFX proposes a legitimate version of MT5. However, despite the provision of MT5, it still doesn't compensate for the fact that CarbonCapitalFX is an unlicensed broker. One trader even reported experiencing slow platform speeds, messed up indicators, and charting issues. On the other hand, CarbonTrader, based on the website, appears to be a web-based terminal, which means it is an online browser platform. 
We assume that CarbonTrader lacks the advanced mechanisms and features that MT5 offers. Unfortunately, we were unable to confirm this assumption since the broker does not provide a demo account for traders to test the platform before giving real funds. Therefore, traders should be cautious when using CarbonTrader and consider using a licensed broker that offers reliable trading platforms with advanced features.
Trading Instruments Available at
CarbonCapitalFX
When we examined CarbonCapitalFX's website, we noticed a lack of comprehensive information about its trading instruments. However, we were able to determine which asset classes were there. CarbonCapitalFX claims to provide access to over 200 trading instruments, including more than 30 crypto pairs. The available asset classes include currency pairs, indices, spot metals, spot commodities, shares, and crypto.
Forex currency pairs are the most common and popular trading instruments, representing the exchange rates of two different currencies. Indices allow traders to speculate on the performance of a group of stocks or securities from a particular region or industry. 
Spot metals, such as gold and silver, are valuable assets that traders can speculate on due to their intrinsic value. Spot commodities, on the other hand, include assets such as crude oil, natural gas, and agricultural products, among others. Shares represent ownership in a company. Lastly, crypto has become an increasingly popular trading instrument, with more traders looking to take advantage of the high volatility and potential for large gains.
While CarbonCapitalFX offers access to a range of trading instruments, traders are advised to exert caution when trading with unlicensed brokers, as there is a higher risk of financial loss due to inadequate regulation and supervision.
CarbonCapitalFX – Account Types
CarbonCapitalFX provides a choice of two account types for trading, namely the Platinum account and the Carbon account. The Platinum account offers raw spreads starting from 0.0 pips and charges a flat rate commission, though the exact amount is unspecified. On the other hand, the Carbon account features fixed spreads that average around 1.5 pips and is commission-free.
However, despite offering two account types, we discovered that CarbonCapitalFX had two additional account types mentioned in its terms and conditions section, which is concerning due to the lack of transparency exhibited by the broker. Besides, the broker does not disclose the minimum deposit required to open an account, which could be a red flag for traders.
It's important to note that diverse account types come with diverse features and benefits. So, you should choose an account type that best suits your trading needs and preferences. However, with CarbonCapitalFX's lack of transparency and unlicensed status, traders should exercise caution.
Deposit and Withdrawal
When choosing a broker, it's wise to consider the available payment options. A trustworthy broker should include secure and reliable methods, including bank transfers, credit cards, and e-wallets. 
However, some brokers, like CarbonCapitalFX, may only accept cryptocurrency deposits, which can be risky for investors. Crypto deposits are harder to trace. This raises concerns about the broker's intentions and may indicate an attempt to limit the options clients have to retrieve their funds. Investors should carefully consider the payment options offered by a broker before making any deposits to ensure their funds are safe and accessible.
How Do Fraudulent Offshore Brokers Operate?
Offshore brokers often use deceitful tactics to lure investors with promises of significant profits. They may pressure you into investing your money in bogus trades, ultimately running away with your cash. Always do thorough research before investing and check reviews, ratings, and seek help from financial advisors. 
Be cautious with personal and financial information and only disclose it to reliable and trustworthy companies. Limitations on payment options, such as only accepting crypto deposits, can be a red flag. Keep this in mind. Stay vigilant and keep your investments safe from fraudulent brokers.
CarbonCapitalFX and Lionetix are similar in that they are both suspicious corporations with a history of defrauding their customers.
CarbonCapitalFX Summary
In conclusion, we can say that this offshore brokerage is not a trustworthy option for anyone. The broker operates under lax regulations that do not guarantee adequate protection for traders. Furthermore, the brokerage's location and the minimum deposit requirements are not transparent, which raises red flags. 
While the broker offers two trading platforms and a range of trading instruments, traders are advised to be cautious when trading with unlicensed brokers. Instead, they should opt for providers licensed by Tier 1 regulators.
FAQs
Is CarbonCapitalFX Regulated?
CarbonCapitalFX is not a regulated broker according to many sources.
Does CarbonCapitalFX Offer a Demo Account?
No. This broker does not offer a demo account.
What is the Minimum Deposit for CarbonCapitalFX?
CarbonCapitalFX's minimum deposit is $100, as per the information available on their website.