September 13, 2023
Reading Time:
4
min
CGFX Review: The Ins and Outs of Trading with CGFX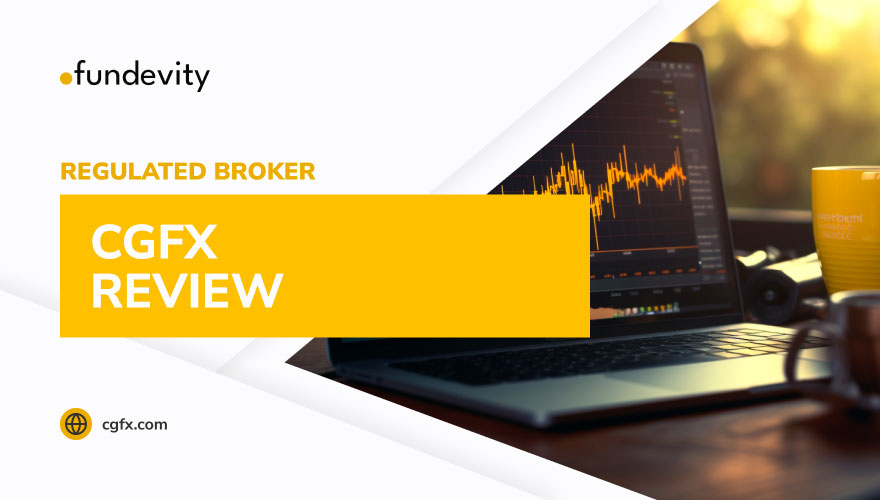 Welcome to our CGFX review, where we dig deep into this offshore broker. CGFX offers solid trading conditions and access to global markets, but its lack of reliable regulation is a big worry. In this article, we'll thoroughly check CGFX's legitimacy, account types, fees, and the risks that come with trading here. Our goal is to give you the basic information you need to make intelligent choices. Stay tuned!
General information
Name:

Halteh Financial Group, Commercial Group Financial Markets Limited, Commercial Group FX Pty Ltd

Regulation status:

Regulated by FSC of Mauritius

Warnings from Financial Regulators:

No official warnings

Website link:

cgfx.com

Active since

1998

Registered in

Saint Vincent and the Grenadines & Republic of Mauritius

Contact info:

[email protected]

, +1 (650) 491 – 9997

Trading platforms:

MT4

The majority of clients are from

Switzerland 

United States 

India

Japan

Canada 

Customer support:

Email, phone, chat, and contact form – 24/5

Compensation fund:

No
CGFX Legitimacy: Is CGFX a Legit Broker?
The short answer is no. CGFX is registered in St. Vincent and the Grenadines, but it claims to have licenses from the FSC of Mauritius and ASIC (Australia). Yet, we clearly see that the ASIC-regulated firm mentioned is merely a technology provider, not the actual broker. St. Vincent and the Grenadines lacks real regulatory oversight, making it easy for unreliable brokers to exploit this.
There are 3 firms behind this broker: 
Halteh Financial Group

Commercial Group Financial Markets Limited

Commercial Group FX Pty Ltd
CGFX does have a license from the FSC of Mauritius. But it's important to note that this offshore regulator's requirements are not as promising as those imposed by Tier 1 regulators like the FCA, ASIC, or CySEC. These top-tier regulators enforce strict rules and protection to ensure a higher level of security for us.
Note: Make sure you stay away from suspicious brokers like CharterPrime. If a broker is based offshore, it requires more caution. 
Trading Assets Available
At CGFX, they pride themselves on providing quick access to various global markets. For instance, that is foreign exchange (FX), stocks, indices, and more. 
But here's the thing: It's a smart move to think about choosing well-established, regulated brokers instead. Why? Because they offer a wider, more reliable range of assets for your trading needs. Keep that in mind.
Trading Platforms at CGFX
CGFX provides access to the widely recognized MetaTrader 4 (MT4) trading platform. Yet, for a secure trading environment, we recommend using MT4 or MT5 with a reputable broker. 
These platforms offer avant-garde charting tools, many technical indicators, and robust back-testing features.
Note: ForexCT is another shady company you should stay away from. Protect your assets today and choose a regulated provider. You can always contact us for a free consultation! 
CGFX Account Types, Spreads, and Leverage
CGFX stock broker offers three account types: CG+, CG-Pro, and CG-Prime, each with different commissions. Spreads range from 1.0 to 0.6 and can even go as low as 0.0. All three account types offer leverage of up to 1:400. 
However, it's crucial to understand that high leverage significantly increases trading risks. Regulatory bodies in the EU and UK have imposed leverage caps to protect retail traders.
We strongly urge traders to avoid brokers offering overly high leverage ratios, as they can lead to big losses. Opting for regulated brokers with Tier 1 regulations provides a safer trading experience.
Education
When it comes to education, CGFX does offer some materials like blogs and videos. However, there's a catch. The quality and reliability of these resources aren't exactly top-notch. 
What's more, there's a language barrier issue. Most of their TikTok and Instagram Reels content is in Arabic, which isn't ideal for English-speaking traders. This limitation makes it challenging for traders who prefer English to access these educational materials.
Note: Among many suspicious brokers, UFX is a regulated one. It may not be the best, such as Webull, but it's solid. 
CGFX Withdrawal Options
Now, let's talk about withdrawing your money here. CGFX provides withdrawal options such as Sticpay, bank cards, wire transfers, and crypto. On the surface, it might seem convenient. 
But here's the concern as we already know! The broker's regulation isn't rock-solid. This raises doubts about the safety of their withdrawal process. To ensure your financial security, our recommendation is to opt for brokers offering transparent payment options like PayPal, Skrill, Google Pay, Advcash, bank cards, or crypto. It's all about protecting your financial interests.
Trader Ratings: What They Reveal About CGFX
Looking at Trustpilot ratings can be insightful. Commercial Group FX has received a rating of 4.1 stars, which might catch your eye at first. However, there's a vital point to keep in mind. This rating might be more reassuring if CGFX had Tier 1 regulation in place. 
For that extra peace of mind, we suggest going for brokers with Trustpilot ratings of 4.5 stars or higher. Your financial security is worth the extra consideration.
Offshore Brokerage Accounts and How They Work
Ever heard of offshore brokerage accounts before CGFX? They're interesting because they're set up in countries with favorable tax laws. In simple terms, an offshore brokerage account is like a bank account in a foreign country. These offer some benefits, such as protecting your assets, access to global investments, and possibly reducing your tax burden.
Now, here's the deal! While some offshore brokers follow their host country's rules and can serve clients worldwide, not all of them are equally reliable. You can either manage an offshore account on your own or authorize a broker to handle it for you.
But remember that dealing with offshore brokers can be risky. So, it's crucial to make a smart choice to protect your financial interests.
Can I Make Money From Online Trading?
At this juncture, we'd like to stress our commitment to providing solid resources to traders. We are here to offer free consultations, and we've recently introduced an AI Analysis Bot to streamline your research process. This tool can assist you in making better trading decisions while saving time and effort.
All in all, when considering a broker like CGFX, it's crucial to be safe. Trading with Tier 1 regulated brokers offers significantly higher security for your money. Avoid high leverage, stay educated, and choose a solid broker for successful trading.
FAQs
Is CGFX Legit?
No, CGFX is not a fully legitimate broker because it lacks reliable regulation.
Is It Safe To Trade With Commercial Group FX?
Trading with Commercial Group FX is risky due to its poor regulation.
Does CGFX Have a Mobile Trading App?
They do have a mobile trading app on MT4.