September 02, 2023
Reading Time:
5
min
ForexCT Review: Unveiling the Features and Offerings of Forexct.com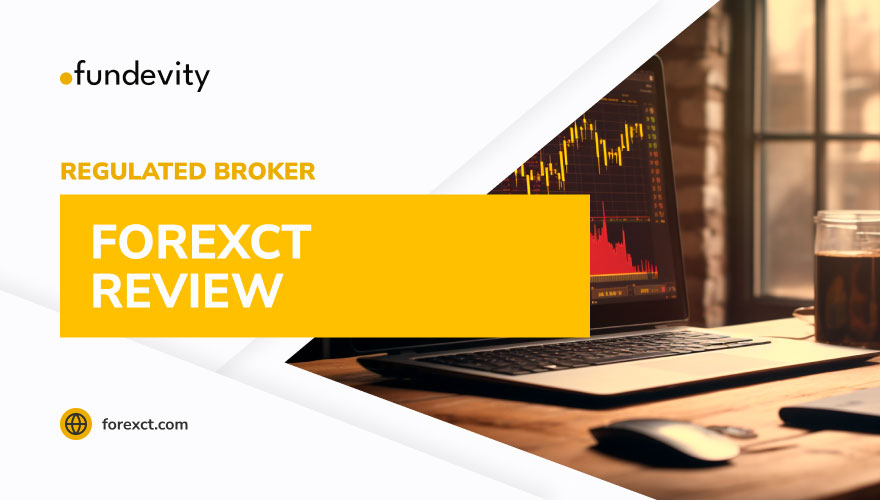 Welcome to our informative ForexCT review, where we dig into every aspect of this Australian broker. 
Founded in 2006 by a team of seasoned traders, ForexCT has established itself as a reputable name in the world of Forex and CFD trading. Their mission is simple: to provide traders around the globe with a top-tier online trading platform while maintaining the highest standards of compliance with financial regulations. Headquartered in Melbourne, Australia, ForexCT is especially attuned to the needs of Australian traders. Stay tuned for more! 
ForexCT Legitimacy
When it comes to the Forex market, security is paramount. Navigating this vast financial landscape requires a broker that adheres to strict compliance standards, minimizing potential risks and losses. A secure trading environment is best achieved through brokers authorized by reputable regulatory bodies. 
ForexCT operates under the regulation of the Australian Securities & Investments Commission (ASIC). This means that client funds are held in segregated accounts. Moreover, ForexCT employs SecureSocket Layer (SSL) protection on all its servers, safeguarding platforms and ForexCT websites.
Yet, ForexCT was a highly regulated broker. Today, the situation is the opposite.
Note: It's crucial to stay away from unregulated brokers like Galaxy Prime FX.
ForexCT Problems – License Revoked
ASIC, after an exhaustive investigation, has taken decisive measures against Forex CT. The Australian Securities and Investments Commission (ASIC) has:
Revoked

Forex CT's Australian Financial Services Licence

(AFSL number 290108).

Enforced strict orders prohibiting the transfer of any assets, including client funds, beyond Australian borders without obtaining prior written approval from ASIC.

Imposed a substantial penalty of $20 million on Forex CT. 
They were punished for doing unethical things, favoring their leaders, and not prioritizing clients. The firm is facing financial consequences because of these actions, which have also caused big concerns. This move has raised serious concerns about the legitimacy of ForexCT. To determine if they're still a reliable broker, we must examine their past actions and the reasons for this regulation.
General information
Name:

Forex Capital Trading Pty Ltd

Regulation status:

Regulated by ASIC

(revoked)

Warnings from Financial Regulators:

No official warnings

Website link:

forexct.com

Active since

2006

Registered in

Australia

ForexCT Contact info:
[email protected]
Trading platforms:

ForexCT PROfit, MT4, Mirror Trader, and ForexCT Mobile

The majority of clients are from:

Australia

Malaysia 

India

the United Kingdom 

the United States 

Customer support:
Yes (24/5 live chat, email: [email protected])
Compensation fund:

No
Trading Assets Available at ForexCT
ForexCT offers access to various instruments, including:
Forex

: This market involves the exchange of currencies and is popular among everyone.

Commodities

: Tradable goods like aluminum, coffee, cocoa, and natural gas are attractive options, especially during times of uncertainty.

Indices

: These represent specific sections of stock markets, measuring the value of a particular set of companies.

Precious Metals

: Trading in gold and other precious metals is a secure way to diversify your portfolio.

Energy

: The energy market is characterized by high volatility. It is driven by political, environmental, and economic factors.
ForexCT provides access to forex, CFDs, bonds, and commodities, with a detailed breakdown: 
Currencies: 55, 

Indices: 11, 

Commodities: 12, 

Cryptocurrencies: 5, 

Metals:7

CFDs: 84.
Note: ForexCT previously provided access to forex, CFDs, bonds, and commodities. However, with their license revocation, it's uncertain if they still offer these assets.
ForexCT Trading Platforms: Choosing the Right Tools
ForexCT offers a range of trading platforms, including ForexCT PROfit, MT4, Mirror Trader, and ForexCT Mobile. Selecting the right platform is crucial, as it's the software you'll use to execute trades. ForexCT's proprietary PROfit platform offers several advantages:
No download required

One-click trading execution

Instant trade execution

Direct platform support

Advanced charting tools for forex, commodities, and CFDs

Real-time news updates
The current status of these platforms remains unclear after the license revocation. 
General Trading Environment at ForexCT
ForexCT's claim of a one-size-fits-all approach with a single live trading account raises doubts. Whether you're a novice or a seasoned trader, their promises of dedicated account management, access to platform features, in-house trading insights, and educational resources might sound too good to be true. 
The offer of a demo account was preloaded with a generous $100,000 in virtual currency. It is designed to facilitate your transition to the Real Account, which may be alluring. 
However, recent developments cast a shadow of uncertainty over the actual availability of this feature. Traders, especially those considering ForexCT, should proceed with caution and thoroughly investigate the current situation. Accessing your ForexCT account once was a straightforward process. Namely, you could simply proceed to the ForexCT login page and enter your credentials. However, it's uncertain if this account remains active after the recent developments. Traders, especially those who were considering ForexCT, need to verify the current situation.
Leverage: Maximizing Gains with Caution
ForexCT offers leveraged trading, allowing you to operate larger positions than your initial deposit. While this can amplify profits, it's important to use leverage wisely, understanding the associated risks. 
With Australian regulation, ForexCT offers leverage of up to 200:1 for Beginner accounts and up to 400:1 for Professional and VIP accounts. Whether this feature remains available after the license revocation is uncertain.
Note: Make sure to avoid unregulated brokers like ULTRADX. All they want is to steal your money. 
Mobile Trading App: Trading on the Go
For traders on the move, ForexCT offers a mobile trading app, ensuring you can stay connected to the markets from anywhere, at any time. 
This app offers live pricing and market updates, as well as a range of trading tools to help you make smart decisions. It also supports a variety of order types and allows for one-click trading. But, traders who relied on this app before should be mindful of the risks.
Demo Account: Practice Before You Trade
The demo account provides a risk-free environment to practice trading strategies and familiarize yourself with ForexCT's platform. 
It allows you to test out different trading strategies without risking your capital. This lets you get comfortable with the platform and build confidence in your trading decisions. However, it's essential to verify its current availability.
Fees: Transparent and Competitive
ForexCT's fees are based on spreads, which remain stable even in volatile markets. 
Additionally, the broker offers free Guaranteed Loss Orders on Margin FX and gold and silver products, providing added value to traders. It's uncertain if they are still using this fee structure, however. Traders need to investigate the current fee policy.
Education: Supposedly Empowering Traders
ForexCT claims to provide beginners with a suite of educational tools to enhance their trading skills. It also promises seasoned professionals technology solutions, reduced costs, and enticing trading opportunities. 
However, the question looms over whether these resources are indeed accessible and up-to-date in the current situation.
Note: While ForexCT has offered deposit bonuses in the past, no promotions are currently running. However, it's wise to check for future incentives.
ForexCT Withdrawal and Deposit Options
ForexCT offers a range of options to fund your trading account, encompassing Internet banking, credit/debit cards, domestic bank transfers/EFT, BPay, and international wire transfers, providing flexibility.
While the minimum deposit stands at $500, there's no rigid obligation, affording you the freedom to determine your preferred trading amount.
Given the recent developments, the status of deposit and withdrawal options with ForexCT has become uncertain. Traders need to investigate whether these options remain viable.
Customer Support: Your Partner in Trading
ForexCT takes customer support seriously, offering 24/5 assistance. You can reach them via email at support@forexct or by telephone during business hours. 
However, the current status of their customer support is unclear. 
Trader Reviews – Real Insights
The reviews and opinions of real traders who have had experience with ForexCT become even more critical now. We cannot see any reviews on Trustpilot, which is a bad sign.
Traders should seek out the latest reviews and insights to determine the current state of affairs. 
Long Story Short – ForexCT
We can see that ForexCT finds itself in a state of uncertainty following the revocation of its ASIC license. Traders must approach ForexCT with caution and perform thorough research to determine whether it is still a viable option for their trading needs. The recent regulatory actions have raised significant doubts about their legitimacy and the continuity of their services.
Traders are urged to exercise due diligence and consider alternative brokers such as TIOMarkets. Regulated brokers with a more stable and transparent standing in the industry are always the best choice.
Given the uncertainty surrounding ForexCT, it's advisable to explore alternative brokers with established reputations. Your financial security deserves nothing less.
FAQ Section
Is Forexct.com Closed?
Forexct.com expired on 02/13/2023 and is pending renewal or deletion.
How To Get Money Back From ForexCT?
Getting your money back is possible with the help of a friend. Here you can book a free consultation and find out what to do for a start.
Can I Charge Back From Forexct.com?
The possibility of a chargeback from forexct.com would depend on various factors, Additionally, consulting with us may provide you with more tailored advice.