October 30, 2023
Reading Time:
4
min
ChartGuys Review: What They Aren't Telling You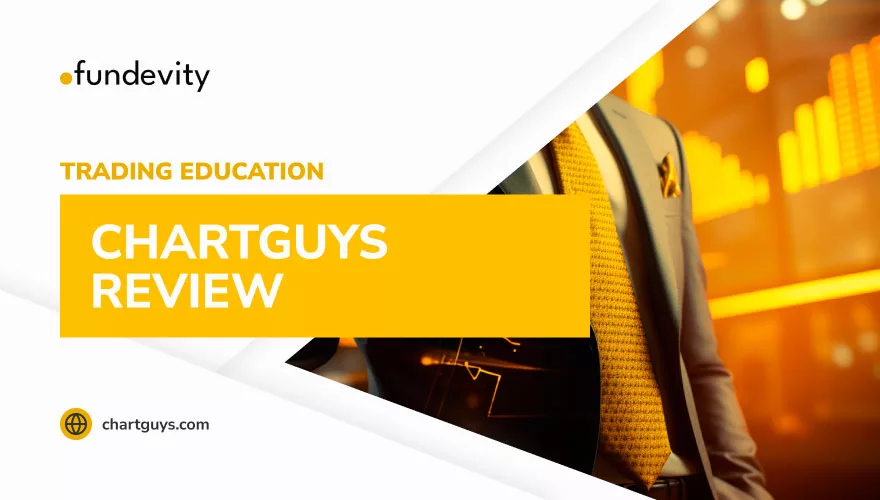 Are you considering diving into the world of day trading and technical analysis? ChartGuys might have caught your eye with its courses and services. But before you make a move, let's explore the truth behind this trading brand. Keep reading our informative ChartGuys review for more interesting facts! 
| | |
| --- | --- |
| | General information |
| Name | The Chart Guys LLC |
| Type of company | Trading Education |
| Regulation status | Unregulated/Not expected |
| Warnings from Financial Regulators | No official warnings |
| Website link | https://www.chartguys.com/ |
| Active since | 2015 |
| Registered in | Asheville, North Carolina, United States |
| Contact info | [email protected] |
| Trading platforms | Tradr Pro™ Platform |
| Majority of clients are from | Canada, United States, United Kingdom, India, Australia |
| Customer support | Email  |
| Compensation fund | No |
Who Are The Chart Guys?
At the helm of The Chart Guys are Dan McDermitt and Jason Garry. Despite their online presence, there's surprisingly little information available about them. They rely heavily on their YouTube channel, boasting over 9000 videos since its inception in 2014. Yet, a red flag emerges when it comes to verified results. 
While Dan claims yearly profits, there's no substantial proof to back this up. If a platform can't provide transparent, authenticated results, can they be trusted? That's a question every potential trader should ask.
What Does ChartGuys Offer?
ChartGuys offers various courses for different aspects of trading. Their Essential Candlesticks course, priced at $199.99, delves into detecting patterns in asset price movements. Then, there's the Entries and Exits ChartGuys course. This is a five-hour program covering topics like trading psychology, bullish and bearish entries, and risk management.
For crypto enthusiasts, there's a course specifically focused on crypto trading priced at $149.99. However, day trading crypto can be extremely volatile and is not for the faint-hearted. Remember this! 
This firm also provides a Community membership at $99 per month. This one offers a space for traders to exchange ideas. Besides, their Swing Report service is priced at $699 per year. Here you can find indicators and insights based on technical analysis and fundamentals. While these services might sound appealing, the lack of substantial results raises concerns for us.
Indicators
This company offers some essential indicators for your trading experience. First up is Trend Scout, priced at a discounted rate of $199.99. This tool apparently lets users identify trends, support, and resistance levels like a pro. 
Next in line is TCG TradeKeeper, available for $99.99 during the discount period. TradeKeeper gives you the assurance you need for a winning trade. 
Besides that, there is TCG BackBurner, priced at $99.99. BackBurner focuses on helping traders make the most profitable trades under fair conditions, offering a strategic edge. Aside from this, the firm provides free chart templates compatible with TradingView, including Jason's Internals Quad chart template and more. These resources aim to simplify your trading journey, by all means.
Tradr Pro™ Platform
At this trading company, you get insights into Tradr Pro™, an independent platform focused on providing constant technical alerts. What is there to know about this platform? Tradr Pro™ 3.0, their latest offering, stands out by offering real-time trading signals. They give users a competitive edge in the crypto markets. 
With promises of up-to-the-second signals that work, TraderPro truly simplifies trading. The platform clearly has a variety of products. This includes crypto alerts and a user-friendly control panel app. What's notable is their collaboration with major players like Coinbase, Bitfinex, Binance, and Bitstamp. 
At TraderPro, traders can opt for a basic membership at no cost, or upgrade to the premium plan for $17.49. We can say that this platform has many things to offer.
Some of the available crypto pairs here are: 
1inch / US Dollar

Aave / US Dollar

Cardano / US Dollar

Algorand / US Dollar

Polkadot / US Dollar

Dogecoin / US Dollar

Ethereum / Euro

The Graph / US Dollar

Litecoin / British Pound

Solana / US Dollar

Stellar / Bitcoin
Trader Reviews on Trustpilot
Surprisingly, there are no ChartGuys reviews on Trustpilot. For serious traders, this absence of feedback is quite unsettling. It's essential to choose platforms with proven track records and positive reviews, ideally with ratings of 4.5 stars and above. 
Trustpilot provides valuable insights into customer experiences. It guides people toward reputable trading platforms.
Note: Bitsgap's interface is a game-changer. It brings new stats, trade types, and risk tools. Cryptocurrency lovers like exploring strategies and diverse asset pairs with them. Plus, the crypto bot accepts various assets, making it accessible to all.
The Reality of Day Trading
Achieving success in day trading is undeniably difficult. Many studies indicate a staggering failure rate. Most sources suggest a success rate ranging from 5% to 10%. Yet, the reality might be even grimmer. This is considering day trading demands a large amount of time and effort, like a full-time job.
Despite the temptation of potential profits, statistics paint a stark picture. About 99% of people who try day trading don't make it. No matter how good a course or product seems, the odds are stacked against success.
Day trading needs a lot of knowledge, hard work, and a readiness to take risks. If you're thinking of trying it, know what you're getting into. Maybe explore other ways to invest that match your goals and comfort level better.
Earning Money Through Online Trading
It's exciting to see that many people earn significant amounts of money in trading. Yet, it's vital to tread carefully. To support aspiring traders, we offer free consultations and expert advice on top trading platforms. Also, there's our AI Analysis Bot, your steadfast research counterpart, providing insightful trading predictions. 
With a 20-day free trial, you can explore detailed FX and stock analysis reports. This will truly help you to enhance your profits effortlessly.
Fact: LTG Gold Rock, a major player in Sydney's trading scene since 2005, has faced changes. Once regulated by ASIC, the company now grapples with debts. Many financial problems led to liquidation, evident when a liquidator stepped in on March 30, 2022.
Final Thoughts
When it comes to trading, transparency and reliability are critical. While Chart Guys offers many courses and services, the absence of customer feedback raises doubt. 
Choosing a trading platform with a proven track record and positive reviews is always better. Remember, smart decisions lead to successful trades. Don't hesitate to explore reliable alternatives, like our AI Analysis Bot, designed to assist you on your trading journey. Stay vigilant, stay informed, and happy trading!
FAQs
Is ChartGuys Legit?
Their legitimacy is questioned due to a lack of verified results and customer feedback.
How Much Does ChartGuys Membership Cost?
The memberships range in price, with options like Essential Candlesticks at $199.99 and a Community membership at $99/month.
Can I Trade If I Have No Money?
Trading requires capital. Still, you can try our smart AI Analysis Bot for free!