July 06, 2023
Reading Time:
7
min
CopyFX Review: Embarking on a Journey to Success with CopyFX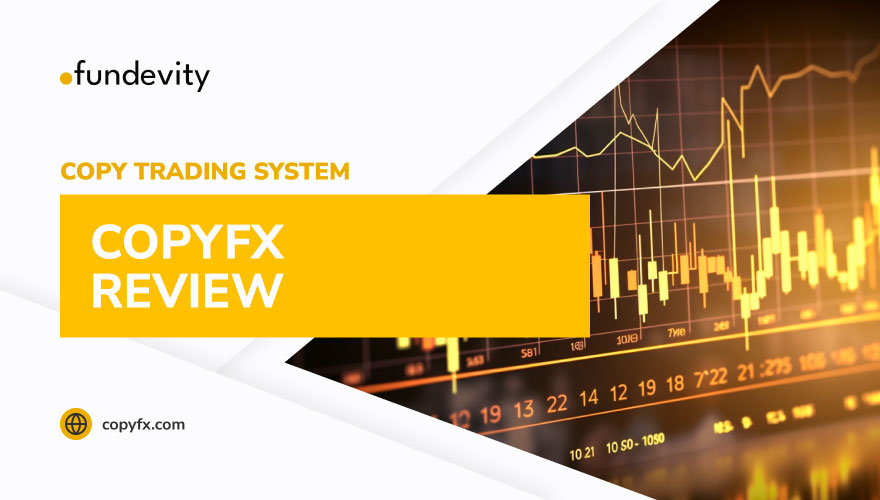 CopyFX is a renowned online platform that provides copy trading services to traders. Individuals can replicate experienced traders' trading strategies to achieve similar results. In our CopyFX review, we discuss the platform's role as a bridge between master traders and those who wish to copy their trades.
Unveiling the Essence of Copyfx
CopyFX opens the doors to the captivating world of copy trading services. It unveils the art of emulating skilled traders. It truly transforms aspirations into tangible results. As we already revealed, the platform connects master traders with newbies. 
CopyFX aims to simplify the trading process for those new to trading. They accomplish this by copying master trades in real time. Followers can enjoy experienced traders' expertise and success without advanced trading knowledge.
The platform provides a wide selection of masters to choose from. Each has a distinct style, performance track record, and risk profile. Users can assess the performance statistics and trading history associated with each master. After that, they can make informed decisions when selecting whom to copy. The platform also provides performance monitoring tools. These tools enable users to track copied trade progress and adjust as needed. 
CopyFX's key feature is transparency. All trading activities, including entry and exit points, trade sizes, and results, are visible to masters and followers as well. Transparency fosters trust and allows followers to understand trading strategies. This allows followers to make the right decisions and choose the best strategies for their portfolio. Besides, CopyFX is designed to protect followers from future risks related to copy trading. This ensures that followers can use CopyFX with confidence and trust.
The Relationship Between Roboforex and Copyfx
Start your trading journey and learn from experienced traders with CopyFX. CopyFX is a remarkable copy trading platform brought to you by RoboForex. With CopyFX, you get access to simplified trading processes and better risk management, making trading easier for you. You also have the opportunity to share your trading experiences and earn more profits. Collaborate with skilled traders by copying their trades on your account through CopyFX. By following their proven strategies, you can navigate the markets without the usual complexities.
If you've already found success as a trader, you can take it to the next level by becoming a CopyFX Trader. As a CopyFX Trader, you can earn commissions from investors who choose to copy your trades. You can share your expertise and insights without managing your funds.
CopyFX creates an empowering environment for traders of all levels and backgrounds. It gives you access to the knowledge of experienced professionals. 
Join the CopyFX community today to unlock your potential and push boundaries. The possibilities are endless with RoboForex supporting you every step of the way.
Copyfx: Ensuring Regulation and Security
This topic requires accurate and reliable information. CopyFX claims to be regulated by:
The Belize Financial Services Commission (license number: IFSC/60/271/TS/17), and

The Cyprus Securities and Exchange Commission (license number: 191/13).
Yet, some indications are suggesting CopyFX could be a clone firm. That raises doubts about their validity and regulatory status. These suspicious indications remind us to be diligent and thorough in assessing trading platform legitimacy. That is before engaging in financial activities. Investigate thoroughly and ensure your safety. 
Verify the authenticity of regulatory licenses by cross-checking with reputable financial regulatory authorities. Take the time to seek information from trusted sources and make informed decisions.
General information
Name:

RoboForex Ltd (RoboMarkets Ltd)

Regulation status:

IFSC

Warnings from Financial Regulators:

No official warnings

Website link:

https://www.copyfx.com/

Active since

2014, (domain age 2010)

Registered in

Belize

Contact info:

Tel: +593 964 256 286,

[email protected]
Trading platforms:

MetaTrader 4, MetaTrader 5, and R Trader

The majority of clients are from

Germany, Spain, France, Ukraine

Customer support:

Yes, 24/7 Live Support

Compensation fund:

No
Explore the Range of Features Offered by Copyfx
CopyFX offers a range of investment products that allow investors to take part in experienced traders' success. Here are the key features and options available:
Copy Trading. Investors can copy the transactions of successful traders in the system. They only pay them a commission based on the total amount of copied transactions during a specific period. That enables investors to enjoy the expertise of accomplished traders.

MQL5 Signals. Investors can subscribe to trading signals from successful traders. Then, they can replicate their transactions on their trading accounts. This feature provides flexibility and control for investors who prefer to manage their trades.  

CopyFX Account. Traders can open a CopyFX account and attract investors to their accounts. Traders receive commissions for investors' transactions, creating a mutually beneficial relationship between them.

Trader Rating. Investors can browse through the ratings of successful traders in the system. They can choose those that align with their investment strategy. This feature allows investors to make informed decisions based on individual traders' performance.
CopyFX's platform offers transparency, a cross-copying system, and various account types. Platform also offers the ability for investors to change or cancel copied transactions. Traders can set their trading conditions, ensuring a flexible trading environment. 
Besides, investors must pay fees to traders for copied transactions. Copying trades should not replace investors' need to learn and understand the market. Investors should carefully assess their risk tolerance before engaging in these investment products.
Accounts Types Available at Copyfx
CopyFX provides seven live trading accounts tailored to meet diverse needs. Here's a concise overview of each account type. Let's take a look! 
Trader and Investment Accounts
Prime Account. Designed for experienced traders seeking to leverage CopyFX's social trading platform. It grants access to all market instruments and enables traders to copy successful trades from others.
ECN Account. Geared toward traders who prefer the Electronic Communication Network (ECN) model. It offers rapid execution and narrow spreads.
ProCent Account. Ideal for novice traders who wish to begin trading with small amounts. With a minimum deposit of $10, it offers tight spreads and low commissions.
Pro Account. Tailored for seasoned traders who favor fixed spreads and low commissions.
Cent Affiliate Account. Intended for partners interested in earning commissions by referring new clients to CopyFX. It provides up to 10% commission on spreads paid by referred clients.
Pro-Affiliate Account. This account is designed for partners referring clients trading large volumes. It offers up to 50% commission on spreads paid by referred clients.

ECN Affiliate Account. Geared towards partners referring clients who prefer the ECN trading model. It grants up to 50% commission on spreads paid by referred clients.
Each account type boasts distinct features and advantages. You can select the account that aligns best with your trading style and preferences.
Trading Restrictions
CopyFX traders have the following restrictions:
Commission Restrictions for the "Volume Fee" Scheme. The Trader receives a commission only for transactions where the Investor's profit exceeds the total commission amount.
Commission Restrictions for the "Performance Fee" Scheme. The Trader is paid a commission only if the difference between the investor's profit and loss from copied transactions during the investment period is positive.
Account limitations. A trader can have 100 trader accounts max.
Subscription condition changes. Changes to subscription conditions can be made every 24 hours. 
Copyfx's Trading Platform: Powering Your Trades
CopyFX.com supports a variety of popular trading platforms. Here are the key platforms available:
MetaTrader 4 (MT4) offers exhaustive tools for analysis, automation, and customization. Track accounts, access statistics, and execute trades efficiently.

MetaTrader 5 (MT5). Advanced features include an economic calendar, market insights, and strategy testing. Supports hedge positions for multiple trades on one instrument.

The R StocksTrader app is a mobile-exclusive platform for seamless trading on iOS and Android. Check accounts and execute trades on the go.

CopyFX provides a web-based platform accessible through any modern browser, eliminating software installations.
With diverse platform options, CopyFX fits different trading preferences. Choose the platform that perfectly suits your needs and enhances your trading experience on CopyFX.
Affiliate Program: Earn Commission by Referring Clients
CopyFX and RoboForex offer various partnership schemes. Let's take a look at them now. 
Trader Affiliate Program
Attract investors directly to selected traders' accounts and earn a portion of their commission.

Benefits include an exclusive affiliate link for attracting investors and earning commissions.

To become a trader's partner, open a RoboForex account, and visit the "Traders affiliate program" page.
RoboForex Partner Program
Timely commission payouts based on attracted clients' trading volume.

Opportunity for affiliate accounts with increased commission rates.

Develop a multi-level partner network with RoboForex support in marketing.

Access to marketing materials and full control over partner activity in the Members Area.

Detailed commission descriptions and client reports, along with 24/7 professional support.
Additional information about the Partner program is available on the RoboForex website.
Note: If you need help choosing the right broker for your investment needs, such as Oinvest, contact us for advice!
Customer Support at Copyfx
CopyFX is dedicated to providing exceptional customer service to ensure a seamless user experience on its platform. Here are some of CopyFX's outstanding customer support features:
24/7 availability. CopyFX offers round-the-clock customer support, ensuring assistance is available at any time. Whenever you need help, they are just a message away, guaranteeing prompt responses to your queries.

Live chat support. CopyFX provides a convenient live chat option for instant assistance. With this feature, you can quickly receive responses to your questions and concerns.

Email support. CopyFX offers dedicated email support. Their support department responds to inquiries promptly.

Knowledge Base. CopyFX has an extensive knowledge base comprising (FAQs) and informative articles. This valuable resource enables users to find answers to common queries and gain a better understanding of the platform.

Video tutorials. CopyFX has curated a collection of comprehensive video tutorials that help users. These tutorials cover essential topics such as investor and trader functionalities, account creation, and trade copying.

Social Media Engagement. CopyFX actively maintains a presence on popular social media platforms such as Facebook and Twitter. By following their accounts, users can stay updated on the latest news, announcements, and platform enhancements.
In summary, CopyFX places a high priority on providing exceptional customer service. They offer multiple channels of communication, a comprehensive knowledge base, and insightful video tutorials. Yet, it's critical to note that their support services are only offered in English. This may present a challenge for non-English speaking users.
CopyFX: Client Reviews
The CopyFX rating is amazing. The firm has received an outstanding 4.5-star rating based on 20 reviews on TrustPilot. That rating shows a high level of satisfaction among users. The majority of reviews are positive, with 75% awarding 5 stars. Only a small part, representing 15% of the reviews, expressed negative feedback through 1-star ratings.
The positive 5-star ratings reflect users' exceptional experiences with CopyFX. They highlight the platform's reliability, features, and support. Users appreciate CopyFX's comprehensive trading tools, many trading platforms, and robust customer service.
Conclusion: Is CopyFX a Good Investment System?
CopyFX is a trading platform offering a wide range of services and features. It supports popular trading platforms like MetaTrader 4 and MetaTrader 5. The platform offers various account types, suitable for both novice and experienced traders. 
CopyFX ensures comprehensive customer support with round-the-clock availability. Also, the platform has received positive reviews, reflecting its high TrustPilot rating. A small percentage of negative feedback exists. Yet, most users express satisfaction with CopyFX. 
If you need help choosing the right broker, such as FxView, contact us today. It's free! 
FAQ Section
What account types are available for trading through CopyFX?
Account types are Prime, ECN, ProCent, Pro, Cent Affiliate, Pro-Affiliate, and ECN Affiliate.
What is the minimum deposit required to start working in CopyFX?
The minimum deposit required to open an account with CopyFX is $100 or equivalent in the account currency.
How fast is a transaction copied in the CopyFX system?
CopyFX firm is designed to copy trades in real-time.
What types of orders are available to CopyFX Traders?
CopyFX traders have access to many order types, including market orders, limit orders, stop orders, and pending orders.