September 06, 2023
Reading Time:
4
min
CXM Direct Review: Exposing a Suspicious Offshore Broker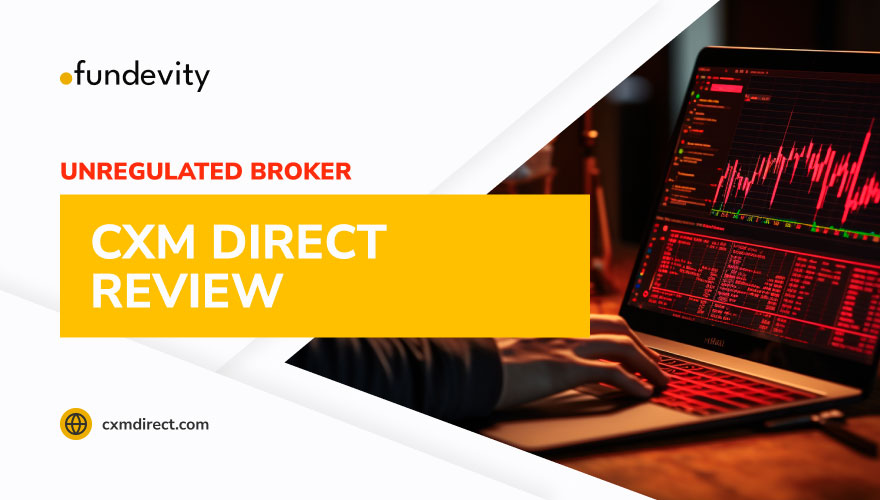 Are you considering CXM Direct for your online trading ventures? Stop for a moment as it's crucial to understand the details before diving in. You may want to avoid this shady broker based in the offshore haven of St. Vincent & the Grenadines. In this CXM Direct review, we'll break down the essential aspects of this FX firm. We will talk about its regulation (or lack thereof), trading conditions, fees, and potential red flags that hint at possible scams. Stay tuned as we dive in! 
General information
Name:

CXM Direct LLC

Regulation status:

Unregulated Broker

Warnings from Financial Regulators:

No official warnings

Website link:

cxmdirect.com

Active since

2021

Registered in

St. Vincent & the Grenadines

Contact info:
i[email protected], [email protected], [email protected] 
Trading platforms:

MT5, MT4

The majority of clients are from

Thailand 

Malaysia 

Vietnam 

Indonesia 

India 

Customer support:

Email and contact form

Compensation fund:

No
CXM Direct Regulation and Issues
First and foremost, let's address the regulation issue. CXM Direct operates as an offshore broker, which means it doesn't hold licenses to offer financial services. That's a concerning sign right off the bat. Moreover, CXM Direct claims to be affiliated with Alchemy Prime Limited, an FCA-licensed firm. However, there's no concrete evidence to back up this affiliation. Anyhow, an offshore broker obtaining an FCA license seems unlikely.
This leaves us with two possibilities: either CXM Direct is a clone firm, using the details of the FCA-licensed entity for shady purposes, or there's a connection. But this still doesn't make CXM Direct a safe choice for UK residents. Regulation matters because it provides a safety net for investors. Note that Tier 1 regulated brokers are known for adhering to strict standards, such as negative balance protection.
Note: Remember that this broker primarily targets people from Thailand, Malaysia, Vietnam, Indonesia, and India.
Understanding the Trading Assets
Moving on to the assets offered by CXM Direct, it's important to mention that the broker provides trading in various asset classes. These include forex, commodities, indices, EU/US stocks, cryptocurrencies, and more. 
While this might sound nice, it's crucial to keep in mind that numerous legitimate brokers offer similar, if not broader, options. When selecting a broker, it's wise to opt for those with a proven track record and solid regulation.
Trading Platforms: Fact or Fiction?
You may be asking yourself what is with the CXM Direct MT4 and MT5 support. CXM Direct claims to provide access to MetaTrader 4 and MetaTrader 5, two highly respected trading platforms. Yet, given the concerns about the broker's legitimacy, it's wise to approach these claims with mistrust. Legit brokers often offer real MetaTrader platforms, known for their advanced features and tools. 
These platforms are favored by traders worldwide. To guarantee your safety, it's best to seek brokers with a history of trustworthiness. These will have solid regulation and transparent trading platforms like MetaTrader.
Trading Conditions: What Does CXM Direct Offer?
CXM Direct praises leverage levels of up to 1:2000, which might sound appealing. However, we must know that it comes with substantial risks. High leverage ratios can lead to swift and significant losses. This is especially true when dealing with an unregulated broker like CXM Direct or PaxForex. Notably, regulatory bodies in the EU and UK have imposed leverage caps to protect retail traders, limiting it to 1:30.
Our strong advice is to avoid brokers offering excessive leverage. Instead, opt for those regulated by Tier 1 authorities, as they offer a higher level of security. Also, they stick to responsible trading practices. Keep that in mind. 
Note: You may spot a CXM Direct copy trade section as well. However, proceed with caution, as other problems about the broker's legitimacy persist.
Withdrawal Policy at CXM Direct
CXM Direct promotes various withdrawal methods, including bank wire, Perfect Money, and crypto. Yet, depositing funds through these methods here carries a higher risk of losing your money. 
Credit cards like Visa and MasterCard offer more favorable chargeback policies. Namely, they provide an added layer of security for your investments. If transparency in payment options is crucial to you, consider brokers with reliable alternatives like PayPal, Skrill, Advcash, bank cards, or crypto.
Trustpilot Reviews: Trustworthy or Not?
When we look at CXM Direct's Trustpilot rating, it appears solid at first glance, with an impressive 4.9 stars. Yet, this clearly high rating raises some important questions, especially given CXM Direct's offshore and unregulated status. It's wise to exercise caution and consider the authenticity of these reviews.
With a broker like CXM Direct, there's a fair concern that the Trustpilot reviews may not be entirely reliable. It's crucial to prioritize your security when choosing a broker.
To boost your confidence in your choice, we recommend opting for brokers with a well-established reputation for excellence. Look for those consistently rated at 4.5 stars or higher by verified users. These ratings are more likely to reflect the actual experiences of traders and provide a safer foundation for your trading.
Beware of Scam Tactics
In the trading world, watch out for tricky broker tactics. These tricks can include:
Withdrawal Issues:

Some brokers make it hard to get your money back.

High Fees:

They may charge you enormous fees, sometimes over 20%. And they may call them by different names, like "withdrawal processing fees."

Upfront Profit Fees:

Be cautious if they ask you to pay profit fees in advance. Legitimate brokers don't do that.

Guaranteed Returns:

If they promise 100% guaranteed returns, be skeptical. All trading carries risk.
To keep your investments safe, choose regulated brokers as they have rules to follow. Avoid shady brokers like CXM Direct or QCFinances. It's wise to take these simple steps for a secure trading experience.
Interesting: If you take a look at the CXM Direct login page, everything seems UI-friendly. You may think access is straightforward when it is not.
Can You Profit from Online Trading?
If you're new to online trading and feeling overwhelmed, we're here to assist you. We offer free consultations to guide you on your trading journey. Also, we've introduced an AI Analysis Bot designed to streamline your research efforts, making trading more efficient. With the right knowledge and tools, online trading success is within reach.
All in all, selecting the right broker is a crucial decision. CXM Direct, just like Status Markets, raises notable concerns regarding its legitimacy. We strongly recommend opting for Tier 1 regulated brokers for a safer trading experience. Your financial well-being is at stake, so making a smart choice is vital.
FAQs
What is CXM Direct?
CXM Direct is a trading firm operating as an offshore broker.
Is CXM Direct Regulated?
No, CXM Direct is not regulated. It operates without licenses for financial services.
Are Funds Safe With CXM Direct?
No. Funds deposited with CXM Direct may not be adequately protected.