November 15, 2023
Reading Time:
4
min
DayTradingAcademy Review: Is This Trading Education Hub Reliable?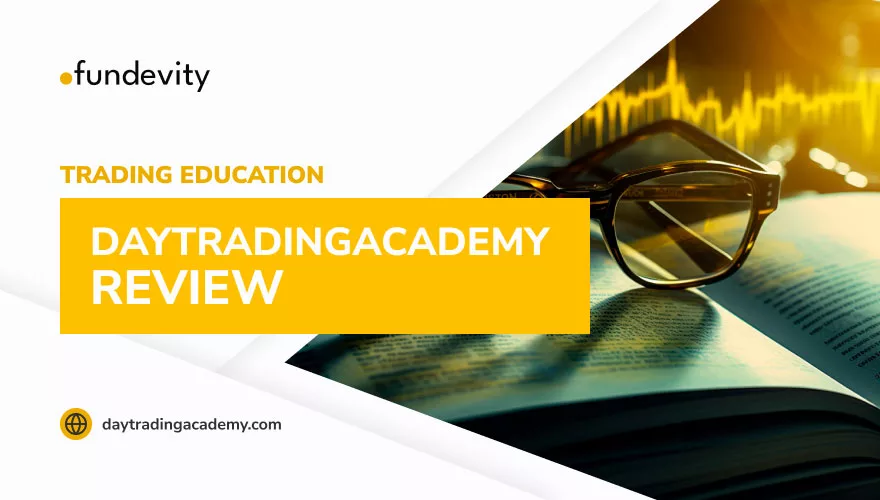 Are you considering stepping into the world of trading education? Did this specific trading company catch your eye? Well, DayTradingAcademy may just be the key to seeing your trading potential. This DayTradingAcademy review aims to analyze what they offer, both the pros and cons, without making your head spin. Keep reading for more interesting facts! 
| | |
| --- | --- |
| | General information |
| Name | Day Trading Academy |
| Type of company | Trading Education |
| Regulation status | Unregulated/Not expected |
| Warnings from Financial Regulators | No official warnings |
| Website link | daytradingacademy.com |
| Active since | 2011 |
| Registered in | Valrico, Florida, United States |
| Contact info | 1-800-645-6349 |
| Trading platforms | Web Terminal |
| Majority of clients are from | United States, Colombia, Mexico, Argentina, Spain |
| Customer support | Phone  |
| Compensation fund | No |
Getting Acquainted with Day Trading Academy
So, what's the deal with Day Trading Academy? It's an online hub where both new traders and pros gather to learn more about the art of making money in the markets. 
The brain behind it is Marcello Arrambide, a name you may recognize from BBC, CNN, and CNBC. What sets them apart? They not only teach you the ropes but also throw some funds your way to get hands-on with trading. Now, that's a different approach.
Making (and Losing) Money
With claims of over 50,000 participants, daytradingacademy.com doesn't shy away from showing the highs and lows of trading. We must say we like this about them. 
They boldly display screenshots of a trader dealing with a $48,000 loss. Clearly, this may seem like a psychological tactic to grab your attention. But we must say it's not just a mind game, as they sweeten the deal with a free 'starter kit.' So what is the catch? You won't know the real cost until you share some personal info. We must say this is quite tactful! 
Technical Terrain
To confirm more details and dig into costs, we signed up for the free starter pack. 
A reality check is that the 'opt-in' message hit our inbox instantly, but after 15 minutes, there was radio silence. We tried again with a different email, and surprise, the same story. Not the smoothest start for DayTradingAcademy courses, for sure.
The Price Tag
So, what is there to know about the course prices? After satisfying our initial curiosity, a PDF manual landed in our inbox. This one suggested you may need to spend as much as $10,000 for the full-day trading experience. 
That's no small sum, mainly if it surpasses what you initially planned to invest. The financial side is no joke, and Day Trading Academy keeps you in suspense until you're knee-deep in the process.
Personalized Plans
While waiting for the starter pack, we delved deeper into what they offer. Turns out, it's not a one-size-fits-all approach. Once you're in, you get a personalized plan based on your skill level, ranging from beginner to pro. 
They say that it's not just about learning software but understanding the markets themselves. It's a fresh perspective that many aspiring traders are looking for.
Tip: TradeAcademy's Jobs page serves as a link between education and employment. We could say it's similar to Upwork and Fiverr.
Real-Deal Education
Unlike many trading education platforms that toss you some software and e-books, Day Trading Academy takes it up a notch. So, what is so different? 
They inject an interactive element, like an online class with the founder himself during the 'induction' process. That personal touch can turn heads, especially for those new to the trading game.
Examining the Promises
Can you really lead a life of luxury by working just 60 to 90 minutes a day? It sounds tempting! Yet, the images of the program's founder gazing at the ocean feel a bit clichéd. 
As we dive into the free starter material, there's clear doubt about whether the large course fee is justified. This primarily goes if you're interested in learning their preferred trading software, Ninja Trader. 
Despite this, the silver lining appears when you realize that tailoring the same method for all experience levels suggests progress is possible with effort and guidance from seasoned traders. After all, Day Trading Academy may be a good fit for those who've had less than stellar experiences elsewhere with a 'download this manual and software and just get on with it' approach.
Client Reviews
What can we say about Trustpilot ratings? A quick check on Trustpilot reveals that Day Trading Academy holds an average rating of 3.7 stars. It's nice, but not necessarily a true measure of reliability. Our suggestion? 
Always go for tools with 4.5 stars and above for a safer experience. Keep in mind that reviews from other traders aim to guide you toward platforms with a more proven track record. What's more, you can always contact us for free consultations about the safest trading firms! We are here for you! 
Tip: EATradingAcademy teaches traders to create their own EAs without prior experience. They offer one free course and three paid courses, each priced at £69. You can explore them further!
Making Money Through Online Trading
Are you keen on making money through online trading? The process has become simpler than ever! We're here to guide you, offering free consultations and expert advice on top-notch trading platforms. 
What's more, there is our AI Analysis Bot. This AI tool provides advantageous trading predictions. And this is not all! 
Try it for free for 20 days, without any upfront payments. Explore detailed FX and stock analysis reports to boost your profits. Give it a shot today and see the difference!
Disclaimer: No trading tool can guarantee profits 100%. Be aware of this! It's essential for all traders to do their own research about any tool or company in advance. Do this for your peace of mind. 
Final Words
Last but certainly not least, Day Trading Academy shows itself with a mix of promises and potential pitfalls. The customized approach and guidance from pro traders are truly admirable. However, the doubt about extravagant claims and the mixed user reviews on Trustpilot keeps us thinking. 
Before diving in, always weigh your options and explore other alternatives. Our AI Analysis Bot stands ready to offer more robust and reliable tools on your trading journey. Make sure to stay educated and master your trading knowledge. It's inevitable the profits will come! 
FAQs
What is DayTradingAcademy?
DayTradingAcademy is an online platform that teaches trading.
Is the DayTradingAcademy Course Worth the Money?
Its course value depends on your needs. In our opinion, it's not worth it.
What is Proprietary Trading?
In proprietary trading, a firm uses its own funds to make investments.