November 04, 2023
Reading Time:
4
min
EATradingAcademy Review: A Comprehensive Examination Reveals All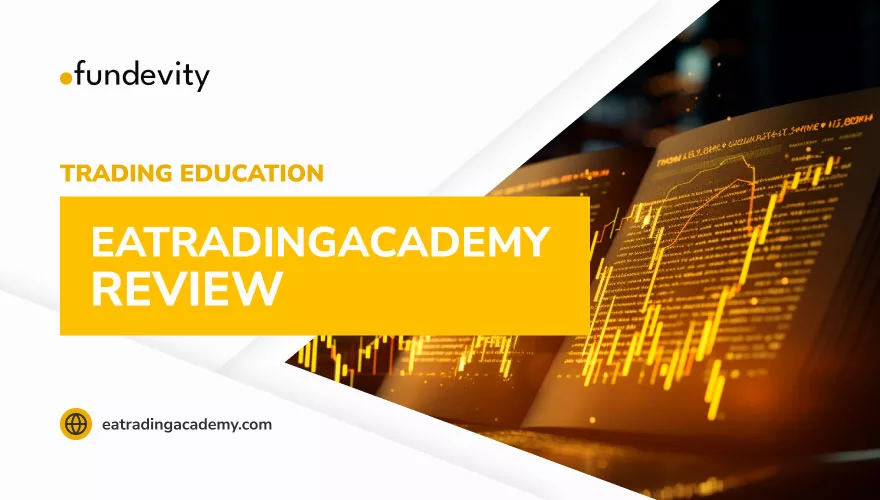 Today, we are here to unpack the bold promises made by EA Trading Academy. We're here to provide you with an honest, straightforward analysis. This company has indeed caught the eye of many new traders. But does it live up to the hype? Buckle up as we take a closer look at our EATradingAcademy review, addressing every single detail you need to know.
| | |
| --- | --- |
| | General information |
| Name | EA Trading Academy |
| Type of company | Trading Education |
| Regulation status | Unregulated/Not expected |
| Warnings from Financial Regulators | No official warnings |
| Website link | eatradingacademy.com |
| Active since | 2021 |
| Registered in | Varna, Bulgaria |
| Contact info | [email protected] |
| Trading platforms | Web Terminal |
| Majority of clients are from | South Africa, India, United States, Nigeria, United Kingdom |
| Customer support | Email and contact form |
| Compensation fund | No |
EA Forex Academy – The Basics
EA Forex Academy, headed by Petko Aleksandrov, claims a decade of trading expertise. According to Aleksandrov, the key to successful trading lies in employing multiple strategies within a single MT4 account. 
This diversified approach is meant to identify the most effective strategies while minimizing risks. Now, we can see that the academy offers an array of automated trading strategy courses. They also offer expert advisors suited for both beginners and experienced traders.
Aleksandrov emphasizes the importance of regular updates to expert advisors. While he advocates for automated trading, he also highlights the significance of understanding manual trading techniques. The claim that Forex Trading Academy's courses offer unique insights into trading techniques, rather than just focusing on automated trading is a bit tricky.
Who is Mr. Petko Aleksandrov?
Digging into Petko Aleksandrov's background, we find a wealth of experience. This includes work with various companies such as Avus Capital Ltd. Notably, his role primarily involved analyzing currencies, stocks, and commodities. 
This experience provides valuable insights for us. Still, it raises the question of whether it qualifies him as a consistently profitable trader. This is indeed a vital aspect of trading education.
Note: iGeniusGlobal's guarantees should come with a big question mark. A combination of MLM, the leadership's unknown history, and shady benefits raises red flags. 
Their Website
After visiting the eatradingacademy.com website, we could see some interesting things. The professional design and rich content immediately stand out. Yet, the sheer volume of information can be overwhelming. We must point this out. 
The website offers numerous trading courses for both FX and crypto markets. They also include expert advisors and strategies. Despite impressive numbers, we must stay skeptical. This is given the tendency of online platforms to exaggerate their achievements.
Trading Courses They Offer
EA Academy prides itself on teaching traders how to create their own Expert Advisors (EAs), even without prior experience. 
The courses are divided into: 
Manual Trading, 

Algorithmic Trading, and 

Cryptocurrency Trading. 
Under Manual Trading, EA Forex Academy offers a free course and 3 paid ones, each priced at £69. 
Algorithmic Trading presents a variety of courses, with costs ranging from £69 to £239. The crypto course includes offerings such as a price action trading course for BTC, an Ethereum trading bot, and various expert advisors.
What EA Forex Academy Claims to Offer
This company claims to provide traders with 99 Expert Advisors, with monthly updates introducing new advisors. While this abundance of options is cool, the effectiveness of such a vast array of EAs raises concerns. 
Optimizing multiple robots for specific market conditions is difficult. Also, we must mention that the lack of information on how EA Forex Academy manages this process leaves us questioning everything.
Tip: In terms of automated crypto trading, TradeSanta is a solid and reliable option. You can check them out!
Trader Reviews on Trustpilot
Let's talk numbers. This company has earned its reputation on Trustpilot. They have a score of impressive 4.4 out of 5.0, based on feedback from 26 traders. This great rating speaks volumes about its reliability and quality of service. 
Trustpilot is our window into the experiences of real traders. When choosing a trading platform, it's crucial to heed the wisdom of the crowd. With this firm boasting such positive feedback, it's proof of its credibility. 
Remember, it's wise to opt for brokers with ratings of 4.5 stars and above on platforms like Trustpilot. These high ratings signify a trustworthy and dependable trading environment. Safety should always come first!
Essential Trading Tips
As we said before, successful trading requires a high level of trading safety. Here are some wise tips to ensure maximum trading safety:
Protect your trading capital:

Treat it like your hard-earned savings.

Use stop-loss orders to protect yourself from unexpected losses.

Avoid overtrading as it depletes your funds hastily.

Treat trading like a business:

Approach it seriously, not as a hobby or job.

Acknowledge that it incurs expenses, losses, taxes, stress, and risks.

Research and strategize to maximize your trading potential.

Use technology wisely:

Leverage trading software and charting tools.

Stay competitive by adopting tech advancements.

Make informed decisions with the help of digital resources.

Stay informed and educated:

Keep up with market trends, news, and events.

Read financial news, attend seminars, and take online courses.

Knowledge is your strongest asset in the ever-changing market landscape.
Remember, trading is not just about numbers, but it's about continuous learning and protecting your investments.
Earning Money Trading
Are you looking to make money through online trading? If that is a yes, you're in the right place! We're here to guide you every step of the way. Our free consultations and expert advice are there to help you succeed. 
And there's our AI Analysis Bot – your reliable research guide. It offers helpful trading insights and predictions, making your trading journey stress-free. The best part? You can try it out for free for 20 days. Explore detailed FX and stock breakdown reports each month, giving you the edge to boost your earnings. Give it a shot today and take your trading endeavors to a new level.
Final Words
If you are thinking about investing, knowledge is power. While platforms like this one have their worth, it's essential to explore better options. We're proud to introduce our AI Analysis Bot, your superior companion in the trading arena. 
Our focus is on empowering traders with accurate insights. Stay wise and safe in this domain. Remember, if you want to be financially free, smart decisions make all the difference.
FAQs
What is EATradingAcademy?
EATradingAcademy provides courses and expert advisors. It helps traders profit through strategic education.
Can I Make Money With EATradingAcademy?
Yes, EATradingAcademy offers resources and guidance for potential profits.
What is Proprietary Trading?
Prop trading involves companies trading for profit using internal strategies.