May 15, 2023
Reading Time:
4
min
Duke Markets Review: Why You Should Completely Steer Clear of DukeMarkets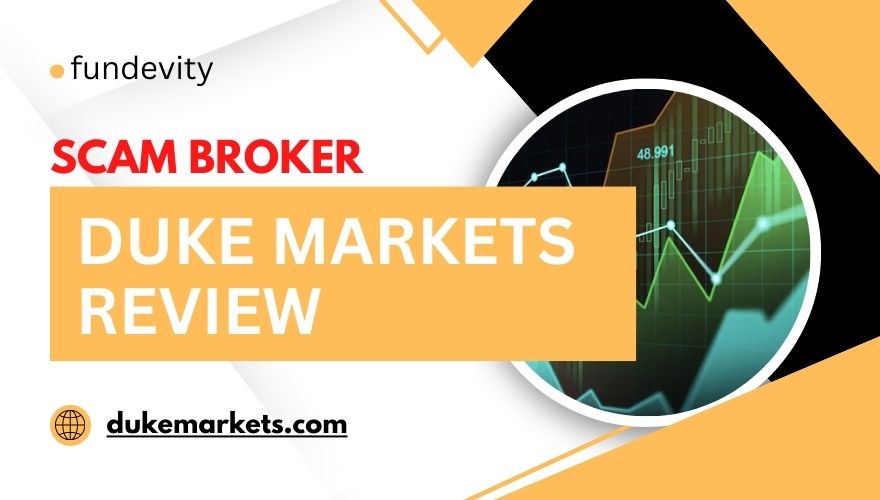 DukeMarkets claims to be a reputable investment firm. Yet, many complaints from clients reveal that DukeMarkets is a scam. They manipulate the market and take advantage of unsuspecting investors.
Don't trust them with investments! It's best to ignore DukeMarkets and find a more reliable financial advisor. Namely, this DukeMarkets review will explain why that is a good idea. 
| | |
| --- | --- |
| Company | N/A |
| Headquarters | Switzerland |
| Website | dukemarkets.com |
| Warning | N/A |
| Platforms | MetaTrader 5 |
| Minimum Deposit | $250 |
| Leverage | 1:10 |
| Spread | N/A |
| Review Rating | 1/5 |
License and Safety of Funds at
Duke Markets
This firm proclaims that it is regulated in all the jurisdictions where it operates. Yet, it has not specified which jurisdictions. It is crucial to note that being registered is not enough to provide brokerage services, as companies must also be licensed. Despite claiming to be based in Switzerland, this firm did not furnish any details about possessing a local license.
Swiss brokers are mandated to possess a banking license, which is an arduous process to obtain. Duke Markets has not obtained this license. To ensure trading safety and protection, it is advisable to choose licensed brokers from the UK, EU, or Australia. These brokers maintain a minimum capital of €730,000 in the UK and EU and $1 million in Australia. They also segregate client funds and provide negative balance protection.
Licensed brokers in the UK and EU participate in compensation funds that could compensate clients up to £85,000 in the UK and €20,000 in the EU. This is in case of bankruptcy. Trading with regulated brokers is significantly safer than dealing with unregulated scammers.
Investing should be done with the utmost care. Do not allow scammers like Duke Markets or Glenrocks to exploit you. Make sure to conduct thorough research before investing in any firm.
Trading Platform
Duke Markets claims to provide access to MetaTrader 5 and its app. However, we couldn't verify this claim as we couldn't register with the broker. They asked us to provide a referral code, which we didn't have. Bear in mind that scammers often use this tactic. This is how they target vulnerable victims while remaining undetected.
We recommend using a broker that offers a well-established platform like MetaTrader 4 or MetaTrader 5. Platforms like these have Expert Advisors, VPSs, customizable signals, and a marketplace for add-ons. Yet, DukeMarkets does not provide a trading platform on its website. So, clients must use an outside platform to access their accounts. 
Furthermore, the DukeMarkets team does not assist with platform setup or trading software problems. Before signing up for an account, be sure the platform is secure, reliable, and able to meet your trading needs.
Account Types Available at Duke Markets
This bogus broker provides various account options, each with unique features. You can compare them and see the offerings. DukeMarkets provides three types of accounts: Standard, Premium, and VIP. 
The Standard account is suited for beginners, while the Premium account is for more experienced traders. The VIP account provides more advanced features, such as access to exclusive research and analysis tools. 
Allegedly, there is a demo account here too. The demo account is a great way to practice trading without risking any real money. It helps traders make knowledgeable decisions and increases their chances of successful trades. Also, the demo account allows traders to test strategies and develop their market understanding. It is a great way to learn about the platform and its features. However, this broker is suspicious and its demo account is worthless. 
Deposit and Withdrawal 
DukeMarkets has not disclosed its payment methods. However, fraudulent brokers typically rely on crypto deposits as they are anonymous and hard to trace. Duke Markets requires a $250 minimum deposit, which is higher than average, and many legitimate brokers offer account openings for $10 or less. 
There is no information available regarding specific withdrawal requirements from Duke Markets. As a result, unscrupulous brokers often impose unreasonable conditions, such as high fees or excessively high turnover requirements. That is to make it difficult for customers to withdraw their funds.
How Does This Scam Operate?
Any broker scam wants to trick traders into investing money. These scams often begin with unsolicited phone calls or emails. They lure the victim into the opportunity to make significant profits. A scammer may claim to be a reputable broker, have a flashy website, or provide false information. All this is to convince the trader that their service is legitimate.
The fraudulent broker may manipulate trades, delay withdrawals, or block access to a platform. Scammers pressure traders to deposit more money, often citing false reasons. For example, meeting margin requirements or making higher profits. As the trader becomes more invested in the scam, they might be coerced into investing their life savings, borrowing money, or signing up for loans.
In some cases, the fraudulent broker might disappear with the trader's money or refuse withdrawal requests. Ultimately, the victim has no way to recover their funds. To avoid broker scams, such as Duke Markets and FXLeader, conduct thorough research, read reviews, and only deal with regulated brokers.
Duke Markets
Summary
Despite its claims of being a regulated broker, the company has failed to disclose information about its license. This lack of transparency inevitably prompts questions about the broker's legitimacy and safety.
To avoid fraudulent activities, it is highly advisable to refrain from trading with unregulated brokers. Instead, choose licensed brokers from reputable countries such as the UK, EU, or Australia. These brokers are financially secure and provide robust client protection mechanisms that alleviate concerns while trading.
Duke Markets has various account types and a demo account. However, the broker does not offer a trading platform on its website, casting doubts about its credibility.
Moreover, the broker's undisclosed payment methods and steep $250 minimum deposit pose extra warning signs. Beware of that! 
FAQs
Is my money safe with Duke Markets?
No, your money cannot be safe with an unregulated broker.
Does Duke Markets Offer a Demo Account?
Yes. However, this is a bogus broker that has nothing to offer.
How secure is Duke Markets?
Duke Markets is not secure. Keep that in mind.