November 10, 2023
Reading Time:
4
min
Emperor Financial Group Review: Is Emperor Financial Group a Scam Broker?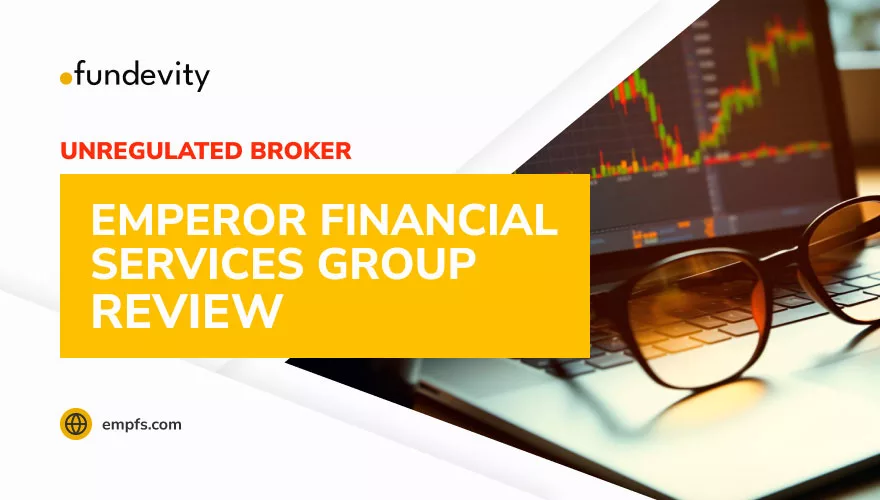 Take a look at our thorough Emperor Financial Group review. This is a broker specializing in precious metals and FX trading for Hong Kong clients. Yet, there are many shady details about them. 
In this article, we'll fully expose them to help you make a smart decision about whether this broker is right for you.
General information

Name

Emperor Financial Group

Type of company

Broker

Regulation status

Unregulated

Warnings from Financial Regulators

No official warnings

Website link

empfs.com

Active since

2012

Registered in

Emperor Group Centre, 288 Hennessy Road, Wan Chai, Hong Kong

Contact info

[email protected]

, (852) 8206 2500

Trading platforms

MetaTrader 4, Eunify

Majority of clients are from

United States, Canada, India, United Kingdom

Customer support

Email, phone, and contact form

Compensation fund

No
Regulations and Safety
This company presents itself as a broker that has a "compliant, safe, and reliable trading environment." Still, we can see that it works without a valid license. As a matter of fact, this raises big concerns about the safety of your funds.
Keep in mind that regulated brokers are transparent about their licenses and regulatory bodies. They aim to ensure that clients can always verify their authenticity. Sadly, this company falls short in this regard, leaving potential investors at risk.
When choosing a trading broker, always go for those that have a Tier 1 regulation. The prominent regulators are CySEC, FCA, BaFin, and more. 
Trading Software
EFSG claims to offer the popular MetaTrader 4 trading platform. We must say that this is quite beneficial for all traders. Yet, our attempts to download the platform were not successful. The source was unknown and entirely unsafe. This raises big doubts about the legitimacy of the software provided by the company.
It is known that MT4, just like MT5, is a trusted choice among traders for its amazing features! Its lasting popularity can be attributed to its interface and a vast community of users. Still, sadly, Emperor Financial Group's failure to deliver this platform as promised leaves traders questioning everything.
Tip: What is EFSG Eunify? This is their mobile app. It apparently allows users to trade and earn points anytime and anywhere. Yet, we must say that this EFSG app does not instill confidence. 
Trading Conditions
Truth be told, we don't like this broker's transparency at all! The website in question lacks data about its trading conditions. This clearly leaves us in the dark about essential details here. 
Note that honest brokers care about transparency, providing clear information about everything. This goes for account types, commissions, leverage, spreads, and more. And evidently, these limitations here raise concerns about the depth of their services.
Safe brokers offer diverse markets, allowing traders to explore a wide range of trading instruments. Besides, they provide affordable trading accounts, often starting at $100.
Tip: MogaFX is a transparent choice in Forex trading, thanks to its ASIC regulation. Unlike many offshore brokers, it holds a license from the Australian Securities and Exchange Commission. This is great, and it provides strict compliance and client protection.
Market Instruments
Check out what this broker offers in terms of trading instruments!
Metals:

You can trade gold (XAUUSD) and silver (XAGUSD) with low spreads, deep liquidity, and high volatility. This is available 24/5.

FX

Access over 29 currency pairs. This includes major ones like EURUSD, GBPUSD, and USDJPY, with professional consultancy. 
Deposit and Withdrawal Options and Fees
This FX company fails to reveal the payment methods it supports. It's clear that they created big uncertainty for potential clients. Know that precise info about fees and processing times is necessary for making good decisions about money.
When choosing a broker, please consider the available deposit and withdrawal methods. Reputable brokers offer multiple secure options. Some of those can be PayPal, Skrill, Neteller, Paysend, crypto, etc. What's more, legit brokers have transparent fee structures, enhancing the overall user experience. Keep this in mind! 
Real Reviews on Trustpilot
It's a red flag that empfs.com has zero reviews on Trustpilot. This lack of feedback is concerning because it makes it difficult for potential clients to gauge the company's reputation. In today's online world, client reviews are essential for building trust.
When choosing a broker, it's safer to go for ones with good ratings (4.5 stars or above) on platforms like Trustpilot. This ensures you're dealing with a company that others have had positive experiences with.
Understanding Fake Offshore Brokers
Offshore brokers use smart tactics like promising high returns and bonuses to attract traders. However, once you deposit your funds, they may manipulate the trading platform, causing losses and refusing withdrawals.
These brokers often lack proper regulation and falsely claim to be from reputable jurisdictions. To protect yourself, research, verify their regulatory status, and read reviews. Start with a small deposit and gradually increase it as you establish trust with the broker. Your caution is crucial!
Note: GF Broker's legitimacy is in the spotlight. They work under the easygoing regulations of the Vanuatu Financial Services Commission. Their target audience appears to be traders from former Soviet Union countries. Yet, alarming negative reviews and warnings from regulatory bodies like the Bank of Lithuania raise big concerns. Avoid this company to stay safe!
Can I Make Money Trading?
Are you interested in making money through online trading? You're in luck! Online trading offers great opportunities, and we're here to help you on this exciting journey. 
Take advantage of our free consultations and expert advice on the best trading platforms. Additionally, take advantage of our AI Analysis Bot for stress-free research. It provides valuable trading predictions, allowing you to pursue some profits.
The best part? You can try it for free for 20 days! No upfront payments are needed. Explore 5 detailed FX analysis reports and 5 stock analysis reports each month. These insights will effortlessly boost your profits. Why wait? Give it a try today, you won't regret it!
Final Words
Speaking of online trading, transparency and trust are crucial. Moreover, we can see that Emperor Financial Group falls short in all these areas as a broker. It lacks regulation, and its trading software and payment methods are fuzzy. This raises many concerns for future traders.
Luckily, we can offer you a better solution – our AI Analysis Bot. Our mission is to help traders with reliable information and even better AI tools. If you plan to trade online, choose partners who will put your success first. Trust in a service that values your goals and protects your investments.
FAQs
What is Emperor Financial Services Group?
Emperor Financial Services Group is a trading company that provides forex and precious metals trading.
Is Emperor Financial Services Group Regulated?
This broker is not regulated. Be cautious about them!
Can I Make Money From Proprietary Trading?
Yes, you can potentially make money from proprietary trading, but it involves risks and requires knowledge.