October 12, 2023
Reading Time:
4
min
FASTTRADER Review: Can You Trust This Business?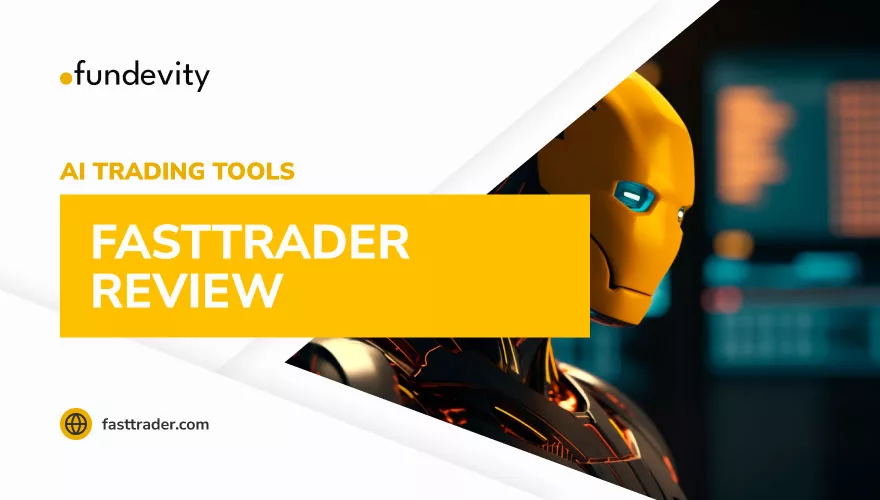 Have you ever wished trading in FX and crypto markets was simpler? 
Fasttrader.ai claims to offer just that – automated trading that is relatively easy. On their website, they boldly state that their enterprise-grade software is accessible to anyone keen on trading in these markets. 
In this Fasttrader review, we'll go into the company's specifics, payment options, its various offerings, and what users are saying on forums. Keep reading! 
| | |
| --- | --- |
| | General information |
| Name | THEFASTTRADER |
| Type of company | Trading Software |
| Regulation status | Unregulated/Not expected |
| Warnings from Financial Regulators | FCA |
| Website link | fasttrader.ai |
| Active since | 2023-01-22 |
| Registered in | US & UK (Allegedly) |
| Contact info | [email protected] |
| Trading platforms | FASTTRADER AI Software |
| Majority of clients are from | Brazil; Pakistan; United States; Canada; India |
| Customer support | Email |
| Compensation fund | No |
Company Insights: Who is Fasttrader.ai?
Fasttrader.ai specializes in providing automated trading software for both the FX and crypto markets. 
According to their website, they have support teams in both the UK and the US, aiming to assist traders globally. Yet, we cannot confirm if this is true. Interested traders can choose between a free subscription or opt for their monthly or yearly plans. 
Besides, FASTTRADER proudly talks about partnerships with major companies, offering many services, from real estate to financial planning. Some of these companies are:
Ast Academy

Jim Madrid and

Prime Corporate Services 
Regulatory Warning 
Caution is crucial when dealing with any trading company. But this firm, located in the United Kingdom, has many things to hide. Recently, the FCA (Financial Conduct Authority) issued a severe warning against them, exposing their email, addresses, and websites – fasttrader.ai and fasttrader.com. This dreadful development worsens the fears we have about this company. 
The FCA's official alert serves as a stark reminder to take care when considering any involvement with them. Your security should always be a top priority.
The Fasttrader.ai Platform
Now, what about their trading platform? Notably, their trading software relies on the power of artificial intelligence to analyze market fads and execute trades. This sounds quite innovative! 
Also, the website highlights past successes, although it wisely reminds users that past performance doesn't guarantee future results. Their advice? Keep your risks in check, don't invest more than you can afford to lose, and consider withdrawing some earnings along the way. 
Payouts at FASTTRADER
As we mentioned earlier, FASTTRADER offers free, monthly, and yearly subscriptions. Yet, detailed payment methods remain unavailable on their website. 
Yet, they do mention partnering with a Straight Through Processing (STP) broker, for direct trades without any middleman involvement. While promising, the lack of payment specifics might leave potential users wanting more. As for different account types, the website keeps this info under wraps, leaving us curious about their options. We cannot see this as a benefit. 
They did, however, mention the PAMM Portal that you can use to allegedly keep track of your investments. All in all, this does not sound too reliable.
Features and Monthly Subscription
Let's take a look at some of the features we found on their website:
Monthly subscription

. Access premium features for just $60.00 per month. You can use powerful trading capabilities and stay ahead in the market.

AI trader

. You can use automated trading without any extra cost. Benefit from intelligent algorithms and improve your trading experience.

BUILDFAST affiliate

. There's their affiliate program at no monthly charge. You can earn rewards while introducing others to the exciting realm of online trading.

Annual subscription

. You can go for a year-long commitment at $600.00. 
What Users Are Saying
This company has no Trustpilot reviews. So, we cannot see if users generally praise their firm and performance or not. 
Yet, a few voices on forums show concerns, referring to software issues and difficulties in withdrawing funds. It's a reminder that challenges are part of the real user experience. Keep that in mind! Still, it's better to choose reputable companies that have 4.5+ star ratings on Trustpilot. 
Tip: There is one trading company that received poor Trustpilot ratings. It's Virgobanc! Stay away from them! 
Curious About Online Trading Profits?
Ever wondered about the possibility of earning online? You're in for a treat! Our team is here to assist you every step of the way when it comes to trading advice. Feel confident with our free consultations tailored to your needs, and simply connect with us!
And wait, there's more! Meet our ingenious AI Analysis Bot, your stress-busting research companion providing spot-on advice and predictions. And what is the best part here? You can enjoy a 20-day free trial! During this period, revel in 5 FX analysis reports and 5 stock analysis reports each month. Seize this fantastic opportunity now!
Beware of Potential Scams
Staying savvy in the trading world is key, especially with platforms like we are reviewing now and VIG Investment lurking around. Here's how to keep your funds secure:
Avoid cold contacts

: Be cautious if someone contacts you unexpectedly. It's wise to know such encounters rarely end well.

Verify licenses:

Reputable businesses have proper licenses or substantial proof of their achievements. Avoid those with warnings and poor ratings. 

Choose U.S. firms

: Opt for companies with a strong presence in the U.S. for added security.

Watch for copycats:

Fraudulent sites often imitate well-known brands, leading to big losses. Remember that. 

Conduct thorough research

: Explore the site with keywords like "scam" or "fraud" to find genuine user experiences.

Check brokers and consultants:

Make sure to investigate CEOs and their firms before making any moves. It's crucial to assess the reliability of their strategies, even if they offer valuable trading advice.
By taking these easy steps, you can protect your funds and maintain peace of mind. Always trust your instincts when online trading!
Summary 
As you can see, Fasttrader.ai presents a nice opportunity for automated trading. Their claims of accessible, top-quality software are appealing, but the lack of clear payment and account information might raise caution flags. Should we even mention how suspicious it is that they got an FCA warning? 
Also, Trustpilot reviews are non-existent, which indicates potential challenges. Note that as with any investment venture, research and understanding the risks are crucial. Before taking the plunge into the world of Fasttrader.ai, arm yourself with knowledge and approach with a dose of suspicion.
Remember that we are here for you! If you're considering FX trading, and need a reliable partner, we'll provide you with valuable advice. 
FAQs
What Is FASTTRADER?
Fasttrader is an online platform for Forex and crypto markets, offering automated trading to users.
Is FASTTRADER Regulated?
No, Fasttrader does not appear to be regulated.
How Do I Keep Track of My Investments in FASTTRADER?
This firm allegedly provides a user interface where you can monitor your investments.
Where Do My Funds Go If I Wish to Invest in FASTTRADER?
The destination of your funds with Fasttrader is unclear.