November 06, 2023
Reading Time:
5
min
Forexchief Review: A Thorough Analysis of Forexchief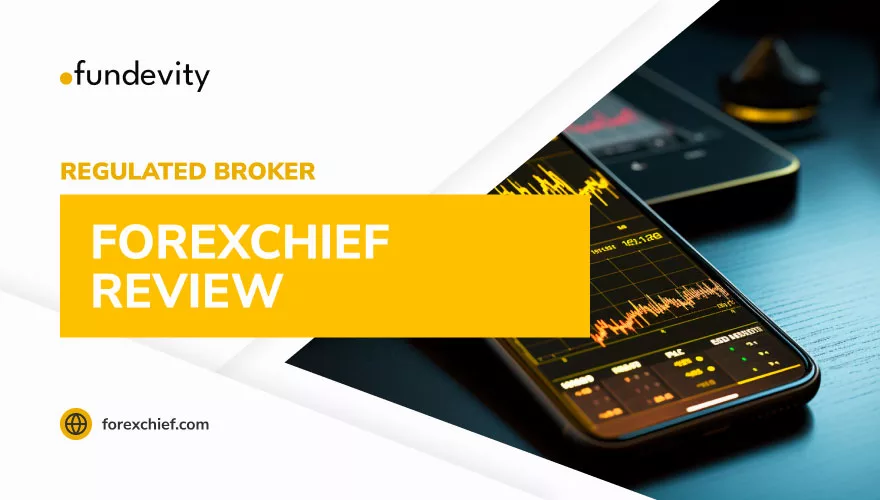 ForexChief has piqued the interest of some traders lately. But, the pressing question remains: Can it be counted on as a reliable platform? In this comprehensive ForexChief review, we will also explore its available trading assets, trading platforms, and overall trading conditions to help you decide.
ForexChief Legitimacy
Before diving into the details, we must establish the legitimacy of ForexChief. Forex trading involves large risks, so ensuring the reliability of your chosen broker is paramount.
Being regulated by the VFSC, just like FXPIG, ForexChief ensures user protection. 
While it's not uncommon for brokers to have many regulatory licenses, having one is better than none.
Yet, it's essential to note that ForexChief has received warnings from financial authorities in the past. These warnings serve as red flags, indicating potential issues. So, it's advisable to proceed with caution and conduct thorough research before committing your funds.
CNMV Issues Public Warning Regarding Unregistered Firm
Under the provisions outlined in Article 17, paragraph 2, of the Securities Markets Law, the Comisión Nacional del Mercado de Valores (National Securities Market Commission) wants to caution us regarding the following matter:
www.forexchief.com

Forex Chief Ltd

Unauthorized to Offer Investment Services
Forex Chief Ltd is not authorized to provide the services outlined in Article 140 of the Securities Markets Law. 
These services encompass investment advice and auxiliary services as detailed in sections a), b), d), f), and g) of Article 141 of the aforementioned Law in connection with the financial instruments described in Article 2 of the same Law. This includes, for clarity, foreign currency transactions.
General information
Name:
FOREXCHIEF LTD
Regulation status:

Regulated Offshore Broker (VFSC Vanuatu)

Warnings from Financial Regulators:

Yes, CNMV

Website link:

forexchief.com

Active since

2014 (2010 for domain age)

Registered in

Vanuatu

Contact info:

1276 Kumul Hwy, 1st Flr Govant Bldg, Port Vila, Vanuatu.

Trading platforms:

MT4, МТ5, and ForexChief Mobile

The majority of clients are from:

Indonesia 

India

South Africa 

Nigeria

Malaysia

Customer support:
Yes (24/5 live chat) [email protected]
Compensation fund:

No
Trading Assets Available at Forexchief
The number of trading assets matters as well. ForexChief offers a diverse selection of assets, allowing us to explore various markets. Here's a breakdown of the assets you can access:
Forex Pairs:
Major Pairs (e.g., EUR/USD, GBP/USD)

Minor Pairs (e.g., EUR/GBP, AUD/NZD)

Exotic Pairs (e.g., USD/TRY, EUR/SGD)
Commodities:
Metals (Aluminium, Gold, Silver)

Soft Commodities (Coffee, Cocoa, Sugar)

Energy (Natural Gas, Crude Oil)
Indices:
Global Indices (S&P 500, NASDAQ)

Regional Indices (DAX 30, FTSE 100)
Cryptocurrencies:
Bitcoin (BTC)

Ethereum (ETH)

Ripple (XRP), and more.
With this extensive range of assets, traders have the flexibility to diversify their portfolios and explore different markets.
Forexchief Trading Platforms Available
ForexChief offers a variety of trading platforms. These include the ForexChief Mobile App, ForexChief MT4 for Android, and ForexChief MT5 for iPhone.
Advantages:
UI-Friendly. The platforms are known for their user-friendly interfaces. They are modern and suitable for both beginners and experienced traders.

Advanced Tools. Traders can access advanced technical analysis tools and indicators, enhancing their strategies.

Mobile Trading. The mobile app allows us to trade even from the cafe!
Cons:
Risk Management. While these platforms offer powerful tools, traders must exercise caution and use risk management strategies to avoid significant losses.

Platform Compatibility. Ensure your chosen platform is compatible with your device to avoid technical glitches.
Forexchief General Trading Environment
In forex trading, brokers use various strategies to attract and engage users. ForexChief is no exception.
ForexChief copy trading allows beginners to follow experienced traders' strategies. This can be quite useful for some people. 

The ForexChief

withdrawal process is straightforward, unlike other offshore brokers.
Communication:
ForexChief maintains transparent and professional communication with its clients.

Beware of scammers who may impersonate ForexChief staff through platforms like WhatsApp or AnyDesk. Always verify the identity of those claiming to represent the company.
ForexChief Account Types and Islamic Accounts:
ForexChief offers various account types, including xPRIME and Cent one.

ForexChief Islamic accounts, compliant with Sharia law, are also available for traders.
Exploring ForexChief Account Types
Understanding the various account types and trading platforms is essential. Here's a concise breakdown to guide your decision-making process:
CENT Account:
Minimum Deposit: No requirement.

Platform: MT4, MT5, Mobile Trading.

Position System: Hedging.

Leverage: 1:500.

Contracts: 35+ Forex and Metals.

Spread: From 0.9 pips.

PAMM: No.

Welcome Bonus: No.

Swap-Free: No.
Classic+ Account:
Minimum Deposit: $10 (or equivalent).

Platform: MT4, MT5, Mobile Trading.

Position System: Hedging.

Leverage: 1:1000.

Contracts: 50+ Forex, Metals, Commodities, Indexes.

Spread: From 0.6 pips.

PAMM: Yes.

Welcome Bonus: Yes.

Swap-Free: Yes.
DirectFX Account:
Minimum Deposit: $50 (or equivalent).

Platform: MT4, MT5, Mobile Trading.

Position System: Hedging, Netting.

Leverage: 1:1000.

Contracts: 150+ Forex, Metals, Commodities, Indexes, Stocks, Crypto.

Spread: From 0.3 pips.

PAMM: Yes.

Welcome Bonus: Yes.

Swap-Free: Yes.
xPRIME Account:
Minimum Deposit: $2000 (or equivalent).

Platform: MT4, MT5, Mobile Trading.

Position System: Hedging, Netting.

Leverage: 1:1000.

Contracts: 150+ Forex, Metals, Commodities, Indexes, Stocks, Crypto.

Spread: From 0 pips.

PAMM: No.

Welcome Bonus: Yes.

Swap-Free: Yes.
Access your trading account effortlessly with a ForexChief login process. Yet, remember, trading terms can evolve, so always double-check the latest details on the website before committing.
Leverage
Leverage is a double-edged sword in trading. We all know this!
While it can amplify gains, it also magnifies losses. ForexChief offers competitive leverage options, but it's essential to use leverage prudently and be aware of its risks. The maximum leverage here is 1:1000.
Demo Account
ForexChief offers a demo account, allowing traders to practice and familiarize themselves with the platform risk-free. 
This is an excellent way for beginners to gain confidence before trading with real funds.
Special Bonuses
ForexChief offers an enticing no deposit bonus of $100. It lets newcomers start their trading journey without an initial investment. New traders can take advantage of a generous ForexChief welcome bonus, providing additional funds for exploring the financial markets.
The ForexChief no deposit bonus allows you to practice trading strategies and gain valuable experience without risking your own capital. The ForexChief welcome bonus serves as a fantastic incentive for traders aiming to maximize their profits from the very beginning.
Don't miss the chance to claim your ForexChief no deposit bonus and welcome bonus to boost your trading potential today.
Can I Earn and Withdraw From Forexchief?
Yes, you can earn from ForexChief by implementing effective trading strategies. 
The withdrawal process is straightforward, with various options available. They offer Advcash, bank transfer, Skrill, Neteller, and more. However, ensure you meet all necessary requirements and provide accurate information to avoid any withdrawal issues.
Customer Support
ForexChief prides itself on responsive and helpful customer support. Whether you have questions about trading or encounter technical issues, their support team is readily available to assist you. ForexChief offers solid customer support through various channels:
Live Chat

Telegram

Viber

Instagram

Facebook

WeChat
You can also reach out via email for specific inquiries:
Trader Reviews
Traders' experiences with ForexChief vary, as is common with any broker. They have a 4.6-star rating on Trustpilot. However, that does not guarantee they have the best services. It's essential to research and read reviews from multiple sources to gauge the overall sentiment. 
Keep in mind that individual experiences may differ based on trading styles and strategies.
Long Story Short – Forexchief
We can see that ForexChief offers a user-friendly trading environment with a range of trading assets and platforms. While it has received warnings from financial authorities, it is regulated by VFSC, providing some level of oversight. 
Even though it is an offshore broker like InvestMarkets, it still can provide certain protection. Still, if you're looking for a reliable broker, ForexChief could be a suitable choice. However, remember that forex trading carries inherent risks, and it's crucial to conduct your research and trade responsibly.
Ready to start your forex trading journey with a reputable broker? Contact us, and we'll provide you with the best guidance and support to kickstart your trading career.
FAQ Section
Is Forex Chief legit?
Forex Chief is regulated by VFSC, which provides some tiny level of oversight.
Is ForexChief A Good Broker For You?
Whether ForexChief can be good for you depends on your preferences.
What Is Minimum Deposit with Forexchief.com?
ForexChief minimum deposit requirement can vary based on the type of account.