July 02, 2023
Reading Time:
6
min
FXPIG Review: Discovering the Platform's Trading Features and More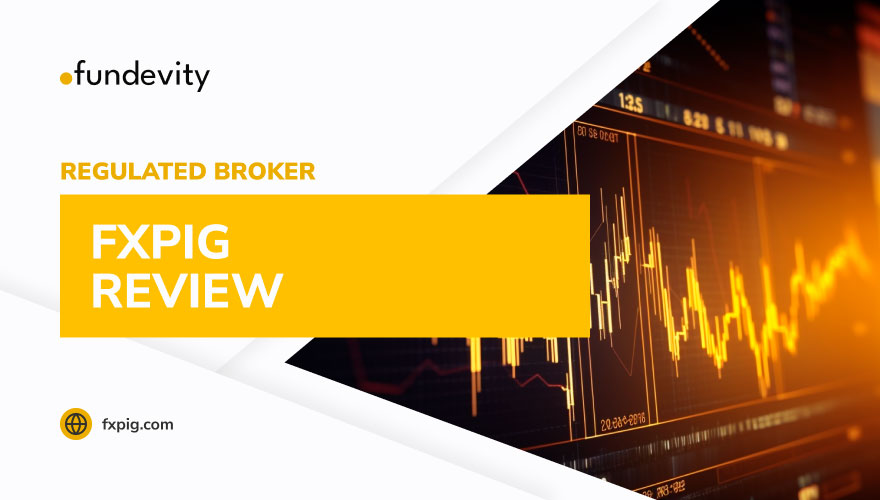 Welcome to our extensive FXPIG review, where we will get into the various aspects of their FX trading platform. From trading tools to account types and support, we aim to provide you with a thorough understanding of FXPIG's offerings. Whether you're a beginner or an expert trader, this review will help you decide. Stay with us to find out more exciting details. 
Disclosing FXPIG's General Conditions
An important part of FXPIG's offering is its diverse array of features and services aimed at making trading easier for its clients. Their emphasis on straight-through processing (STP) execution ensures transparency and fair trading conditions. 
One noteworthy aspect is that FXPIG refrains from trading against its clients. Instead, it directs 100% of trade flow straight to aggregated liquidity providers. This practice fosters trust and ensures that clients' trades are executed with integrity. 
By prioritizing transparent operations and passing trades directly to liquidity providers, FXPIG maintains a level playing field for traders. This enhances their confidence and promotes a more efficient trading environment. Also, note that FXPIG spreads are competitive. This firm provides traders with favorable pricing on various financial instruments.
FXPIG's Regulation and Security Measures
Regulation and security are crucial factors to consider when choosing a company. FXPIG operates under a Principal's License for Dealing in Securities issued by the Vanuatu Financial Services Commission. 
The Vanuatu Financial Services Commission may not be considered a top-tier regulator. Still, FXPIG maintains high compliance standards internally and externally. Client funds are kept in segregated accounts, providing an additional layer of security. 
| | |
| --- | --- |
| | General information |
| Name: | Prime Intermarket Group Asia Pacific Ltd |
| Regulation status: | Regulated Broker, VFSC |
| Warnings from Financial Regulators: | No official warnings |
| Website link: | https://fxpig.com/ |
| Active since: | 2010 |
| Registered in: | Vanuatu |
| Contact info: | [email protected] |
| Trading platforms: | MT4, MT5, cTrader, and FIX API |
| Majority of clients are from: | the US, Malaysia, Canada, and Australia |
| Customer support: | Yes, chat email, Skype, Telegram, etc.  |
| Compensation fund: | Yes |
FXPIG's Extensive Range of Trading Instruments
FXPIG includes a comprehensive array of trading instruments to suit the needs of traders. From major and minor FX pairs to indices and crypto coins, there is a variety of assets available for trading. 
This allows traders to diversify their portfolios and take advantage of different market trends. Keep that in mind.
FXPIG Accounts Types
FXPIG broker delivers superb account classes to suit the preferences of individual traders. Let's take a closer look at each account type.
Standard Account
Minimum Deposit: $200

Maximum Leverage: 500:1
The Standard Account is designed for traders who prefer traditional trading conditions.
It offers competitive spreads and execution speeds, making it suitable for both beginner and experienced traders.
Premiere Account
Minimum Deposit: $5,000

Maximum Leverage: 500:1
The Premiere Account is tailored for more advanced traders who require enhanced features and benefits.
Traders gain access to tighter spreads, lower commissions, and additional trading tools.
Pro Account
Minimum Deposit: $50,000

Maximum Leverage: 500:1
The Pro Account is designed for professional traders who seek the utmost precision and speed.
It offers the tightest spreads, the lowest commissions, and many advanced trading tools and features.
FXPIG Demo Account
No minimum deposit is required
The FXPIG demo account delivers a risk-free setting for testing the venue or practicing trading strategies.
It allows traders to familiarize themselves with the platform's features and functions before giving funds.
FXPIG's Cutting-Edge Trading Platforms
FXPIG has a selection of powerful trading platforms to cater to different trading preferences. Let's explore each platform:
MetaTrader 4
MT4 is a popular and widely used platform among Forex traders. It provides a modern and fast interface, advanced charting capabilities, and a range of technical indicators. 
MT4 is available on desktop, web, and mobile devices, allowing traders to access their accounts from anywhere.
cTrader
cTrader is a professional trading platform known for its superb features and intuitive interface. This goes without saying. It offers Level II pricing, quick execution settings, charting tools, and other advanced order management capabilities. 
cTrader is available on desktop, web, and mobile devices, providing traders with flexibility and convenience.
MetaTrader 5
MT5 is a next-generation venue with more promising trading capabilities. With MT5, people can access a wide spectrum of tradeable instruments across various asset classes. This includes FX, stocks, commodities, and more. 
It provides advanced charting features, letting traders conduct in-depth technical analysis. The platform's robust order management tools enable traders to execute trades efficiently. Besides, MT5 offers enriched analytical capabilities. Indicators and graphical tools are built-in, allowing traders to make informed decisions.
Note: If you want advice on Etrader and similar brokers, we are here for you! Contact us now for a free consultation. 
FIX API
FXPIG provides FIX API for professional traders who require low-latency trading. With FXPIG's advanced trading infrastructure, FIX API presents ideal solutions for fast and reliable trading.
Traders can benefit from the FIX 4.4 API. This grants access to 8 separate pricing feeds in New York and London. This allows for accurate and up-to-date market data, facilitating informed trading decisions. The low-latency nature of FIX API ensures minimal delays in executing trades.
FXPIG's FIX API has flexibility. There are no minimum volume requirements, letting traders execute trades according to their specific needs. Besides, there are no special minimum deposit requirements. This makes it accessible to a broad range of traders. Also, traders can use the FIX API without worrying about monthly fees. 
FXPIG: Trading Contest
FXPIG includes a thrilling trading contest for its clients. It provides an opportunity to showcase their trading skills and win exciting prizes. The prizes go up to $1000 cash rewards. This is the general info: 
Win cash rewards if you secure a spot among the top 10 winners! 

Follow the new rules which include maintaining a daily drawdown of 5% or less, 

a maximum drawdown of 15%, and trading a minimum volume of 3 days per week with your average lot size meeting the specified minimum.
To participate, visit the FXPIG contest page (https://contest.fxpig.com/) for detailed information and registration.
Note: FXPIG, Oinvest, and other brokers may not be regulated in your jurisdiction. Compliance and protecting your interests are crucial. Contact us for a free consultation if you are looking for trustworthy advice.
Unlock the Benefits of the FXPIG Partnership Program
FXPIG includes two types of partnership programs: 
Money Managers (MAM/PAMM) and 

Introducing Brokers (IB). 
Money Managers can utilize MAM (Multi-Account Manager) or PAMM (Percentage Allocation Money Management) accounts. Introducing Brokers can earn commissions by referring clients to FXPIG. These programs provide opportunities for professionals to expand their business and earn additional income.
FXPIG Funding Options
FXPIG presents a variety of payment options. Clients can choose from options such as bank wire transfers, cards, crypto, and famous e-wallets. The broker ensures the security of client funds by keeping them in segregated accounts.
Yet, it's important to note that specific requirements may apply to the withdrawal process. For instance, minimum withdrawal amounts or processing times. Clients may face challenges if they fail to comply with the broker's withdrawal requirements.
Bonuses and Promotions at FXPIG
FXPIG broker occasionally provides bonuses and promotions to its clients. These offers can include deposit bonuses, cashback programs, or trading incentives. 
Yet, it's important to note that at the time of writing this article, there are no active bonuses or promotions. Clients are advised to check the FXPIG website or contact customer support for the latest information. 
Unmatched Customer Care at FXPIG
FXPIG offers mind-blowing and educated customer support. Clients can interact with the support crew via various methods, including live chat, email, Telegram, Skype, and phone. 
The broker strives to provide prompt and helpful assistance to address any queries. This includes technical issues and account-related concerns that clients may have.
Hear What Clients Have to Say
FXPIG has garnered positive reviews from users on Trustpilot. They have an impressive rating of 4.5 stars out of 5. As of now, there are 58 reviews available on Trustpilot, indicating a high level of satisfaction among FXPIG's clients. 
These reviews reflect the broker's reliability, low spreads, and efficient execution speeds. This highlights its commitment to providing a quality trading experience.
A Conclusion About FXPIG Broker
FXPIG is an online brokerage offering a wide scope of trading solutions for all kinds of traders. With its STP (Straight Through Processing) model, the broker ensures transparency and passes client trades directly to aggregated liquidity providers. 
The availability of powerful trading platforms like cTrader and MetaTrader, along with a robust FIX API solution, caters to the needs of everyone. The broker's PAMM accounts provide an alternative investment option. FXPIG's non-FX instruments and educational resources could be improved. Still, its low spreads, reliable execution speeds, and excellent customer support make it a reputable choice for forex trading. 
Looking for a trusted broker to support you? Reach out to us, and we'll connect you with the ideal brokers tailored to your unique requirements. For instance, explore Ayondo and find out why they're a popular choice among traders.
FAQs
How much does FXPIG charge?
FXPIG charges competitive spreads and commissions on trades.
Is FXPIG regulated?
Yes, FXPIG is regulated by the VFSC of the jurisdiction they operate in.
What is the minimum deposit at FXPIG?
The minimum deposit requirement for FXPIG is $200.
What are the methods of deposit for FXPIG?
FXPIG offers bank transfers, cards, BTC, and electronic wallets like Skrill and Neteller.