July 20, 2023
Reading Time:
5
min
Galaxy Prime FX Review: A Suspicious Broker and Its Scam Tactics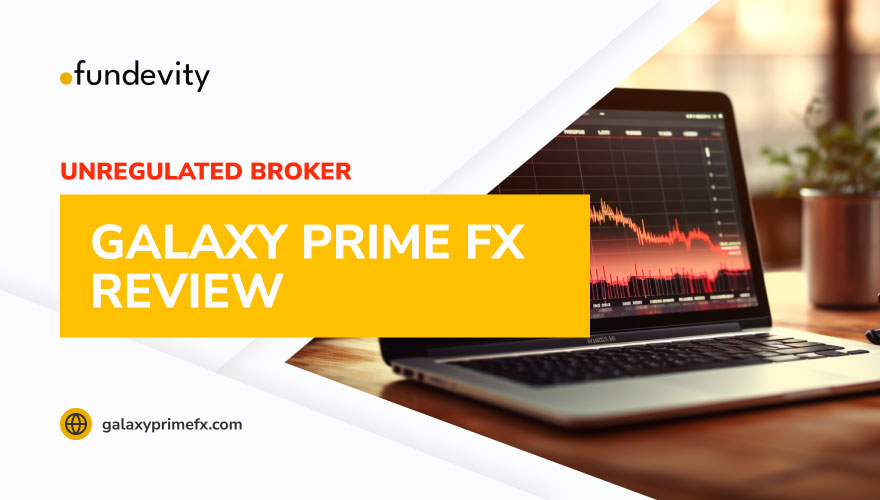 Welcome to our in-depth Galaxy Prime FX review. We will examine a broker that claims to offer a broad range of trading assets and tools. Yet, we'll delve into the details and clear up the suspicious nature of this company. 
From their dubious address to regulatory warnings, we will expose the red flags associated with the GalaxyPrimeFX scam. It's essential to protect yourself from unregulated brokers like this one. Also, beware of similar scams, including Crypto Messiah.
| | |
| --- | --- |
| | General information |
| Name: | Galaxy Prime FX |
| Regulation status: | Unregulated Broker Scam |
| Warnings from Financial Regulators: | CNMV, IOSCO, and ATVP |
| Website link: | https://galaxyprimefx.com/ |
| Active since: | 2022 |
| Registered in: | 12 Kensington Gardens, Ferryhill, DL17, USA |
| Contact info: | [email protected] |
| Trading platforms: | n/a |
| Majority of clients are from: | South Africa and the Netherlands |
| Customer support: | Email only |
| Compensation fund: | No |
Galaxy Prime FX Legitimacy: A Dangerous and Suspicious Broker
Galaxy Prime FX claims to be located at 12 Kensington Gardens, Ferryhill, DL17, USA. Yet, this address is likely fake, raising doubts about the legitimacy of the broker. Similarly, regulatory warnings have been issued against this fake company. 
The Comisión Nacional del Mercado de Valores – CNMV regulator has specifically warned against Galaxy Prime FX, citing the second paragraph of Article 18 of the Securities Markets and Investments Services Act (Law 6/2023, of 17 March). Other regulatory bodies like IOSCO and ATVP have also highlighted concerns about this unregulated broker. It is crucial to avoid unregulated brokers like Galaxy Prime FX and remain cautious of identical scams.
Galaxy Prime FX focuses on targeting traders from South Africa and the Netherlands. They specifically aim to attract people from these regions.
Trading Assets: A Wide Range of Instruments Used for Scamming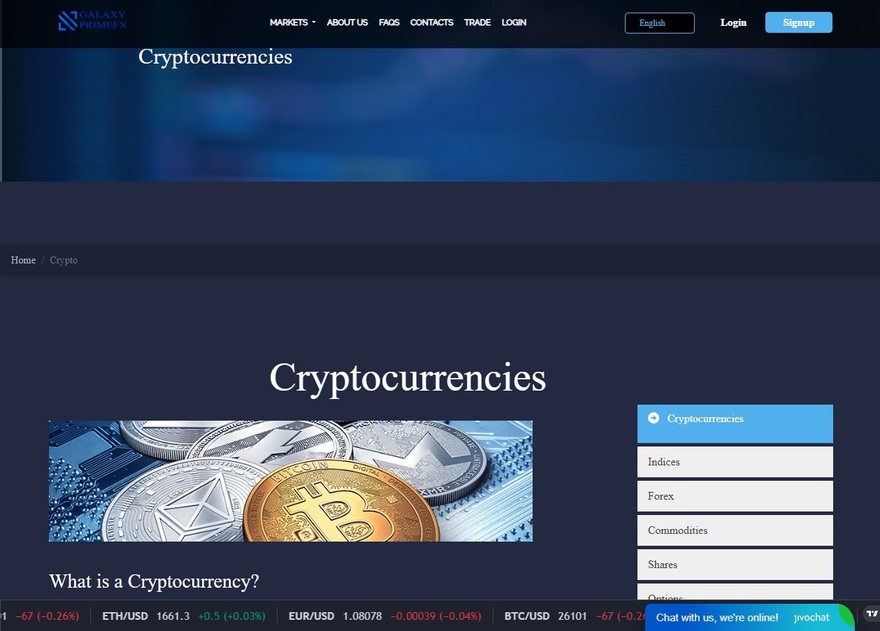 Galaxy Prime FX claims to offer a multitude of trading assets. They are as follows:
GalaxyPrimeFX Crypto offerings. Some of them are Bitcoin, Ripple XRP, and Ethereum

Galaxy Prime FX Forex offerings like EUR/USD

Galaxy Prime FX Indices offerings as NASDAQ and DAX

Galaxy Prime FX Energies offerings like oil, gold, and gas

Galaxy Prime FX Shares offerings, and 

Galaxy Prime FX ETFs. 
However, these claims are part of their scam tactics. We urge people to be cautious and seek out legitimate brokers that genuinely support these instruments. Don't fall victim to the false promises of scam brokers like Galaxy Prime FX. Your investments deserve the security and reliability provided by regulated brokers.
Lack of a Decent Trading Platform
Galaxy Prime FX claims to offer live trading but fails to provide any decent trading platform. Their website, which covers trading, is poorly designed and lacks valuable data. Besides, this scam broker does not support MT5, so the Galaxy Prime FX MT5 is nowhere to be seen. 
It is crucial for traders to choose legit brokers that support MT5, MT4, or cTrader venues. These are superb if you want a seamless trading experience. Stay away from fraudulent brokers like Galaxy Prime FX, and be cautious of similar scams, such as Crypto Guider.
MetaTrader 4 (MT4) and MetaTrader 5 (MT5) are well-liked trading platforms used in the FX market. While they have similarities, there are some critical differences. MT5 allows trading in various markets like stocks and commodities, while MT4 is specifically designed for FX trading. MT5 provides more technical indicators and tools like an economic calendar to track news from foreign markets. Nevertheless, MT5 is more complex and requires more time to learn compared to MT4. Finally, choosing between MT4 and MT5 depends on personal preference and the trader's specific habits.
Trading Conditions: Lack of Transparency and Poor Communication
Galaxy Prime FX fails to provide any information regarding general trading conditions. This includes details on spreads, leverage, and fees. Their website only mentions a minimum deposit requirement of $500. 
Also, the presence of scammy and unrelated text on their site, riddled with poor English and grammar mistakes, raises additional concerns. This fake broker claims to offer trading accounts like Starter, Silver, Gold, and Platinum. Yet, the lack of transparency and professionalism is evident. It's important to approach brokers that provide clear and concise trading conditions. Keep that in mind. 
Below are the account types mentioned on their website:
Starter – $500

Silver – $1000

Gold – $2500

Platinum – $15000
GalaxyPrimeFX Payout: Faulty Claims and Limited Payment Options
Galaxy Prime FX allegedly supports payout options through Bitcoin and Ethereum. However, relying solely on cryptocurrencies for deposits and withdrawals is risky. Scammers often exploit the crypto space due to its decentralized nature. Legitimate brokers prioritize the safety of their clients and offer a variety of payment options. 
Galaxy Prime FX's website also makes grammatically incorrect and fraudulent claims, such as having a backup account and guaranteeing a return of 100% of investors' capital. Furthermore, they mention that profits can be withdrawn from all investment plans. However, these claims lack credibility and professionalism. 
To ensure the security of your funds, choose regulated brokers that offer a diverse range of payment options. Always be cautious and avoid brokers like Galaxy Prime FX.
Protecting Your Money: Scams Used by Fake Forex Brokers
To succeed in FX trading, it is crucial to be aware of the tactics employed by scammers. Let's explore some common tactics employed by certain brokers. First off, there's misleading advertising. These brokers make grand promises of unrealistically high profits or use flashy marketing techniques to entice traders. Another tactic is excessive fees and hidden charges. Here, brokers impose hefty commissions without transparent disclosure.
Besides, some brokers engage in improper trade execution or manipulate prices to benefit themselves. This can seriously impact traders' profitability, regardless of their skills. To ensure your safety, it's vital to choose reputable brokers who are transparent in their practices. Stay informed and cautious to make wise decisions and avoid nasty scams.
Trader Reviews: The Importance of Trader Feedback
Trader reviews play a vital role in choosing a reliable broker. Unfortunately, galaxyprimefx.com lacks any Trustpilot reviews. This truthfully raises concerns about its reputation and security. Genuine reviews provide insights into a broker's performance, customer service, and overall trading experience. 
Without authentic feedback from other people, it becomes challenging to assess the legitimacy of a broker. In the case of Galaxy Prime FX, the absence of Trustpilot reviews is a significant red flag. When selecting a broker, consider the experiences of other traders. Also, try to rely on reputable platforms for accurate feedback.
Watch out for this scam broker as they have fake testimonials on their website. They aim to trick unaware investors. It's essential to understand the risks associated with these shady practices. So, always verify the authenticity of testimonials before making investment choices.
Remember, reputable brokers prioritize their clients' safety and success. They offer transparent trading conditions, reliable platforms, and secure payment options. Contact us for a free consultation, and we will help you find the most qualified brokers on the market. 
Long Story Short – Galaxy Prime FX: A Scam Broker to Avoid
In conclusion, Galaxy Prime FX is a dangerous and suspicious broker that raises several red flags. From their fishy address to regulatory warnings against them, this broker lacks legitimacy. Their claims regarding trading assets and platforms are part of their scam tactics. Moreover, their lack of transparency on general trading conditions is concerning. 
Their faulty claims regarding the GalaxyPrimeFX payout and payment options also indicate an untrustworthy operation. The absence of Trader reviews, particularly on platforms like Trustpilot, further damages their credibility. Avoiding Galaxy Prime FX and similar scams, such as Crypto Liberty, is crucial. Protect your money by choosing regulated brokers with a good reputation.
FAQs
Is Galaxy Prime FX Legit?
No, Galaxy Prime FX is not legit and raises multiple red flags.
Are Funds Safe With Galaxy Prime FX?
No, your funds are not safe with Galaxy Prime FX as it is an unregulated company.
How To Get Money Back From Galaxyprimefx com?
Recovering money from galaxyprimefx.com can be challenging. Still, contact us for help regarding a chargeback.