August 25, 2023
Reading Time:
5
min
ForexVox Review: Unveiling the Legitimacy and Offerings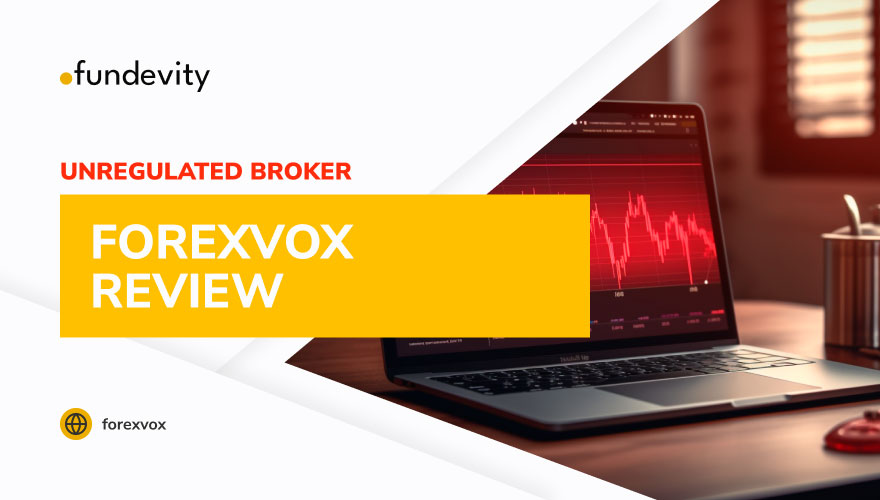 In modern trading, selecting the right broker is absolutely essential to success. ForexVox emerges as a noteworthy contender, offering traders a platform to navigate the dynamic forex market. 
In this comprehensive ForexVox review, we delve into many things. We will inspect ForexVox to see if it's reliable and what it has to offer in trading assets and platforms. We'll uncover whether ForexVox is a legitimate broker or a potential online con like GLE Markets.
Exploring ForexVox Regulation and Licensing
A crucial aspect of any forex broker is its regulatory standing. This broker boasts three ForexVox licenses. It's time to examine them further! 
Seychelles Regulation.

ForexVox (Seychelles) Financial Services Limited operates under the regulatory purview of the

Seychelles Financial Services Authority (FSA)

, holding license number SD142. This FSA license signifies compliance with regulatory standards, albeit falling under offshore regulation. Still, this may differ in investor protection compared to major financial jurisdictions.

FCA claims and clones.

ForexVox asserts affiliation with the Financial Conduct Authority (FCA) in the UK. But, doubts linger about the legitimacy of these claims, as they are suspected to be clones. Engaging with such clone licenses poses risks, including inadequate investor protection.

Another FCA claim.

Another FCA claim is presented with license number 586541. Similarly, this license is suspected to be a clone, raising questions about its authenticity. Trading with such licenses can result in a lack of regulatory oversight. 
General information
Name:

ForexVox (Seychelles) Financial Services Limited

Regulation status:

Regulated Offshore Broker – FSA Seychelles

Warnings from Financial Regulators:

No official warnings

Website link:

forexvox.com

Active since

2019 (2018 for domain age)

Registered in:

Seychelles

Contact info:
[email protected]
Trading platforms:

M

T5

The majority of clients are from

Poland 

United Kingdom 

Malaysia

Pakistan 

Bangladesh 

Customer support:
Yes ([email protected])
Compensation fund:

No
Diverse Trading Assets at ForexVox
ForexVox offers an array of trading instruments, opening doors to various market sectors.
Forex Options

. In the Forex market, traders can access over 65 currency pairs. It provides ample opportunities to earn on currency fluctuations and market dynamics.
Indices and Global Markets.

The Indices category offers insight into broader market movements.
Precious Metals and Diversification.

Trading precious metals like gold and silver provides a pathway for hedging strategies.
Commodities Realm.

ForexVox further extends trading avenues to commodities like oil, natural gas, and agricultural products. It enables traders to speculate on price movements in these markets.
Despite all of this, remember this broker lacks Tier 1 licenses, so it may not be that reliable. 
ForexVox MT5 Platform
ForexVox empowers traders with the acclaimed MetaTrader 5 trading platform. MT5 is a versatile tool for successful trading. It is a renowned platform offering advanced features, charting tools, and an array of indicators. 
Traders can access real-time market data and analyze price movements. They can execute trades across diverse financial markets. MT5's layout can be customized, and it supports automated trading with expert advisors. This helps traders simplify their strategies.
Trading Environment: ForexVox Account Types
ForexVox caters to diverse trader profiles by offering two distinct account types: Standard and ECN.
Standard Account

. The Standard account appeals to a broad audience, offering leverage of up to 1:1000 and zero commission charges. It's a cost-effective choice for traders aiming to maximize their positions.

ECN Account.

Tailored for professional traders, the ECN account maintains the 1:1000 leverage but introduces a commission fee. Traders gain direct market access, potentially benefiting from tighter spreads and faster executions.
Leveraging Potential with ForexVox: Amplify Your Trades
Leverage serves as a potent tool in the forex trading arsenal. It enables traders to magnify their trading positions and potentially enhance their returns. 
ForexVox provides leverage options of up to 1:1000. With high leverage like that traders can control larger positions with a comparatively smaller capital outlay.
ForexVox Demo Account
There is an option to trade with a ForexVox demo account. Experience the thrill of forex trading risk-free using the ForexVox demo account feature. 
You can test strategies, refine skills, and gain confidence without real capital at stake. This is extremely beneficial for newbie traders. 
Note: To keep your money safe, avoid using suspicious brokers like Bitbinx. They may not have good intentions. 
ForexVox No Deposit Bonus
Experience the exclusive deposit bonus tailored for ForexVox clients. You can start in three easy steps:
Begin by depositing a minimum of USD100 into your Standard account.

Initiate the process by reaching out to [email protected]. Share your bonus request via email, and their team will swiftly assist you.

As your request gets processed, dive into the excitement of trading with your newly acquired bonus.
Accelerate your trading endeavors with a 100% deposit bonus that improves your trading capital. ForexVox may be your gateway to maximizing your potential in trading.
Autotrading
Discover the future of trading with ForexVox's Autotrading feature. Use advanced algorithms to automate your trading strategies, executing trades precisely even when you're away. 
Experience hands-free trading that adapts to market conditions, potentially enhancing your trading efficiency.
Fees
At ForexVox, transparency is their foundation, as they say. Explore ForexVox's fee structure, which includes competitive spreads and a clear commission system. Trading fees for ForexVox are based on spreads. For Standard accounts, there is no commission fee. Regardless, ECN accounts are commission-based, and the fee is $6 per lot traded.
They believe in providing traders with a clear understanding of costs, enabling them to optimize their trading strategy.
Education
Empower yourself with knowledge through ForexVox's comprehensive educational resources. Access expert insights, trading tutorials, webinars, and more, designed to equip traders of all levels with the tools they need to succeed. 
With these, you can elevate your understanding of the forex market. Still, it may be better to use top-notch brokers in the industry. To find out more about them, contact us for a free consultation. 
Stop Loss
Protect your investments with ForexVox's Stop Loss feature. Implement strategic risk management by setting predetermined levels at which trades are automatically closed to prevent excessive losses. 
This tool offers you greater control over your trades. It helps you minimize potential downsides and trade more efficiently.
Important Reminder: To ensure your financial safety, avoid unregulated brokers like QuantumAI. Your financial security is the top priority.
Can I Earn & Withdraw from ForexVox?
Indeed, withdrawing from ForexVox is a streamlined process. As you engage in trading, successful positions translate into earnings that you can withdraw conveniently. 
ForexVox is a forex broker that includes a variety of deposit methods such as Visa/MasterCard, Neteller, Skrill, bank deposits, Sticpay, crypto, and more.
ForexVox ensures that you have access to your hard-earned profits, providing a hassle-free withdrawal experience. With a UI-friendly interface and transparent procedures, you can confidently navigate the process of your trading activities on the platform. 
Minimum Deposit: Starting Small, Trading Big
ForexVox sets itself apart by offering an enticing advantage: a minimum deposit requirement of $0. 
This low entry barrier democratizes trading. It allows people with varying capital levels to engage in live trading and explore the financial markets.
Responsive Customer Support: Your Trading Partner
ForexVox places a premium on customer support, ensuring traders receive prompt assistance when needed.
Email Support. Traders can communicate inquiries and issues via email to [email protected].
Live Chat.

The live chat feature facilitates real-time conversations, enabling timely query resolution.

Phone Support.

Direct communication is eased through phone support at +248 4373790, offering the opportunity to engage directly with support agents.
Traders' Voices: Trustpilot Reviews
A reliable gauge of a broker's performance lies in the reviews of the trading community. ForexVox enjoys a TrustScore of 4.9 out of 5 on Trustpilot, reflecting a high level of satisfaction among users.
98% of reviews are 5-star

2% of reviews are 4-star

No reviews fall below 4 stars
Final Verdict: ForexVox
ForexVox emerges as a challenger in the forex landscape, offering many trading assets, a robust platform, and responsive customer support. While its regulatory claims are poor, the broker provides opportunities for traders of varying levels of expertise. As with any trading effort, meticulous research and decision-making are essential for a successful journey.
But, if you need help choosing the right broker that fits your trading style and preferences, contact us today! Book a free consultation now!
FAQ Section
Is ForexVox Legit?
ForexVox is a regulated broker with a license under the Seychelles Financial Services Authority (FSA).
What Are The ForexVox Platforms?
The trading platforms include the widely recognized MetaTrader 5.
Can I Withdraw My Funds From ForexVox?
With ForexVox, withdrawing your profits is a straightforward process, as they claim.