May 11, 2023
Reading Time:
4
min
GLE Markets Review: A Total Analysis of Their Products and Features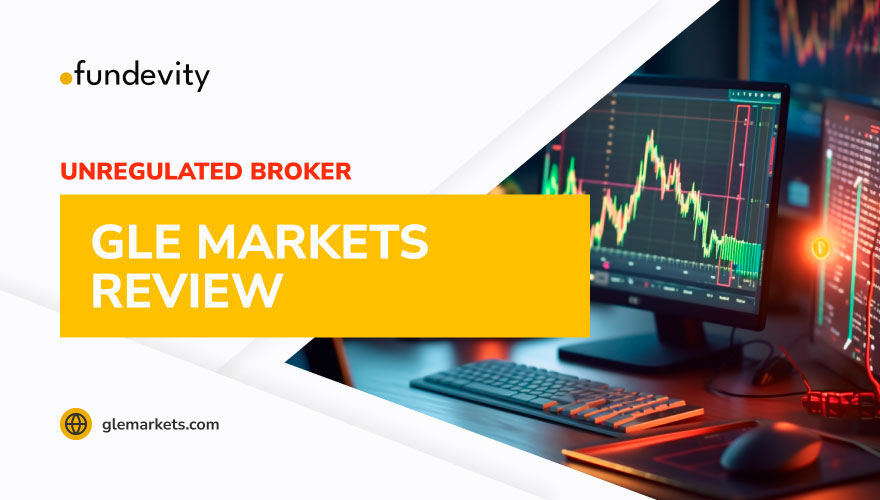 GLE Markets Review, Like a wolf in sheep's clothing, GLE Markets is another online broker trying to deceive investors. Despite claiming to be a UK-based company authorized to provide financial services, GLE Markets is in fact just another offshore scammer.
In this in-depth GLE Markets review, we will expose their deceitful tactics and equip you with the knowledge you need to protect yourself and recover stolen funds. Don't fall prey to their false promises – read on to learn the truth about GLE Markets.
| | |
| --- | --- |
| Company | Ectorina Limited |
| Headquarters | UK |
| Website | glemarkets.com |
| Warning | FSMA |
| Platforms | n/a |
| Minimum Deposit | $300 |
| Leverage | 1:500 |
| Spread | from 0.0 pips |
| Review Rating | 1/5 |
Regulation and Security of GLE Markets
The facade of GLE Markets as a UK-based broker is quickly unraveling upon closer inspection. While the broker boasts a recent creation, it's clear that they are far from adhering to key UK regulations. This is a dangerous sign for retail traders. Shockingly, they offer bonuses and exceedingly high leverage to their clients, without clear regulation from the UK's financial authority, the FCA.
In the world of trading, the risks associated with unlicensed brokers are significant, as there are no guarantees that the broker is legitimate or that they have fulfilled the multiple requirements that regulated companies face. Instead, we recommend choosing a licensed UK broker that prioritizes safety and transparency. For instance, reputable companies are required to maintain client money in segregated bank accounts. This is to ensure that client and broker funds do not mix and that they are not using your investment for financial gain.
Besides, UK brokers must ensure negative balance protection, guaranteeing you cannot lose more money than what you have in your account. Licensed brokers are also required to prove their financial stability by maintaining a capital of €730,000 and participating in compensation schemes. This means that if your broker becomes insolvent, you would still be entitled to compensation of up to £85,000. In summary, trading requires licensed UK brokers that prioritize safety, security, and financial stability.
Note: It is strongly advised to steer clear of Dav Invest and GLE Markets. 
Trading Platform Overview
Unfortunately, we could not open an account with GLE Markets or view their trading platform. Instead of a "Sign Up" option, the website only had a "Sign In" button, indicating that the broker is not currently accepting new clients. This practice is not uncommon among scammers, who prefer to carefully select and control who has access to their platform and credentials, often distributing them via phone or email. As such, it's crucial to be vigilant and avoid fraudulent schemes.
Instead, we recommend exploring legitimate brokers that offer MetaTrader 5. This UI-friendly software is one of the most popular and efficient trading platforms in the industry, featuring a range of indicators, graphical tools, timeframes, and multiple order types for execution. 
The software also boasts preprogrammed trading bots that can track markets and make trades on your behalf. It also boasts trading signals and the ability to create custom scripts. Besides, MT5 offers hedging and netting options, a built-in economic calendar, and a community chat feature for traders to share their experiences and insights. With all these features, MT5 is a must-try for any serious trader.
Funding Methods
GLE Markets offers two payment methods for withdrawal – card and bank wire. Nevertheless, it's important to note that if you accept any bonuses, you won't be able to withdraw your funds until you reach a minimum trading volume of 1 lot, which is equal to a massive $100,000. Sadly, numerous negative reviews suggest that the company will do whatever it takes to keep your money and delay your withdrawals. This is a fact! 
You'll be asked to comply with their AML policies and submit a variety of papers, but they'll reject them for one reason or another. They might even disappear for weeks, only to reappear and request additional signatures or ask you to pay for bogus expenses like withdrawal fees.
If any of this occurs to you, be aware that you're dealing with a scammer. You should seek assistance immediately before the company disappears, just like many other fraudsters before them.
GLE Markets – Account Types Available
Now, let's take a look at the account options that this bogus broker has to offer. The accounts are as follows: 
Bronze

Silver

Gold

Premium

Platinum
You won't find any exclusive features or benefits for clients who deposit larger amounts of cash. Keep in mind that many reputable brokers have this practice. 
Moreover, it's also bizarre that GLE Markets does not offer demo or Islamic accounts, which could be helpful for potential clients to assess the broker's trading conditions and compatibility with their goals. It's safe to say that GLE Markets lacks transparency and essential services that legitimate brokers provide.
Note: Investors should be cautious of this firm, as Belgium's financial regulatory body, the Financial Services and Markets Authority (FSMA), has recently released a warning regarding its activities.
Implementation of the Scam
It's crucial to remain vigilant in today's investment landscape, where fake brokers are becoming increasingly common. They use a wide variety of ways to lure in unsuspecting people. Still, their most common approach is promising massive profits. 
Please don't fall for their tricks. These deceitful brokers will pressure you into investing your money in scheming trades with the sole intention of disappearing with your cash. It's essential to be on guard against these scams. Offshore brokers, in particular, are notorious for their crooked tactics. They often present themselves as credible by claiming to be licensed by reputable authorities, but that isn't always the case. 
This brings out the importance of conducting extensive research before investing. Look up reviews and ratings online and seek guidance from self-reliant financial advisors. By being proactive and taking these steps, you can protect your investments and avoid falling prey to fraudulent brokers. GLE Markets and BN93 are such brokers. They share similarities in being untrustworthy institutions with a track record of deceiving their clients.
Summary 
GLE Markets is a forex and CFD broker that claims to be based in the UK and offers trading services to clients worldwide. Nonetheless, upon closer inspection, it becomes clear that this broker is far from reliable. GLE Markets has been associated with many red flags and fusses, including withdrawal issues, false promises, and a lack of transparency. 
The company's website is also riddled with inconsistencies and dubious information. Also, with suspicious account types, no demo or Islamic accounts, and a minimum deposit of $300, GLE Markets appears to be a risky investment. Traders are advised to avoid this broker and instead opt for more reputable, regulated brokers with a range of account types, educational resources, and great customer support.
FAQs
Is GLE Markets Regulated?
No, this company is not regulated and is suspicious.
Is GLE Markets a Trustworthy Broker?
No. This broker is far from trustworthy. Beware of that.
What Funding Methods Do GLE Markets Accept?
You can deposit the funds via card or a bank transfer.