September 07, 2023
Reading Time:
4
min
FpMarketsFX Review: Diving Deep into the Broker's Procedures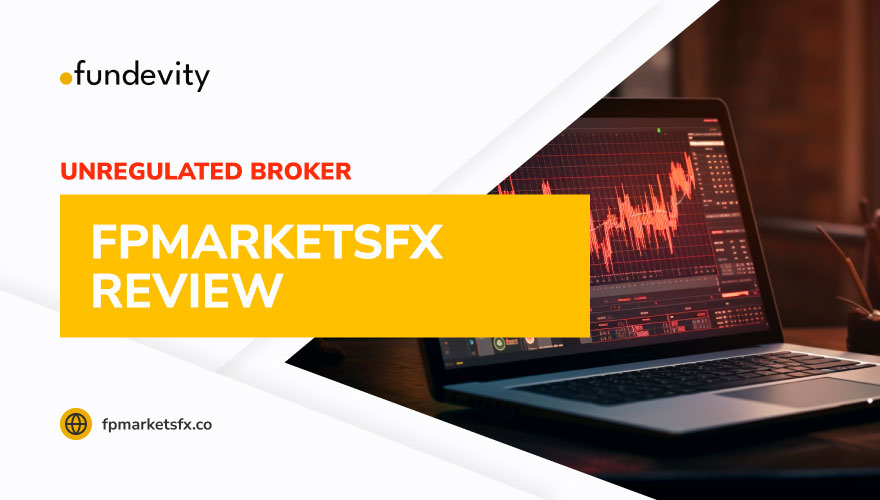 Choosing the right broker is a crucial decision. We all know this! 
FpMarketsFX has been gaining attention, but before you dive in, it's essential to understand the ins and outs of this company. In this FpMarketsFX review, we'll dive deep into FpMarketsFX, covering topics like its legitimacy, account types, fees, and more. Let's get ready to uncover the truth behind FpMarketsFX. Keep reading our insights! 
General information
Name:

FpMarketsFX

Regulation status:

Unregulated Broker

Warnings from Financial Regulators:

No official warnings

Website link:

fpmarketsfx.co

Active since

2023

Registered in

Australia

Contact info:

+44 2037723404

Trading platforms:

Wave

The majority of clients are from

Italy 

Canada 

United Kingdom 

Albania

Customer support:

Phone only 

Compensation fund:

No
FpMarketsFX Regulatory Issues
So, is FpMarketsFX legit or not? First and foremost, FpMarketsFX operates without any regulatory control. This means there's no external authority watching over their activities or ensuring they adhere to lawful standards. Regulated brokers, in contrast, are held accountable by strict rules and regulations made to protect your investments.
For instance, European Union (EU) regulated brokers must obtain licenses from national regulators and meet a host of requirements. Notably, this includes segregating client accounts and providing negative balance protection. These measures provide essential protection for your funds. And the absence of such protections with FpMarketsFX raises concerns about the safety of your investments. Beware of that! 
Trading Assets Available at FpMarketsFX
FpMarketsFX scam offers a range of trading options, including forex, stocks, commodities, indices, and crypto. This vast selection can be nice, offering traders the chance to explore multiple markets all in one place. Yet, there's a significant catch here! As of now, FpMarketsFX's website is offline, which makes accessing critical information a challenging work.
The unclear account setup process and limited customer support through only calls make things more difficult. Plus, the broken website raises doubts about the platform's reliability, leaving traders uncertain. It's a risky situation.
Trading Platforms – Are There Any? 
FpMarketsFX claims to provide the Wave trading platform. Sadly, there's a lack of detailed information about this platform, including its features, tools, and user interface. This information gap makes it incredibly hard to see the overall experience offered by fpmarketsfx.co.
For safer trading, choose brokers with well-known platforms like MT4 and MT5. These platforms are reliable and UI-friendly, with advanced charts and helpful tools for a better trading experience.
Note: Avoid brokers like ST Global Markets to ensure your financial security. It's crucial to protect your funds.
Trading Environment: Account Types and Leverage
Now, let's discuss the account types offered by FpMarketsFX. They are as follows: 
Entry Account:

This account offers spreads starting at 1.5 pips and leverages up to 1:50. It's worth noting that this account type (and every other) has a commission of 5 EUR per lot traded.

Silver Account:

With a minimum deposit of $5,000, this account provides tighter spreads, starting from 1.2 pips, while maintaining a 1:50 leverage. 

Gold Account:

For traders with a higher capital base, the Gold account requires a minimum deposit of $25,000. This account type offers even tighter spreads, starting from 0.8 pips, and allows for increased leverage, up to 1:100. 

Platinum Account: Mandates a minimum deposit of $100,000. Spreads start from 0.0 pips and the leverage ratio is up to 1:200. 
It's essential to note that while high leverage can boost trading potential, it also increases risk. 
Regulatory bodies have imposed leverage caps to protect retail traders. So, it's advisable to trade with brokers under Tier 1 regulations that care about your safety. Think of ASIC, CySEC, BaFin, FCA, and similar regulators.
Important Note: Protect your budgets by steering clear of brokers such as FpMarketsFX and LiquidityX. Your financial security matters.
Withdrawal Policy: Payment Methods and Security
The FpMarketsFX withdrawal policies and options are unknown. Yet, even if they were known, the chances of retrieving funds are uncertain. This is a sad reality. 
For better security, we recommend using credit cards like Visa and MasterCard. These offer favorable chargeback policies. Still, you can always contact us if you need help with requesting a chargeback. 
Commission: A Fixed Cost to Consider
The commission structure at FpMarketsFX involves a fixed charge of 5 EUR per lot traded across all account types. 
This fee is a consistent factor to consider when calculating trading costs. What's more, it can impact the overall profitability of trades, especially for high-volume traders. Therefore, it's important for you to factor in this commission when evaluating the cost-effectiveness of different strategies. 
Note: Consider opting for legit brokers that offer PayPal, Skrill, Advcash, bank cards, or crypto for more predictable cost structures.
Trader Reviews on Trustpilot: A Low Rating Raises Concerns
Trustpilot reviews often provide valuable insights into a broker's reputation. Unfortunately, FpMarketsFX has got a low rating of 2.1 stars on Trustpilot. 
Such a rating raises concerns about the broker's credibility and reliability. For a safer trading experience, it's advisable to choose well-regulated and reputable brokers with ratings of 4.5 stars or higher.
Scam Broker Tactics – Red Flags
Be cautious of deceptive brokers who use tricks to deceive traders. Watch out for red flags like withdrawal problems, unexpected fees, steep commissions, and unrealistic promises of profits. These are massive warning signs!
To protect yourself, focus on brokers with strong regulatory support to reduce the chances of getting scammed. Make sure to steer clear of suspicious brokers such as FpMarketsFX or EverFX. Stick to the golden rule: trade with regulated businesses for a safer journey in the trading world.
Can I Make Money From Online Trading?
You may be wondering whether it's possible to make money through online trading. The answer is yes, but it requires caution and knowledge. Note that we offer free consultations for you! Also, we would like to introduce our new AI Analysis Bot to simplify your research. 
By selecting the right broker and using smart trading strategies, you can start trading effectively. Keep that in mind. 
FpMarketsFX raises several concerns due to its unregulated status, non-functional website, and poor Trustpilot rating. When it comes to your money, safety should always be your top priority. Knowledge is your greatest asset, and choosing the right broker can make all the difference.
FAQs
Is FpMarketsFX Regulated?
No. This broker is suspicious and unregulated!
Is It Safe To Trade With FpMarketsFX?
No. They are a suspicious and unregulated clone firm.
Does FpMarketsFX Have a Mobile Trading App?
It is unknown if this shady company offers a mobile app.