July 15, 2023
Reading Time:
6
min
FTD System Review: Uncovering FTD's Trading Services and Features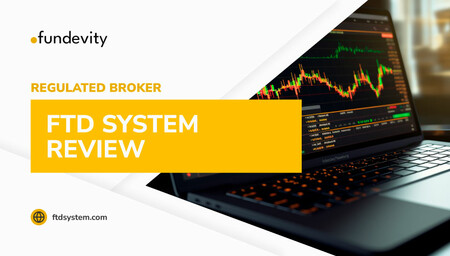 So, you must be asking yourself, "Is FTDSystem.com legit?" Let's delve deeper into their regulatory status to find out more.
FTD is a forex broker supposedly established in 2017, with headquarters in the Virgin Islands. They claim to be a reputable player in the industry. Yet, before accepting such assertions, it is crucial to analyze them. Let's get into more detail in our FTD System review. 
FTD System License: Reputation and Regulatory Claims
This broker claims to have a valid license. Yet, it is necessary to assess the truth of these claims and delve deeper into the specifics. How rigorous is BVI FSC oversight and regulation? Can we rely on FTD's license number to ensure trustworthiness? FTD's regulatory framework requires broad examination. It is crucial to check the extent and effectiveness of the BVI FSC's supervision. 
Also, it is crucial to review its compliance record and protect forex market participants' interests. Offshore regulation is almost like no regulation at all. So, we can be sure that FTD System shares similarities with Central Margins and other unregulated brokers.
As a result, doubt should be placed on FTD's claim that its trading environment is secure. What specific measures are in place to protect investors' funds and information? Can FTD trading company deliver on its promises of a safe trading environment? To make the right decision, potential investors must conduct thorough due diligence. 
They should seek self-reliant reviews and carefully weigh the risks and benefits of using the FTD System. Through this comprehensive FTD System review, you can determine the actual reputation of this broker. Keep reading!
General information
Name:

FTD System

Regulation status:

Regulated Offshore Broker, BVI FSC

Warnings from Financial Regulators:

No official warnings

Website link:

https://www.ftdsystem.com/

Active since

2017 (site); 2020 (by web archive)

Registered in:

The British Virgin Islands

Contact info:

+44 2070600383

Trading platforms:

MT5

The majority of clients are from:

United States, Turkiye, Japan

Customer support:

Yes, via

[email protected]
Compensation fund:

will be administered according to British Virgin Islands bankruptcy law
Exploring FTD's Multiple Trading Assets
What about trading instruments? This broker offers you the opportunity to trade Forex, CFDs, and Spot Metals. Their extensive range of products ensures a diverse portfolio at your disposal. Let's explore its various offerings.
API Trading.

There is FIX API, an electronic communications protocol. With this cutting-edge technology, you can gain access to live data. Also, you can execute trades with the utmost efficiency.
FTD System Forex.

FTD grants you access to a vast selection of over 100 major, minor, and exotic currency pairs within the market. Whether you prefer to trade popular pairs like EUR/USD or venture into more unique options, they've got you covered. They also provide trading opportunities in spot precious metals. This will diversify your trading strategies.
FTD System CFDs

. Expand your trading horizons with FTD's comprehensive CFD range. Their platform empowers you to trade CFDs on a vast variety of commodities. That includes energy resources, precious metals, and agricultural products. Also, you can explore the thrilling world of major stock market indices. This gives you the chance to speculate on global economic trends and bolster your investment strategy.
Free Your Trading Potential With FTD's Cutting-Edge MT5 Platform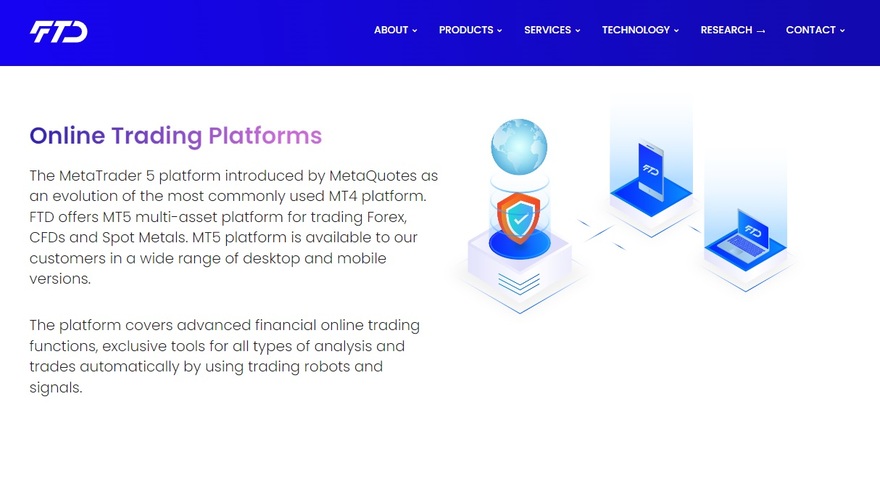 FTD includes the MT5 trading platform, the industry standard for traders. Building upon the success of its predecessor, MT4, MT5 introduces an array of powerful elements and enhancements. 
MT5 offers a broad and efficient solution to your trading needs. This software revolutionizes charting capabilities, taking MT4's original trend chart to new heights. Traders gain access to a broad range of timeframes. This includes 2-minute and 3-hour charts. This enables them to analyze market trends with better flexibility and precision. 21 timeframes allow traders to tailor their charting approach. 
FTD's MT5 platform includes over 70 technical indicators. This empowers traders with a wide array of tools to analyze market dynamics. These indicators serve as invaluable resources for both newcomer and experienced traders. MT5 provides pre-existing chart templates, enabling traders to apply their preferred chart settings.
MT5 shows off robust intelligent strategies and enhanced abilities for expert advisor testing. Traders can develop and execute advanced trading strategies with increased precision and efficiency. The platform encourages simultaneous testing of EAs on many currencies. Notably, this allows traders to check the performance and viability of their strategies across different markets.
FTD's MT5 platform supports a vast span of trading instruments beyond FX. Traders can access real-time quotes. They can also trade other investment instruments, including stocks and options, all within a single platform. This seamless integration of diverse financial products provides traders with unparalleled comfort. This goes without saying! 
FTD System: Trading Environment 
Let's take a look at the trading environment of the FTD System! 
This broker provides access to many features by all means. Interested traders can explore what they have to offer. Yet, it is crucial to remember that the broker has an offshore license. Before making any investment decisions, you should understand your personal risk tolerance.
Flexible Account Options
Different account types are available on their website. They claim their accounts meet the needs of individual, professional, and institutional investors. 
Generally, the FTD System account deposits are not disclosed. In addition, FTD ensures investors can find an account to suit their trading preferences.
Leverage
FTD offers competitive leverage options for its clients. Major currency pairs can be traded with a leverage of up to 1:100, while minor currency pairs have a leverage of up to 1:20. 
For FTD System CFD trading, FTD provides a leverage ratio of 1:50. This allows traders to amplify their exposure to the markets. 
Spreads and Commissions
FTD's pricing structure includes spreads and commissions. The spreads for popular currency pairs are as follows: 
EUR/USD at 10 pips

GBP/USD at 11 pips

USD/JPY at 10 pips

USD/CHF at 10 pips
Similarly, the USD/USD and EUR/USD minimum spreads are 32 pips and 39 pips. These reflect FTD's commitment to competitive pricing.
Demo Account
FTD System account includes a demo version. This is indeed a big advantage. A demo account allows traders to practice and familiarize themselves with the platform. 
This is without risking any money. 
This risk-free environment empowers both novice and experienced traders to refine their skills and build confidence before live trading. Take advantage of FTD's demo account to enhance your trading knowledge.
FTD's Payout: Transparency Issues
FTD caters to individual, professional, and institutional investors alike. Yet, transparency seems to be lacking when disclosing the minimum deposit requirements for each type of account. Unlike many reputable brokers that provide clear and accessible information, FTD chooses not to fully disclose these details. This lack of transparency raises concerns. It leaves potential investors in the dark about the financial commitment required to open an FTD account.
By hiding this critical information, FTD Forex System creates an air of uncertainty. It becomes challenging for investors to make informed decisions about FTD's offerings. Potential investors are left with no choice but to contact FTD directly, hoping to learn about minimum deposit requirements. Yet, this process can be time-consuming and may not provide the clarity investors seek.
When considering a broker for forex trading, it is essential to understand the financial commitments involved. To make informed decisions, investors are encouraged to seek alternatives that provide easily accessible information about their minimum deposit requirements. This allows for a more confident and informed selection process.
FTD System Contact: Dedicated Customer Support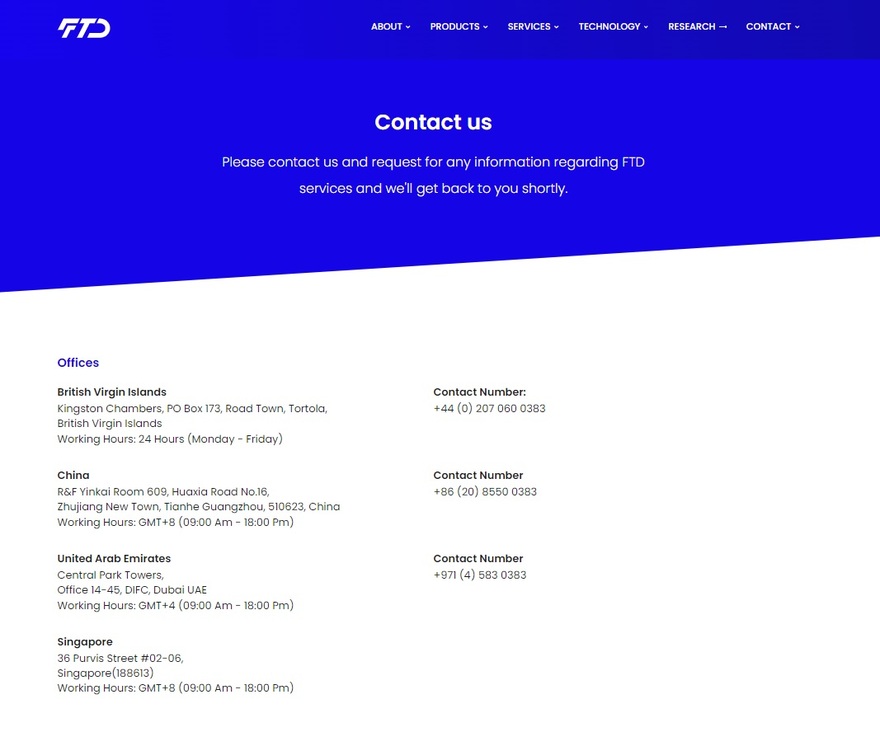 FTD prioritizes customer satisfaction and has multiple support channels. The company's website displays detailed contact information, including telephone numbers and email addresses. FTD also maintains a strong presence on social media platforms like Facebook, Twitter, and LinkedIn. Yet, it is worth noting that live chat support is currently unavailable. 
This is true even though it is often considered the most efficient way to receive prompt responses. With its commitment to support, FTD System aims to provide a seamless trading experience for investors of all levels of expertise. The lack of reputable regulator licenses makes all that questionable, as if they were unregulated, like CFreserve.
Trader Reviews 
Keep in mind that this broker lacks Trustpilot reviews. This is a drawback when evaluating its services. A lack of Trustpilot reviews can be a drawback as it may indicate that the broker is either new or has not yet built a reputation on the platform. 
Trustpilot reviews matter because they provide clients with reliable information that lets them make informed decisions. 
Long Story Short – FTD System
So, we were able to see its trading opportunities, legal status, and notable features by now. FTD offers diverse trading services, including FX, CFDs, and Spot Metals, empowering traders to expand their portfolios. Their platform features advanced tools like API trading and a broad range of technical indicators. 
Evaluating FTD's regulatory framework is crucial for trading safety. People can make informed decisions by considering regulatory compliance and MT5 platform functionality. Yet, traders must also consider other features like costs, customer service, and asset selection. While everything about this broker appears to be good, their lack of reputable regulation is problematic.
If you want to learn more about regulated brokers, contact us for help! We are here to provide a free consultation.
FAQ Section
Is Ftdsystem.com Legit?
Although they are legitimate, they are not a fully reputable broker. FTD System license is offshore.
Does FTD System Offer a Demo Account?
Yes, they offer a demo account. This is an advantage, for sure.
What Is Minimum Deposit with FTD System?
That information is not disclosed on their website.