April 12, 2023
Reading Time:
4
min
FTMO Review: Discover More About FTMO.Com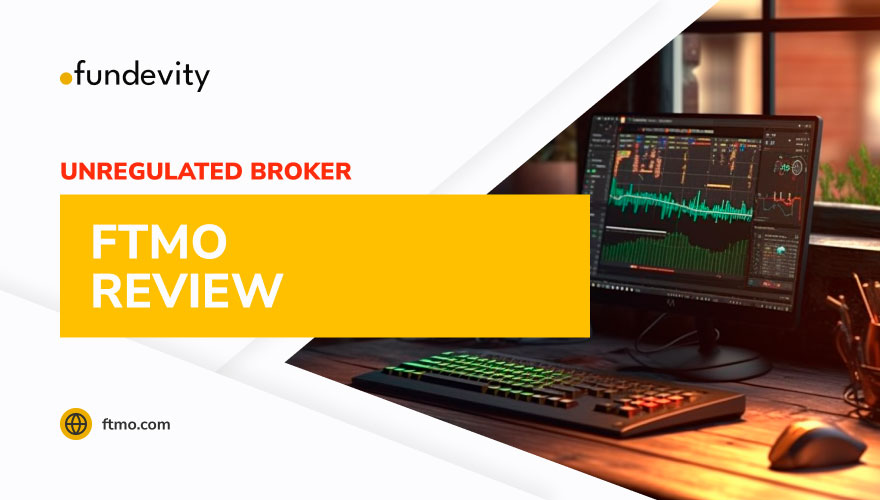 FTMO offers traders the opportunity to trade with their own capital in exchange for a small, refundable fee. However, it should be noted that the company has no legitimate Forex license, which raises concerns about its credibility. 
Before depositing any money with FTMO, it is important to carefully consider all available information. Let's hop into this FTMO review for more details.
As well, stay away from the trading scams XProMarkets, AllCryptMarkets, and Freedom 24! Furthermore, before investing, always investigate the history of Internet trading firms!
| | |
| --- | --- |
| Leverage | 1:100 |
| Regulation | No |
| Headquarters | Czech Republic |
| Minimum Deposit | 155 EUR |
| Review Rating | 1/5 |
| Broker Type | Forex |
| Platforms | MT4/MT5/cTrader |
| Spread | N/A |
FTMO Regulation and Security
Are you tired of the usual forex scams that promise the world but only deliver disappointment? Well, let us introduce you to FTMO, a trading firm that stands out from the crowd. How, you ask? They don't require you to deposit your own money. 
Instead, they provide the capital and take on all the losses, while sharing the profits with you, up to a whopping 90% depending on your skills. But here's the catch: you'll need to complete a successful trial period first and make an initial deposit of 155 EUR.
Now, FTMO claims to be based in the Czech Republic, but here's where things get interesting. Despite all forex and CFD brokers in the country being required to be licensed and authorized by the Czech National Bank, FTMO is not regulated anywhere. And even though they say they're not a broker firm, they do accept clients' funds in the form of fees. It's a bit confusing, to say the least.
But wait, there's more. When we tried to verify FTMO's credentials with the CNB register, we couldn't find any trace of the company. And while they claim to be the "best proprietary trading firm," they appear to be virtually anonymous. Without a legit forex license, there's simply no reason to trust anything FTMO claims, including their purported address in Prague.
So, is FTMO the real deal or just another scam? You be the judge.
Trading Platform Available at FTMO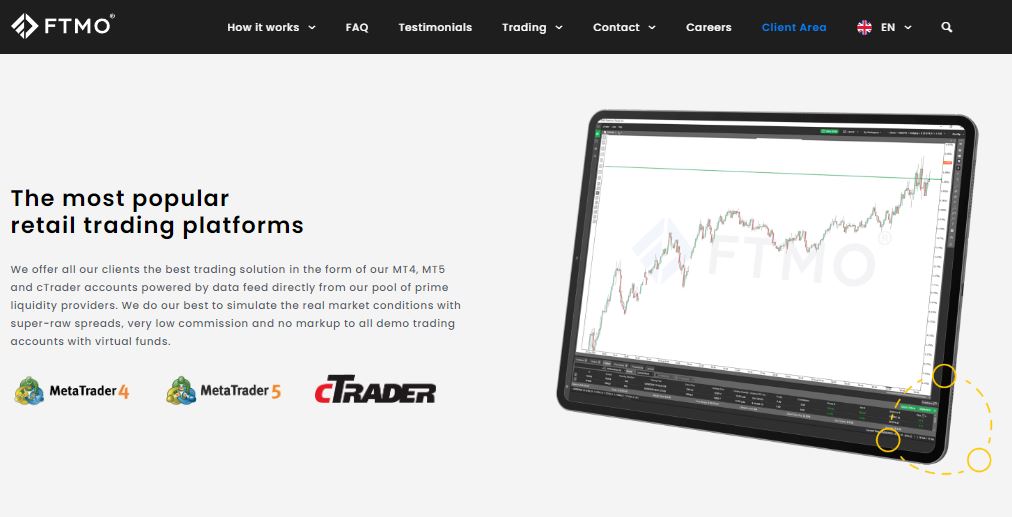 FTMO is an intriguing firm that promises to offer traders a unique opportunity to trade forex without depositing their own capital. 
They boast of providing their capital, taking on all the risk and losses, and sharing up to 90% of the profits with their traders. This sounds too good to be true, right? Well, it's a bit of a mixed bag, as we discovered.
FTMO claims to offer a choice between three of the most popular and widely-used trading platforms in the industry: MetaTrader4, MetaTrader5, and CTrader. These platforms are well-known for their user-friendly interface, powerful charting, and advanced trading tools. However, we were not able to confirm this claim because our signup process was abruptly halted.
This is where things get interesting. When we attempted to register on FTMO's website to explore their platform options further, we were greeted with a message stating that our registration was under review. 
So, we were required to wait for a response. While we understand the importance of due diligence, we found this delay to be rather puzzling. This is especially given the firm's bold claims of offering traders an unmatched experience.
Trading Instruments Offered
FTMO brags about an impressive selection of instruments across their 3 trading platforms. They are as follows:
Forex
Commodities
Shares
Crypto
Bonds
However, despite their diverse range of assets and advanced trading technology, many clients have voiced complaints about their services.
One particularly concerning issue is the arbitrary banning of traders without any clear reason or cause. This has left many traders feeling frustrated, undermining the credibility of FTMO's claim to be a reliable trading company.
FTMO – Account Types
When it comes to account types, FTMO keeps it simple with just two options. Here's the breakdown.
Standard Plan: You can start trading with just 155 EUR. Yet, you'll need to maintain a minimum equity of 10% and keep your daily loss under 5%.
Aggressive Plan: For a higher initial fee of 250 EUR, you'll have more lenient trading conditions with a minimum equity of 20% and a maximum daily loss of 10%.
However, please note that both plans come with overnight swaps, which can be risky. Also, keep in mind that the initial fee increases as your trading balance grows.
Deposit and Withdrawal Procedure
FTMO offers several payment options for clients looking to make a deposit, including wire transfers, Skrill, credit cards, debit cards, and crypto-wallets. The minimum deposit required is €155, but clients should be aware that they will be unable to withdraw these funds for the first 3 months following their investment unless they meet the "Trading Objective" criteria.
Sadly, we were unable to obtain further payment details or complete our registration due to the broker blocking access to their user area. This lack of transparency can be frustrating for potential clients looking for transparent info on payment methods and policies.
How Does This Scam Operate?
Offshore brokers are notorious for using underhanded methods to mislead. The most common scheme they use is to offer alluring bonuses and incentives that appear too good to pass up. 
Sadly, these rewards often entail stringent terms and conditions that render it nearly impossible for traders to withdraw their profits.
Similarly, these brokers frequently advertise low spreads and commissions while concealing additional fees and markups that lead to unforeseen losses for traders. 
Besides, they may resort to using high-pressure sales tactics and forceful marketing to convince traders to invest more money, even if they are unprepared.
To avoid falling victim to these manipulative practices, it is crucial to stay alert and perform comprehensive research before trading with an offshore broker.
FTMO Summary
FTMO is a bogus trading firm that claims to offer traders an opportunity to trade without depositing their own capital. They provide the cash, take on all the risk and losses, and share up to 90% of the profits with their traders. 
However, the firm is not regulated anywhere, despite being based in the Czech Republic. Without a legit forex license, there's simply no reason to trust anything FTMO claims, including their alleged address in Prague. In addition, traders have expressed concern about the arbitrary banning of traders without a clear reason, undermining FTMO's credibility.
FAQs About FTMO Broker
Is FTMO Regulated?

No, FTMO is not regulated by any regulatory authority. Keep this in mind.
What Is The Funding Method at FTMO?

Traders are required to make an initial deposit of €155. They claim to accept Skrill, credit cards, debit cards, and crypto-wallets.
Does FTMO offer a Demo Account?

It is unclear whether FTMO offers a demo account. Our registration process was halted before we could explore their platform options further.