September 24, 2023
Reading Time:
4
min
FX2 Funding Review: A Fresh Perspective on Forex Trading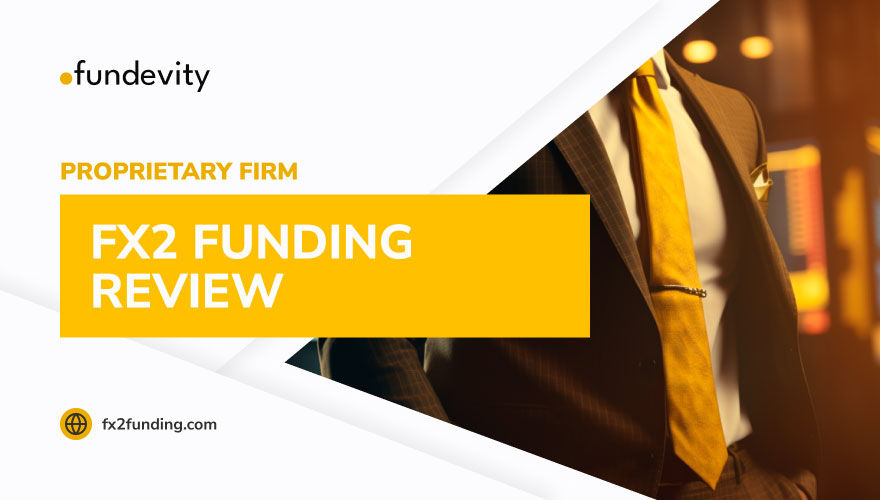 Hey there! We're diving into FX2 Funding, a prop trading firm that hit the scene in January 2023. In this thorough FX2 Funding review, we'll take a quick tour through all the ins and outs of FX2 Funding. 
Stay tuned as we explore the company's background, trading assets, platforms, accounts, payouts, and what traders are saying on Trustpilot. By the end, you'll have a solid grasp of whether FX2 Funding is the right fit for your forex adventures.
General information
Name:

FX2 Funding LLC

Regulation status:

Regulation not required

Warnings from Financial Regulators:

No official warnings

Website link:

fx2funding.com

Active since

2022/2023

Registered in

United States

Contact info:

[email protected]

, +1(516)548-6471

Trading platforms:

n/a

The majority of clients are from

India 

United Kingdom

South Africa 

Nigeria

United States

Customer support:

Email, chat, and contact form 

Compensation fund:

No
FX2 Funding Company Details
Let's get to know FX2 Funding LLC a bit better, shall we? Based in the United States, this company has teamed up with Eightcap to provide traders with a seamless and UI-friendly trading experience. Their mantra? Making trading simple, easy, and accessible to all. Still, we must agree that their website could be more user-friendly. 
FX2 Funding stands out by eliminating the hassles of stop-loss restrictions. Also, they are opening their doors to a range of strategies. Still, in our opinion, there are many other prop firms that are better. You can contact us for a free consultation to find out! 
FX2 Funding: Legitimacy and Safety 
Now, here's the scoop on FX2 Funding's legitimacy and operational style. Is FX2 Funding legit? First things first, they're not regulated, similar to many other prop firms. 
However, don't let that scare you away just yet. The company has a respectable rating on Trustpilot, which tells us that people are generally happy with their services (more on that later on). It's always a good practice to lean towards regulated brokers and safe prop firms for added security, but FX2 Funding has carved out a unique place in the trading world. This is a fact! 
Tip: Thunder Markets looks like a solid forex company. But it's worth noting that their registration in Seychelles may not be the most dependable.
Trading Assets at FX2 Funding
What's on the menu for trading at FX2 Funding? Well, you've got your pick of Forex, indices, and crypto assets. What about the FX2 Funding leverage? You can see it goes up to 100:1 for Forex pairs, 1:5 for indices, and 1:2 for crypto pairs. 
The good news is that you can try out various trading strategies. Still, please be aware that they frown upon practices like latency exploitation and high-frequency bots. You can check it all out now, as the FX2 Funding login process is relatively straightforward. 
Trading Platforms Available
Let's talk about the platforms you'll find at FX2 Funding. They have a proprietary platform and there are not many details about it.
One thing to note is that they don't offer MT4 or MT5, which most traders simply adore. These platforms are popular because of their advanced tools, customizable charts, and a lot of outstanding technical indicators. 
While not having these options might disappoint some, it's worth choosing brokers that have them for a more vast trading experience.
Note: If you care about safety in trading, try to avoid Match CFD. They operate unlawfully. 
Trading Environment
Now, let's explore FX2 Funding's unique trading environment. They offer five different account programs with profit splits that can go as high as 85%. The programs are as follows:
Starter

– $10.000

Intermediate

– $25.000

Professional

– $50.000 (popular)

Expert

– $100.000

Master

– $200.000 
Here's the kicker – there's no demo account. Instead, they give you real money to trade with from the get-go. The evaluation process is rather straightforward. Try to make a 10% profit while adhering to a few specific rules. 
Do that, and you can scale up your account, potentially hitting that $1,000,000 mark. It's an unconventional but intriguing approach for traders seeking funding without the usual multi-step evaluation process.
Trading Rules with FX2Funding.com
At FX2Funding.com, they've got some straightforward trading rules to keep in mind:
Maximum Drawdown. Your account should avoid a 6% drawdown on the total account size. Once this happens, it continues until you achieve a 6% return on your account. After reaching that point, the drawdown locks at your initial balance.

Daily Drawdown. Avoid a 4% drawdown in a single day.

Inactivity. Make sure your account doesn't go inactive for 30 days or more. Staying active is key to your trading success.
FX2 Funding Withdrawal Options 
When it's time to cash in your profits, FX2 Funding has got you covered. They truly have a variety of options to choose from. 
Payouts start flowing 7 days after your initial funding and are processed through Deel.com. The best part? You've got options galore, from bank transfers to PayPal, Coinbase, and more, making it convenient to access your gains.
Note: TopEU may be another company to avoid. They lack transparency and hide many things.
Trader Reviews on Trustpilot
Curious about what other traders are saying? The company has a respectable 4.2-star rating on Trustpilot from 68 reviews, which tells us that traders are naturally happy with their services. 
Of course, in the trading world, we always recommend considering brokers with ratings of 4.5 stars or higher for that extra peace of mind. Trustpilot reviews are a goldmine of information when it comes to assessing a broker's reputation and reliability. Keep that in mind. 
Can I Make Money From Online Trading?
Absolutely! Online trading can be a profitable venture, but it takes know-how and the right tools. But we have got your back with free consultations and our AI Analysis Bot to help you make smarter decisions. 
Sign up, and you'll enjoy a generous 20-day free trial with access to FX and stock analysis reports, giving your trading journey a boost.
FX2 Funding: Final Words
In closing, FX2 Funding prop firm brings a refreshing approach to prop trading. They care about simplicity and have a unique evaluation process. 
While they're relatively new, those Trustpilot reviews suggest a generally satisfied customer base. Still, for better confidence, you might want to consider brokers with higher Trustpilot ratings. Remember, online trading is full of opportunities, and FX2 Funding equips you with the resources to seize them.
FAQs
What Is FX2 Funding?
FX2 Funding is a prop trading firm launched in January 2023.
Is FX2 Funding Legit?
FX2 Funding is quite new but maintains a respectable 4.2-star rating on Trustpilot.
Are Funds Safe With FX2 Funding?
Yes, according to other traders. But always make your own financial decisions.