July 10, 2023
Reading Time:
5
min
FXMUNDO Review: Uncovering the Risks of Trading With This Scam Broker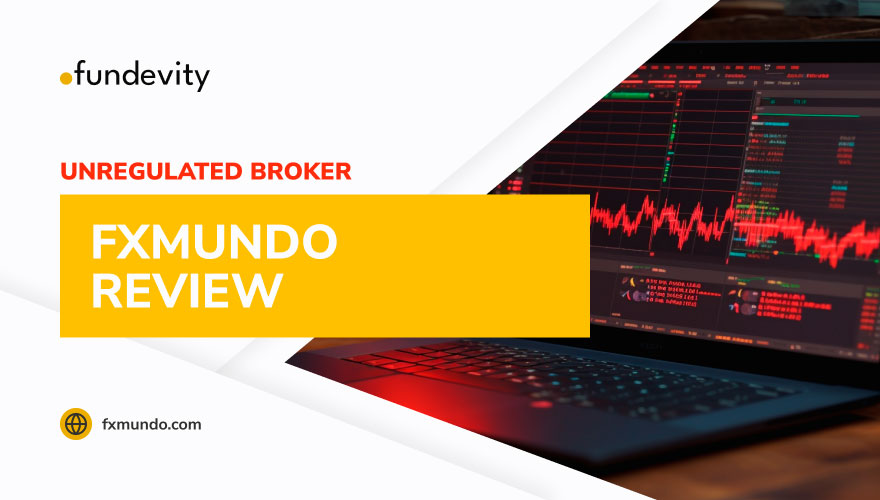 In this day and age, it's crucial to make informed decisions when choosing a broker. One such broker, FXMUNDO, claims to operate under the laws of the Marshall Islands. However, a closer look reveals a lack of regulation, raising red flags about its legitimacy and putting investors at risk. In this article, we will delve into the various aspects of FXMUNDO. What's more, we will shed light on the dangers associated with trading on an unregulated platform.
Stay tuned as we dive deeper into this informative FXMUNDO review! 
| | |
| --- | --- |
| | General information |
| Name: | FXMUNDO |
| Regulation status: | Unregulated Offshore Broker |
| Warnings from Financial Regulators: | CNMV, IOSCO, CONSOB, FSMA |
| Website link: | https://lp.fxmundo.com/ |
| Active since: | 2021 |
| Registered in: | Marshall Islands |
| Contact info: | Data is hidden  |
| Trading platforms: | Sirix |
| Majority of clients are from: | Mexico, Peru, Colombia |
| Customer support: | No |
| Compensation fund: | No |
FXMUNDO Legitimacy: Lack of Regulation Raises Concerns
Are you wondering about the FXMUNDO license? Well, unfortunately, you won't find any! The absence of a regulatory body overseeing FXMUNDO is a big issue. FXMUNDO operates without proper regulation. This raises concerns about the legitimacy and safety of funds. Although the broker claims to abide by the laws of the Marshall Islands, it lacks oversight from any FX regulatory body. This lack of regulation means that even if FxMundo complies with local laws, it still operates in an unregulated manner.
Without regulation, investors face significant risks. It is crucial to prioritize regulated brokers that operate within established frameworks. Regulated brokers are held accountable and must adhere to strict standards to protect their clients. By choosing regulated brokers based in Europe, the UK, the US, Australia, or other jurisdictions with robust regulations, investors can ensure a higher level of safety for their investments.
Always exercise caution when investing. Also, conduct thorough research to verify the regulatory and registration claims of any broker. Opting for regulated brokers with a proven track record helps protect against potential misconduct. It also offers peace of mind while trading.
This broker has received warnings from reputable authorities such as CNMV, FSMA, CONSOB, and IOSCO. These warnings serve as alerts and raise concerns about the broker's compliance.
Trading Assets at FXMUNDO: A Mask for Deception
FXMUNDO includes a wide range of trading assets, namely over 250. They are clearly attempting to attract traders with diverse interests. However, it's essential to be cautious about such offerings. An extensive asset selection alone does not guarantee a trustworthy trading environment. Keep this in mind. 
The lack of regulation casts doubt on the credibility and transparency of FXMUNDO's asset offerings. It is prudent to choose brokers that operate under the supervision of established regulatory authorities. This is essential to ensure the legitimacy of the trading assets provided.
Trading Platforms Available at FX MUNDO
FXMUNDO promotes its proprietary trading platform, Sirix. They claim to offer a UI-friendly interface and advanced charting capabilities. However, it's important to note that Sirix, although mentioned, does not match the industry-standard trading platform used by legit brokerage firms. 
The presence of remote-access software, AnyDesk, within the user area further raises concerns about the broker's intentions. Traders must exercise caution and verify the authenticity and reliability of the trading platform provided by any broker.
Fake brokers use remote access software to gain control over victims' computers. They aim to manipulate settings and commit fraudulent activities. It allows them to conceal their identity, operate from anywhere, and exploit their victims' trust. By using remote access software, they can evade security measures and execute scams more effectively. Yet, it's critical to know that legitimate professionals also rely on remote access software for authorized purposes.
General Trading Environment: Hidden Fees and Unknown Spreads
FXMUNDO's lack of transparency regarding the Fxmundo account types, fees, spreads, and leverage should be a major cause for concern. The absence of openly disclosed fee structures and competitive spreads raises doubts about the fairness and integrity of the trading environment. 
Traders are left in the dark regarding potential costs. This makes it difficult to assess the actual value and profitability of their trades. Reputable brokers prioritize transparency, clearly outlining their fees, spreads, and leverage. They strive to ensure a fair trading experience for their clients.
Also, if you have been wondering if there is a FXMUNDO bonus program of any kind, don't get your hopes up. This broker did not disclose anything about bonuses and promotions. 
Earning & Withdrawal: Uncertain Processes and Lack of Clarity
The user area of FXMUNDO reveals limited information about deposit methods, with no clear indication of a payment processor or minimum deposit requirements. Such lack of clarity and disclosure regarding deposit processes raises concerns about the legitimacy and security of funds. 
Additionally, the absence of detailed information about the withdrawal process and any associated fees leaves traders uninformed and vulnerable. Traders need to have a comprehensive understanding of deposit and withdrawal processes. This is so they can safeguard their investments.
Unmasking Scam Tactics: Protect Yourself from Fake Brokers
Trading professionals must be aware of deceptive tactics used by scammers. This is essential for safeguarding their investments. The first step in the scam involves brokers reaching out to individuals. 
This is usually to those who have unknowingly provided their contact details through seemingly harmless channels. These fraudulent brokers excel at charming their way into the wallets of unsuspecting victims. They mainly target those with limited trading experience. Users are then bombarded with emails containing too-good-to-be-true investment opportunities. Note that these always fail to deliver actual profits.
Note: Please stay away from fake brokers like AnyCoin Capital. Your money may be at risk! You can always contact us for a free consultation. 
The Critical Turning Point: The Initial Deposit and Its Consequences
The pivotal moment arrives when the user makes their first deposit. At this stage, the fraudster takes advantage of the situation. They push the user to invest even more by giving false promises of increased profits. Alternatively, the client is required to make additional investments before withdrawing their initial deposit.
Regardless of which side of the coin the user finds themselves on, it is highly unlikely that withdrawal requests will be honored. The scammer will provide a litany of absurd justifications for denying withdrawal requests. This will leave the user trapped in a web of deceit and financial loss.
It is essential for traders to remain vigilant and conduct thorough research to identify regulated firms. It's good to beware of fake brokers like Alfa Trading and FXMundo and protect your assets. By arming themselves with knowledge, traders can steer clear of these deceptive practices. 
Trader Reviews – Trustpilot Feedback and Ratings
A glance at Trustpilot reviews paints a concerning picture for FXMUNDO. With 169 poor reviews and a 2.5-star rating, numerous traders express dissatisfaction with their experiences. 
Trustpilot reviews can provide valuable insights into the broker's reputation, support, and reliability. Traders should carefully analyze such feedback before considering fxmundo.com, AllinvestFX, or any other broker.
Positive customer reviews play a vital role in establishing trust among brokers. These reviews act as social proof, showcasing broker reliability. This can certainly attract new traders. In the same way, positive reviews contribute to the overall quality of the broker as well as its dedication.
Long Story Short – FXMUNDO
We know by now that the FXMUNDO regulation is nowhere to be seen. This is a big concern. 
FXMUNDO's lack of regulation, undisclosed fees, limited transparency, and concerning user reviews all point to a broker that raises big red flags. When it comes to online trading, it is crucial to prioritize regulated brokers operating under reputable jurisdictions. Such brokers adhere to strict regulations. They also ensure a secure trading environment, transparent fee structures, and investor protection. 
Avoiding unregulated brokers like fxmundo.com is essential to safeguard your investments and trade confidently.
Please note that you can always contact us for a free consultation. We will do our best to provide you with some valuable insights. 
FAQs
What is FXMundo?
FXMundo is an unregulated offshore broker operating under the laws of the Marshall Islands.
Is fxmundo.com a legitimate broker?
No, fxmundo.com is not a legitimate broker as it lacks regulation.
What is the withdrawal fee for FXMundo?
They did not disclose the specific withdrawal fee for FXMundo.