July 06, 2023
Reading Time:
6
min
GensMarkets Review: Disclosing the Scam Methods of This Firm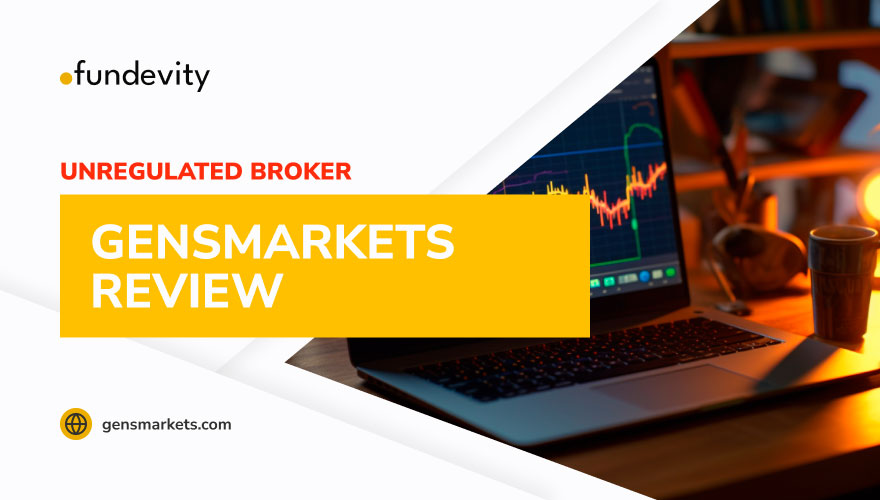 This GensMarkets review exposes the fishy practices of this broker. Namely, there are serious questions about its legitimacy. The lack of basic company information and warnings from reputable authorities are alarming red flags. 
GensMarkets employs scam tactics, luring victims with unrealistic promises and bonuses. It does this only to leave them helpless when withdrawing. Traders' reviews further reinforce GensMarkets' fraudulent activities. Caution is advised, and it is recommended to avoid this untrustworthy broker to protect your funds. Stay tuned for more! 
GensMarkets Legitimacy: A Web of Deception
GensMarkets claims to be a legitimate broker. Yet, upon closer examination, its legitimacy falls into question. The absence of basic company information, such as the owner and legal jurisdiction, raises red flags. While they provide a UK address, a search in regulatory databases like the FCA, CONSOB, and CFTC yields no results. In fact, warnings have been issued against GensMarkets by reputable authorities. 
For instance, the Canadian regulator for Alberta explicitly stated that the company lacks the authority to provide any services. This warning was later escalated to a national level by the Securities Administrators of Canada. With these alarming indications, it becomes clear that GensMarkets is far from being a legitimate broker.
It is critical to note that a lack of regulation can be a red flag when it comes to brokers. Doing thorough research and due diligence before investing with any broker is always better. This is especially important if they are not regulated by a reputable authority. Hence, investors should be cautious before investing with a GensMarkets broker.
| | |
| --- | --- |
| | General information |
| Name: | GensMarkets |
| Regulation status: | Unregulated Broker |
| Warnings from Financial Regulators: | ASC, CSA |
| Website link: | gensmarkets.com |
| Active since: | 2023 |
| Registered in: | London E14 5JP, United Kingdom |
| Contact info: | +442045931021 |
| Trading platforms: | Web trading platform |
| Majority of clients are from: | Canada, Netherlands, United Kingdom |
| Customer support: | Call & contact form  |
| Compensation fund: | No |
Trading Assets Available: Limited Options and Lack of Transparency
GensMarkets forex broker includes a limited range of trading assets across five CFD classes. These include forex pairs, commodities, indices, shares, and crypto. Yet, the absence of a demo account makes it difficult to ascertain the exact number of available assets and the associated trading costs. 
Similarly, GensMarkets fails to disclose crucial details such as leverage, spreads, commissions, and swaps. This lack of transparency raises concerns about the overall trading experience and the risk it entails. Without complete information, it would be unwise to entrust your money to such an opaque broker.
Trading Platforms: GensMarkets Login Issues and More
This firm falls short when it comes to providing reliable trading platforms. It is advisable to steer clear of the GensMarkets login page. Instead of including established software like MetaTrader or CTrader, the company only provides browser-based terminals. These terminals allow basic trading functions such as checking trades and trading history. Still, they lack advanced features such as Expert Advisors and social trading. 
Moreover, the GensMarkets app does not exist. The firm does not offer a dedicated mobile app for Android or iOS. To enjoy a better trading experience, it is advisable to seek out a reputable broker that offers robust platforms.
GensMarkets Forex Broker: General Trading Environment
GensMarkets employs various scam tactics to lure victims into their traps. They resort to unrealistic advertisements on social media platforms like Facebook, Instagram, and LinkedIn, often posing as legit financial advisors. 
These ads may showcase fabricated statistics and customer testimonials to create an illusion of success. Once registered, victims are enticed with bonuses to upgrade their accounts and recruit new members. Yet, when it comes to withdrawals, the reality becomes unmistakable. 
The GensMarkets support team and account managers suddenly become unresponsive, leaving customers in the dark. Numerous complaints have been filed by customers who were never refunded, exposing the deceitful practices of GensMarkets.
GensMarkets Leverage and Spread: What You Need to Know
The information about GensMarkets' leverage and spreads is mixed. On their site, you can only see vague information. 
Namely, the information about GensMarkets' leverage and spread is unclear and mixed. It is wise to do thorough research and due diligence before investing with any broker. 
GensMarkets App for Trading on the Go
GensMarkets' mobile trading app information is not available in the search results. Still, mobile trading apps are becoming increasingly popular among traders and investors. Some of the top-rated mobile trading apps include TD Ameritrade Mobile App, ETRADE Mobile app, Power ETRADE app, and MT5. 
These apps offer features such as real-time quotes, customizable charts, news and research, order entry and editing, and more. It is critical to choose a mobile trading app that suits your trading needs and preferences.
Demo Account
This company does not have demo accounts. Yet, demo accounts are a great way for traders to practice trading strategies and test the broker's platform. 
Some brokers offer demo accounts with virtual funds, real-time market data, and access to all live account features. It is wise to choose a broker that offers a demo account if you are new to trading.
Special Bonuses
There is no information about whether any GensMarkets bonus exists or not. Yet, some brokers offer special bonuses to attract new clients or retain existing ones. 
These bonuses can include deposit bonuses, no-deposit bonuses, cashback offers, and more. It is imperative to read the terms and conditions of these bonuses carefully.
Autotrading
The search results do not indicate whether GensMarkets offers auto trading or not. Yet, auto trading, also known as algorithmic trading or automated trading, is becoming increasingly popular among traders. 
It allows them to execute trades automatically based on pre-defined rules and strategies. Some brokers offer auto-trading tools that allow traders to create, backtest, and optimize their own trading algorithms.
GensMarkets Fees
Also, there are no details on the GensMarkets fees. Yet, fees are an important factor to consider when choosing a broker. 
Brokers charge commissions, spreads, swaps, and other charges. It is important to understand the fee structure of a broker and compare it with other brokers. This will enable you to choose the one that offers the best value for your trading needs.
Education
There are no real GensMarkets education resources. However, education is a vital aspect of trading as it can help traders improve their knowledge and strategies. 
Some brokers offer a scope of educational resources such as webinars, tutorials, articles, videos, and more. Choosing a broker that provides high-quality education resources is key if you want to improve your trading performance.
Note: Martyn Services Limited is a company with a clone. It is essential to beware of deceitful clone companies. 
Stop Loss
We don't know if GensMarkets provides stop-loss orders or not. Yet, stop-loss orders are an important risk management tool that allows traders to limit their potential losses by automatically closing their positions at a pre-defined price level. 
Some brokers offer different types of stop loss orders, such as standard stop loss, trailing stop loss, guaranteed stop loss, and more. 
GensMarkets Minimum Deposit
The GensMarkets minimum deposit is set at 10,000 EUR. This is quite high considering the lack of fund insurance or any form of protection. 
Remember that many legitimate firms offer deposits of as little as $10.
Earnings & Withdrawal: Broken Promises and Unfulfilled Payouts
GensMarkets claims to provide investor protection of up to 20,000 EUR per account. Yet, this guarantee has proven hollow. Many customers have reported that their withdrawal requests are ignored, and attempts to contact GensMarkets result in silence. 
Some victims have even been subjected to additional demands for taxes and non-existent fees before receiving their funds. These tactics are designed to extract more money from unsuspecting traders before vanishing entirely. It is crucial to exercise caution and refrain from making any further transfers to GensMarkets. If you have fallen victim to this broker's deceptive practices, seeking immediate assistance is vital.
Trader Reviews: A Consensus on Fraudulent Activities
Traders who have had unfortunate experiences with GensMarkets echo a common sentiment of deception. The lack of transparency, unresponsive customer support, and failure to honor withdrawal requests have left victims feeling defrauded and helpless. 
By sharing your own experience, you can contribute to a collective effort to expose GensMarkets and advocate for authorities to take action against this fraudulent operation.
Note: DBSInvesting appears to be another suspicious broker. It's wise to avoid it. 
GensMarkets: A Dubious Broker to Avoid
All in all, GensMarkets operates with questionable legitimacy. It lacks essential company information and faces warnings from reputable regulators. The broker's trading environment offers subpar platforms and limited functionality. 
The absence of a demo account and trading transparency raises many concerns. GensMarkets broker scam uses deceitful tactics to entice traders, only to leave them stranded when it comes to withdrawals. Traders' reviews paint a grim picture of fraudulent activities and fake promises. It is clear that GensMarkets is not a trustworthy broker, and it is advisable to steer clear of its services.
If you have been scammed by GensMarkets and need a free consultation, we are here to help. Contact us to share your experience and seek guidance in navigating this distressing situation.
FAQs
Is GensMarkets Legit?
No, GensMarkets is not legit. You should keep this in mind.
Can I Open a Demo Account on GensMarkets?
No, GensMarkets does not offer a demo account.
Can I Trade Crypto and CFDs With GensMarkets?
Yes, GensMarkets allows the trading of crypto and CFDs.