August 21, 2023
Reading Time:
6
min
GFTMA Review: Navigating the Troubles of an Unregulated Broker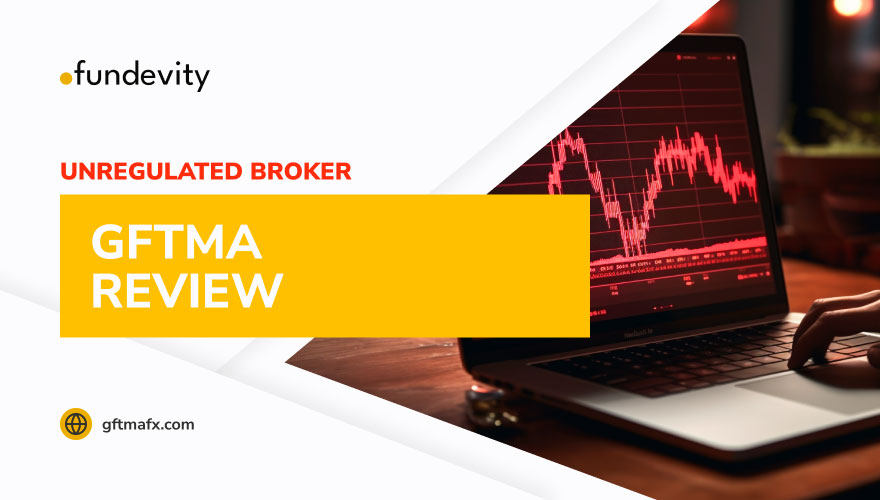 In a world where online trading platforms promise vast gains, it's crucial to navigate the market with caution. Our mission is to expose one such platform that raises suspicions – Global FT Market (GFTMA). 
With claims of international presence and a wide array of offerings, the gftmafx.com scam seems to draw traders in. Yet, beneath the surface lies a questionable legitimacy. In this GFTMA review, we'll delve into the intricacies, revealing its offerings, practices, and potential risks. As we explore the various aspects of this broker, keep in mind the importance of choosing regulated platforms for secure trading experiences.
General information
Name:

GFTMA Limited / Global FT Market

Regulation status:

Unregulated Broker

Warnings from Financial Regulators:

No official warnings

Website link:

gftmafx.com

Active since

2023

Registered in

St. Vincent and the Grenadines

Contact info:

[email protected]

,

[email protected]

,

[email protected]

,

[email protected]

 

Trading platforms:

Web-MT4

The majority of clients are from

United Arab Emirates

India 

Pakistan

Saudi Arabia

the United States 

Customer support:

Email and contact form

Compensation fund:

No
GFTMA Legitimacy: Questionable Origins
GFTMA boasts a presence in multiple locations, including Singapore, the United Arab Emirates, Brazil, and Poland. However, these claims raise eyebrows due to their questionable authenticity. Moreover, this broker claims to have headquarters in the offshore haven of St. Vincent and the Grenadines. This makes it quite suspicious. 
The lack of proper regulations further adds to the skepticism surrounding this broker. While GFTMA allegedly registers with SVG FSA, it's essential to note that SVG FSA does not oversee forex trading. This is what makes their registration insufficient for ensuring trader protection. 
This underlines the significance of trading with Tier 1 regulated brokers, promoting safety and reliability. Always go for brokers regulated by ASIC, BaFin, CySEC, or FCA. 
It's worth mentioning that this dubious broker primarily targets people in the UAE, India, Pakistan, Saudi Arabia, and the United States.
GFTMA Trading Assets: Fake Opportunities
GFTMA lures traders with over 155 trading instruments, spanning stocks, indices, ETFs, and Forex. But there's a catch: they only mention a few, like AMZN (Amazon), AAPL (Apple), MSFT (Microsoft), and FB (Facebook). Oddly, even these examples aren't accurate – Facebook is now called Meta, and GFTMA's info seems off. Plus, the absence of crypto assets is a significant drawback.
They boast about fancy stuff like expert chart analysis, loss insurance, and 24/7 support in many languages. Yet, these claims raise more questions. Please be cautious when tempted by such offers. Your best bet is to trade with regulated brokers who can truly keep their promises.
Education: Unmasking False Claims
GFTMA presents an educational suite that includes a free demo account, tutorials, articles, webinars, and expert analyses. 
However, these offerings need careful consideration. They might not provide the sweeping knowledge necessary for successful trading. Aspiring traders must know that genuine educational resources are essential to effective risk management in the trading world.
GFTMA MT4: Peeling Back the Layers
GFTMA offers multiple trading platforms, including questionable MT4, Web Trade, and Copy Trade options. Yet, choosing brokers that offer the renowned MT4 and MT5 platforms is truly recommended. 
These platforms provide features like advanced charting, various technical indicators, automated trading, and a seamless UI. Let's explore the benefits further! 
Benefits of MT4 and MT5 Platforms
Let's take a look at some of the benefits of popular MT platforms. 
UI-friendly interface

Progressive technical analysis tools

Customizable indicators and templates

Automated trading through Expert Advisors (EAs)

Wide range of trading instruments

Real-time market data and news feeds
Trading Conditions: False Promises
Clearly, GFTMA problems are piling up. GFTMA's partnership program claims of up to 75% income for becoming an IB might appear enticing, but they demand scrutiny. The program's supposed advantages include competitive payouts, excellent trading conditions, and a range of trading products.
These claims sound good on paper, but traders should be cautious about accepting such offers without verifying their legitimacy. Authentic brokers maintain transparency, stick to regulations, and provide verified support for their services.
Remember: When you're thinking about FX brokers, you want a place you can trust. But here's the thing: QCFinances and GFTMA might not be as safe as it seems.
GFTMA Account Types: Understanding the Choices
GFTMA offers several account types, each with its own set of features. Here's a breakdown of the available options:
Standard Account
Minimum Deposit: $500

Spread: 1-1.5 pips

Commission: No

Leverage: 1:500

Order Volume: 0.01

Market Execution: 0.01 ms

Swap: Yes

EA's: Yes

Insurance: No

Hedging: Yes
PRO Account
Minimum Deposit: $500

Spread: 1 pip Floating

Commission: No

Leverage: 1:500

Order Volume: 0.01

Market Execution: 0.01 ms

Swap: Yes

EA's: Yes

Insurance: Applicable

Hedging: Yes
Raw Spread Account
Minimum Deposit: $500

Spread: 0.6 pip Floating

Commission: $3 per lot/size

Leverage: 1:500

Order Volume: 0.01

Market Execution: 0.01 ms

Swap: No

EA's: Yes

Insurance: Applicable

Hedging: Yes
Cent Account
Minimum Deposit: $10

Spread: 1.5 pip

Commission: No

Leverage: 1:1000

Order Volume: 0.01

Market Execution: 0.01 ms

Swap: Yes

EA's: Yes

Insurance: No

Hedging: Yes
Insurance Account
Minimum Deposit: $500

Spread: 1 pip Floating

Commission: $3 per lot/size

Leverage: 1:500

Order Volume: 0.01

Market Execution: 0.01 ms

Swap: Yes

EA's: Yes

Insurance: Yes

Hedging: Yes
Customer Support: Limited Channels Raise Concerns
GFTMA financial brokerage scam offers support primarily through tickets and contact forms. This may not be sufficient for resolving urgent issues. Besides, GFTMA lists email addresses corresponding to alleged addresses in various locations. 
These email addresses, such as [email protected], [email protected], [email protected], and [email protected], are presented as alternatives. Yet, it's important to recognize that reliable and reputable brokers typically offer a diverse range of support channels. Notably, they want to make sure clients have access to timely and efficient assistance. In the complex world of trading, a responsive customer support system is crucial for fostering trust. Keep that in mind. 
GFTMA Withdrawal: The Payment Puzzle
GFTMA financing broker discloses payment options including Fasapay, Skrill, Neteller, bank cards, and WebMoney. 
Yet, something doesn't quite add up! The lack of clear information about these methods raises concerns. In FX trading, trust and clarity in financial transactions are crucial. And the fog surrounding GFTMA's payment pathways triggers caution flags. 
To keep your trading journey smooth and secure, it's wise to opt for brokers who lay out their payment processes openly and follow regulations. Choosing brokers with verified, easy-to-understand payment options ensures your funds remain safe. That will also make your trading experience hassle-free. After all, trading success isn't just about profits; it's also about having peace of mind with every financial move you make.
Note: When considering trading platforms, it's natural to want a trustworthy environment. Unfortunately, FXP360 might not be the safe haven you're looking for.
Trader Reviews on Trustpilot: No Rating Raises Eyebrows
When we talk about GFTMA's presence on Trustpilot, things get a bit murky. They don't have a rating there, and that's like a cloud of doubt hanging around. On top of that, you'll find loads of bad reviews scattered across different places. 
This situation doesn't exactly scream confidence in the broker. So, when you're in the market for a broker, it's a smart move to go for ones that have positive reviews and those that are actually backed by real people. 
After all, trading is all about trust. So, if a broker doesn't have a good track record with other traders, it's a sign to steer clear. 
Scam Broker Tactics: Recognizing the Red Flags
Traders need to stay on their toes and watch out for tricks that scam brokers like Solix Group and GFTMA use. These tricks are like bright warning lights on the trading highway. 
Some tricks are sneakier than a fox, like showing up out of the blue with offers you didn't ask for. Others promise you the moon and stars – sky-high profits that sound too good to be true. And there are those brokers operating in the shadows, without proper rules to follow. It's like they're playing hide and seek with the regulations. 
But here's the secret weapon: trustworthy brokers don't play games. They're like open books, always showing their cards. They follow the rules, they're clear as crystal, and they put your safety first. So, next time you're in the trading jungle, remember to keep your eyes peeled for reputable brokers. If you are in doubt about which ones are the best, we are here for you! You can always contact us for a free consultation.
Long Story Short: GFTMA
By now, you know that choosing the right broker can make all the difference. 
And GFTMA's dubious practices highlight the importance of conducting research and opting for regulated brokers. Your financial security and success hinge on educated judgments and a commitment to genuine trading experiences.
Stay vigilant for brokers you can rely on. And if you're unsure about which ones to pick, don't worry – we're here to help. Reach out anytime for a free consultation.
FAQs
Is GFTMA Legit?
GFTMA's legitimacy is questionable due to lacking proper regulations and dubious claims.
What Are The GFTMA Platforms?
GFTMA offers platforms like MT4, Web Trade, and Copy Trade, but their credibility remains in doubt.
Is It Safe To Trade With GFTMA?
Trading with GFTMA isn't safe. Dubious practices make it a risky choice. It's best to prioritize regulated brokers. Reach out to us for a free consultation!