September 26, 2023
Reading Time:
4
min
Glow Node Review: The Pros and Cons of This Trading Company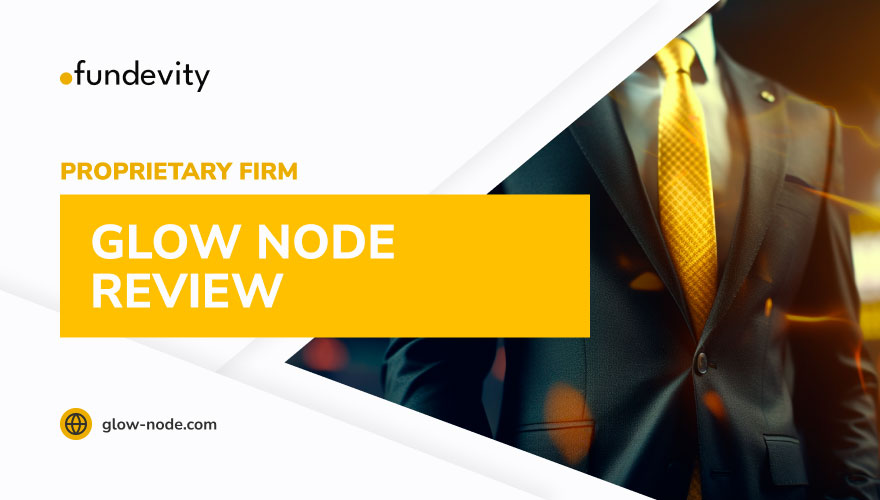 When it comes to prop firms, Glow Node has made a name for itself by putting traders first. With low fees to start, a variety of accounts, a range of tradable assets, and competitive leverage, it's no wonder traders from all corners of the world turn to Glow Node. 
In this detailed Glow Node review, we'll dive into Glow Node's company details, explore the advantages and disadvantages of trading with them, and much more. We'll also see what traders have to say. So, let's get into the world of online trading with glow-node.com.
General information
Name:

Glow Node LTD

Regulation status:

Regulation not required

Warnings from Financial Regulators:

No official warnings

Website link:

glow-node.com

Active since

2022

Registered in

London, UK

Contact info:

Data is hidden 

Trading platforms:

MT4, MT5

The majority of clients are from

India 

South Africa 

United Kingdom

United States

Nigeria

Customer support:

Live chat

Compensation fund:

No
Glow Node Business Details
Glow Node may be a relatively new player in the prop trading scene, but it has already helped many traders worldwide. The firm partners with Eightcap, a trusted and regulated broker.
What also sets Glow Node apart is its flexibility. Here, traders can enjoy leverage of up to 1:30 for currency pairs, 1:10 for indices, and 1:3 for crypto. And what's remarkable is the freedom it offers – no profit targets, no mandatory trading days, and no need for stop-loss orders. Such flexibility is truly rare! 
Glow Node Pros and Cons
Advantages of trading with Glow Node
Accounts

. Glow Node provides 3 account types and 5 balance options, allowing traders to tailor their conditions.

Indicators

. Traders can benefit from several TradingView indicators, including a premium option.

Profit Freedom

. No profit targets mean traders can use their preferred styles and strategies.

Diverse Instruments.

You can trade currencies, crypto, indices, and precious metals with leverage of up to 1:30.

Scalability

. Successful traders can aim for balances of up to $1,000,000.

Instant Funding

. Professional traders can access accounts with instant funding without any issues.

Profit Split.

Glow Node offers an impressive 80% profit split, which can increase to 90% with balance scaling.
Disadvantages of Glow Node
Limited Support.

Technical support is available only through Discord and live chat, without traditional phone support.

Platform Restriction.

Glow Node's indicators are exclusively usable on the TradingView platform.
Trading Assets at Glow Node
Glow Node prop firm sets itself apart by offering access to a number of financial instruments. 
These are fiat currencies, crypto coins, indices, and metals. This variety allows you to explore different strategies without constraints.
Trading Platforms Available
Glow Node forex firm provides MetaTrader 4 (MT4) and 5. This is relatively solid. MT4 is beloved by many traders due to its flexibility and superb tools. 
MetaTrader 5 (MT5), takes things up a notch with a customizable interface, extra indicators, and powerful back-testing capabilities.
Know that these platforms are the go-to choice for traders, with nearly 80% of users preferring them for their needs. To maximize your trading potential, make sure to use legit platforms offering these useful features.
Note: Soltechx is a confirmed scam that received a warning from FCA. Keep that in mind. 
Pricing and Funding
Let's take a look at their funding methods and other features below: 
Challenge Phase

. During the challenge phase, it's worth noting that the transactions made by traders don't get sent to the interbank market. Therefore, traders won't be earning anything during this phase.

Funding Phase.

As we move into the funding phase, this is where things get interesting. Partners of the prop firm start reaping the rewards for successful trading. The profit-sharing arrangement here is quite solid, ranging from 80% up to an impressive 90%.

Withdrawal Application

. Now, if you're thinking about withdrawing your funds, there's a bit of a waiting game involved. You'll need to wait for a duration of 30 days after your initial live transaction. The minimum amount you can request is $50.

Withdrawal Frequency.

After you've initiated your initial withdrawal, you can plan for future withdrawals once every 14 days.

Glow Node Withdrawal Options.

When it comes to receiving your funds, you've got some flexibility. You can opt for withdrawal to your card or choose popular e-wallets.
Trader Reviews on Trustpilot
According to Trustpilot, Glow Node shows off an impressive rating of 4.6 stars. As you can see, this shows high user satisfaction. 
However, it's always wise to exercise caution and go for safe and well-established brokers with ratings of 4.5 stars or higher. This is a must for a safer trading experience.
Note: Swiss Vests is not a reliable trading company. They have many things to hide. 
Can I Make Money From Online Trading?
Indeed, online trading can be profitable, but it requires knowledge and skills. That's why we offer free consultations to help you out.
Besides, our AI Analysis Bot is there to help by providing trading advice based on advanced predictions. It really eliminates the need for relying only on instinct. By reserving your spot for our launch, you'll enjoy a 20-day free trial with no payment required. This trial includes 5 FX analysis reports and 5 stock analysis reports per month, giving you a smart advantage in your trading journey.
Tip: It's wise to know that Profitrop is a scammer. It's not safe to trade with firms like that. 
Final Words
As you can see, Glow Node trading firm presents a range of benefits for us. They offer flexibility, many instruments, and an impressive profit split. However, it's crucial for you to consider the limitations, including limited support for users. 
By entirely exploring all aspects of this prop trading firm and doing your research, you can make solid decisions in trading. Remember, success in trading hinges not only on the right broker but also on the right tools and knowledge. So, always make your choices wisely and enjoy your trading journey.
FAQs
What is Glow Node?
Glow Node is a prop trading firm offering many assets, flexible funding options, and profit-sharing options.
Is Glow Node prop firm legit?
Yes, Glow Node is a fair trading firm partnered with a regulated broker.
Are Funds Safe With glow-node.com?
Yes, your funds with glow-node.com are safe. Still, always do your own research!