October 25, 2023
Reading Time:
4
min
GuruFocus Review: The GuruFocus Advantage Explored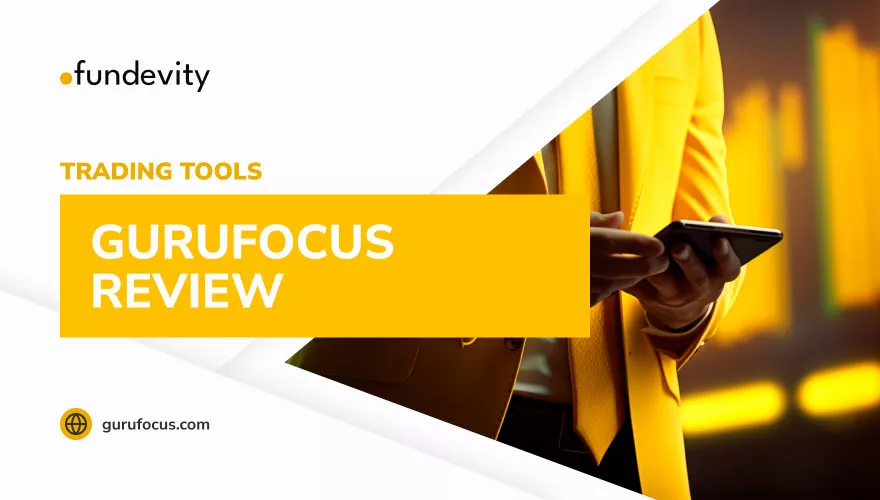 We all know that having access to real-time info can make all the difference in your investment journey. One platform that has been gaining attention among both seasoned investors and rookies is GuruFocus. 
In this GuruFocus review, we will get into the core features of the platform. Also, we will explore how it can empower you with knowledge and smart investment strategies. Let's take a closer look at what makes GuruFocus a standout choice in the world of financial tools. 
| | |
| --- | --- |
| | General information |
| Name | GuruFocus |
| Type of company | Trading Tool |
| Regulation status | Unregulated/Not expected |
| Warnings from Financial Regulators | No official warnings |
| Website link | gurufocus.com |
| Active since | 2004 |
| Registered in | 1309 W. 15th St., Plano, TX 75075 |
| Contact info | 469-248-6885, [email protected] |
| Trading platforms | Web Terminal |
| Majority of clients are from | United States; Germany; France; Singapore; India |
| Customer support | Email, live chat, phone, social |
| Compensation fund | No |
Company Details – What is GuruFocus?
Founded by Dr. Charli Tian in 2014, GuruFocus started as a platform tracking the transactions of investors like Warren Buffet and Charlie Monger. Focused on undervalued stocks, the firm broadened its horizon by mixing data from various SEC filings. 
The platform's mission is to elevate individual investors. It allows them to emulate the strategies of world-class portfolio managers. The company is primarily for long-term investors, although swing traders can also find opportunities here. Intraday trading, however, is less common on this platform.
Features Here 
Gurufocus.com equips traders and investors with valuable insights from the stock market's behemoths, the institutional investors. By monitoring SEC filings such as 13-F, 13-D, and 13-G, GuruFocus allows users to follow the footprints of these giants. If a CEO, CFO, and institutions are all investing in a particular stock, it's a powerful signal worth noting. Keep that in mind! 
The platform's stock screener is a gem. It offers pre-built screens based on renowned strategies. These are Buffet-Munger Screener and Hedge Fund Guru Screeners. Also, this firm provides access to financial news. We can say that this gives users a broad view of market trends and updates. Still, we must repeat that the interface is entirely not UI-friendly. 
GuruFocus Pricing Options
To truly leverage GuruFocus's capabilities, a paid membership is required. The platform offers three membership options: Premium, Premium Plus, and Professional. The Premium membership, priced at $449 per year, provides access to real-time Guru trades. There are also model portfolios, insider trends, and an all-in-one screener, among other features. 
For a more comprehensive global market data experience, the Premium Plus membership is there. It costs $1,348 per year and covers multiple financial market regions. What's more, it offers additional benefits. Lastly, the Professional membership, costing $2,398 per year, suits advanced users with up to 50,000 GuruFocus API queries.
Is GuruFocus Worth It?
During our exploration of GuruFocus, we were impressed by its offerings (not the interface!). For skilled investors, the platform represents excellent value. It has somewhat timely information and actionable insights. 
Yet, it's crucial to note that the effectiveness of GuruFocus greatly depends on the size of your portfolio. The platform's pricing may be more suited for investors with substantial capital. This is because one or two successful trades can easily cover the membership costs.
Note: UKBTC is not recommended for trading. The broker is only after your money and offers some rather bogus services. 
Alternatives to GuruFocus
While this firm stands out in its unique approach, there are alternatives worth considering. Motley Fool's Stock Advisor, priced at $199 per year, provides beginner-friendly stock picks. Also, it is an excellent choice for those with smaller portfolios. 
Finbox, starting at $10 per month, offers fundamental analysis tools, letting investors rely on their own strategies. Stock Rover, with plans starting at $79.99 per year, provides a quantitative modeling approach, albeit with a steeper learning curve.
Pros and Cons 
When it comes to this company, there are several advantages worth noting. The platform allows you to generate investment ideas by looking at insider trades. We can see that it offers a variety of research tools. This is outstanding!
Even so, you must be careful when following other people's trades, as understanding the reasoning behind any firm is crucial. Besides, one drawback is that some users might find the platform's interface slightly outdated. We also must agree with this!
Note: Syos Space isn't a broker we can approve of. This is because they don't have the necessary license to provide financial services.
Customer Reviews Speak Volumes
This company has earned an impressive 4.5-star rating on Trustpilot, thanks to genuine feedback from 96 users. Being a verified company on Trustpilot means you can trust these reviews. 
Customer feedback is crucial as it reflects how people view the company. It's clear that this trading tool is solid, making it a trustworthy choice for traders.
Ready to Make Money with Online Trading?
Without a doubt! Earning money from online trading has never been easier. 
We're here to help! You can contact us for free consultations and expert advice on the top trading platforms. Plus, meet our AI Analysis Bot. This is your stress-free research companion, offering useful trading advice and predictions.
Bear in mind that you can try it for free for 20 days! No upfront costs are required, which is truly worthwhile. You will get 5 FX analysis reports and 5 stock analysis reports each month. With these, you will be able to make outstanding profits, so give it a try today!
Still, keep in mind that trading comes with risks. No prediction is 100% guaranteed. 
Conclusion
So, what is there to know about this trading company? As we mentioned in this review, this tool looks like a valuable ally for investors seeking to refine their strategies. This company provides a unique route for smart trading decisions. 
While it may require a big investment, the potential gains make it a solid choice for serious investors. It's safe to consider this company as a trusted partner in the world of stocks.
FAQs
What Is GuruFocus?
GuruFocus is a solid platform that provides stock market research, data, and tools.
Is GuruFocus Legit?
This is not a broker or a dealer and does not provide registered investment advice.
Does GuruFocus Data Cover My Country's Markets?
It covers markets worldwide, including the US, Canada, Europe, Asia, and Australia.