April 12, 2023
Reading Time:
4
min
Prime Investing Review: All About Prime-Investing.Com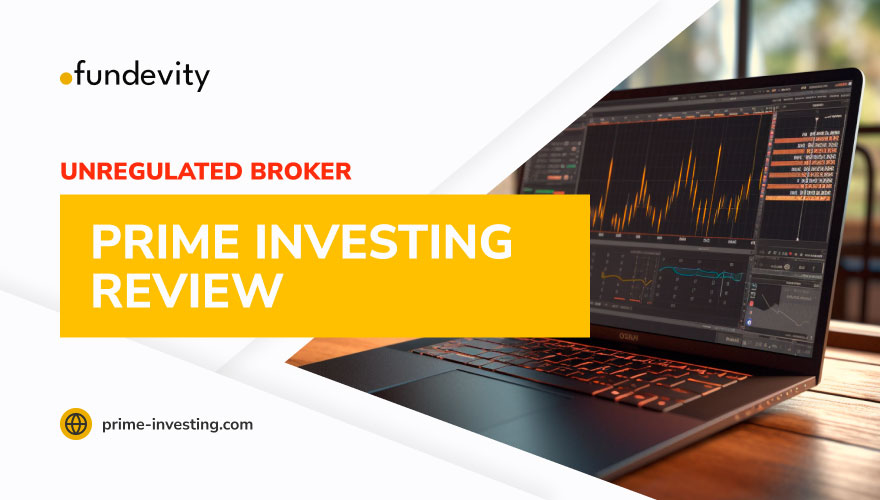 Prime Investing Review, Traders beware! Prime Investing boasts of its unwavering dedication to providing exceptional trading experiences to its clients. But can their claims be trusted? You will undoubtedly leave with a bitter taste in your mouth if you deal with this deceptive company. 
If you dare to invest in Prime Investing, be prepared to be stripped of your hard-earned funds. Let's take a look at this Prime Investing review for more details. 
Also, we recommend you not invest in the fraudulent brokers FTMO, AllCryptMarkets, and Freedom 24.
| | |
| --- | --- |
| Leverage | 1:200 |
| Regulation | No |
| Headquarters | Bulgaria |
| Minimum Deposit | 5,000 GBP |
| Review Rating | 1/5 |
| Broker Type | FX |
| Platforms | Web |
| Spread | N/A |
Regulation and Safety of Prime Investing
According to its web page, Prime Investing is a Bulgarian forex broker licensed in the country. The broker even gave us a link to a register where you could verify its regulation in the EU. 
However, our investigation revealed a different story. When we clicked on the link, we discovered that the Bulgarian Registry Agency, responsible for maintaining records of registered companies, only provides information in Bulgarian. It does not handle broker licensing. 
Additionally, Prime Investing was not listed in the records of the Financial Supervision Commission, the regulatory body responsible for forex brokers. As a result, it appears that Prime Investing is not authorized to provide services in the EU. Beware of this. 
Note: Dealing with fake brokers like the one we are reviewing puts your money at risk. These companies provide online trading services without a license or any oversight from the authorities, making them unreliable and dangerous. They are not accountable for their actions, which can lead to real financial losses.
Prime Investing – Trading Platform
This broker offers a basic web-based trading platform with limited tools and features. Yes, this platform is simple and easy to use. However, it lacks more advanced functionality. To have a better trading experience and improve your skills, we suggest using a more efficient and functional platform.
MT4 is a widely known platform in the trading community and has been around for over 15 years. It's considered the gold standard in forex trading and has a large user community with millions of people using it daily. Even beginners are likely familiar with it or have heard of it. There's also MT5, which is the more advanced version of MT4. 
Trading Instruments
Prime Investing offers trading in various markets such as Forex (AUD/CAD, GBP/CHF, USD/TRY), Commodities (gold, corn, wheat), Indices (S&P500, AUS200, CAC40), Shares (AMZN, ATEC, BBG), and Crypto (SOL, MATIC, DOT). However, you should keep in mind that Prime Investing is a financial scam.
Tip: Trading instruments come in a variety of shapes and sizes, from stocks and bonds to commodities and crypto. Finding a reliable broker is key to ensuring a successful trading experience, so always do your due diligence and choose wisely!
Account Types Available
Although we advise against using this particular company, here's an overview of their Prime Investing account types with minimum deposits:
Bronze: 5,000 GBP
Silver: 10,000 GBP
Gold: 25,000 GBP
Platinum: 50,000 GBP
Diamond: 150,000 GBP
Pro: 250,000 GBP
Each account has a specific validity period, with higher returns and insured trades as you move up the ladder. It's critical to remember, however, that if the offer seems too good to be true, it probably is.
Deposit and Withdrawal Methods
Don't get duped by Prime Investing's verification process – they won't even let you deposit until you've gone through the motions. But here's the thing: we strongly advise against putting any money into this broker scam. 
Seriously, steer clear or you're bound to get robbed! And if the broker asks you to deposit in crypto, tread even more cautiously. These types of transactions are hard to reverse. Also, they are anonymous, making them a prime target for scammers.
Get ready for some withdrawal fee madness! Here's the scoop, according to the withdrawal and deposit policy: wire transfers will set you back $50, cards come with a $35 charge, and all e-wallets will run you $25. 
But wait, there's more! For each withdrawal request that you make without meeting the 200 trading turnover requirement, you'll be hit with a 10% commission fee on the entire withdrawal amount. Yikes. And as for those mysterious e-wallets advertised on the site? Honestly, we're stumped.
How Does The Fraud Work?
It's no secret that the online trading industry has been infiltrated by a swarm of fraudulent brokers. These shady firms are notorious for using all sorts of sneaky tactics to deceive unsuspecting investors and steal their cash. 
From promising unrealistic returns to dangling irresistible bonuses, these tricksters will stop at nothing to get their hands on your funds. 
And don't even get us started on the fake reviews they use to trick people into thinking they're legit! To avoid these scams, it's crucial to do your homework and thoroughly research any broker you're considering. Trust us, a little extra due diligence can go a long way in protecting your investments.
Prime Investing Summary
All in all, while Prime Investing may seem like a good option for trading, some concerning aspects suggest it may not be entirely trustworthy. These include an unregulated status, steep minimum deposits, and vague policies. 
Additionally, there are reports of questionable marketing tactics and overblown claims of success. It's always best to be careful when dealing with any online broker and thoroughly research before making any investments.
FAQs About Prime Investing Broker
Prime Investing accepts various funding methods, including wire transfers, cards, and e-wallets.
Prime Investing's withdrawal processing time remains unknown.
There are red flags that Prime Investing may not be a safe option, such as lack of regulation and unclear withdrawal policies.