February 24, 2023
Reading Time:
4
min
UberChains Review: Avoid UberChains.Com at Any Cost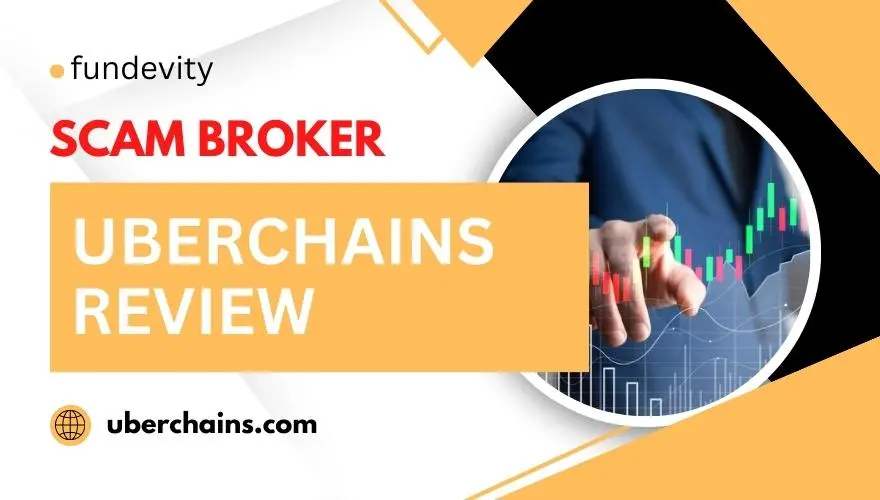 UberChains is another fraudulent broker that offers financial services with no license or regulation. They claim they are 21 years in this business and that they have won 18 prestigious rewards.
Reality is much different though since they lack with providing the proof that can back up their claims and most importantly, they don't even have a proper phone number, which leaves you to contact them through their email.
In this honest UberChains broker review, we will give you an insight into how this illicit broker operates and why you should stay away if you want to keep your money.
| | |
| --- | --- |
| Leverage | N/A |
| Regulation | Unregulated |
| Headquarters | 9863 – 9867 MILL ROAD, CAMBRIDGE |
| Minimum Deposit | 10000$ |
| Review Rating | 1/5 |
| Broker Type | Forex |
| Platforms | Web |
| Spread | n/a |
Regulation and Fund Security of UberChains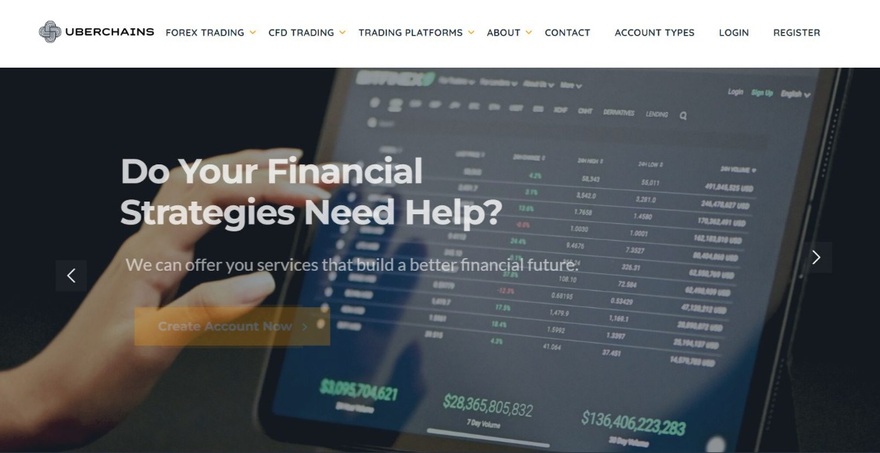 After inspecting their website more, we couldn't find anywhere any mention of regulation or any license available. That alone suggests they are scam brokers who are only interested in nothing more than just your money.
Another thing UberChains lacks is a proper address. Not only is the address they provided a false one, but they also claim they are based in the UK. In order to be able to operate from the UK and offer online financial services, all companies must be licensed by FCA and work under their set of rules.
It's clear that this investment scam isn't doing so. On top of that, another thing that caught our attention is the lack of documentation regarding the security of the client's funds. There is only a short mention of how they keep your funds secured and that everything operates on a very high-security level.
But those are just words they put there with no legal documentation to prove that it's true. We do recommend you stay away from UberChains and their elaborate scam.
Trading Platform Available
Like many other scam companies alike, UberChains claims they offer trading software with cutting-edge technology that will ensure you have the best trading experience.
The reality on the other hand is very different since you can't even access the trading platform until you deposit funds with them. The only thing available on their website regarding the platform is that they offer web trader.
What kind of web trade is it and what functions does it have, we are unable to see since the company is trying very hard to hide it.
Account Type Offered at UberChains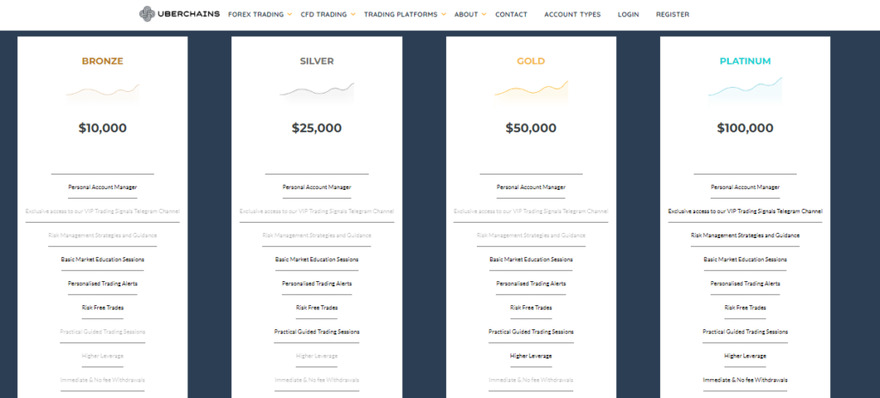 UberChains offers an array of different account types, starting with:
Bronze 10,000$
Silver 25,000$
Gold 50,000$
Platinum 100,000$
The thing is, UberChains represents itself as a trading company available for both experienced and inexperienced traders who are looking to make some profits. If that's the case, they wouldn't ask beginners to start with 10,000$.
Deposit and Withdrawal Methods
While we were conducting this UberChainsn review, we were very much surprised that they are asking for a minimum deposit of 10,000$, since regulated brokers usually ask for 1$ to 500$.
Unfortunately, we couldn't find anywhere any methods of how you can deposit your funds, which honestly is very shady. And that's not all, we have also found many many customer complaints regarding the withdrawal issues.
Customers complained that they are unable to withdraw their money and once they ask the agents to help them with that, agents said they need to pay a certain fee in order to do so and when customers refuse, they just simply disappear.
On top of that, there is no mention of any fees anywhere on their website. So, if you wanted to invest with them, we advise you to stay away, since there are many complaints made against the broker and if you wondered if they have violated any terms and conditions, they did.
You can easily see how important it is to analyze a broker in detail with our GTOptions review.
How Does The Scam Actually Work?
It's no surprise that many illicit brokers like to make fake advertising online with people claiming they have made a lot of money overnight by just trading with them.
That's all a very big lie to get you to leave your details, such as your name and phone number, and once they have all of that, that's when the harassment starts.
UberChains has agents that are trained to harass you. Agents first start with emails that are then followed by calls every day until getting you on the line. That is when the agents will do anything and everything in their power to persuade you to invest with them.
And of course, the more you invest the more you will make. Once you give them your card details they will just simply take as much money as they want and then disappear, leaving you without anything.
In case you have been scammed by UberChains or any other scam brokerage alike, there is no need to feel ashamed since scams can happen to anyone! Getting your money back is possible and we would be grateful if you can share it with us since we can help you report it to the authorities.
UberChains Summary
After conducting this through UberChains review, we can say with confidence they are nothing more than another online trading scam. They are an unregulated and unlicensed company that offers financial services.
On top of that, they also lack basic information such as a phone number and address that is not false. You will also not be able to even enter their trading platform until you deposit money with them, and it's too late once you do so, since your money is going to disappear.
This broker also comes with a lot of bad reviews and complaints made against them, so it's best to stay away from them.
FAQs About UberChains Broker
Are UberChains Regulated?
No, they are an unregulated and unlicensed brokerage that offers financial services online.
How Much Is The Minimum Deposit for UberChains?
As they have stated on their website, the minimum required deposit is 10,000$ for everyone.
Does UberChains Offer a Demo Account?
They do not offer a demo account. They will push you to invest a minimum of 10.000$.